The best pillows 2022 – 10 tested choices for every sleep style
Say goodnight to neck pain and poor sleep with these best pillows, tried and tested for the best slumber ever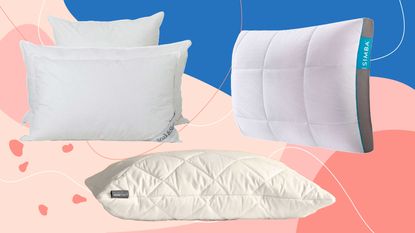 (Image credit: Future)
Ideal Home Newsletter
The Home Of Great Ideas For More Than 100 Years
Thank you for signing up to . You will receive a verification email shortly.
There was a problem. Please refresh the page and try again.
Ready for some pillow talk? We've been sleeping on some of the best pillows out there, and we're ready to tell you all about why they're our top choices. Aside from somewhere to rest your head, a great pillow can make all the difference to getting a good night's sleep. And since getting 8 hours of essential shut-eye is vital to our wellbeing, finding the right pillow for you can impact on our overall health.
Its striking then, how many of us put up with a pillow that's either too flat, too soft or too firm for our liking. It may take us to tell you, but one size doesn't fit all when it comes to finding the best pillow. Side sleepers will need a different pillow than back and front sleepers. If you suffer from neck pain or get too hot in the night, you'll require a pillow with extra support or cooling properties. And if you snore or have allergies, then you'll need to consider hypoallergenic or anti-snore options too.
Forget tossing and turning when you can't get comfy or flipping the pillow over for a refreshed place to lay your head. With a new pillow, you might just have your best sleep yet. And we can vouch for it. We've tried and tested these buys, as well as taken expert advice, so you don't have to. Next to the best mattress, a top-class pillow can guarantee you sleep soundly and wake up refreshed, so without further ado, let's get on with finding the right one for you.
The best pillows for sleep
1. Brook + Wilde Marlowe Goose Down Pillow
Best overall pillow
Specifications
Filling: Goose down
Cover : 100% down-proof Egyptian cotton
Support: Medium or Firm
Care : Wash at 60°C + tumble dry
Reasons to buy
+
Wildly luxurious
+
Ideal for all types of sleepers
+
Retains plushness
+
Can wash up to 60 C without damage
Reasons to avoid
-
The most expensive on this list
There's no snoozing that Brook + Wilde's Marlow pillow is the most expensive on our list. But we think it's worth paying the price for the best night's sleep. Replicating the plushness of hotel boutique quality, you'll experience nothing but cloud-like comfort night after night with this best overall pillow. We sure did. We tested the medium support one and found it got more plush after each sleep as the pillow adapts to the shape of your head. Whilst this is contrary to other pillows that tend to flop and flatten after every sleep, it makes it great for every type of sleeper since it is soft enough to sink into but stays firm and at the right height.
Its secret to superior comfort? A three-part blend of 100% new white European goose feathers and 90% new white Masurian goose down covered in down-proof 360 thread count 100% Egyptian cotton to prevent feathers from poking out. These high-quality materials are all responsibly sourced and comply with zero tolerance standards. Impressive! And that's not all: this pillow can be machine washed up to 40 degrees and tumble-dried, without losing its poof.
If the price is still off-putting, you might want to keep an eye out for Brook + Wilde's regular sales and offers. Better yet, think of it as a really good investment in your health and happiness, one that will outlast any one night hotel stay – especially if you pair it with the Brook + Wilde Ultima mattress which we reviewed and loved, too.
2. Woolroom Chatsworth Collection Washable Wool Pillow
Our favourite pillow
Specifications
Filling: 100% British wool
Cover : Organic cotton cover quilted with British Wool
Support: Medium
Care : Wash at 30°C with wool detergent, do not tumble dry
Reasons to buy
+
Great for all sleep styles
+
Traceable, sustainable materials
+
Great eco-credential
+
Reasonable price point
Reasons to avoid
-
Can't tumble dry
-
Need re-plumping
This Woolroom pillow is far from simple, which is why it's our favourite on this list. It's neither fussy nor overly complicated, but there's more to it than somewhere to rest your head. And when sleeping on it, that's something you're unlikely to forget.
Firstly, it's made solely from traceable British wool, which you can see, feel and touch in full form inside the pillow, and certified organic cotton, making it super sustainable and eco-friendly. You can adjust the amount of wool by removing or adding balls to achieve your desired plump, which is why it's ideal for all sleepers. As wool is naturally hypoallergenic and with the UK Allergy seal of approval, this includes allergy sufferers too.
Secondly, you can wash the entire pillow to keep it fresh without fearing flatness. Just re-plump as you require. Since you're spending on such a unique pillow you'll want to handle it with care, so don't tumble dry if you want it to last a lifetime. We haven't had this pillow long enough to test this longevity, but so far, so good.
3. Simba Hybrid Pillow
Best pillow for side sleepers
Specifications
Filling: Open-cell foam tubes and & Aerelle® cool nights fibres
Cover: Stratos cotton
Support: Adjustable
Care : Machine wash 40°C and tumble dry
Reasons to buy
+
Ideal for side sleepers
+
Temperature regulating
+
Removable cover for easy washing
+
Stays firm at chosen support level
With surveys suggesting up to 74% of the population sleep on their side, finding a pillow that's best for side sleepers is a must. For many of you then, this Simba Hybrid pillow poses the perfect support for those who like to rest on the left (or right). Our tester is a side sleeper and woke up feeling refreshed with no aches or pains.
We'd say this is down to the inner case of foam nanocubes that can be removed and adjusted to the correct height for you. Aligning your neck, spine and hips during sleep is key to satisfactory sleep. The outer cotton cover is made from Simba's astronaut-inspired Stratos material that works to regulate your temperature. All in all, it leads to a cool and comfy night's sleep that adapts to your needs.
Since it's super plump too, we went from using two smaller, flatter pillows, to just one (meaning you won't have to splash out on buying 4 for a double bed). And whilst you can't wash the entire pillow, you can remove the cover and pop it in the wash with the rest of your bundle.
4. Levitex Sleep Posture pillow
Best pillow for neck pain
Specifications
Filling: Levitex foam
Cover: 100% nylon
Support: Medium/firm
Care : Machine wash and tumble dry cover only at 40°C
Reasons to buy
+
Helps to sort sleep posture
+
Best if you suffer from neck pain
+
Stays firm, doesn't flatten
+
Good price point
Reasons to avoid
-
Not suitable for back sleepers
-
Can't wash the entire pillow
Ever heard of Levitex foam? No? That's because it's a new material developed especially for sleep posture and neck pain that's making its way into the market. We had a consultation with the founder of the brand, James Leinhardt, to find out which pillow is best for our tester, who suffers from aches and pains.
James states ensuring a pillow is the right size for you, is key to sleeping soundly. The Levitex pillow is therefore offered in sizes ranging from small to extra large, as opposed to firm ratings. We tried the medium. And it works! Sleeping on a pillow that's at just the right height for your head aligns your neck, spine and hips to create the ultimate sleeping position. This is said to be on your side, with your knees touching. Hence this pillow probably won't make much difference for back and front sleepers.
The Levitex foam sits inside a nylon cover - unfortunately making it the least sustainable choice on this list. You can't wash the full pillow either. Though, it is firm and stays it, so you won't have to worry about replacing it anytime soon. At a reasonable price worth paying to subside neck pain, without having to replace your mattress, it's a sound buy for extra support at night.
5. Simba Hybrid firm pillow
Best firm pillow
Specifications
Filling: Open-cell foam tubes and & Aerelle® cool nights fibres
Cover: Stratos cotton
Support: Firm / adjustable
Care : Machine wash at 40°C
Reasons to buy
+
Adjustable to suit your sleeping position
+
Temperature regulating
+
Stays super firm
+
Removable cover for easy washing
Reasons to avoid
-
May be too firm for some
-
Not ideal for back sleepers
-
An investment
What's the best firm support pillow? Another Simba pillow steals the show with its adjustable layering and technologically advanced materials. This time, it's a more firm version of the ever-popular hybrid pillow, made from foam-enclosed Aercoil springs, with two softer Simba Renew pillows inside its usual Stratos cotton cover for unsinkable support. Even before trying we can feel this wouldn't be suitable for front sleepers, and some who sleep on their side may find it a little too hard. But for our back sleeper, it was just great.
As with the rest of the Simba pillow collection, you can remove the cover for easy washing but can't put in the rest in case of damage. Our issue? Whilst we understand this takes the role of a personalised pillow for those who like a hard surface to rest their head, the price difference is hard to justify. You may just be able to get the firmness you need from Simba original hybrid model.
6. Panda Memory Foam Bamboo Pillow
Best memory foam pillow
Specifications
Filling: Visco memory foam
Cover : Bamboo
Support: Firm
Care : Machine wash cover only
Reasons to buy
+
Best for side sleepers
+
Great eco-credentials
+
Doesn't flatten
+
Budget friendly
Reasons to avoid
-
Pillow can't be washed
-
May be too firm for some
Love it or hate it, memory foam is accredited as one of the best materials to sleep on. If you're a fan favourite and are on a budget, then this is the best memory foam pillow for you. Our tester is a side sleeper and loves it, though front sleepers may need something a little more soft to sink into. Having slept on it for some time, our tester now struggles to go to bed without it. But that came as no surprise given it comes with a 10 year guarantee.
It's filled with 3 layers of memory foam and covered in silky smooth bamboo fabric. It's firm at the core but soft on the outside. Using viscos memory foam recommended by orthopaedic experts, there's no beating the reviews of this best memory foam option. Its eco-credentials boost itup our list, too. The bamboo cover is a great sustainable alternative to polycottons and non-organic materials, which can be washed to stay fresher for longer.
7. Brook + Wild Everdene Cooling Pillow
Best cooling pillow
Specifications
Filling: Hollow fibre pockets
Cover : 100% Egyptian cotton
Support : Soft - Medium
Care : Machine wash at 40°C
Reasons to buy
+
Great for all types of sleepers
+
Thermo-regulating cooling properties
+
Breathable
Reasons to avoid
-
More expensive
-
Deflates a little after wash
-
Might be too soft for some
This one's for the hotheads. Do you find yourself overheating at night? Maybe you wake up and turn your pillow over for a cooler side? Let's face it, we all do it, especially in the summer. If this is something you struggle with all year round, however, investing in a pillow fit with cooling properties might make all the difference. We tested this during the midst of a UK heatwave and found it to be a bit of a necessity.
With thermoregulating technology from its Thermofil Plus hollow fibre filling and 100% Egyptian cotton cover, this pillow stays cool throughout the night. Aside from doing as it claims, we found the pillow to not be our favourite for anything else. It's large and plush, so you don't need a second pillow, which makes up for its larger price tag. But for back sleepers who need consistent sinkability, this pillow did, unfortunately, flatten throughout the night. Directions advise you to wash the entire pillow. Perk! But this did deflate the fibres a little.
8. Soak & Sleep Soft As Down Microfibre Pillows
Best affordable pillow
Specifications
Filling: Microfibre
Cover : Cotton
Support: Soft / medium
Care : Machine wash at 40°C and tumble dry
Reasons to buy
+
Great for all kinds of sleepers
+
Luxury down feel
+
Super affordable
+
Can wash entire pillow
Reasons to avoid
-
May be too soft for some
Get luxury for less with these 'just like down' pillows from Soak & Sleep. If you're a fan of the down feel but don't want to overspend on a quality night's sleep, then these best affordable pillows will give you the same properties as other higher-priced pillows on the market. One of our testers fits the bill for this best budget buy and now recommends them to anyone who will listen.
Just as soft as down-filled options, with the plushness to match, there's no being poked by feathers since the microfibre is a more lightweight material. We like to sleep on two of these, which is fine considering they come in packs of two, too. If you do prefer a firmer option, this may not be the best for you, and if you're a front sleeper who requires a thinner profile, sleeping on one may just do. Having a non-natural filling also comes with hypoallergenic properties. So, allergy suffers, this one is for you.
Oh, and this also means you can wash the whole thing. No faff with removing the cover or insides. Though while it's easy to care for, we've only cleaned it a couple of times. So far there's been no compromise to its quality, but we'll continue to test whether this changes.
7. Slumberdown anti-allergy pillow
Best pillow for allergy sufferers
Specifications
Filling: Hollowfibre
Cover : Microfibre polyester
Support: Medium
Care : Machine wash at 40°C and tumble dry
Reasons to buy
+
UK allergy seal of approval
+
Low price point
+
Can wash entire pillow
Reasons to avoid
-
Needs airing
-
Not firm enough for back sleepers
Whether you suffer from allergies all year round or find yourself sniffling in prime time hay fever season only, these anti-allergy pillows from Slumberdown are our best-rated. Our tester is a home-fever sufferer, meaning dust mites particularly bother them whilst sleeping. We won't say they've ridden our tester of symptoms, but they did sneeze less after swapping from natural filled alternatives.
Hollowfibre is anti-bacterial, making it the best fabric choice when the pollen count is high. Its cover is microfiber polyester too, so it's kind on the skin, just as much as it is on your sinuses. Even better? Slumberdown's option comes with a confirmed UK Allergy seal of approval. They're rated firm, but we found them significantly soft in comparison to our best firm pillow. You can pick them up with your next Amazon order for a fraction of the price of others on this list. But, be aware that once you've popped them in the wash, they might become rough so probably won't last too long.
9. The White Company Luxury Hungarian Goose Down Pillow
Best luxury pillow
Specifications
Filling: 85% duck feather, 15% duck down
Cover : 329-thread-count cotton jacquard
Support: Soft/Medium
Care : Professional laundering recommend
Reasons to buy
+
Super soft and Lightweight
+
Great value for money
+
Stays plump
Reasons to avoid
-
May need two for desired height
-
Not recommended to wash at-home
If you love down but you can't quite stretch to Brook + Wilde's Marlowe, we think this The White Company Luxury Hungarian Goose Down pillow is a great value for money alternative - and you can bag two for the same price! We're yet to test this one, but it's next on our list to try.
As you might expect from The White Company, the cover is made from cool, crisp 280 thread count cotton with beautifully stitched edging. Based on reviews, the medium/firm option is exactly as advertised; not too firm, but not too soft either. Crucially, it maintains height well – perfect for reading a book in bed with a cuppa. It can also be machine washed at 60 degrees and tumble dried, on a low setting, but The White Company recommends professional laundering for best results.
---
How to choose a new pillow
Pillow preference will be dictated by a few things including how you sleep, what firmness you have become used to and what kind of fillings/materials you want or can afford within your bedding budget. There is a lot of choice, after all, so we have broken down the options and spoke to industry experts from Levitex, Slumberdown and Wool Room to help you decide.
"We don't all wear the same size shoe so what we lie on at night shouldn't be one size fits all either. Choosing the right pillow for you is ensuring the best possible sleeping surface for an optimised sleep posture" claims James Leinhardt, Sleep & Posture Expert and Founder of Levitex.
Sleep style and firmness
Selecting the right firmness depends on which position you sleep in. Karen Innes, NPD Manager at Slumberdown (opens in new tab),and Chris Tattersall, Clean Sleep Expert and MD at Woolroom (opens in new tab), explain the firmness ratings in ratio to sleep style.
Front sleepers: Opt for soft to medium. You will need a lower pillow to avoid strain on your neck, so avoid anything deeper than four inches. Karen suggests a 'soft pillow is needed to support and align your head and body'.
Back sleepers: 'Back sleepers should look for a medium-loft pillow (3-5 inches thick) as it will likely maintain spinal alignment. A supportive pillow will hold your head and neck in place, rather than allow you to sink all the way down to the mattress' says Chris. 'A medium pillow is ideal for creating a gentle curve through the spine when laying on your back' adds Karen.
Side sleepers: Chris further states 'For a front sleeper, only one pillow is usually required. This is because having more than one can cause the head to lift too high, misaligning the neck and spine, and potentially causing discomfort and pain'.
Filling
Most of us have a favourite filling type – often based on what we grew up with – and don't think much further than feather versus microfibre when shopping for new pillows. But there is a growing range of filling options out there, and if you haven't tried them all (like we have) then you may not be plumping for the right one.
Natural filling: Down has long been the Holy Grail of pillow fillings, associated with luxury, but unsurprisingly come at an investment price. Duck and goose feathers and down feel plush and are last longer given their quality. They also need better quality of care.
Wool: Wool is a filling that's more recently being brought back into the market. Why?As Christ explains, 'Wool is uninhabitable for allergens – making it the ideal choice for sleepers who suffer with allergies, especially in the summer. In addition, the fibre helps to regulate temperature, and effectively absorb and dissipate heat throughout the night as you need it.'
Synthetic fibres: Hollowfibre or microfibre are wadding like materials. They are hypoallergenic and one of the most affordable options out there. They can mimic the luxury feel of down just as well whilst being a great alternative for those with allergies. However, they don't always not wash well and can loose their plumpness over time, so if you choose these synthetic fibres, you might want to use a pillow protector or find one that comes with a washable cover.
What pillows do hotels use?
With down lauded as the ultimate luxury, many top rated hotels will use down, or feather-filled blend. After all, down pillows are often the best all rounders when it comes to sleep position. So while memory foam options are really good for the individual buyer – especially the options that can be customised – they aren't quite as versatile for multiple users.
For the full boutique feel, teaming a best pillow with one of the best duvets will ensure what you're sleeping under is just as good as what you're sleeping on.
How often should you replace your pillows?
To ensure continued support and hygiene, experts recommend re placing your pillows every one-two years. But since, you will get up close and personal with your pillow every night, a wash is necessary to ensure longevity.
Experts say you should wash your pillows every three to six months, so consider this when you buy. For more information on how often you should wash your pillows, read our handy guide. We love pillows with removable covers that can be tossed in the machine and even tumble dried as is common with many foam pillows. This means you can usually wash it, dry it and sleep on it by the evening. Great if you only have one set of pillows.
How did we test these pillows?
To test a pillow is as simple as it sounds, to sleep on it. In order to try all ten, the pillows have been passed around and used by multiple members of the Ideal Home team. Since some are side sleepers, front and back sleepers, and others allergy sufferers and individuals who struggle to regulate their temperature, it was important for more than one to rest their head on each pillow. As we've been preaching, one size doesn't fit all. For the pillows we've had the longest, they've been put through the wash a few times and slept on for some time to find out how long they'll last. The other, newer pillows we're trying out, they've been washed and dried at least once, but we'll be back to update this piece on whether they've stood the test of time.
To earn a place on our shortlist, each pillow has to have represented great quality for its price, live up to specific claims made by the manufacturer and, above all, provide the best nights sleep more times than most. Our how we test page has more details on this process.
Interested in what each tester said about their favourite? See a some comments from the Ideal Home Ecommerce team below:
Louise Oliphant (opens in new tab), our Ecommerce Writer, stresses the importance of getting your beauty sleep, and as the saying goes, having the right pillow to rest her head on is something she takes seriously. A side sleeper with a smaller budget that won't quite stretch to our most luxurious or overall best down pillow on this list, she tested the more affordable options to seek out their value.
"Woolroom's Chatsworth washable pillow is a special buy I find myself reaching for night after night. I like to have two of them for some added height and find they work well with my nighttime allergies. As a hay fever sufferer during the summer months, I like to have a synthetic pillow option too. Soak and Sleeps 'just like down' options are by far my favourite. They're plush but firm enough that I don't sink down too much and this didn't change after being put through the wash either."
Annie Collyer (opens in new tab) has been testing products for Real Homes since 2018, including a vast range of pillows. Over that time some have been discontinued or updated with better models. One she has passed over to her partner (who's a big fan of helping out on the testing process) has remained on her bed for the years that followed:
'My fiancé is obsessed with the Panda pillow in this guide. He's been sleeping on this memory foam option for the best part of three years now and finds it hard to get a good night's rest without it. He's a huge foam pillow fan and is impressed with how firm this pillow has stayed, in comparison to other pillows he's slept on, after sleeping on it night after night.'
Being an expert reviewer, Jennifer Oksien (opens in new tab) has tried out the majority of the pillows in this guide, including our best for side sleepers, overall best pillow and best cooling option. They all get her vote for favourite.
'I'm a side sleeper and find the Simba Hybrid Pillow soft yet also super supportive. I had to adjust it to my desired firmness and height, but after a good re-arrange, it's the next best thing. It's also great for turning over to its harder side and sitting up in bed.'
Louise Oliphant is the Ecommerce Writer at Ideal Home. Bringing a bunch of bedding expertise from her previous role in PR, Louise is eager to share useful sleep content, including what to look for, when and where to buy the best bedroom products. Think everything from gorgeous luxury bedding, to duvets that'll keep you at optimum temperature all night long. Aside from reviews to help get essential shut eye, Louise also writes shopping content for homeware items that'll add a decorative touch to your space.