Forget notes in bottles, it's now all about letters in fireplaces...
Homeowner uses Twitter and a hashtag to hunt down previous tenant who left him a creepy note...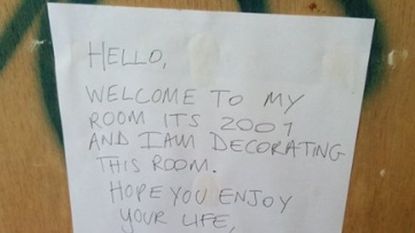 (Image credit: TBC)
Ideal Home Newsletter
The Home Of Great Ideas For More Than 100 Years
Thank you for signing up to . You will receive a verification email shortly.
There was a problem. Please refresh the page and try again.
Imagine being the new owner of a home - the excitement as you're handed the keys and walk over the threshold for the first time... But do you ever give a thought to the previous owners and whether they are still watching you?
When decorating his newly purchased home in Manchester last week, Alex Moss (opens in new tab), director of an online marketing agency, began ripping up the floorboards and boarded wall panels in an upstairs bedroom when he came across a note tucked in an old fireplace.
Forget old-fashioned scrolls in bottles, it seems the latest way to contact someone is by hiding a letter in an old, disused fireplace.
The letter, dating back 15 years, read: 'Hello, welcome to my room' and was curiously signed off, 'hope you enjoy your life. Remember that I will always be watching you!'
All creepy Big Brother notions considered, Alex went on a social media hunt to track down the former home owner going by the name of Darren Lucas (opens in new tab), as signed at the bottom of the note.
With the power of Twitter birds, a few retweets and hashtag
#finddarrenlucas, Moss and Lucas found one another just a few hours later!
Turns out, Lucas and his family lived at the property for 20 years from the 1980s till 2001 and he says he'll 'hold on to the memories I have!'
After bonding over the house, the good shower, beautiful garden and propensity for a party or two, Lucas signed off by tweeting, 'hope he doesn't find the other letters.'
Creepy? Cute? You decide.
Heather Young has been Ideal Home's Editor since late 2020, and also edits its sister title Style At Home. She is an interiors journalist and editor who's been working for some of the UK's leading interiors magazines for over 20 years, both in-house and as a freelancer.