How to buy laminate flooring
Get tips and advice on laying laminate flooring, caring for your floors and choosing the right material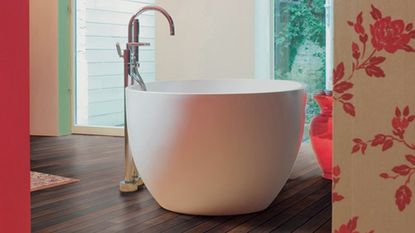 (Image credit: TBC)
Ideal Home Newsletter
The Home Of Great Ideas For More Than 100 Years
Thank you for signing up to . You will receive a verification email shortly.
There was a problem. Please refresh the page and try again.
Laminate flooring is a great alternative to carpet as it's versatile, low maintenance and easy to care for. It is made by laminating an image of wood or colour onto a board backing.
As well as the traditional wood finishes, which now have very convincing textured finishes, the latest designs include unconventional colourways and non-wood effects, too, so you can create a stunning statement with your floor.
Styles and colours
Styles have become much more varied so as well as the traditional look, there are also many more unusual designs. Some designs come in interlocking planks that need no glue and just click together.
Some laminates come in great non-wood effects, perfect for children's bedrooms, playrooms and hallways. Colours range from whitewashed boards to dramatic dark-wood flooring with texture, and everything in between.
Laminate flooring with V-grooves along the edges of the boards and textured surfaces are worth the extra cost as they look more realistic than a completely smooth surface. However, bear in mind that they will take more cleaning than a smooth surface.
Expect to pay between £10 and £35 per sq m.
How to lay laminate flooring
Laminate flooring can be laid on pretty much any surface providing it's dry, firm and level.
For uneven floors, use a self-levelling compound to even out lumps and bumps. If the flooring is wooden, keep an eye out for loose screws and flatten them with a hammer.

TOP TIP Take you shoes off when laying laminate flooring so you don't mark the tiles with grit and dirt.
Step 1) You will need to fit underlay boards before you begin. This will help even out the floor and provide sound insulation.
Step 2) Laminate flooring expands and contracts, so leave around 12mm between the boards and the skirting, using plastic spacers.
Step 3) Homebase recommends laying the boards in the same direction as the longest straight wall. Lay the first one with the short tongue against the wall, ensuring it is parallel. Some boards will need glue, others will click together, so be sure to read the instructions carefully. You will probably need to cut the last board in order to fit the room.
Step 4) Begin the second row, starting with the off-cut from the first row. Always stagger the end joints of adjacent rows by at least 30cm. This helps to strengthen the floor.
Step 6) Finally, remove the spacers around the outside, and cover the gap around the edge of the room with laminate flooring trim. Remember, you will be fixing the trim to the skirting, not the floor, because the floor expands and contracts.
Step 7) Fit a metal or wooden threshold over the edge of the flooring in all the doorways.
How to care for laminate flooring
* Prevent scratches caused by grit and dirt by vacuuming or sweeping with a soft brush regularly.
* Protect the floor by using felt pads on furniture feet and use furniture cups under heavy items to prevent dents.
* Don't let laminates get soaked. They're not usually water resistant so should never be soaked with water.
* Clean them with a damp mop and a specially formulated cleaning product.
* Laminate isn't always suitable for stairs or bathrooms so check with the manufacturer.
How to care for laminate flooring
Not sure which laminate flooring to buy? Ask the shop if you can take a sample home; you'll be surprised how the tone of the flooring can differ.
Choose laminate boards that fit the scale of your room. For example, if you have a vast living space, planks that are 30cm wide and 3m long will highlight the space. If your room is small, go for narrower, shorter planks.
If you're not confident about fitting laminate flooring yourself, make sure you hire a professional. It is also worth spending the extra money to get your fitters to cut the wood under your skirting boards. This will give it a more streamlined finish than using beading to hide the gap.
Thea Babington-Stitt is the Assistant Editor for Ideal Home. Thea has been working across some of the UK's leading interiors titles for nearly 10 years.
She started working on these magazines and websites after graduating from City University London with a Masters in Magazine Journalism. Before moving to Ideal Home, Thea was News and Features Editor at Homes & Gardens, LivingEtc and Country Homes & Interiors.