How to grow geraniums – a beautiful and easy care plant for pots and borders
Learn how to grow geraniums and enjoy the dainty flowers of these low-maintenance star performers for months on end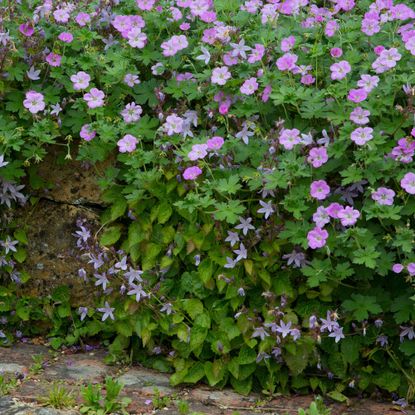 (Image credit: Leigh Clapp)
Learn how to grow geraniums and you will soon see why they are one of the most popular garden perennials. Hardy geraniums are among the easiest plants; they are colourful, low maintenance, and happy in many garden conditions – sun or shade – so what's not to like about them?
Grow them in pots or garden beds and borders as part of your garden ideas, and they will produce a smothering of flowers from spring to autumn.
Not to be confused with tender pelargoniums – often also referred to as geraniums – hardy geraniums are fully hardy, withstanding British winters and reliably popping back up in spring. They are also known as cranesbill – getting their name from their long slender fruit that resembles the bill of a crane.
While some hardy geraniums are evergreen or semi-evergreen, most are deciduous. When it comes to how to grow geraniums, there are around 70 species and 700 varieties to choose from, ranging from tiny alpines to large border geraniums. You can choose those suited for woodland gardens, others for sunny sites, single or double flowers, in a range of pinks, magenta, blues, mauves and whites, and also varieties with variegated or autumn foliage colours.
The versatility of these bloomers makes them the perfect floral option for easy garden ideas, and as they will guarantee colour over a long period, they are particularly suited to giving your home kerb appeal as a front garden idea.
From lining paths, in the front of borders and beds, to ground cover, there are lots of places to use hardy geraniums in your garden. So add them to your planting palette with this easy guide.
How to grow geraniums
The first step in how to grow geraniums is to research the variety you want to grow, as some make neat clumps, and others spread very quickly.
The easiest hardy geraniums to grow
If you're new to growing geraniums, 'I find that the easiest and most reliable are any from the phaeum, oxonianum or macrorrhizum species. They require minimal attention and are not especially fussy about their location,' explains Suzie Dewey from The Hardy Geranium Nursery in Surrey. This makes them resilient plants for garden border ideas.
'In the phaeum species, flower colours range from dark red – almost black – to the palest of pinks; they are vigorous and take no time at all to bulk up a provide a great springtime display taking over from winter bulbs,' she adds.
How to grow geraniums in pots
Growing hardy geraniums in pots will produce successful results as they often benefit from their roots being container bound to produce better blooms.
There are many varieties of hardy geraniums, and while all will grow in containers, 'those with a naturally spreading, creeping or mat-forming habit, such as the macrorrhizum, cantabrigiense or himalayense species, won't create a big impact in a container. You might find better success growing cinereums in pots, as they make excellent specimens in containers as patio ideas with their diminutive habit of low growing rosettes with a big splash of colour from the flowers,' says Suzie Dewey.
Geraniums are also an excellent low-maintenance choice for planting a hanging basket.
Use soil-based compost for growing hardy geraniums in containers and water them regularly, as they will dry out more readily in pots.
How to grow geraniums in garden borders
Some geraniums may spread too much for the intended spot, so make sure you check their growing habits before planting. As they are natural creepers, they can be used to disguise garden boundaries as a living wall idea.
Follow these steps on how to plant them.
1. When to plant geraniums
Plant hardy geraniums in spring, from March to May, although some gardeners recommend planting from autumn to late winter to help them establish a good root system for flowering in the first year.
2. Where to plant geraniums
When growing geraniums, ideally, plant them in moderately fertile, moist and well-drained soil, although some varieties are drought tolerant plants once established, including G. sylvaticum, which can cope in very dry spots.
Sunny to light shade conditions suit most of the readily grown varieties. Planting in raised garden beds to improve drainage is advised for G. cinereum cultivars, while G. maculatum, nodosum and G. phaeum prefer to be planted in shaded woodland settings.
The loose, free-flowing style of hardy geraniums means they are especially suited to borders in informal-style cottage gardens, and woodland planting, but they are also lovely when softening the linear geometry of hard landscaping, such as patio edging and garden path ideas.
'Hardy geranium play a crucial role in our planting schemes. They can provide dense, weed-suppressing foliage cover in woodland gardens, and we particularly love to use Geranium 'White Ness' for its dainty white flowers that sparkle in the shade above fresh, limey-green foliage. Perennial favourites are Geranium 'Orion', 'Eureka Blue' and 'Brookside' for their early to mid-summer billowing mounds of blue flowers. They will also repeat flower lightly through the summer and show some lovely autumn colour, too,' explains garden designer Nic Howard of We Love Plants.
3. How to plant geraniums
Buy hardy geraniums in pots or as bare root plants to pot up and plant out when signs of growth appear.
It is not necessary to improve the soil in the planting hole unless it is very poor.
Give your container-grown geranium a good watering first, then dig a hole a bit larger than needed, add in some compost at the bottom, water, drain the hole and then plant the geranium, teasing out the roots before firming down the soil and giving a final watering in.
Seed is also available for sowing in autumn or spring, to grow on and then plant out the seedlings.
4. What to plant with geraniums
Hardy geraniums mix well with a range of cottage and border favourites, from nepeta to salvias, and attract a range of pollinators, especially bees as a bee garden idea, with their blue and purple flowers. Plant with rows of chives and you will create a bee heaven, or alongside roses.
Some varieties of geraniums, such as 'Orion', 'Rozanne' and 'Patricia', will flower until the first frost, providing a great source of nectar and pollen over a long season. Further pretty pairings include with vibrant geums, against the lime green of Alchemilla mollis, or contrasting with golden achillea, and they are also useful to camouflage dying foliage of bulbs, such as alliums.
How to care for geraniums
Geraniums are tough and resilient, pest and disease resistant, and require very little care, so ideal for a sustainable garden plant. 'They tend to be pretty happy to flower away with minimal intervention,' says Verity Battyl, formal ornamental team leader at RHS Wisley.
The one pest to look out for, though, is the geranium sawfly. The larvae, which look like tiny grey caterpillars, are most active in May and September. They munch holes in the leaves, but don't affect the vigour of the plant. Check the undersides of leaves and remove them by hand. As the larvae overwinter in the soil, clear debris around the plant and lightly rake the soil, as this will expose them to frost and natural predators such as birds.
Some geraniums suffer from mildew if they don't have enough air circulation in humid conditions and if this happens cut the plant back to a few centimetres from the soil.
They do not require feeding or watering once established and will return and flower each year. Deadheading and cutting back are the main tasks.
Cutting back
Deadhead geraniums to encourage them to produce new flowers.
Cutting back geraniums also stops them from putting their energy into making seeds. 'As you cut back you will be able to see the new growth already present at the base of the plant. Even if cutting back doesn't produce another flush of flowers, the second flush of foliage will look much healthier and neater,' says Verity Battyl.
Mulching
Hardy geraniums die back in autumn and regrow come spring. An annual autumn mulch once you have cut the leaves back, with leaf mould, well-rotted manure or compost, is recommended to keep the flowering going for years.
Dividing
To create more plants, you can divide large clumps of geraniums as they begin to grow in spring, replanting back into the ground immediately. You can also divide smaller cuttings in April and pot them up until planting in September.
Geraniums that do self-seed will tend to pop up across the garden, even in tiny cracks on the patio, but you can lift little seedlings and easily move them to where you want them.
Growing geraniums FAQs
How do you keep geraniums blooming?
To keep geraniums blooming, deadhead them when needed. 'I personally tend to be guided by the plant rather than calendar months. If the weather has been hot and gruelling and the plant is looking a bit tired and the leaves are looking tatty that's when I cut my geraniums back,' says Suzie Dewey of the Hardy Geranium Nursery. This is an important aspect of growing geraniums.
'Then I give them a liquid seaweed feed and in 2-3 weeks you'll have a fresh new growth emerging and in most cases, i.e. the oxonianum species, a second flush of flowers. Most geraniums respond well to being cut back and refreshed. Not all will give a second flush of flowers, though,' Suzie adds.
What should I do with geraniums in winter?
If you're wondering what you should do with geraniums in winter, most hardy geraniums die back. You can remove the dead leaves if you'd like a neater look. As they are hardy they will not need any protection through winter.
'It is best to let the foliage from the second flush of flowers die back on geraniums and turn brown before removing foliage in winter. This is what we do to the plants in the mixed borders at Wisley,' advises Verity Battyl of RHS Wisley.
You could also, however, leave the brown foliage to maintain some structure and interest in the beds.
'Any foliage that is left on over winter needs to be cleared away before the plants start actively growing again the following spring,' adds Verity.
Get the Ideal Home Newsletter
Sign up to our newsletter for style and decor inspiration, house makeovers, project advice and more.
Gardening Writer and photographer
Leigh Clapp is a gardening photographer and writer with over 25 years of experience. Leigh's work appears in magazines, newspapers and books, both in the UK and abroad.