Garden border ideas for beautiful planting schemes all year round
Create a garden border you can be proud of with these inspiring garden border ideas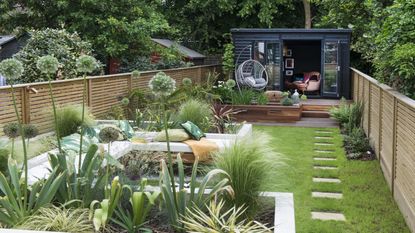 (Image credit: Future PLC)
Garden border ideas are the perfect opportunity to add colour and creativity to your garden and make it an inviting oasis all year round. Your borders can be used to show off a collection of showstopping flowers and foliage, create separate zones and define your pathways. Whether your garden ideas err on the side of meticulously landscaped or wild and free, your garden borders should reflect and work in cohesion with the rest of your garden.
When planting your garden border consider the natural layout of your garden. Look at which parts of your garden get more shade and sun, how sheltered or exposed it is and how wet or dry the area is. This will affect which plants will thrive in your garden and where in the garden they should be planted.
'There are several reasons why people may want to add borders to their gardens,' says William Mitchell, owner of Sutton Manor Nursery. 'Garden borders can be a great way to highlight a specific area of the garden and make the layout more visually appealing. They are also commonly used to separate areas, for instance, by keeping flowers and grass apart. Another reason is to enable privacy within the garden, which includes privacy for birds and wildlife that may be looking for shelter from predators or to breed/nest during the winter months.'
Even the smallest garden borders can create clearly defined 'rooms' and give a clear framework for your best garden furniture.
Jayne Dowle is an award-winning freelance gardening, homes and property writer, with over 30 years experience writing and editing for the UK's leading magazines and newspapers. Her first memories include planting potatoes with her grandfather and drawing houses. Her own back garden - her fourth - at home in a 1920s house in Yorkshire, is south-facing and on the side of a valley. It's a constant challenge. However, finding ways to establish successful planting schemes and create comfortable entertaining space helps to inform her writing. Jayne has covered everything from planning borders to choosing garden sinks. She also loves interviewing gardeners and garden designers.
Garden border ideas
When planning any garden layout ideas consider the colour palette or theme you want for the garden. An easy way to create harmony within your border is to use repetition to create a clear and distinctive border. For a contrasting look that doesn't clash, look to the colour wheel and pair together opposite colours. Or for a more minimalist approach choose varying shades of the same colour. Another way to add interest to your garden border ideas is to mix up the shapes of the plants and flowers.
If you want a stylish border but you're not the most green-fingered, fear not, there are low-maintenance options available. Limit the number of plants that require regular watering, feeding, clipping or deadheading. Instead opt for plants such as shrubs, evergreens, grasses and perennials which will take care of themselves.
'Garden borders are full of potential and create great focal and interest points in your garden. It's always a good idea to plant shrubs or flowers that will grow taller towards the back of the border, to ensure the smaller plants can be seen in front,' says Leigh Barnes, retail sales manager at Jacksons Fencing.
1. Create a wildflower border
Wildflowers are a stunning choice to add vibrancy to your garden border ideas and are loved for their versatility and low maintenance. They are perfect for encouraging bees and pollinators to come into your garden which is important for getting plants to reproduce and keep flowers coming in the subsequent months. Plus butterflies and bugs are attracted to the jewel-coloured flowers.
'If you want specific wildflowers in your meadow for more of an ornamental display, but still want the grass to be present you will need to remove some turf to get the desired conditions for wildflowers to grow in. This means removing the top layer of turf and ensuring it remains weed-free,' says Chris McIlroy, group e-commerce and digital manager at The Grass People.
This makes a wildflower border perfect for adding colour to your small garden ideas. 'Sow a wildflower mix with grass so that when your wildflowers have finished blooming, there is still a year-round habitat for wildlife, not an empty bed.'
Autumn is the best time to create a wildflower meadow and flowers such as yellow rattle, birds-foot trefoil, common sorrel, ox-eye daisy, red campion, red clover and yarrow and wild carrot are the best for your wildflower border. Wildflowers are usually perennials so they will die back in winter and regrow each year.
2. Add volume with shrubs
'Shrubs offer year-round interest and require little maintenance,' says Fiona Jenkins, gardening expert at MyJobQuote. Shrubs give your border structure while still producing stunning foliage and even juicy fruits. They are incredibly versatile and there are options to suit all growing conditions and planting styles.
'If you want to create a strong body for your borders, shrubs are the way to go. Evergreens with shapely leaves are the best options for garden borders. These work particularly well in small spaces. It's important to consider the type, size, and maturity when planting, as some shrubs can grow very quickly and can become very large, meaning they'll very quickly take over your garden.'
Popular, much-loved flowers such as roses, rosemary and lavender are in fact shrubs and provide both beautiful colour and scent when looking for ideas for garden borders. Shrubs can also give you colour for your colourful garden ideas during the winter months when a lot of other plants have died down. Camellias, daphnes and mahonia are great choices for evergreen shrubs that flower in winter.
3. Include low-maintenance garden borders
For easy garden ideas, having a low-maintenance garden border will allow you to sit back and enjoy its beauty without a lot of upkeep. Perennial plants work best if you're looking for plants that will come back year after year and only need a chop at the end of the flowering season. Nepeta is easy to care for, releases a beautiful fragrance and has silver foliage with blue-violet flowers that last for months.
For something close to the ground, Walker's Low has deep violet flowers and works well at the front of borders spilling out onto pathways or patios. Hardy geraniums such as Rozanne and Psilostemon fill in gaps by knitting in between plants to give you a consistent sea of colour.
Herbaceous plants are resilient plants with green stems instead of woody stems and include many perennials. Marcus Eyles horticultural expert at Dobbies says, 'Herbaceous plants like Delphiniums, Poppies and Lupins make great choices for garden borders too, as they will provide you with a gorgeous range of colourful flowers for a showstopping look.'
4. Vary the height of your planting
Without undulations in height, your garden border ideas can look flat and one-dimensional, so when thinking about how to plan a garden, use tall and short plants within your border.
Daniel Carruthers, director at Cultivar Greenhouses, says 'Placing taller plants at the back of the border and shorter ones at the front will not only allow each plant to get enough sunlight but will also create a more attractive aesthetic, as taller shrubs and climbers will draw the eye up, while beautiful blooms will edge the bed. Taller flowers, such as alliums and gladioli, will add both colour and height, and adding some topiary for structure, such as a box or yew ball, will add year-round interest when some of the flowers have died back.'
For plants which are shorter and will fill in sparse gaps at the front of your border, consider ferns which are easy to maintain and provide lush greenery. Other good choices include, catmint which is often in a lavender-blue colour that looks good and is a natural repellent of insect pests. Plus, hardy cyclamen comes in rich whites, reds and pinks with eye-catching mottled silver leaves.
5. Make use of bamboo
To give your garden a tropical makeover, bamboo will make you feel like you're abroad when in your garden. Bamboo is easy to grow and very hardy so works well in British garden borders and compliments garden decking ideas.
They are ideal for creating focal points in your garden, provide height and movement to your border and can act as a windbreak for smaller plants. For garden border ideas, clump-forming bamboo works best because it spreads slowly so will not get out of control and take over the rest of your border.
'If you want something a bit more unusual for your border, then you might want to consider using bamboo. You can easily buy them from Amazon or your local garden centre. Not only are they visually appealing but they can last for years if given appropriate maintenance,' says Jack Sutcliffe, co-founder of Power Sheds.
6. Highlight your border with lighting
Tucking in lights among your border creates a beautiful ambience and allows your border to shine even at night. Discrete ground light can give gentle illumination and highlight the form and structure of your border.
'Why not accent your favourite features with fairy lights? Or you could consider placing small lanterns around and through your flower and vegetable patches or using lights under your trees with large branches, creating enchanting and dramatic silhouettes when the night draws in,' says Deborah Cobb, product manager of landscaping at MKM Building Supplies.
When using garden lighting ideas within your border, keep the coverage of the lights symmetrical so that it illuminates the entire border evenly and there are no dark or overly bright areas.
7. Add plants for year round colour
Full and colourful garden border ideas don't need to be solely reserved for the spring and summer months. Consider investing in plants that will offer colour in autumn and winter.
Many perennials, annuals and shrubs bloom during the coldest months of the year. Pansies provide a riot of colour during the winter coming in bold blues, mauves, pinks and purples. Snowdrops give pure white dots of colour and will often start to bloom even when there is still snow on the ground hence the name.
Lenten roses look delicate but are hardy plants which bloom during the winter and produce flowers in a range of colours including pink, purple and yellow. Black tulips are also known as Queen of the night tulips and are perfect at providing rich and moody colour to your garden border ideas, while being resilient to cold winter temperatures.
8. Focus on one key colour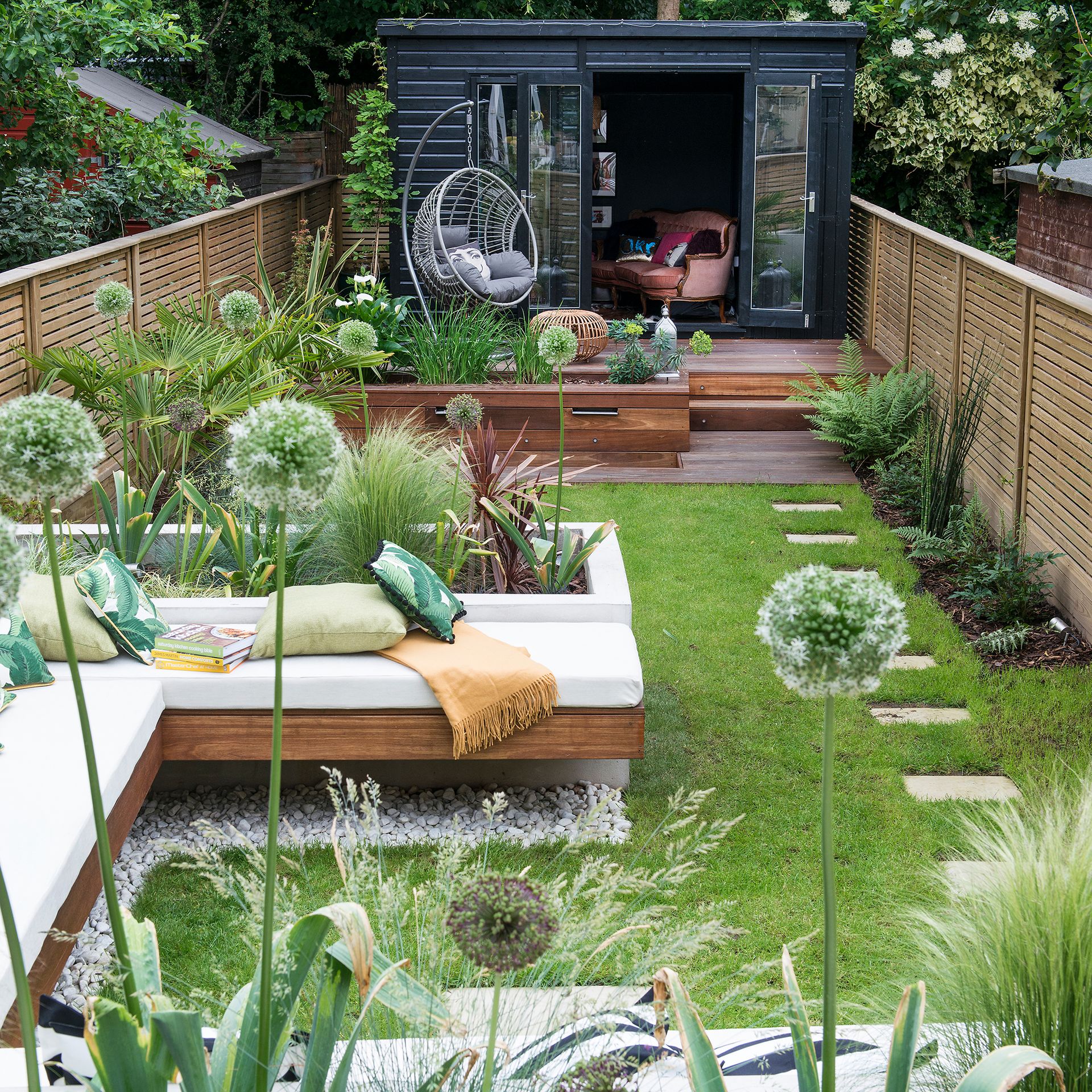 Expert gardener Sarah Raven, says the best way to start planning ideas for garden borders is to collect together a bunch of catalogues of good suppliers and print-outs from online magazines and websites too. 'Cut out your favourite colours and forms of plants. Checking their seasons of flowering and their heights are compatible, combine your items on a large sheet of paper with blue tac so you can easily shift things around.
'Then refine this with one main colour, with a large and showy flower - I call this my bride - then something in a very similar colour or tone which is a little smaller or more demure – that's the bridesmaid.
'Finally, scatter a colour contrast through to bring the whole thing to life - I call this the gate-crasher. You need this bit of zest, rather than pure harmony. Use that as a basis of a new border and spread out from this core of three plants.'
9. Divide areas with borders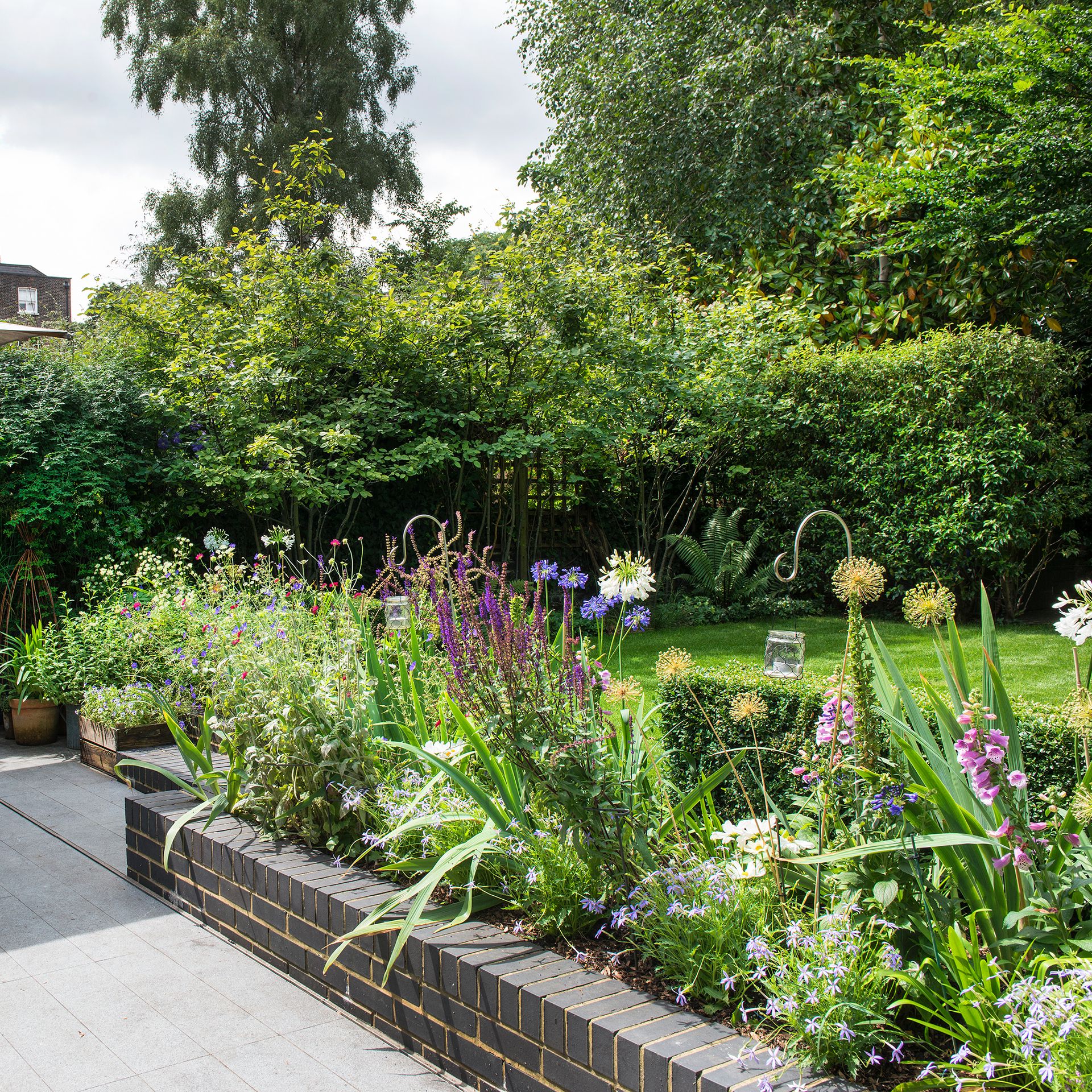 As well as looking gorgeous, borders carry out a serious structural purpose in the garden. They work alongside hard landscaping elements such as garden decking ideas and patio ideas and they give a clear outline to lawns, bringing form to the space.
'When designing your border, consider the other colours around. Contrasting colours give a striking look and can help each element to stand out clearly,' says Nathan Gamba, director at Protea Gardens, 'I always feel that borders accentuate a strong design feature of any garden.'
10. Use the fence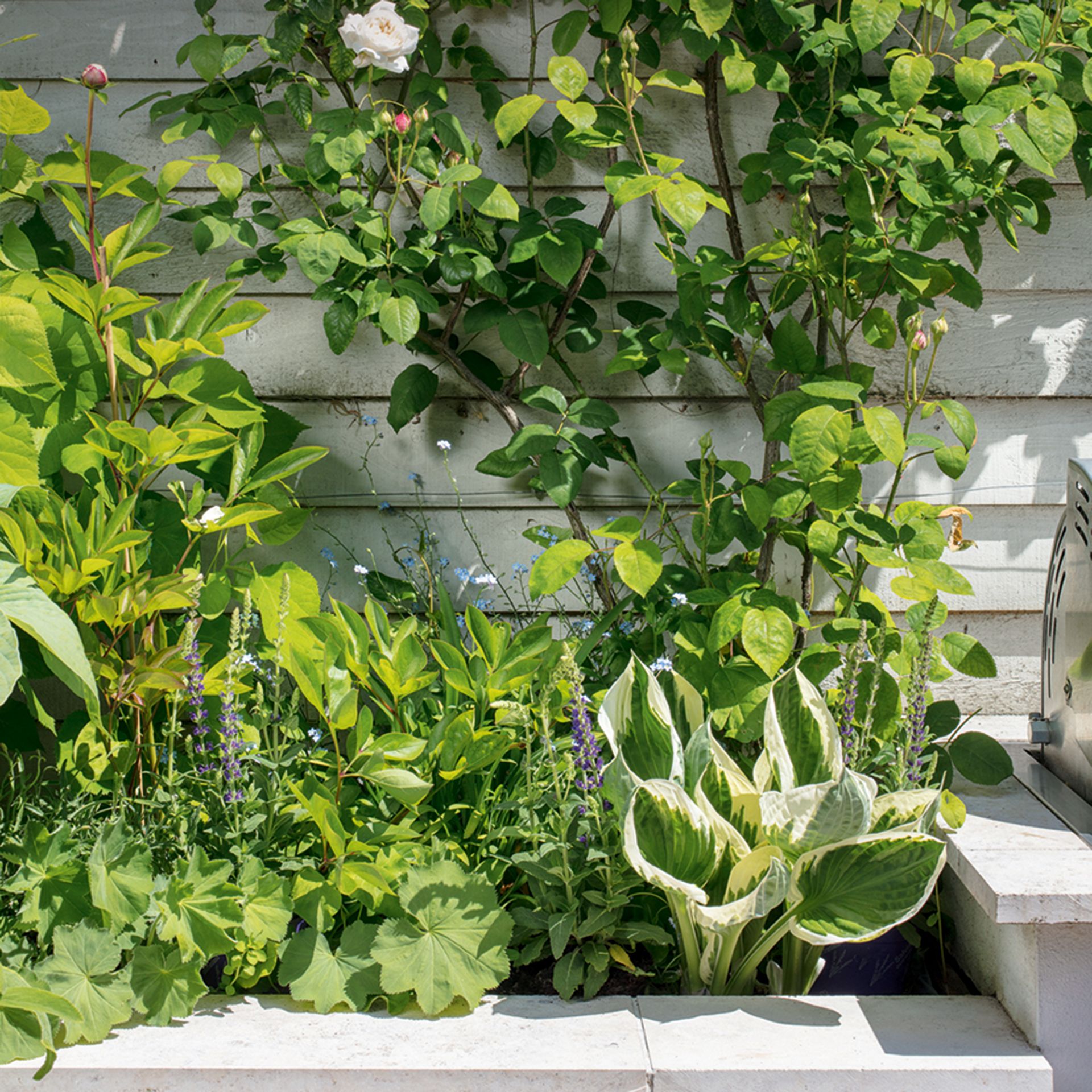 You don't need a huge area to introduce effective garden border ideas. It's possible to create a neat growing space by building a border in front of a stylish fence. So if you're interested in garden fence ideas and really want to make the most of every centimetre of space, consider a border which - as well as showing off colourful blooms and interesting foliage - holds a climbing plant to scurry up the fence in no time.
11. Keep to a colour scheme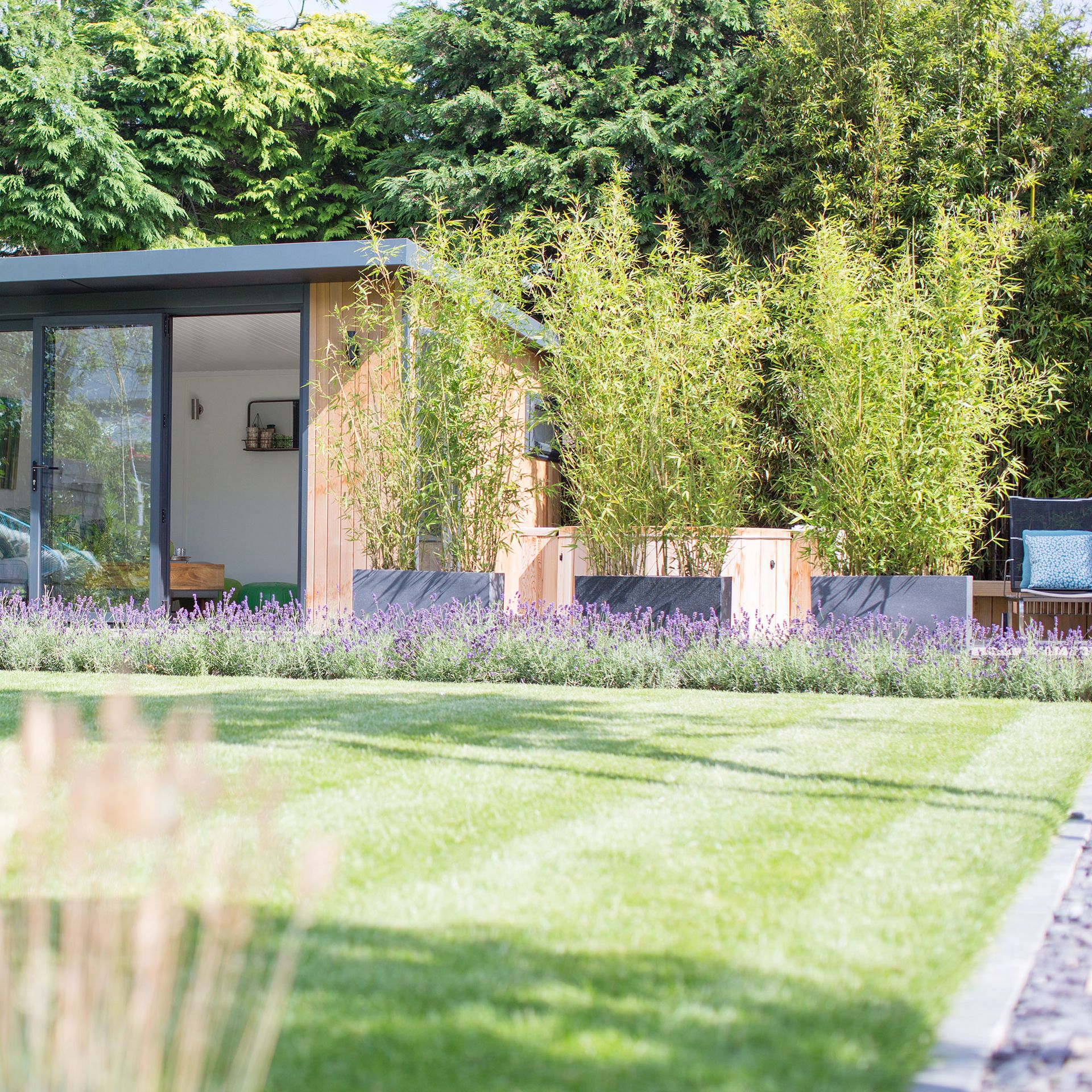 If you have a clear idea of the colours you like for your borders – it's a good trick to start with three: a neutral, a deep and a contrast, for instance, white, blue and yellow – you'll be able to easily start to choose which plants will work well.
However, if you're stuck for inspiration, you might want to look into how much a garden designer costs. Often, garden designers will draw up just a planting plan for a fixed fee, which should give you lots of expert guidance to get going.
12. Follow a path with purpose
A natural home for borders is either side of a garden path idea. There are lots of quick and simple ways to create a path, one of the easiest and most inexpensive being to lay gravel. However, if you're keen to put down a more permanent pathway that will stand out as a strong design feature, perhaps in brick or stone, you might need to consider garden landscaping costs.
13. Don't be afraid to add drama
The best ideas for a garden border should offer a surprise. So contrast dramatic exotic shapes such as banana trees, rounded hummocks, spires and 'see-through' shapes. Check out the latest garden trends for inspiration. 'But don't use too many different plants - restrict your choice of varieties, repeating them rhythmically at intervals,' says Annelise Brill, a horticultural expert at Thompson & Morgan.
A good rule of (green) thumb is to add border plants in odd numbers as this will help to create a pleasing sense of continuation. Sarah Raven says that she never plants just one of each kind of plant: 'Ideally more like three or five so you have impact and pizzazz, rather than an overall fussy and dotty effect.'
14. Learn to love naturalistic planting
If you're worried about a border requiring constant maintenance, embrace naturalistic wildlife and pollinator-friendly planting. If you're after a cottage garden idea, this could be the option for you. At RHS Chelsea in 2022, garden designer Ruth Wilmott proved it was possible to plant a wonderfully relaxed garden that also followed precise design rules.
She interpreted the 'Trellis' and 'Willow Bough' patterns of Arts & Crafts maestro William Morris with borders filled with a dazzling array of cottage garden favourites such as roses, acanthus, meadowsweet, wild strawberries, jasmine, and wild honeysuckle.
15. Put pots in borders for instant impact
A quick fix for any border, especially in the awkward times in-between seasons, is to play with the potential of pots. To make pots work effectively when bringing your garden border ideas to life, you need to think about how to enhance the bigger picture. Avoid cluttering up with too many small planters. Go for impact, with stately palms or bright displays of tulips in springtime.
'Use the biggest possible pots if you want to enhance your borders - as large as you can possibly afford and fit in the space,' says Sarah Raven. 'Raise them up on a plinth or top them with a woven silver birch or tied bamboo cane tepee, which you can cover with one of the quickly-growing annual climbers such as Thunbergias, impoaeas, cobaea or rhodochiton.' This added height is a great trick to use for small garden ideas, where planting space is at a premium.
16. Make the most of shady borders
Don't discount shady, north-facing garden ideas or overlooked spaces which could be transformed by being turned into a border. Chose planting carefully, paying particular attention to whether you have 'dry' or 'damp' shade, as shade-loving plants such as ferns and hostas are often fussy in this regard.
If you're keen to add colour, easy-to-care-for hydrangeas are a good choice; white blooms against glossy green foliage look especially effective.
17. Add an edging
There are garden edging ideas that can run along your ideas for garden borders. These include: forming a natural 'dip' between planted-up soil and the lawn with a hoe, laying easy-to-use log rolling, or building low brick, stone, slate or rendered walls, typically painted in a complementary or contrasting colour to the planting scheme.
Always add a clear edging to a border - even if it ends up overwhelmed with vigorous plants - or it will lack foundation and end up looking formless. A clear border edge will also make it easier to mow the lawn, especially with the best lawn mower to hand.
18. Plan for year-round planting
The holy grail of when it comes to winning garden border ideas is to create a display that looks good whatever the time of year. This can be a challenge, especially with a new border that will take time to establish itself.
Think of your late autumn/winter border as a framework. 'Start by allowing space for plenty of evergreen foliage such as ivy, boxus and hebe,' says Annelise Brill, from Thompson & Morgan. 'And remember, when you're planning, to leave several holes for bulbs and annuals, which you can plant throughout the year in drifts to add extra colour, even in the gloomiest months of January and February.'
How do I create a garden border on a budget?
Creating a garden border which looks good, has structure and will provide foliage and colour all year round doesn't have to break the bank. To stick to your garden budget, don't feel like you need to create a whole new border, simply sprucing up your existing one will bring a new lease of life to your garden.
'If you are using planting to create a border, consider choosing flowers that may not necessarily be on trend to keep things less expensive,' says Lewis Darley, content creator at NeoTimber.
Jenny Davis, marketing manager at Forest Garden says, 'Decide how much space you want to dedicate to a border and then get digging. Taking on all the labour yourself will keep costs to a minimum and will allow you to invest all your budget in materials including good quality soil, a selection of seeds and plants and a structure or two around which you can plan your border.'
How do you structure a garden border?
'Generally you would have the low plants at the front and gradually increase in height until you have the tallest at the back but, if you have wide borders, you can inject some height towards the centre of the border,' says Angela Slater gardening expert at Hayes Garden World.
'Leave the border for the first year and make a note of any gaps then fill the front with seasonal bulbs and any gaps towards the back can be filled with taller perennials. Try and evenly space out the evergreens and shrubs so when the herbaceous perennials have died back in winter you still have some interest.
'Shop regularly for plants so that you have something flowering or is interesting over the whole of the year. Some of the herbaceous perennials can be left uncut over the winter as the stems and seed heads look beautiful when covered in frost.'
And don't forget, your ideas for garden borders are only as good as what they grow in. Keep the soil fertile with lots of organic matter dug well in a few months before the growing season; manure is ideal. Add liquid seaweed food to add nutrients to the soil and encourage flowering during summer/early autumn. And always add a nurturing layer of mulch; the best mulch is homegrown compost from plant and kitchen vegetable/fruit waste, made in a compost bin with waste from your garden.
How do you create a low maintenance border?
Work with nature, not against it. Start with the soil conditions and orientation then choose your plants, not the other way around.
'Focus on foliage not flowers,' says Annelise Brill from Thompson & Morgan. 'Foliage shape, texture and colour are enduring and low-maintenance qualities whereas flowering performance is fleeting. Go for evergreen foliage as much as possible.'
Mediterranean garden ideas are great for garden border designs because they offer evergreen foliage and flowers, without needing a lot of attention.
Get the Ideal Home Newsletter
Sign up to our newsletter for style and decor inspiration, house makeovers, project advice and more.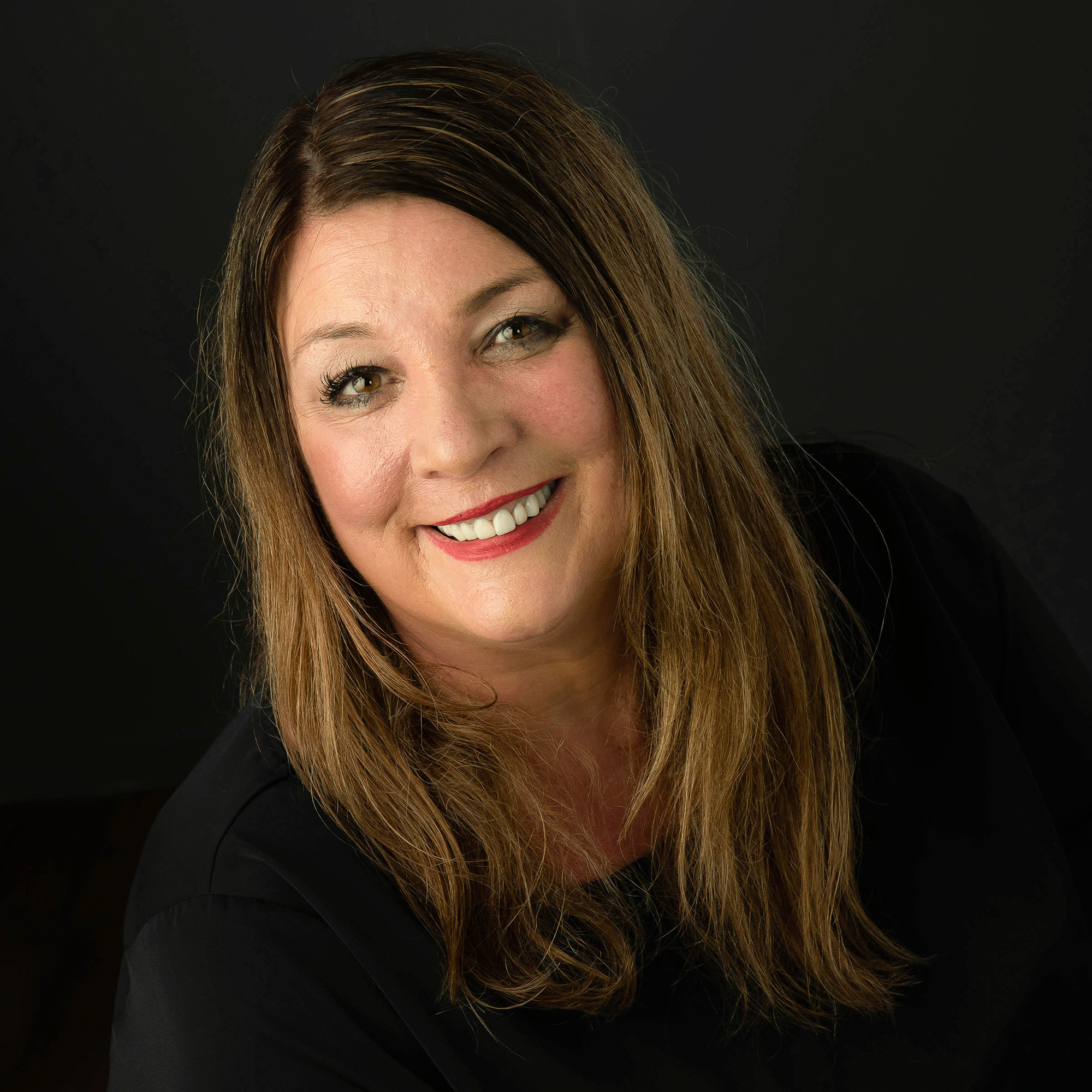 Jayne Dowle is an award-winning freelance gardening, homes and property writer who writes about everything from swimming ponds to skyscraper apartments, for publications including Sunday Times Home, Times Bricks & Mortar, Grand Designs, House Beautiful and The Spectator. Awarded the Garden Journalist of the Year accolade at the Property Press Awards in 2021, she has a degree in English Language and Literature from the University of Oxford and a lifelong love of homes, interiors and gardens.