34 patio ideas for a stylish and inspiring outdoor living space
Take your outdoor space to the next level with these chic patio ideas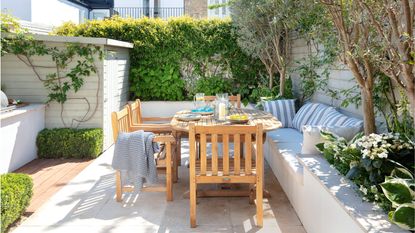 (Image credit: Future PLC/David Giles)
Make the most of your outdoor space by turning your patio ideas into a special focal point within your garden. Whatever your garden shape or size a patio makes it easy for your garden ideas to shine with little maintenance required. From porcelain to concrete there are a variety of materials to choose from.
'Your patio is the social centre of your garden so it's essential to design it perfectly. You don't want it to dominate your garden and overshadow your greenery, but at the same time, it shouldn't be too small to be unfit for purpose. We advise that you, measure your living room and use similar dimensions for your patio - this will ensure the patio is defined enough for ample outdoor seating,' says Francesca Hadland, interiors expert at Bridgman.
'If you're unsure, rope off the proposed area and place your outdoor furniture inside it to see how it fits. If you don't have your furniture yet, lay rope or tape in the shape of the sets you're looking to buy.'
Patio ideas
No matter your garden landscaping ideas a patio gives you a designated area to sit back and relax, entertain and enjoy alfresco dining.
'For small, bistro patios, especially small spaces with only enough room for a couple of chairs, choose a beautiful bistro dining set to create an intimate alfresco dining space that's perfect for romantic evenings out in the garden,' says Francesca Hadland from Bridgman.
1. Mix up the materials
'When choosing the right materials for your patio, it's a good idea to mix up materials to help add some interest and break up a large area,' says Thomas Goodman, property expert at MyJobQuote. 'Using multiple materials can help to make a smaller space feel larger if used correctly. Hiring a landscape designer can be helpful when coming up with the right patio design for your garden space.'
One of the benefits of using a patio as part of your garden landscape is the versatility of the materials that can be used. From concrete, to pavers, stone, tile, brick and gravel, changing materials can create separate zones within your patio. Ideal if you want to use your patio for multiple things such as a dining zone or a reading corner.
You could lay bricks in a herringbone pattern under your dining area similar to the flooring you would find in indoor dining spaces. This would work well contrasted with concrete or paving slabs for the rest of the patio.
2. Create a herb area
The patio is the perfect place to start a little herb garden idea because they thrive well in containers and are easy to get started. A patio near the home makes popping out to your herb garden super easy for last-minute touches of parsley or coriander. Mint, oregano, rosemary, thyme and sage can stay outdoors all year round once they have been established.
The best time to buy and plant herbs is later in spring because herbs planted in winter are susceptible to root damage in cold and wet environments. Be careful about buying pot-grown herbs from supermarkets because they are often too stressed to adapt to growing outdoors; instead, buy your herbs from nurseries or garden centres.
Choose containers which will give your herbs space to grow deep roots so they can be left undisturbed. Use gritty moist compost and balanced fertiliser to encourage leafy growth, rather than a potassium-rich fertiliser which promotes flowering.
3. Add a calming water feature
Adding a water feature is a beautiful way to provide a living and moving piece of artwork that is eye-catching and adds sound and movement to your space. A water feature adds a striking design element to your patio décor ideas and allows you to have a wider variety of planting. If you suffer from noisy neighbours or traffic, a water feature provides calming sounds of running water to minimize annoying background noise.
There are plenty of designs to choose from depending on how big or small you want it, and if you would prefer running or still water. Watertight troughs and containers create a strong focal point that can take pride of place on your patio. A garden water bowl is also a clever way to bounce light around your patio and can come in sleek metal for a modern garden or stone for a more rustic garden.
4. Install a sustainable patio
A sustainable garden is more important than ever to protect gardens for future generations. Sustainable gardening can be applied to your patio ideas by choosing natural materials such as local stone for your patio. Using a permeable material is also important to allow ground water to flow between open spaces and filter pollutants as the water seeps through the surface.
'Choosing patio materials that are recycled or reclaimed helps to reduce the use of natural resources. Gravel patios and other permeable surfaces will allow rainwater to soak into the ground rather than contributing towards flooding,' says Thomas Goodman from My Job Quote.
'If you are creating a patio as part of a larger gardening project, you could re-use things like stone, bricks, or gravel that are removed from other areas. Always look to source local materials as a way to reduce your carbon footprint. Nearby salvage yards or quarries are great sources for materials.'
5. Focus on the lighting
'When considering the best lighting options for your patio it is important to measure the space and factor in the throw of the lights,' says David Amos, founder of Amos Lighting and Home.
'Outdoor lighting is an investment, if you're going for quality it should last, we recommend choosing a style that suits the architecture of your home as well as your personal style, as this will aid longevity. It's perfect for creating a subtle ambience, allowing you to entertain guests later into the evening during the warmer months,'
Adding extra illumination through garden lighting ideas brightens up any closed-off corners and gives the patio a welcoming glow. Solar lights are a great option that the environment and your wallet will thank you for. To give your patio lighting ideas a cosy feeling warm lighting is the most flattering and encourages you to slow down and relax in the environment.
6. Incorporate a parasol
A patio is the best place to sit out and enjoy the sun and immerse yourself in the garden. However, with the British weather your garden can experience blazing sun one day to torrential rain the next. Adding a parasol to your garden allows you to enjoy your garden all year round and be protected from the elements.
'If you plan on sitting out in the sunshine, and who doesn't, a parasol is a must, especially if you have young children,' says Angela Slater, gardening expert at Hayes Garden World.
A parasol is also a good way to offer some privacy from nosy neighbours if your patio is overlooked.
8. Add pops of colour with container planting
'Colourful pots are great for elevating your outdoor area and can be mixed and matched to suit your patio,' says Lynsey Abbott, senior buyer at Dobbies.
Potted plants provide a pop of colour and outdoor pots are ideal for growing vegetables. Loose-leaf and romaine lettuce work well in planters because it requires less room to grow. Tomatoes also work well in pots that are at least 12 inches deep and like being watered a little every day.
Potted plants allow you to grow plants and flowers that are not suitable for your garden soil and grow plants that have different soil needs next to each other.
'Group together different sizes and styles for a fuller look and inject some vibrancy with new-season plants for instant colour. If you favour a minimalistic design, a few Ferns styled in neutral pots will breathe life into your patio, or if you prefer a more relaxed country garden feel, you can have fun planting your favourite perennials in terracotta pots of different sizes.' You can also line pots along any garden border ideas to create interest along pathways or the boundaries of your space.
8. Use porcelain tiles
For a hard-wearing patio that will stand the test of time, porcelain gives you the look of natural stone while being slip resistant and easy to lay. Porcelain is a patio paving idea that blends in with the natural environment and comes in a range of styles and colours to suit your interior and exterior décor.
Colin Lincoln-Evans, buyer at Tile Mountain says, 'Porcelain is a relatively modern material when it comes to tiles and with the developments in inkjet printing technology they can now even mimic the characteristics of natural stone such as marble.
'Suitable for use both inside and out which makes for a seamless join of the two spaces, porcelain is hardwearing as well as being moisture and stain resistant, equally, it won't fade in sunlight. Modern porcelain tiles are manufactured using a variety of sustainable practices, and this combined with the longevity of the product makes them a planet-friendly option.'
9. Top with a pergola
Turn your patio into an outdoor room by topping with a garden pergola idea. Even the most simple designs can be incredibly effective with a lick of paint and some clever styling.
Situate your furniture and accessories under the pergola so everything is neatly zoned. You can also train climbers and drape festoon lights across the top. And voila - your patio is now a miniature outdoor living room!
10. Build in seating
Patios can often be lacking in space, but that doesn't mean you can't use them to their full potential. Think about what you need from your space and prioritise it. For example, every patio needs some form of seating.
As an alternative to adding some of this year's best garden furniture or investing in garden chairs, you can save space by adding built-in bench seats to the sides of raised beds. You'll save precious space and have ample seating.
11. Create an outdoor kitchen
Outdoor kitchen ideas are having something of a moment right now, and they happily pair up perfectly with patio ideas. There are outdoor kitchen ideas to suit every size of patio - from a full-blown chef's paradise to a pizza oven or a barbecue.
One patio consideration to make is that some flooring materials are better suited to this job than others, so confirm with your supplier.
12. Create zones with planting
It can be tempting to pave a whole small garden into a large patio space to save effort and upkeep. However, you can be clever with planting to actually make your space work even harder.
Landscape your area with two main patios at either end, and a path linking them. In the space, or spaces, between, add in luscious planting to get up close and personal with nature and add interest to the space. Plus, you've now created two zones, which is ideal for a busy family or when entertaining.
13. Create cohesion with stepping stones
It can sometimes feel a bit jarring having your patio suddenly end and the lawn begin. Make this transition feel so much more natural by using excess paving material from your patio ideas and turning them into a stepping stone pathway. Both areas will feel linked and there won't be any hard divisions between patio and lawn.
14. Add a pretty border
If you're looking for easy garden ideas to add impact to a patio, then upgrade your borders. Even small lawns can benefit from offering up some of their space to be turned into borders. These will add pretty interest and neatly separate out lawn and patio ideas.
Use this extra planting space cleverly - either turning it into a haven for wildlife by opting for a herbaceous border, or creating mini kitchen garden so sweet smelling herbs are readily available.
15. Save space with a hanging chair
Square footage is lacking in many of our outdoor spaces, but you can still create pretty patio ideas. Use a hanging chair for your seating element, to free up ground space. Then layer in pots a plenty to add colour and interest. You'll love it so much you'll start to wonder how you ever sat on a normal chair.
16. Add personality with pattern
Patterned floor tiles are not just for indoors. The experts at Ca'Pietra say porcelain tiles are one of the unsuspected tile materials that can live outdoors, just as happily as they can in kitchens and bathrooms. 'They're frost-proof, because they don't absorb water so won't crack. And they're super low maintenance so will stay looking as good as new with very little TLC. Plus, you can get patterned porcelain tiles to jazz up sections of your garden rather than classic stone paving.'
'Just make sure that the porcelain tile is suitable for exterior use, you will find that with many of our internal porcelain tiles we offer an external option too, to allow a tile to run from the inside-out.'
17. Make the patio an extension of your indoor space
Create a patio garden that looks nothing like your traditional idea of a patio garden! Installing sliding doors means you can roll back the doors from your kitchen-diner and increase space with a seamlessly adjoining al fresco space beyond; make the tiles match up perfectly to create a fluid dining area and keep them looking their best with the help of one of the best patio cleaners.
You could move the table and chairs out easily for fuss-free and family-friendly weekend meals. Just keep patio slabs freshened up by using
18. Create a seamless flow with matching materials
Blur the boundaries between indoors and outdoor aesthetics. Make the patio feel like an extension of the immediate indoor living space by coordinating the flooring material. 'Merge your kitchen and garden by extending your indoor flooring out onto courtyards and patios,' says Isabel Fernandez, Director at Quorn Stone.
'To give the illusion of more space, we recommend going with a larger paver size such as 900 x 600 or 800 x 800. The larger the paver, the less grout and therefore it helps to create a seamless space that isn't broken up by numerous grout lines. We also recommend choosing a grout colour that is a close colour match to the paver itself – again, this helps the grout to blend in with the pavers and gives the illusion of a larger area.'
19. Add decorative deck tiles to a patio
Add interest to the look of a wooden patio by laying deck tiles, rather than the classic deck boards. This style of outdoor flooring is readily available from all good flooring retailers, and it's no more expensive to the traditional style of decking ideas. Choosing an alternative decking area helps to add character.
20. Surround paving with raised flowerbeds
If you only have a small garden, swap grass for a patio to create the perfect area for alfresco dining. Raised flower beds surrounding the patio are a clever way to add a splash of colour, that will make you feel like you're dining in the middle of a meadow. Paint the walls of the planters white to attract the light, helping to make the space feel bigger.
21. Create a focal point with a warming fire pit
Fire pits are the garden must-have right now, as we look to use out outside spaces more – whatever the weather. Build your own design incorporated into the patio paving to get the exact size and shape to suit.
No matter how big or small your patio, it's always good to create a focal point to give the space a sense of purpose. Benches either side of a warming fire pit help to create an inviting place to relax and spend some downtime in the garden - however chilly it gets.
22. Paint the patio
Painting the patio has become a popular trend to give tired-looking paving slabs a modern day makeover. Using specialist outdoor paints and a stencil homeowners are giving their patios a refresh with an injection of colour and pattern.
23. Elevate a dining area
Add interest to raised patio ideas by dressing it as the main social spot within the outdoor space. Look to stylish interiors trends when creating your dining space. For a modern look, mix and match bright and contrasting furniture with traditional wooden finishes.
24. Extend a small space
Make the most of a compact outdoor space that adjoins a flat or house, by creating your very own modern secret garden. Run floor tiles out from the interior space to give a sense of continuity and create the illusion of a larger area. Add clusters of large pots holding lush plants to create a tropical feeling and the sense of being in nature.
Remember that garden mirror ideas such as mirrored panels can double the space - visually at least -making it feel light and full of energy for a meal or casual drinks. Talk about having it all!
25. Take indoor interiors out with homely accessories
In addition to considering the aesthetics such as wood panelling on walls and floor tiles, think about taking the indoor accessories outside too – to create a more homely feel. Outdoor rugs and cushions are both becoming increasingly more popular, as a great way to inject an artistic flare to garden spaces.
There's no harm in taking your existing accessories outside, permitted the weather stays fair to prevent damage. However you can purchase accessories especially made for outdoor purpose, which is preferable.
26. Make it modern with contemporary colours
Grey is still one of the most popular colours in all aspects of interior design. Take the colour into your patio ideas by way of polished concrete or grey porcelain tiles. Go one step further and co-ordinates the colour scheme with grey shutters and doors.
Add a glass-topped table and finely woven chairs to achieve an almost weightless feel, and look crisp and fresh against all the garden's greenery. Finish with a modern large white parasol to both visually zone the dining space and provide shade on sunny summer days.
27. Plot a pretty potting area onto the patio
A patio needn't be used solely for summer dining. Set up your practical plant potting area outside your back door, with a vintage workbench for storing gardening tools and housing the season's prettiest plants.
When not in use for pruning tall trees, a neat stool doubles up as a lovely spot to have a tea break and take in the scene.
28. Install an enclosed garden room
Is it a porch? Is it a patio? Maybe it's both! The space beneath a raised deck makes a lovely shady outdoor living area, that's ideal for sociable gatherings in summer – or even winter, if you provide a little heating and plenty of blankets.
29. Plan a designer garden
Patios don't have to be a one-level, just-outside-the-door affair; this carefully designed tiered space is a prime example of a patio that has stepped up (forgive the pun) to the next level in garden design, for a statement grassless garden idea.
30. Keep it functional and family-friendly
If you're looking for patio ideas with a more traditional design direction, why not use garden furniture to set your desired atmosphere? Consider teaming wooden benches with relaxed soft furnishing for a patio haven that's very shabby chic. Or, by contrast, set out a vintage-style iron bistro set with slatted chairs and patterned seat covers to capture an effortless French farmhouse look for lazy Sunday lunches outdoors.
If you have a brand-new kitchen extension, but the garden beyond doesn't quite match up (yet), a little streamlined modern furniture can work wonders.
31. Simplify your patio space
Make a cosy nook for yourself in a sprawling country garden with a beautiful and simplistic courtyard. Plant the space richly with climbers creeping up trellises, bedding plants and even a selection of plants potted in aged galvanised steel containers. A simple bench or bistro set is all these patio ideas need to let the surroundings sing.
32. Opt for a ski-chalet-style garden
Patio ideas don't come much better than this! You don't have to hit the slopes to enjoy the benefits of an apres-ski style terrace. A fresh take on the functional garden patio, this idea takes the outdoor social space into winter...with the help of an outdoor heater, plenty of faux-fur blankets, woven textures and flickering candles housed in glass lanterns.
Romantic, super stylish and a little bit hygge? We think so.
33. Perfect your patio with Shabby-chic furniture
A paved balcony can make a great patio ideas substitute in flat. Make the most of the extra space and furnish with slimline colourful furniture that won't overwhelm the patio. Foldable pieces are ideal as they can be folded down to create space when not in use/to suit the situation.
Use the ledge beneath the balcony to house plants and bring the all-important natural element to your miniature garden.
34. Incorporate a garden canopy
It goes without saying that patio ideas are a go-to spot for alfresco dining, but rain - or sometimes sun - can be a problem when entertaining outside, so garden shade ideas are a must. A simple homemade canopy made of a swathe of flowing fabric can offer a stylish covering, and gives a somewhat nautical vibe to an outdoor area.
Looking at other fabric-based garden accessories (or some might say essentials) a hammock is another indulgent option for a relaxed patio. It works for small and large spaces alike, and makes a lovely place to snooze in the shade on long summer days.
How can I make my patio look nice?
A well-designed patio should incorporate patio furniture ideas that complement each other both in colour and texture. Dark patio colours work well to frame and contrast areas of the garden you want to highlight. Pale patios provide a neutral background, making planting look more vibrant and intense.
Anna Hampshire, head of marketing at Marshalls says, 'Spring cleaning shouldn't stop at your garden. Start early by discarding unnecessary items from your garden. That means getting rid of weeds, rubbish, unused furniture, old bicycles and anything else that's taking up precious space. There may be a build-up of organic growth such as algae which can be cleared up with a pressure washer on a low power setting.'
'Creating an inviting outdoor space does not have to come at a large expense. Adding in smaller, decorative items and creating a warm atmosphere with lighting and accessories can be just as effective as having large furniture items while being budget-friendly,' says Rikke Blaeside, design and range manager at JYSK.
'Consider incorporating furniture and accessories that are not traditionally associated with outdoors, such as soft furnishings. Bringing interior décor items like these and extras like mirrors, clocks, and rugs outside is a great way to elevate an outdoor space. Using lights in a warm tone will help to create an inviting atmosphere in a typically cooler environment, while also allowing you to add further decorative touches.'
What is the best material to use for a patio?
There are plenty of material options for laying a patio, from an affordable concrete-based tile, to a permeable material which is best for places prone to flooding. Natural stone is a classic choice that looks good, is durable and comes in sandstone, slate, marble and limestone.
'Tiles can be an extremely impactful and versatile choice, they offer more variation and are available in a range of colourways and styles that can transform your garden,' says Amanda Telford, marketing manager at CTD Tiles.
'Measuring a thickness of 20mm, outdoor patio tiles are twice as thick as standard porcelain tiles and offer many features and benefits, including a durable, scratch-resistant surface requiring very little maintenance – simply sweep and wash down. Outdoor porcelain tiles are-non porous, so even in freezing conditions, water won't enter the tile and cause it to crack. They are also UV resistant and won't fade over time, giving you the ultimate peace of mind in all weather conditions.'
Get the Ideal Home Newsletter
Sign up to our newsletter for style and decor inspiration, house makeovers, project advice and more.
Tamara was Ideal Home's Digital Editor before joining the Woman & Home team in 2022. She has spent the last 15 years working with the style teams at Country Homes & Interiors and Ideal Home, both now at Future PLC. It's with these award wining interiors teams that she's honed her skills and passion for shopping, styling and writing. Tamara is always ahead of the curve when it comes to interiors trends – and is great at seeking out designer dupes on the high street.