37 front garden ideas for the ultimate kerb appeal
From flower beds to footpaths and tiles to topiary, this is how to make the best first impression your home can offer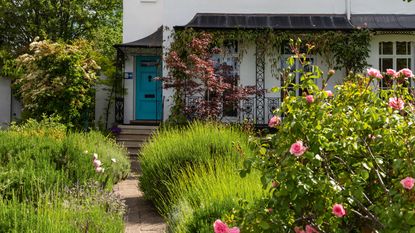 (Image credit: Future PLC)
Good first impressions don't stop with you - your front garden ideas instantly set the tone for what people think of your home. And, forgetting about everyone else, it's what you'll see every time return home, so having a beautiful space will make even the greyest days feel a little brighter.
While most garden ideas are focused on the rear areas, you won't find yourself lacking when it comes to the front either. Keeping it neat can make a huge difference in how it feels, even before you start thinking about planting or landscaping.
'The front garden is the first thing that people see when they come to your house so it's worth investing some time and effort into making it look nice and tidy,' advises Chris Bonnett, Founder, Gardening Express. 'No matter the size of your front garden, if you want it to stand out then there are many ways you can make it look more attractive.'
Front garden ideas
'A front garden can vary greatly in size, but there are a few ways which you can make an impact,' notes Asli Çeçen, founder of homeware brand Sazy 'If you live in a town or a city, opt for smaller accessories like colourful plant pots to make a statement.'
'If you're blessed with more space to use for your front garden ideas, why not create a comfortable seating area with a brightly colour bistro set or bench to sit and enjoy the sunshine.'
1. Think about what you need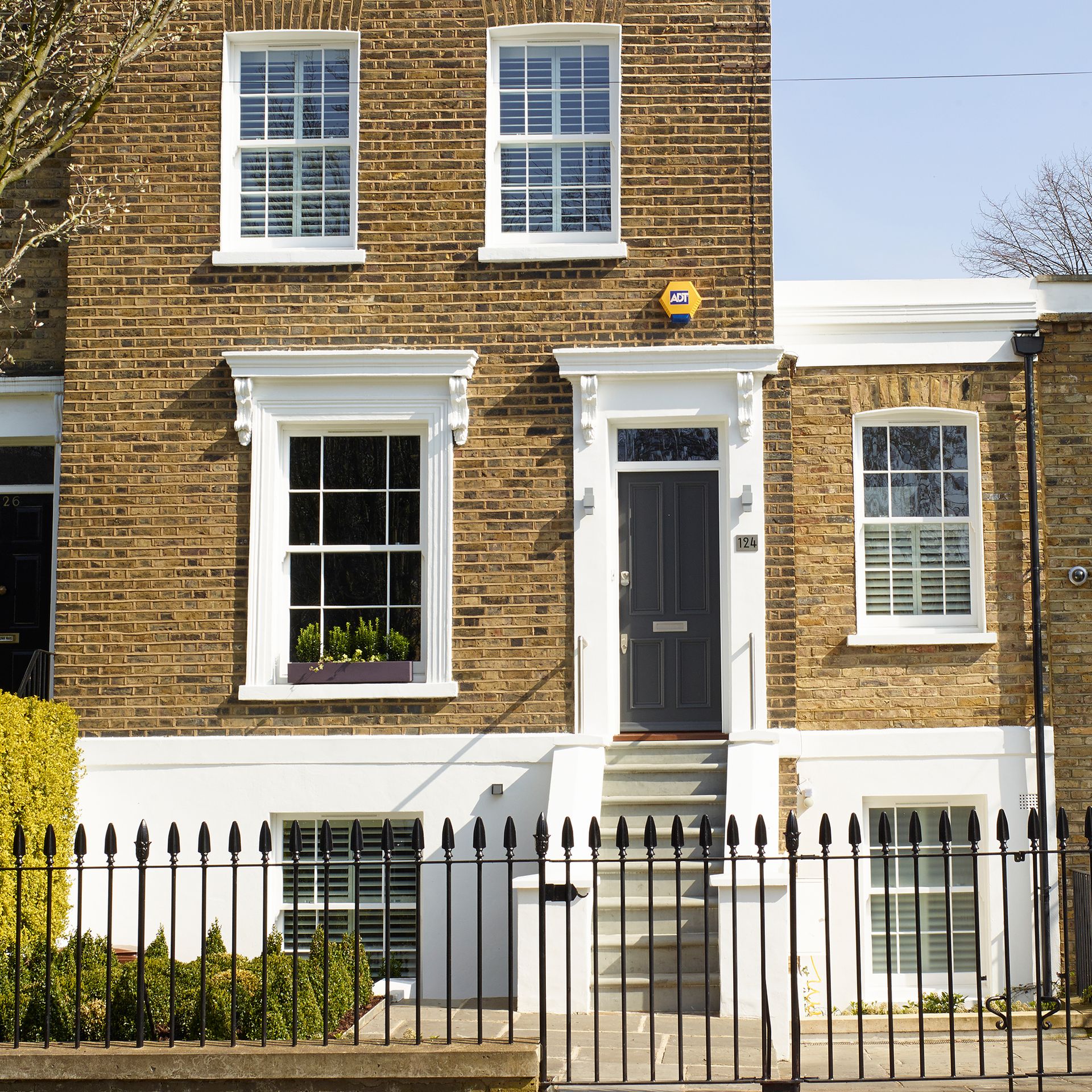 Not every home suits - or needs - grass based front garden ideas. Some properties, such as townhouses, really need to make the most out of this space for other practicalities like wheelie bin storage or access to basement entrances.
In this cases, stick to paving and carve out a small section for either pots or a topiary display. If the area needs a little more energy, a few window boxes or pots on wills will provide low-maintenance pops of colour.
2. Get lit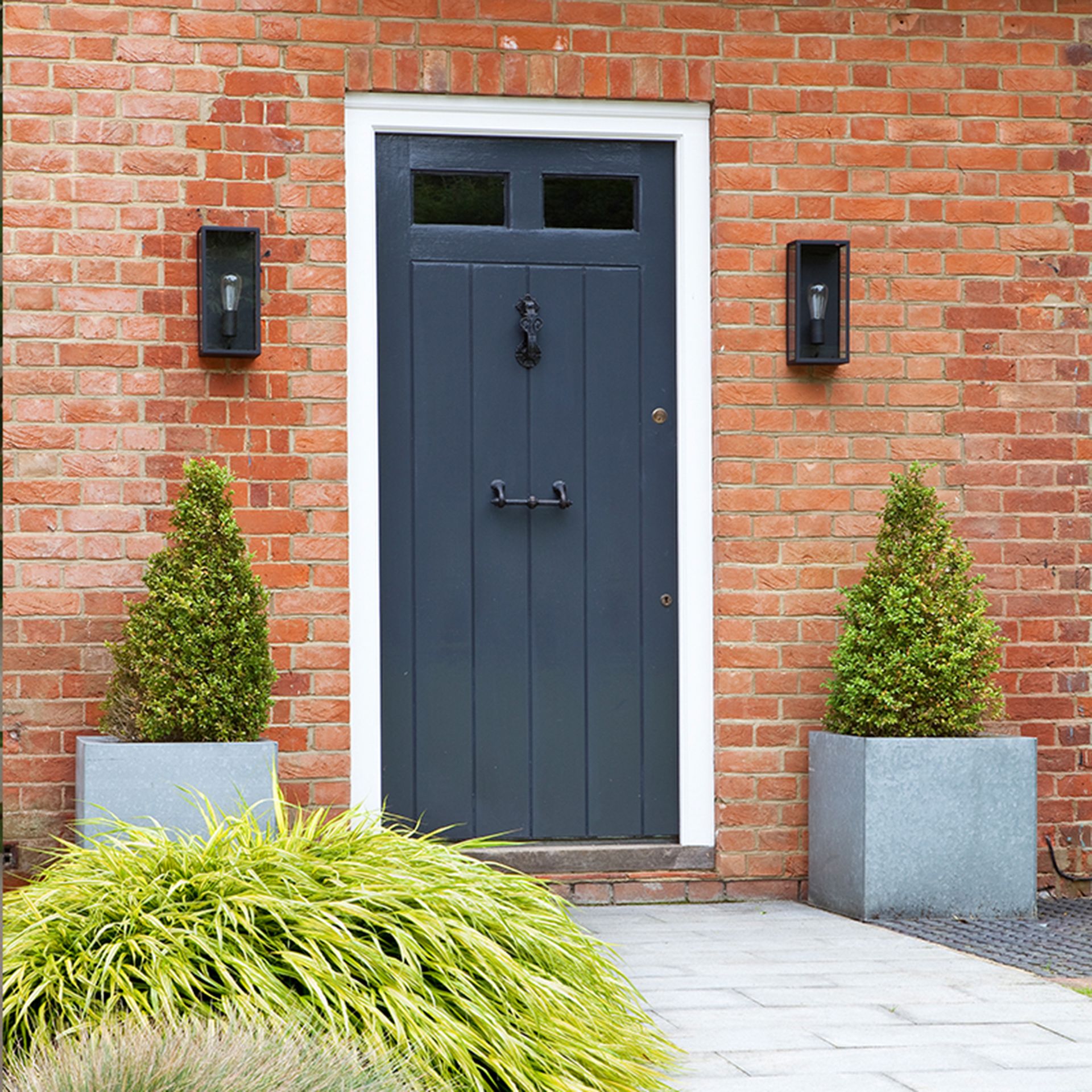 As with your other outdoor spaces, garden lighting should be taken into account. 'We'd recommend adding lighting to highlight specific areas like garden fences or your porch — creating a welcoming ambiance,' says David Amos, Founder, Amos Lighting. 'Choose energy-efficient lighting that is suitable for outdoor use and ones which complement the style of your home.'
Make sure to think about how light will add security and ease to your home as well as style. 'Consider wall lights either side of the door or possibly a recessed spotlight from above for a porch,' suggests Piero De Marchis, Director, Detail Lighting.
'If you are opting for one light, place it on the side where the keyhole and door handle are as it will make it easier when unlocking your door. Above all, ensure it is warm, inviting and makes guests feel safe.'
3. Plant a fragrant border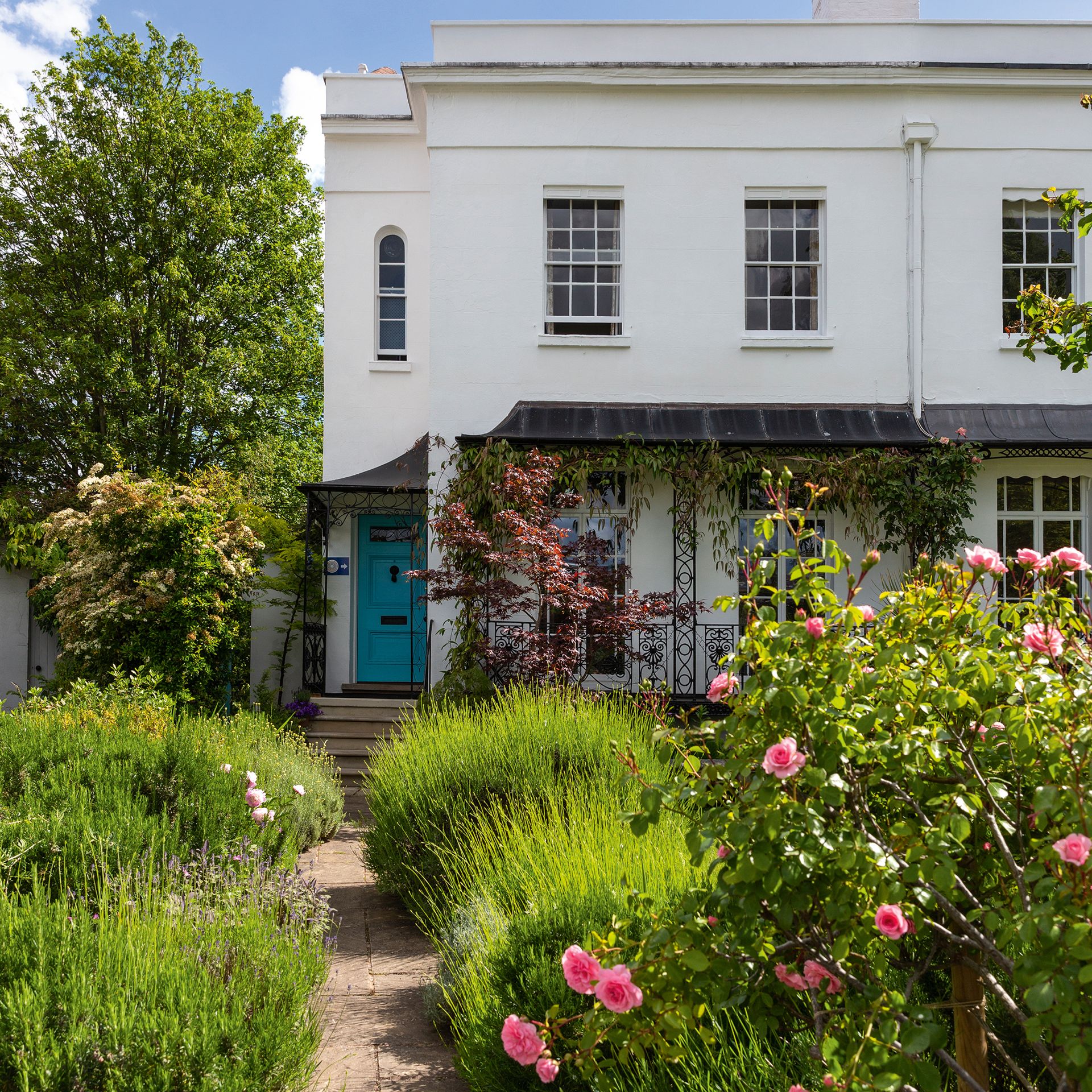 Gardens can please all the senses, so remember not to look at visuals for your front garden ideas and call it a day. Scent is so important to creating the atmosphere in a space and can elevate moods in seconds.
Looking for garden border ideas? Planting fragrant herbs and flowers along you path will welcome you home delightfully everyday. Think lavender, sage and primrose. If you're not sure what plants go well together, pick up a ready made scented garden border from Crocus.
4. Have a little bit of everything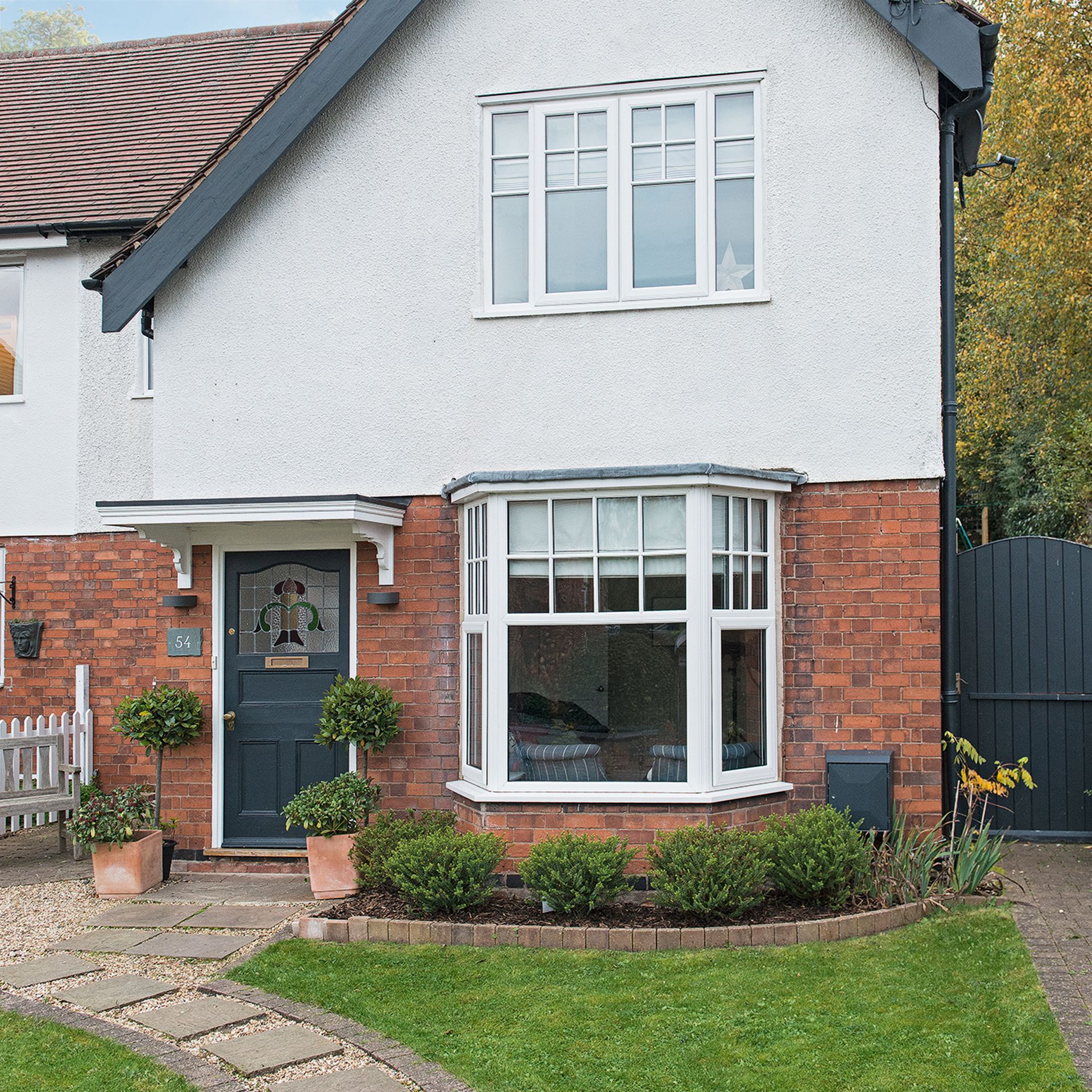 There are so many elements that make up gorgeous gardens that sometimes you just want a bit of everything - and there's absolutely no reason why you can't have that.
'One idea is to keep your lawn ideas well-maintained by regularly mowing and trimming it to keep it neat and tidy,' explains Chris from Gardening Express. 'Another option is to add some plant life to your garden, such as colourful flowers or shrubs. Additionally, you may want to consider installing a garden path or walkway to create a more defined space within your garden.'
5. Create a colour scheme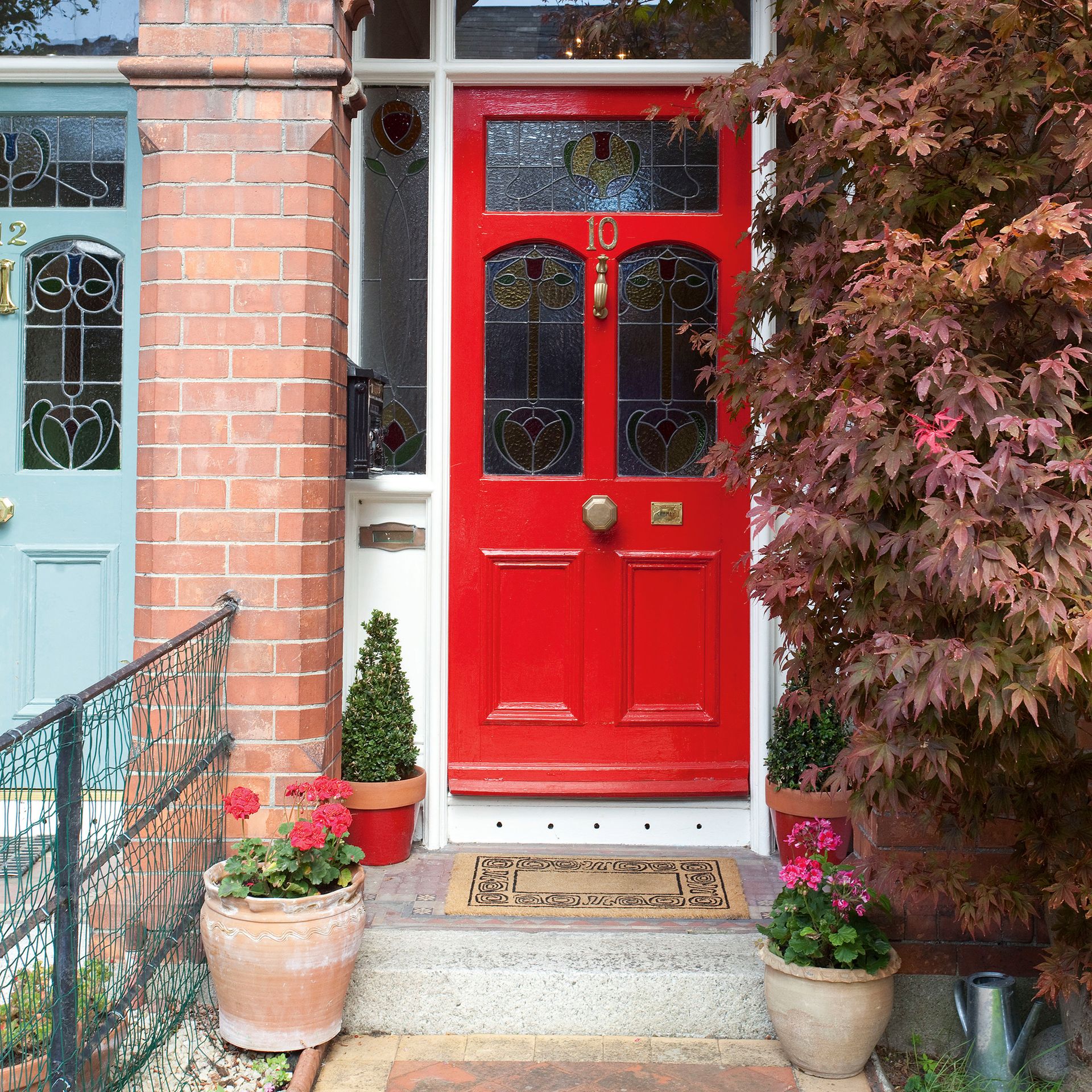 We love a good colour scheme indoors, so why not bring one out? Create a co-ordinated front garden look with plants, flowers and accessories based around the same tones.
A brightly coloured front door is a great place to start, then add in pots with flowers, a climber or shrub and even path tiles.
6. Embrace your curves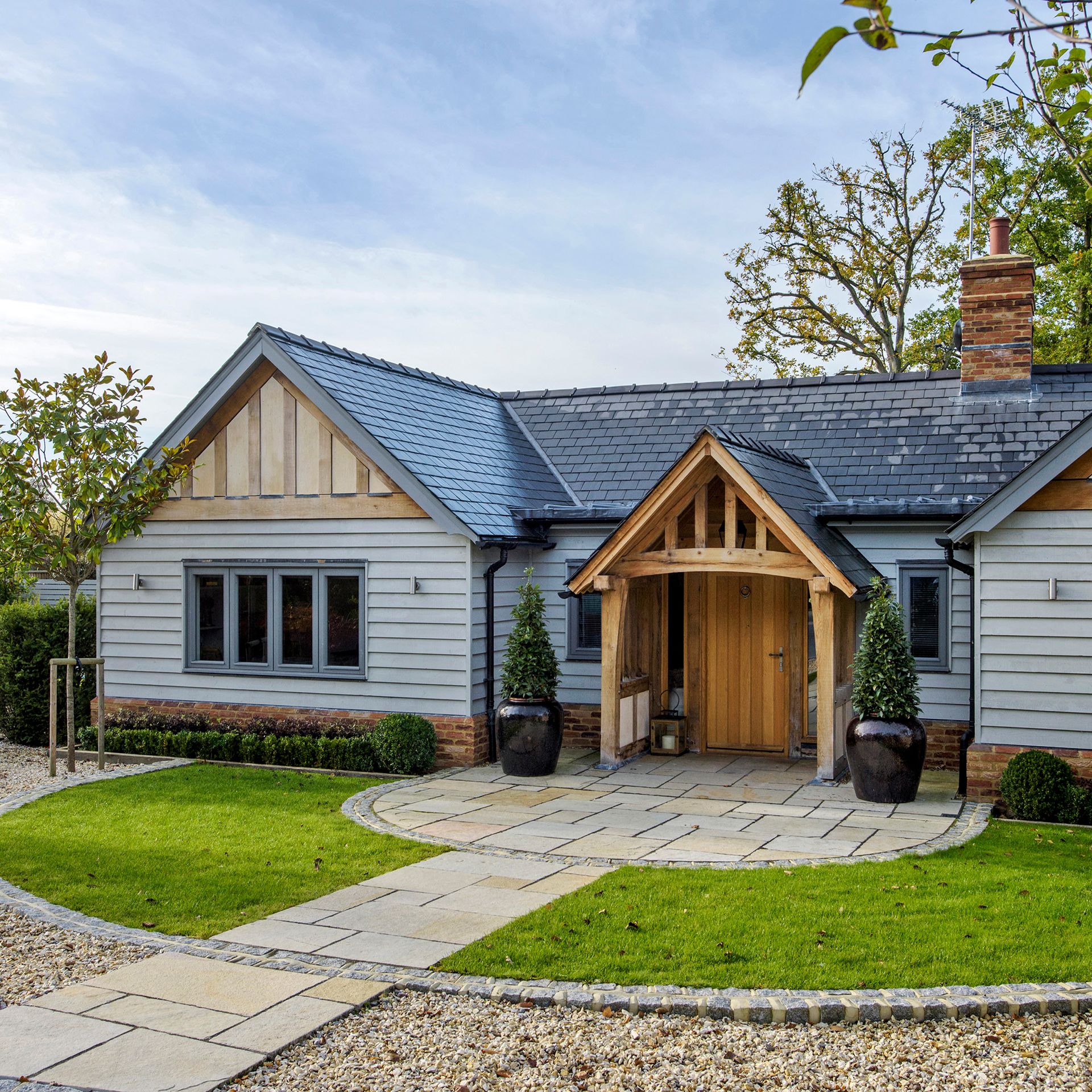 There's the typical idea of a front garden like a child would draw - a simple square lawn with flower beds in front of a square house. But just because it's traditional you don't gave to stick to these shapes.
Mix things up with concentric circles of lawn, paving and even flower beds to add extra interest and a new dimension to the entrance of your home.
7. Change it with the seasons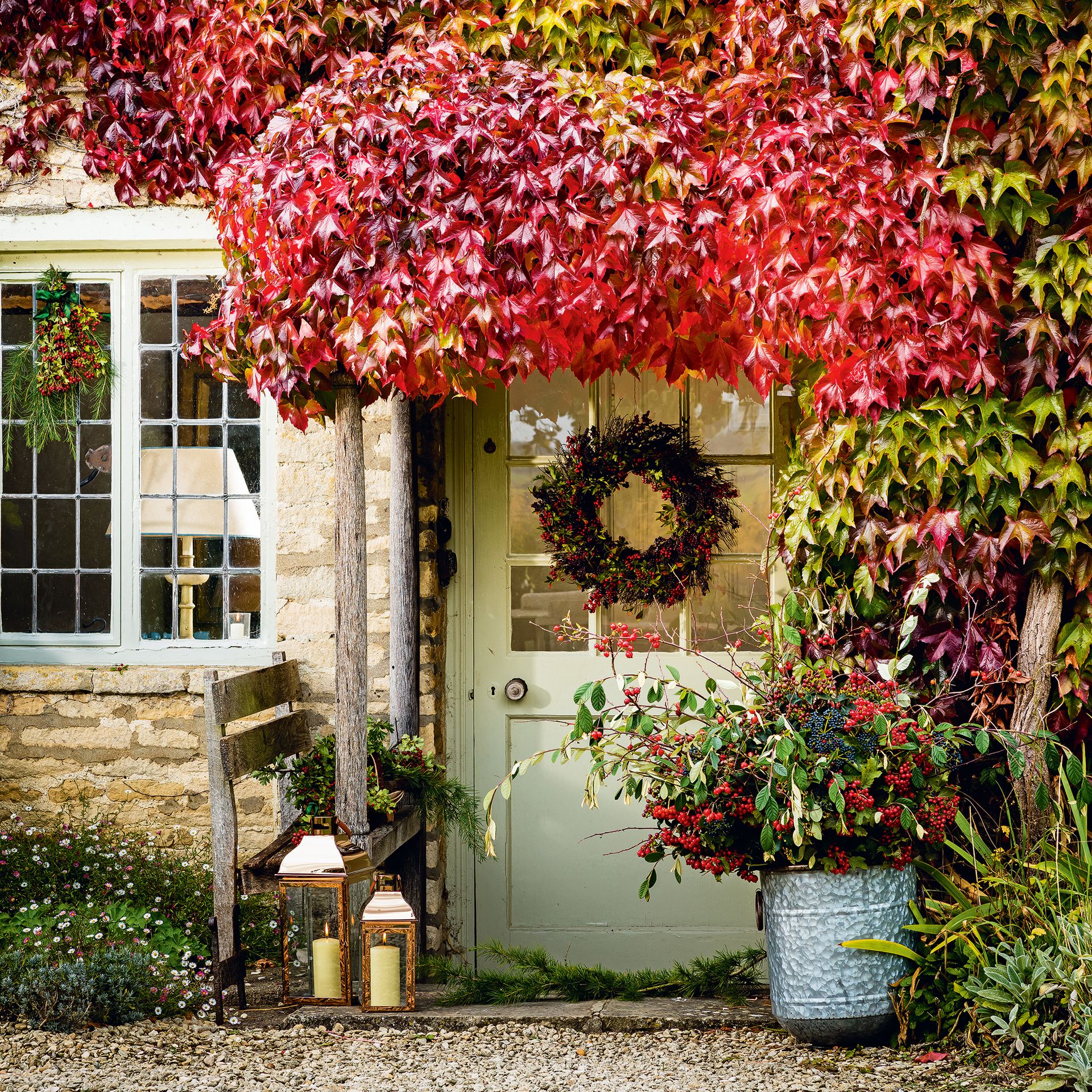 Just as with styling your indoor space, you can have fun changing up your front garden ideas with the seasons. A festive wreath, zinc tubs filled with freshly foraged foliage and pots holding seasonal blooms will do the trick.
8. Go for naturalistic borders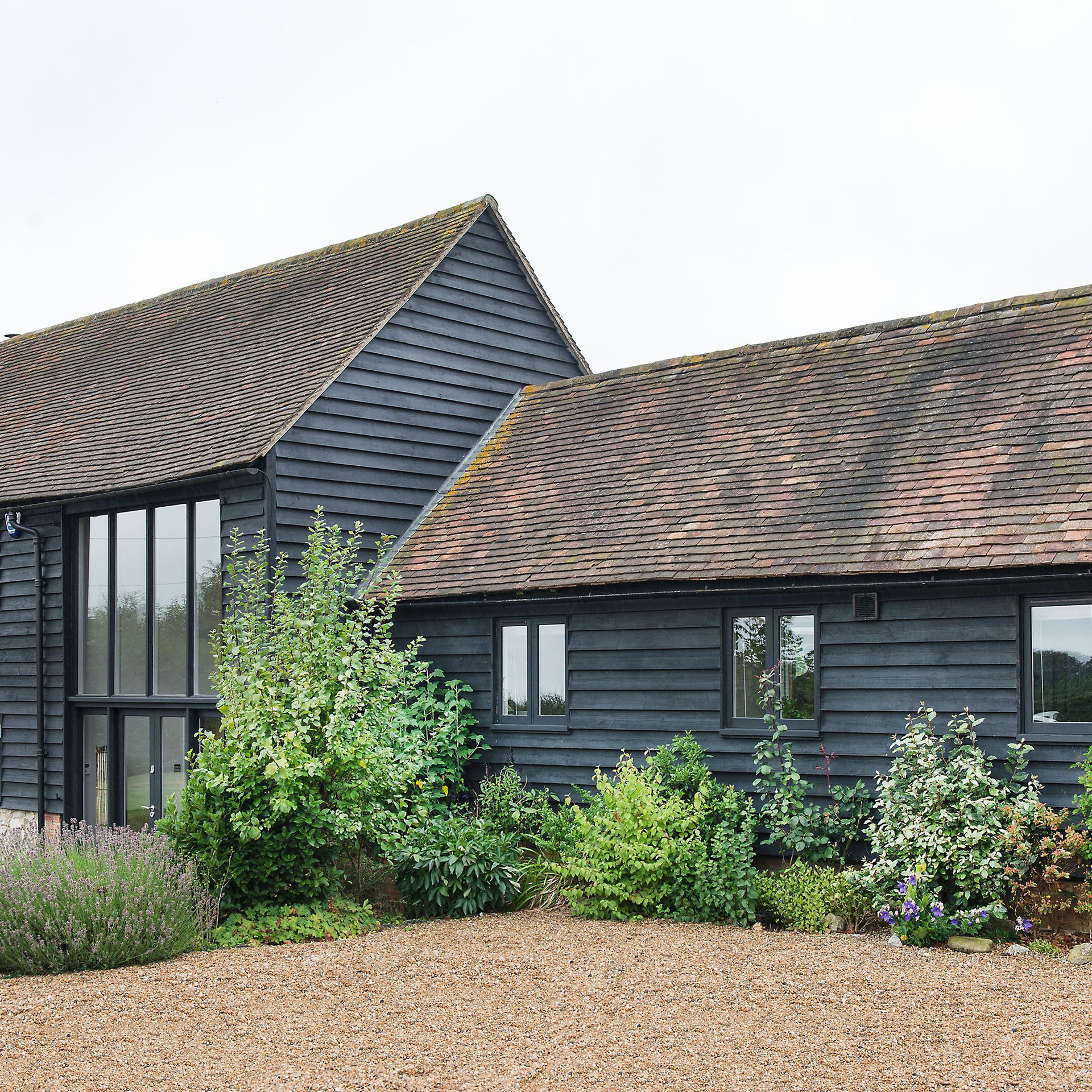 Take inspiration from meadows and wild areas of nature when setting out borders to hit the garden trends. Choose a selection of plants, varying in heights, colours and textures. To get the balance right, set the plants out in pots before committing to digging and planting.
Remember that plants spread outwards and well as up, so be sure to leave ample room between each plantling.
9. Swap a fence for a hedge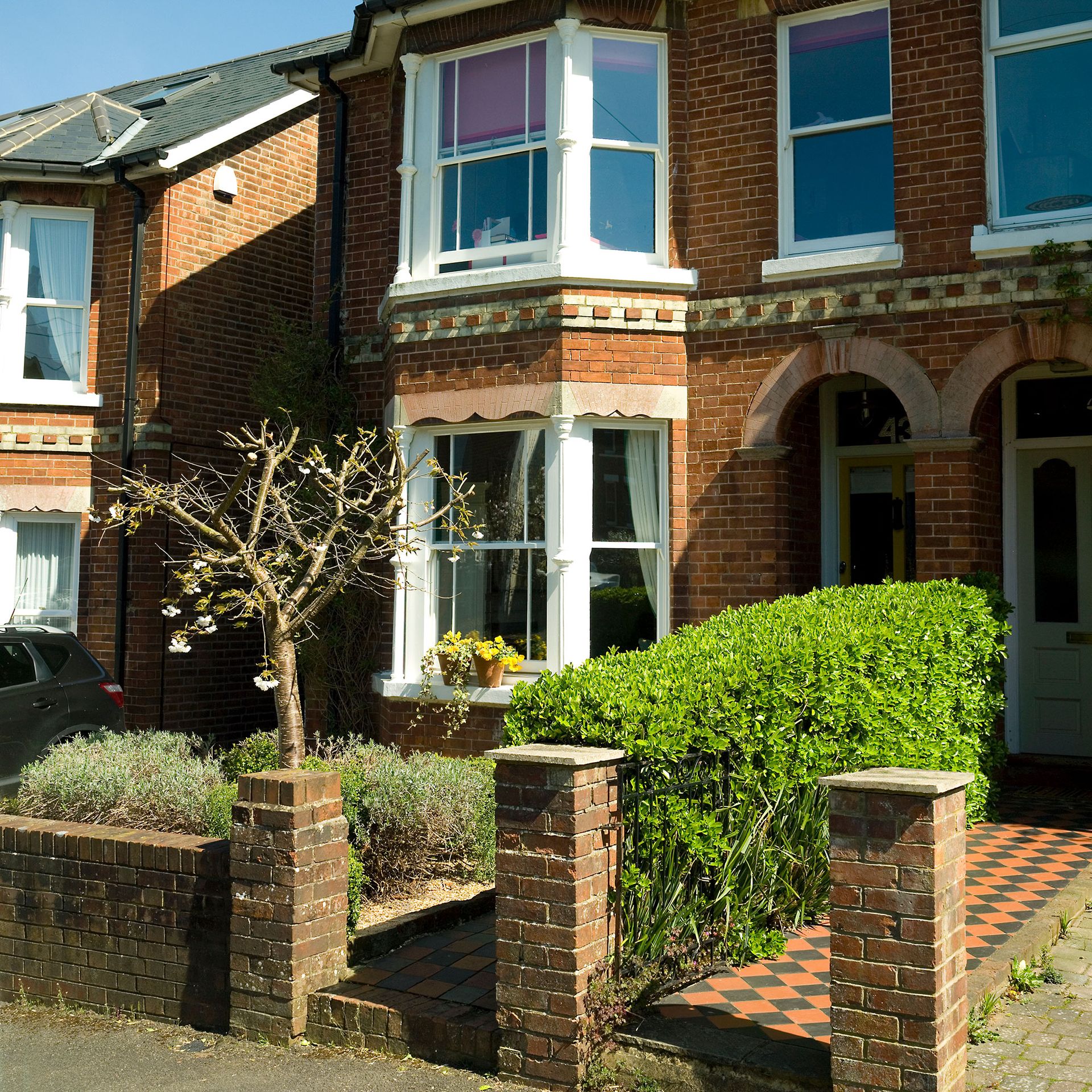 Most terraced and semi-detached homes use front garden ideas to separate the space. The most common in urban areas is a wall or garden fence ideas, but a simple switch to a hedge will add interest, good looks and extra privacy.
The most common choice is Boxwood, which offers dense leave that are easily pruned into shape.
10. Create a natural archway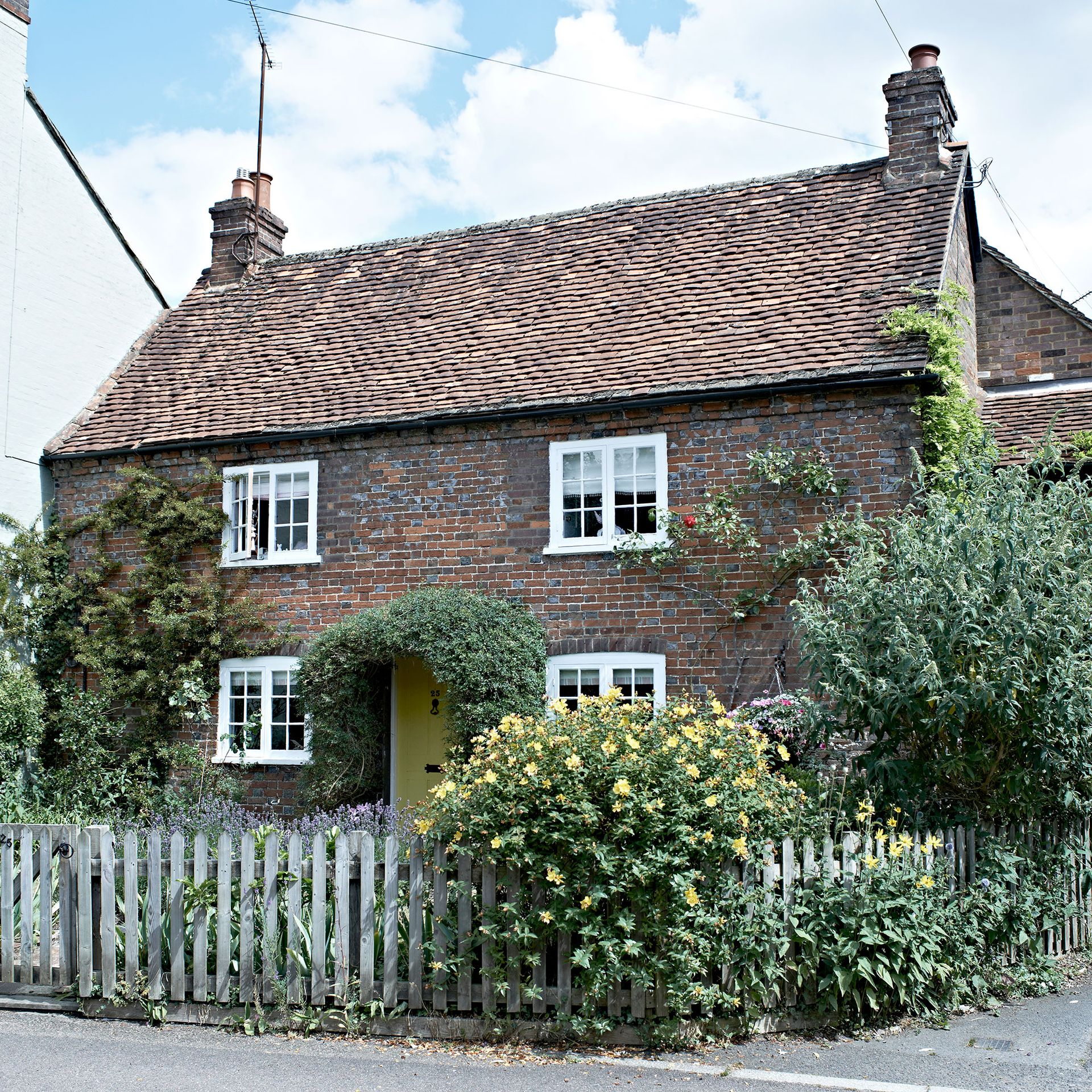 For cottage garden ideas, the front of the house has to be taken into account with front garden ideas. The house and garden should appear to flow into one another. One way to achieve this is by training a climbing plant to create a natural arch over the front door or porch.
As well as looking pretty, this will act as shelter when you're fumbling for your keys on a damp day.
11. Include raised beds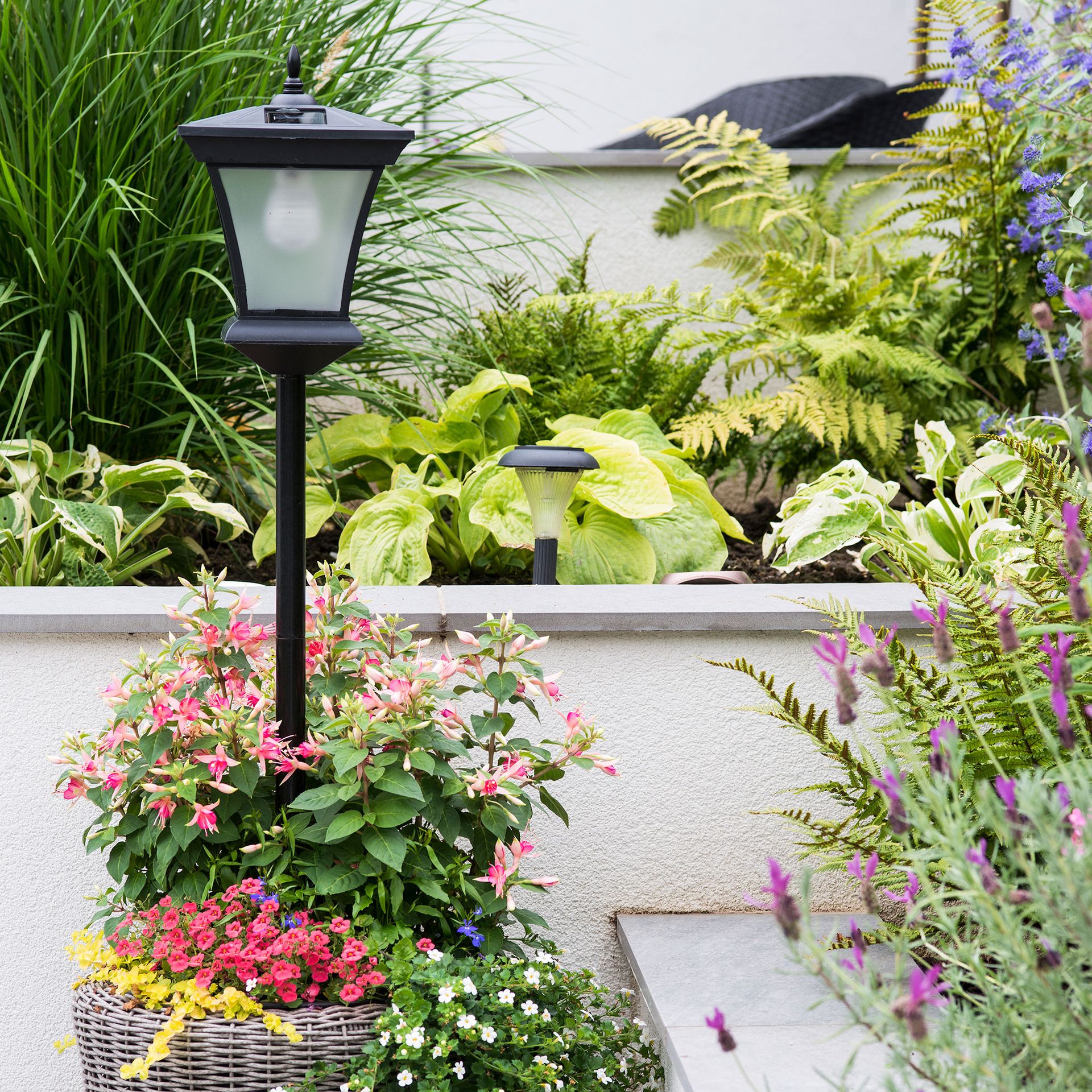 Raised beds shouldn't be confined to the back garden. If you're looking for low-maintenance easy garden ideas, they can be the perfect addition to a front space. Plant largely evergreen shrubs, but include some seasonal perennials to ensure bursts of colour throughout the year.
This style is also great if your home is on a hill, as you can build the beds above one another like steps.
12. Add a pop of colour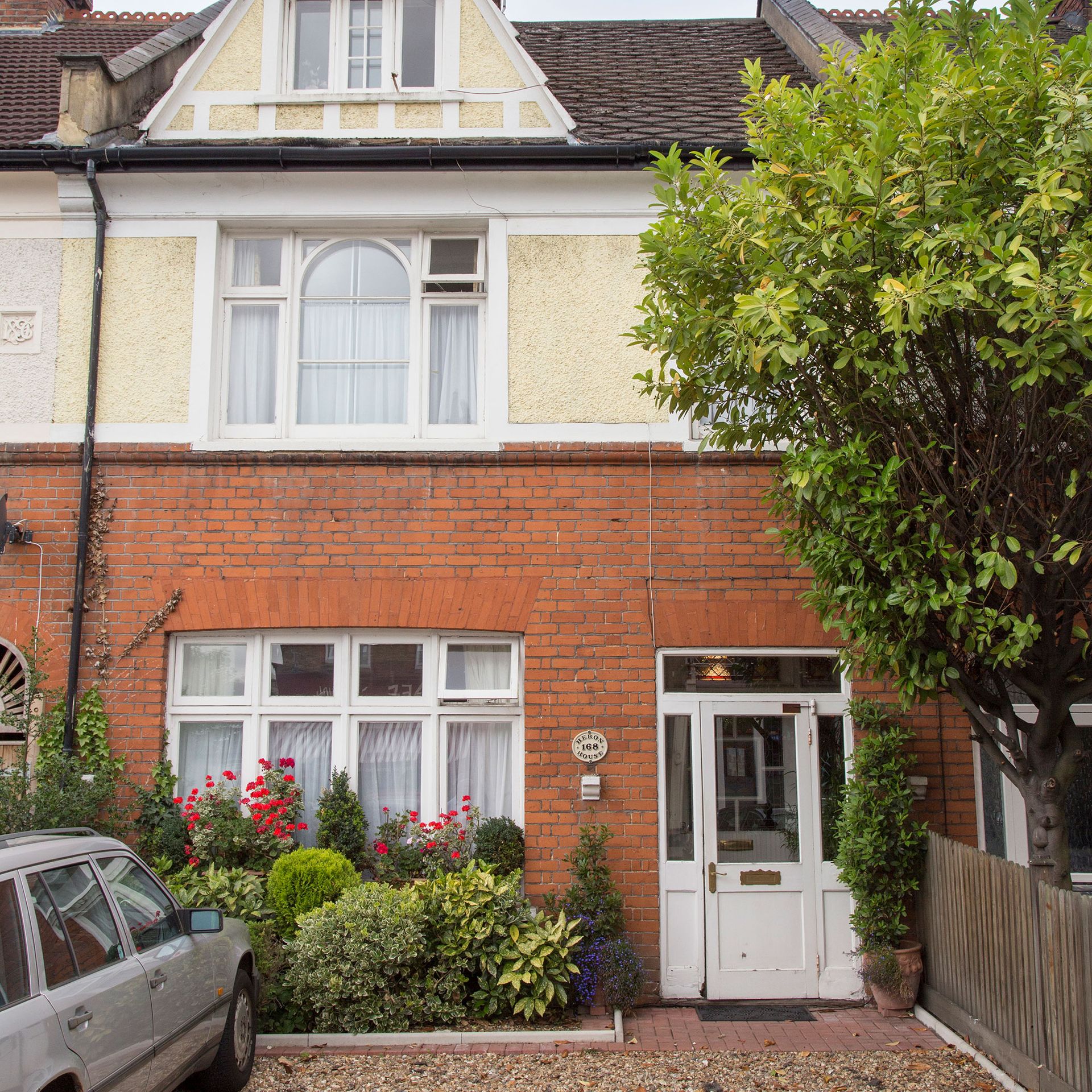 With a neatly elegant front flower bed, it's tempting to stick to evergreens so you're not left with unsightly patches of brown or empty spots. Integrate a plant or two in a serious burst of colour for that added joy - simply plant slightly behind the others if you don't like how it looks without blooms.
Alternatively, add in a couple of pots that you can switch in and out with the seasons.
13. Encourage climbers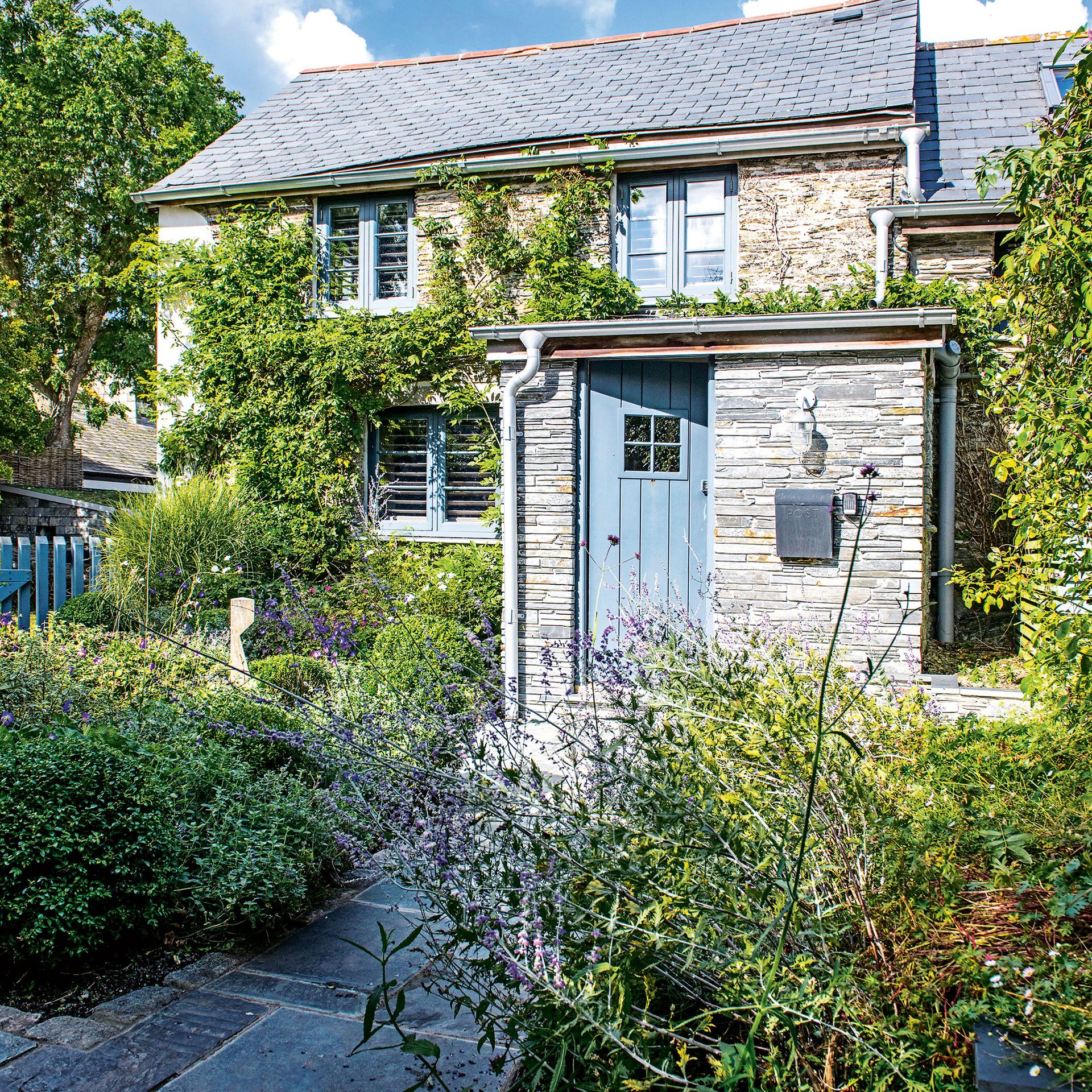 Climbers are a pretty way to add interest to the front of your home. There are so many options of easy climbing plant ideas to choose between, from floral clematis to traditional ivy. Speak to your local garden centre for advice on which varieties work best in your area's soil and will adapt best to the positioning of your building.
14. Add pattern with a tiled path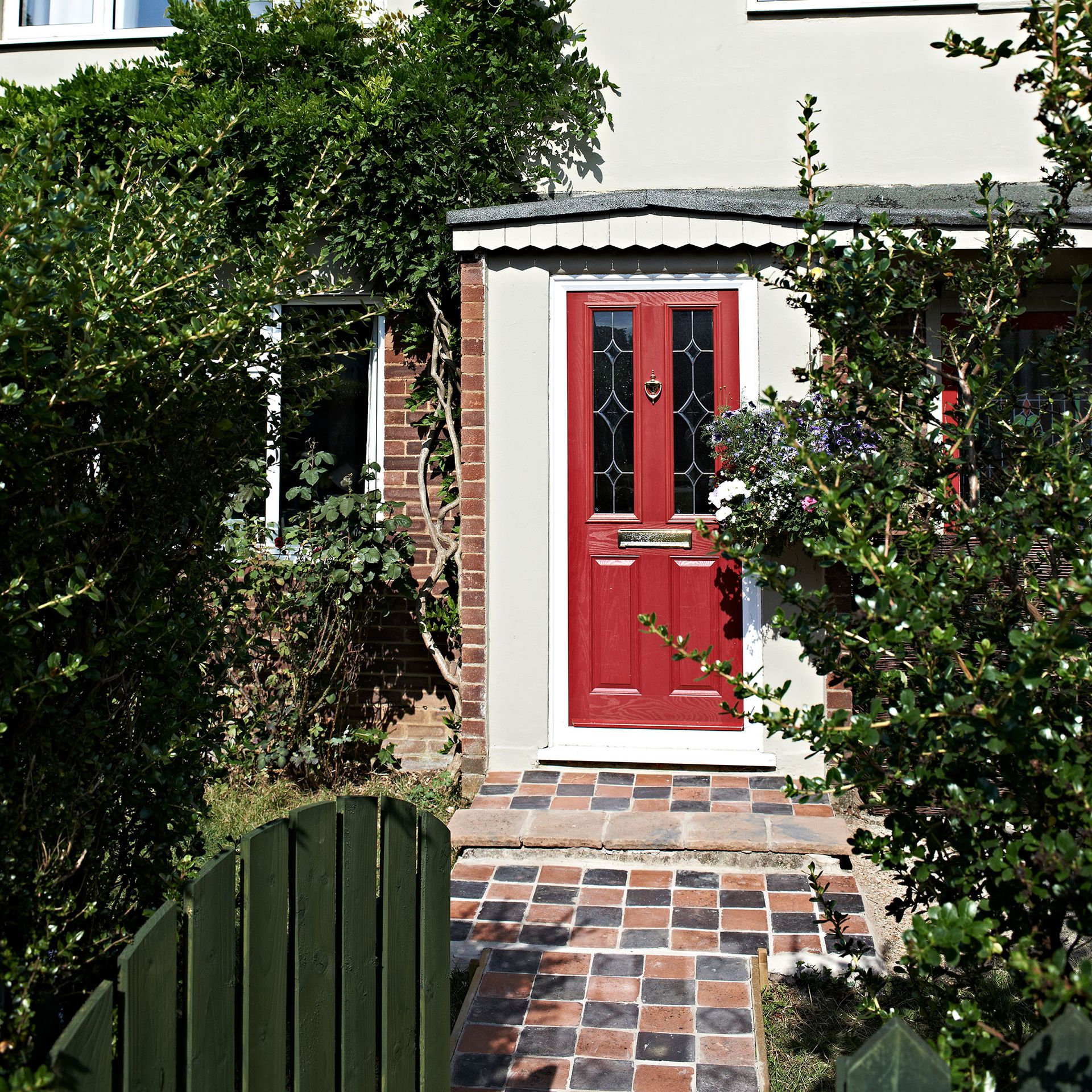 Just as with inside the home, the ground is a perfect opportunity to add colour and pattern. With developing techniques and technology it's now possible to get nearly any tile design in an outdoor appropriate materials for your garden path.
Just remember that while some tiles may be suitable for outdoor use but will get slippy, so ensure you speak to your supplier to make sure they will be safe to walk on in inclement conditions.
15. Play with textures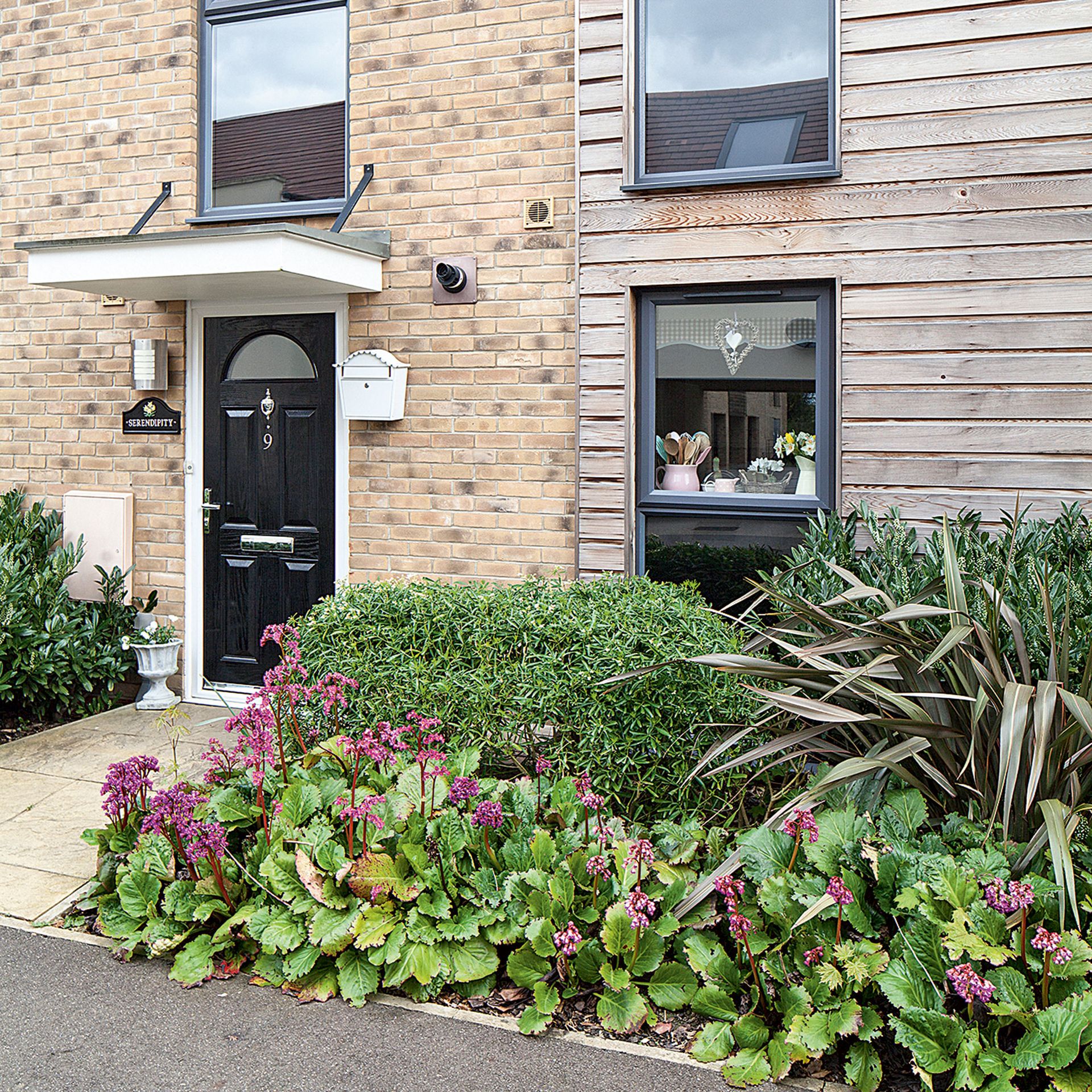 Most people head straight to mixing colours when trying to add character with front garden ideas, but there's a lot to be said for texture, too.
Mix and match plants with different shapes and sized leaves - from long and wide to tiny and narrow. This is a great way to achieve year-round interest when using only evergreen plants.
16. Invite a picturesque path to add character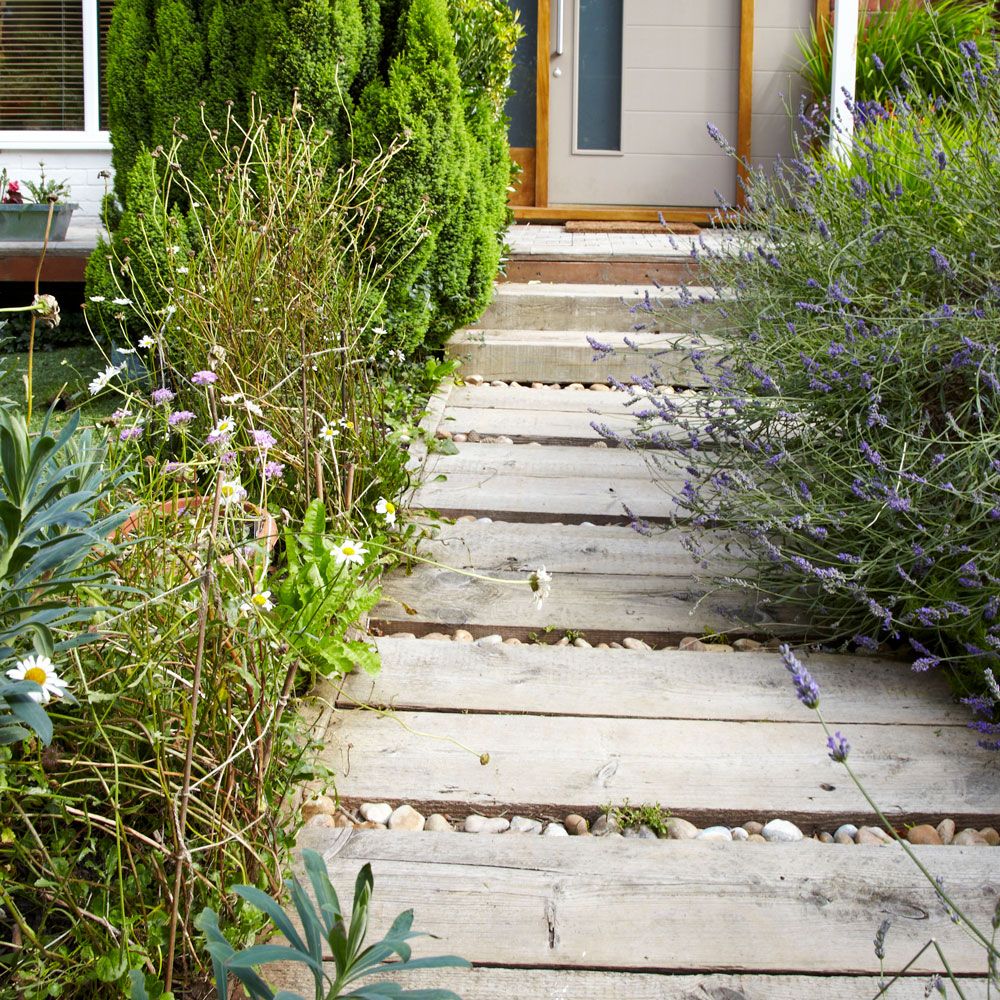 Set the scene with a wooden decked pathway leading up to front door. This rustic wooden design infilled with pebbles offers a softer approach to a front garden path, rather than paving slabs and brick alternatives.
The look can be soften even further with thoughtful planting either side of the path with wild overgrown foliage, plants and lavender. Link this to the rear of the home by choosing similar garden decking ideas for there, too.
17. Curate a corner of thoughtful planting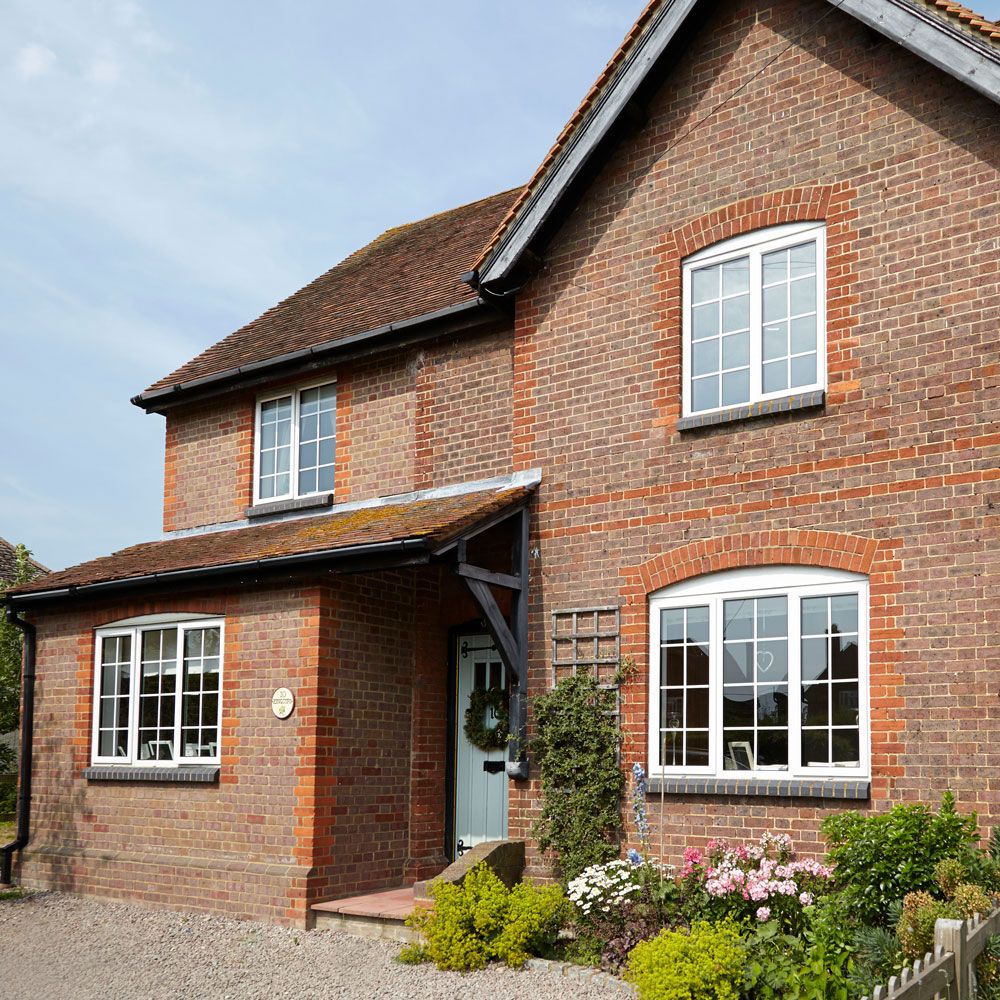 Give your driveway a modest planting scheme to add a manageable front garden to pretty up the exterior of your home. Carve out a corner bedding arrangement to plant a mix of perennial green foliage and seasonal flowering shrubs such as Hydrangeas to add a splash of colour.
Use a trellis to extending the planting vertically, to flank the doorway and make the most of the compact corner plot.
18. Keep the lawn short and formal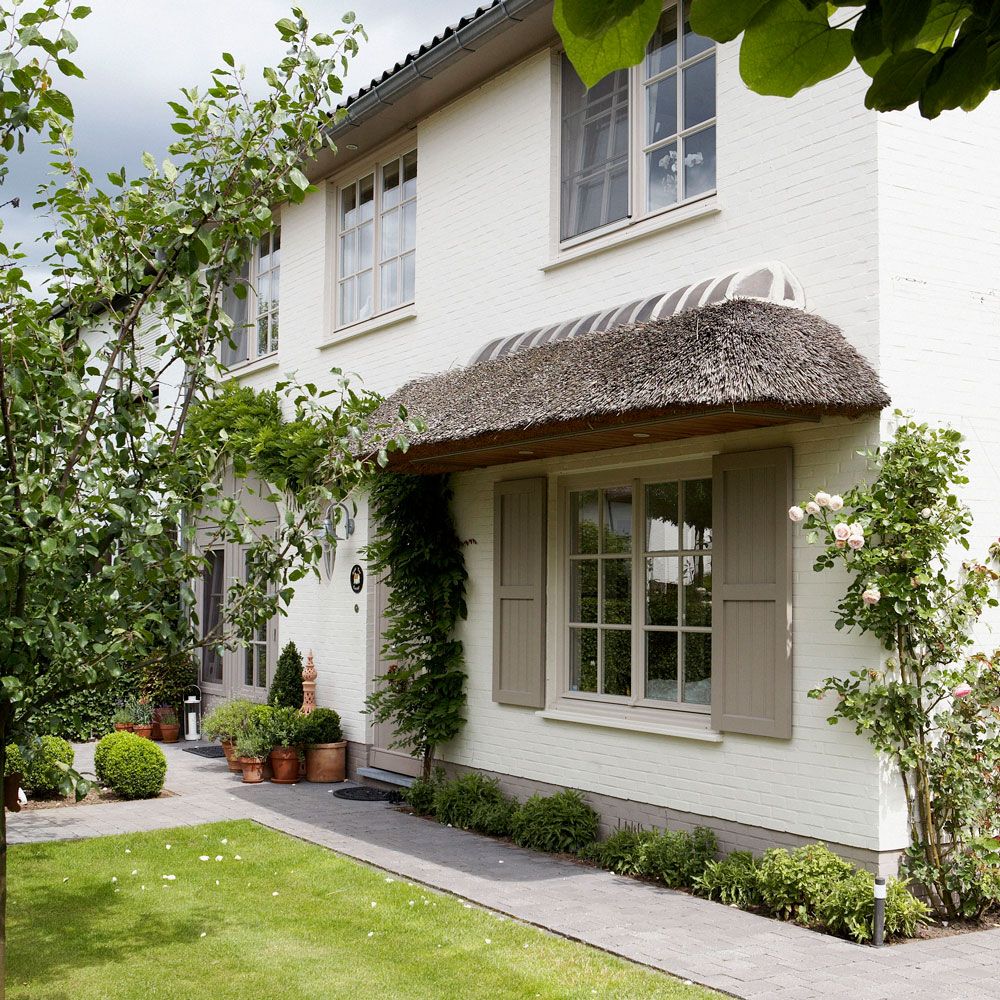 Clipped short and edged by a smart path, a formal lawn is one of the most loved and copied aspects of an English garden, creating the perfect approach to a house with country shutters.
19. Lay a brick path, lined with pretty pots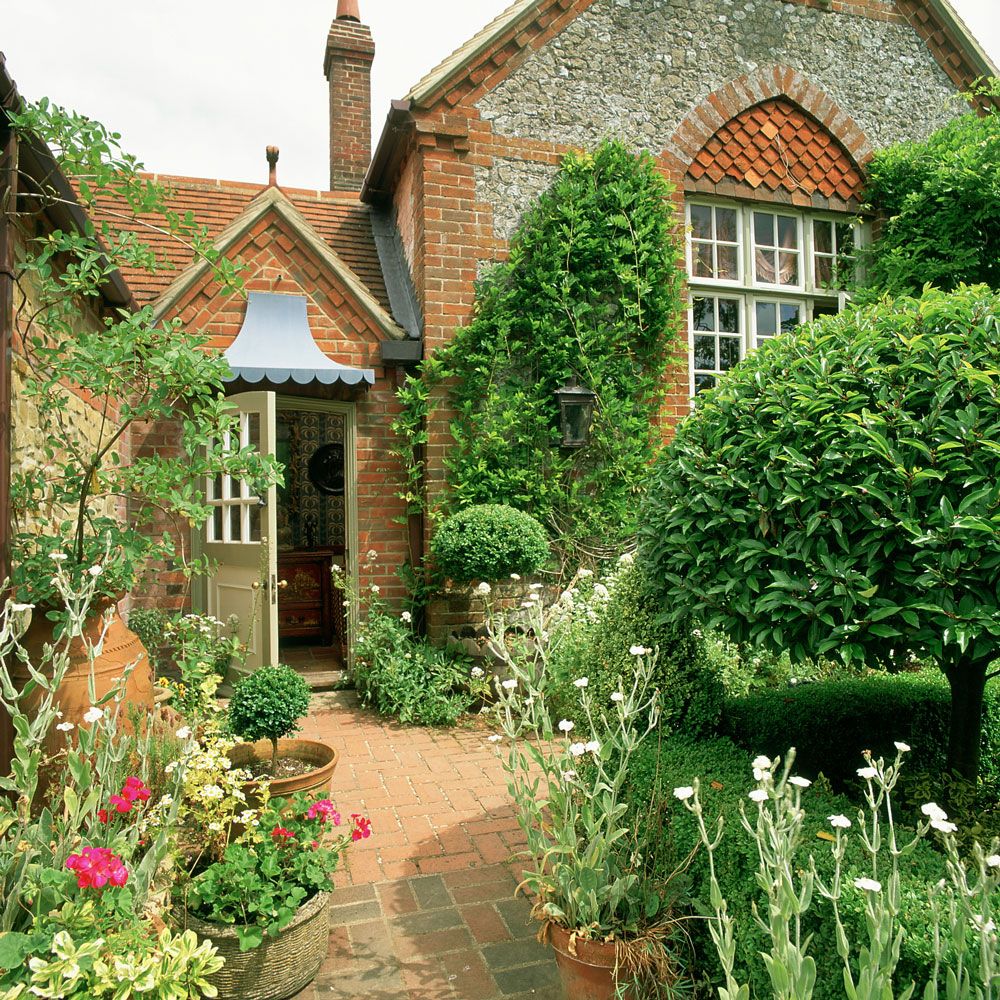 Set out a brick path as a stylish country approach to the front door, flanking it with a medley of pots in varied shapes and sizes, including a tall, shapely planter.
20. Plant tactical topiary for privacy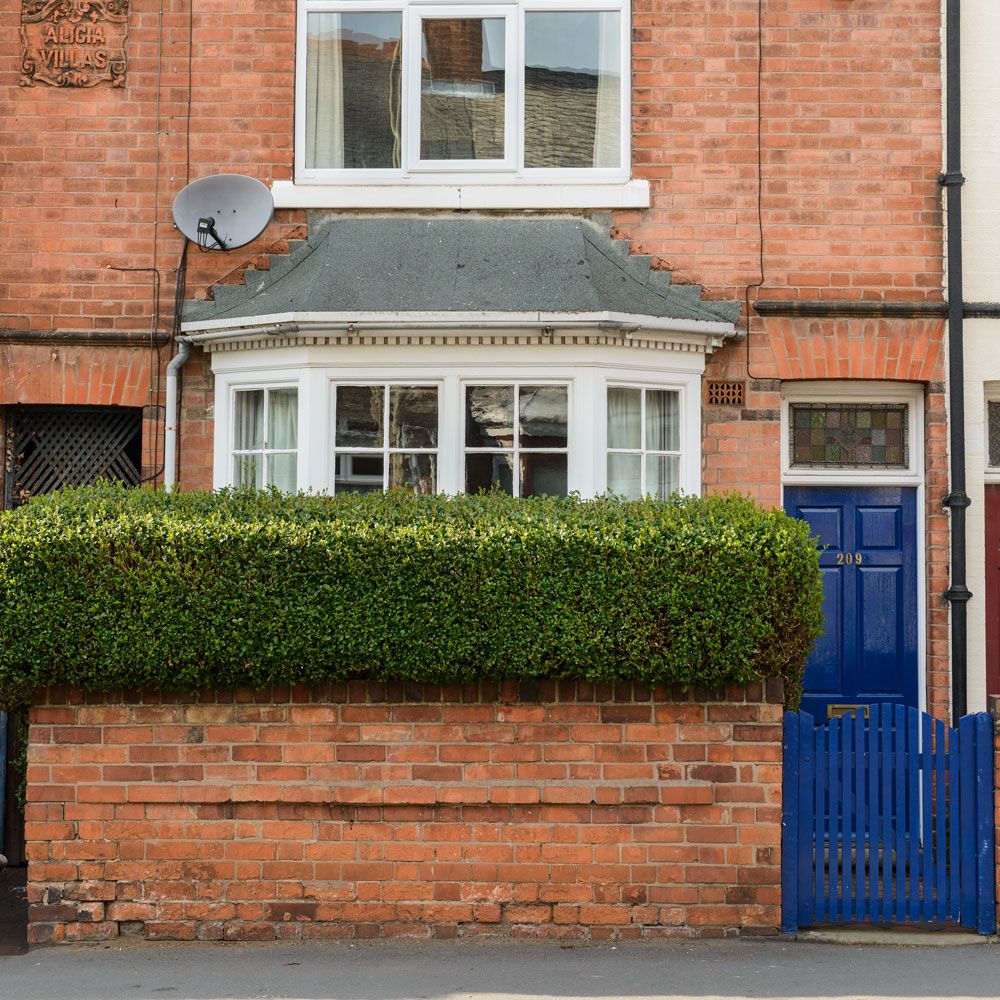 If your small front garden doesn't offer much in the way of an outdoor space, use it to cultivate a garden that offers privacy – especially important if your house resides by the roadside, directly on the pavement.
Topiary is a great way to create your own piece of living architecture to create a shelter from the outside world. Add topiary balls by the front door to compliment the boxwood topiary hedge.
21. Dress the windowsill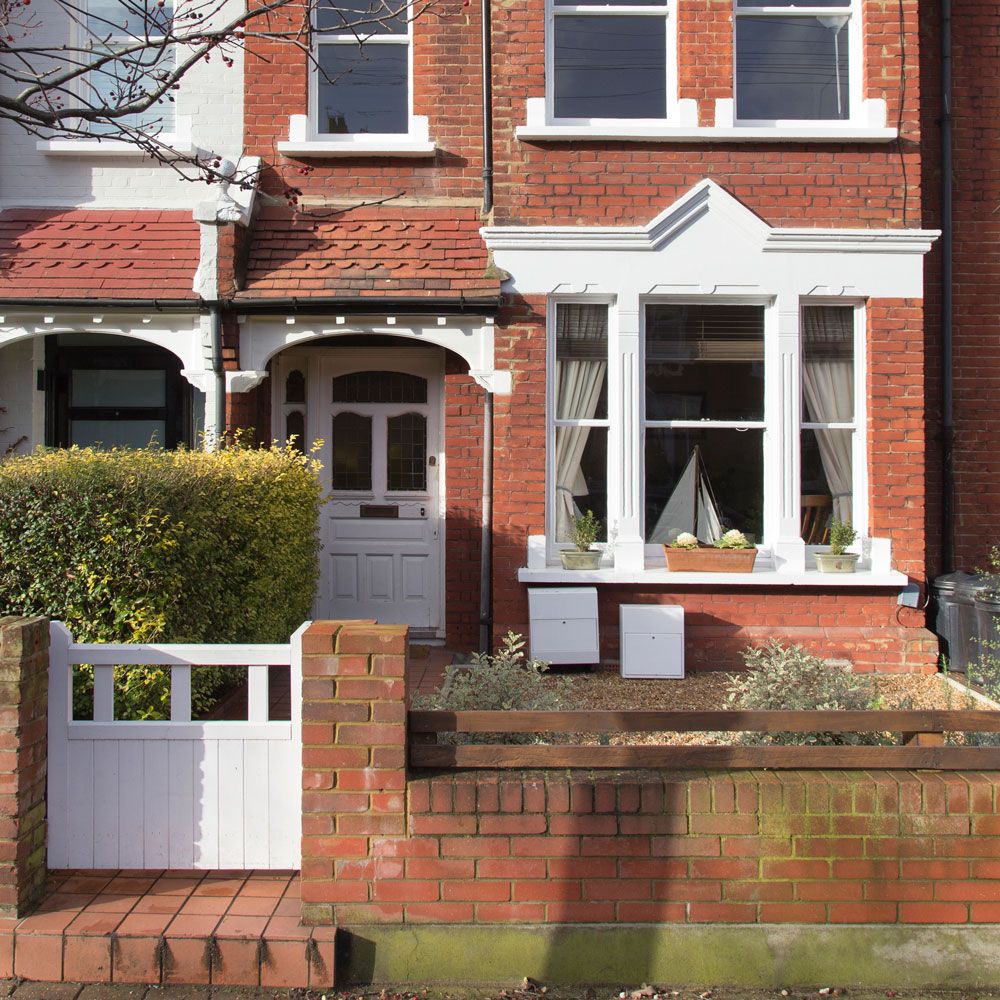 You can keep things simple but still make it stylish and inviting. This front garden is a fine example how less can be more, with the main garden area covered with a low maintenance gravel with a few simple bushes planted at the edges.
The perfect finishing touch are the three potted flower arrangements which dress the windowsills. This idea is perfect to dress the exterior but also provides a pretty view through the window from indoors too.
22. Landscape a layout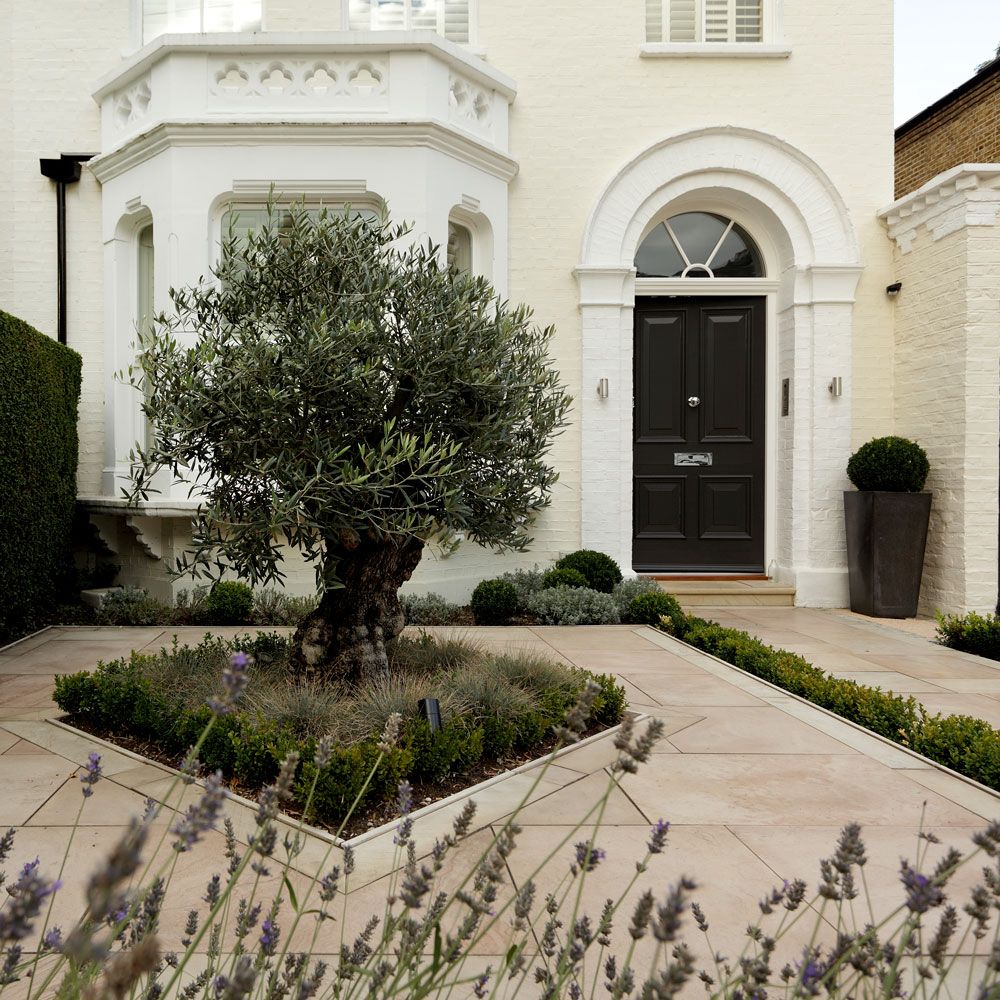 The front garden of this white semi detached Victorian house, is landscaped to perfection to offer a well-curated look. The garden landscaping ideas of this paved front garden features a diamond shaped bed with an olive tree centrepiece, with planted edging that create a path leading to the front door.
At the front of the garden there's a scattering of lavender to add a softer element to the structured planting.
23. Create a balanced pot arrangement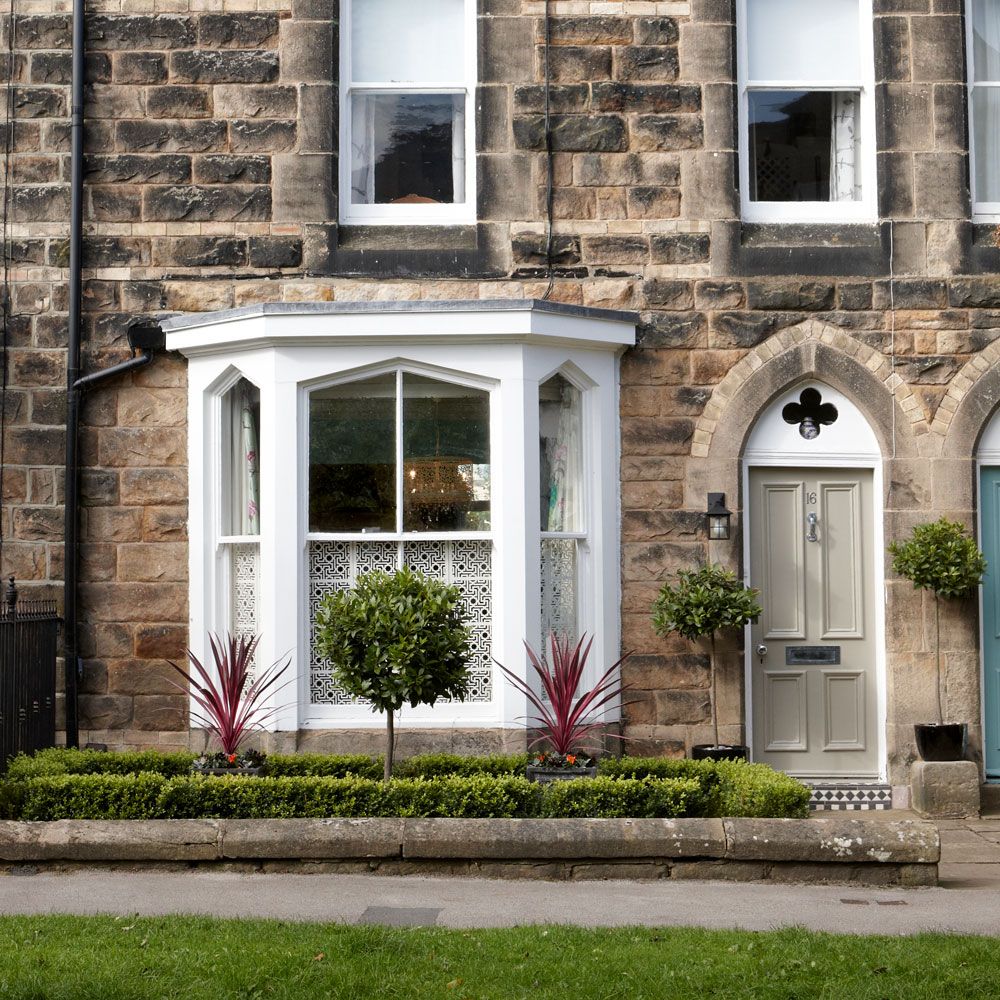 Potted plants allow you to create a striking display of colour for the front of your home, no matter the size of plot. Display a mix of hardy plants that will withstand the elements, when not sheltered by surrounding garden fences and dense greenery.
24. Encourage a climbing wisteria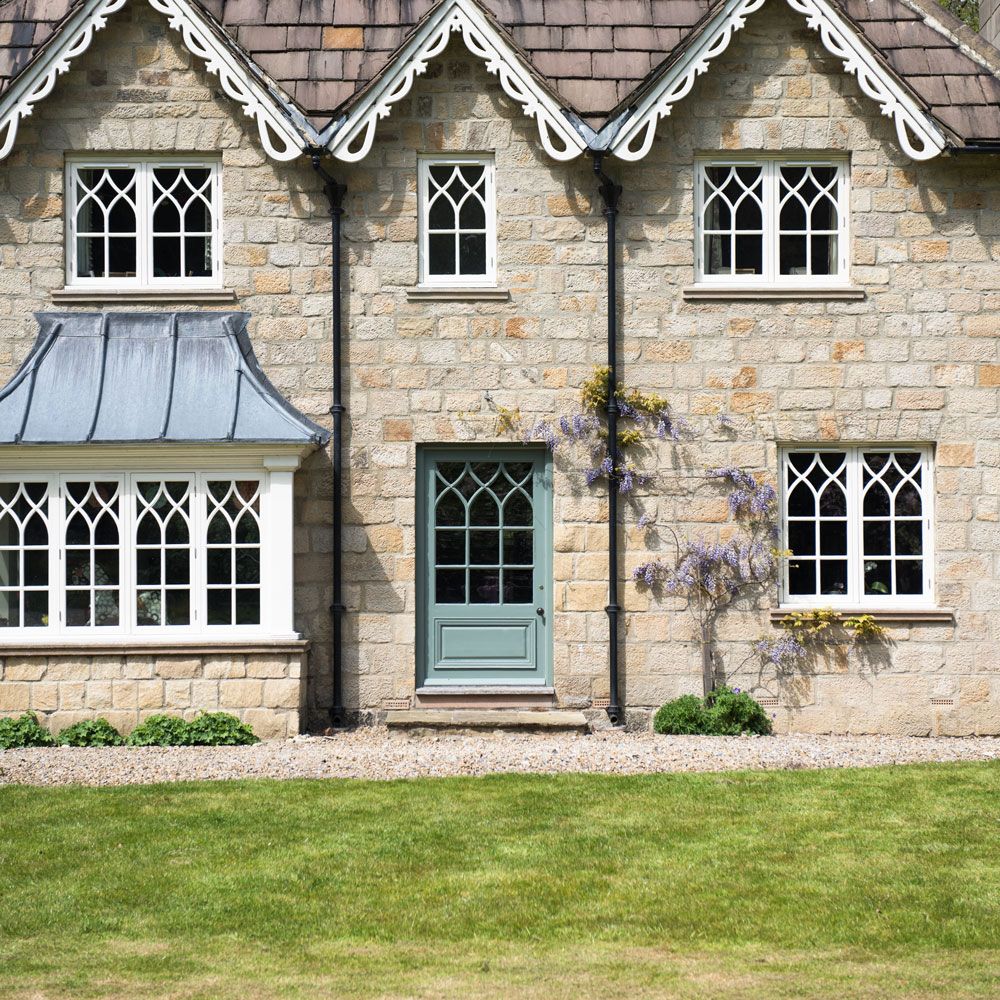 There are very few plants that ooze charm more than the faithful Wisteria plant, a deciduous climber with large pinnate, dark green leaves and drooping racemes up to 1m in length. The fragrant lilac flowers, which bloom in early summer, add a flourish of colour while offering a floral scent to welcome you through the front door.
It's important to prune wisteria to control the size and prevent it growing into guttering and windows. Pruning also encourages the growth of the flower buds. Wisteria is best used where it they can grow freely, unimpeded by other branches or foliage.
25. Flank the front door with potted bay trees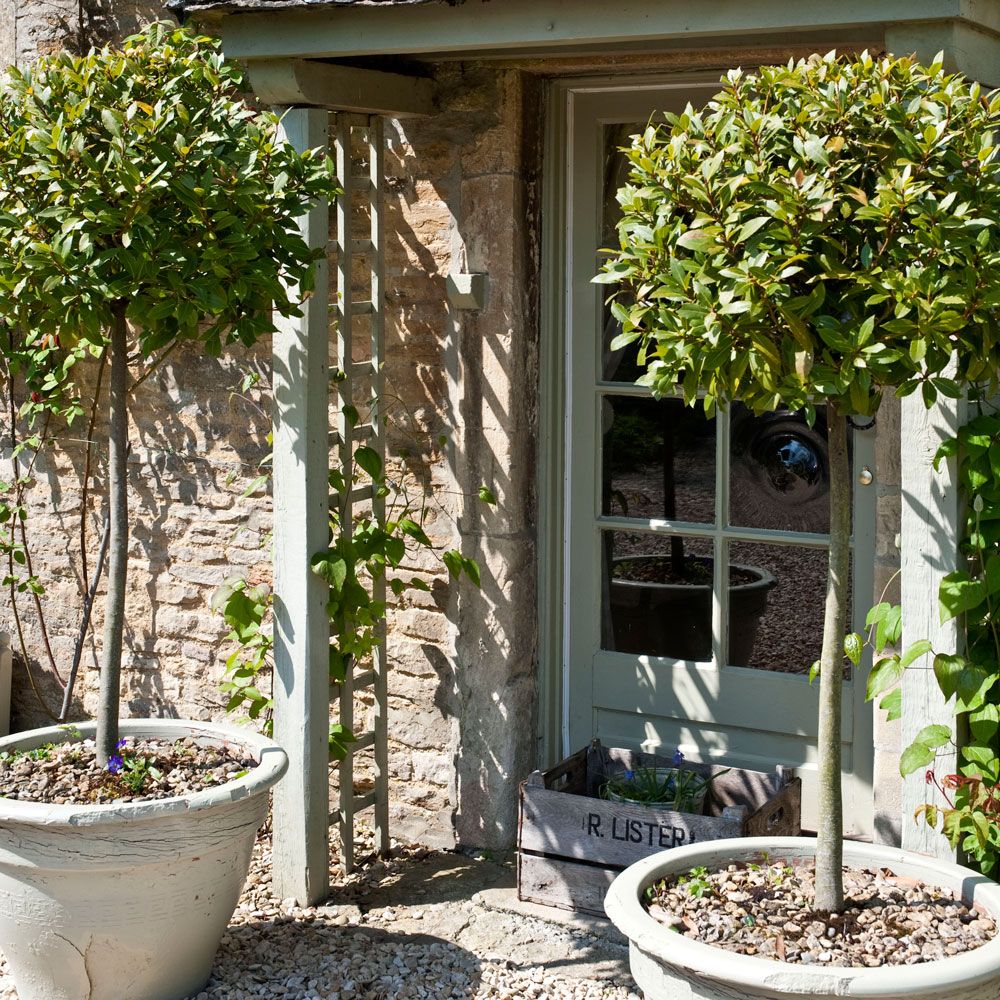 Make a smart entrance by placing a pair of clipped standard bay trees either side of the front door. Painted trellis flanks this country porch, shading the doorway and providing a home for climbing plants.
26. Use gravel for an informal and secure front garden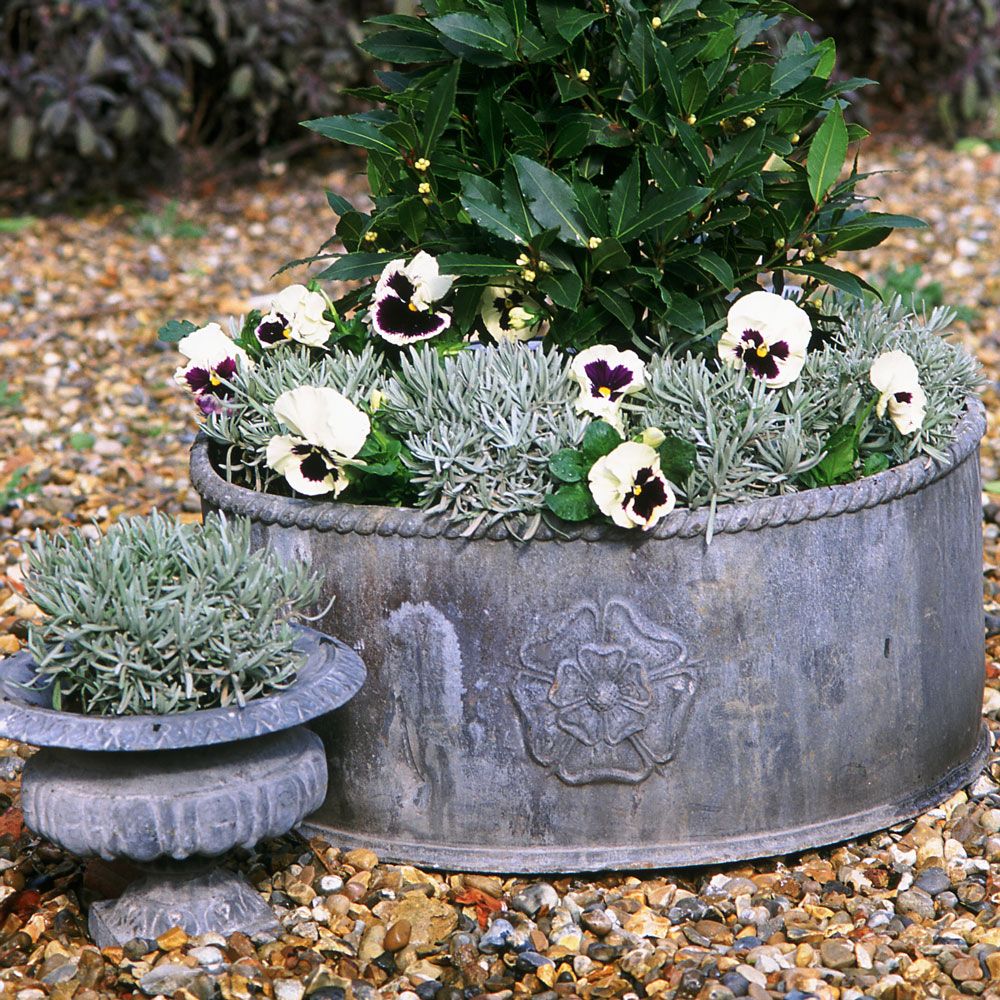 Gather together a selection of old lead planters to make a feature on a gravelled patio. Plant them up with bay, scented lavender and cheerful colourful pansies.
If you're looking to add security to your home, gravel is a good idea as it will crunch as anyone approaches the door or window. As well as looking - and sounding - great, this is a popular choice from budget garden ideas.
27. Try cottage garden planting in a tight space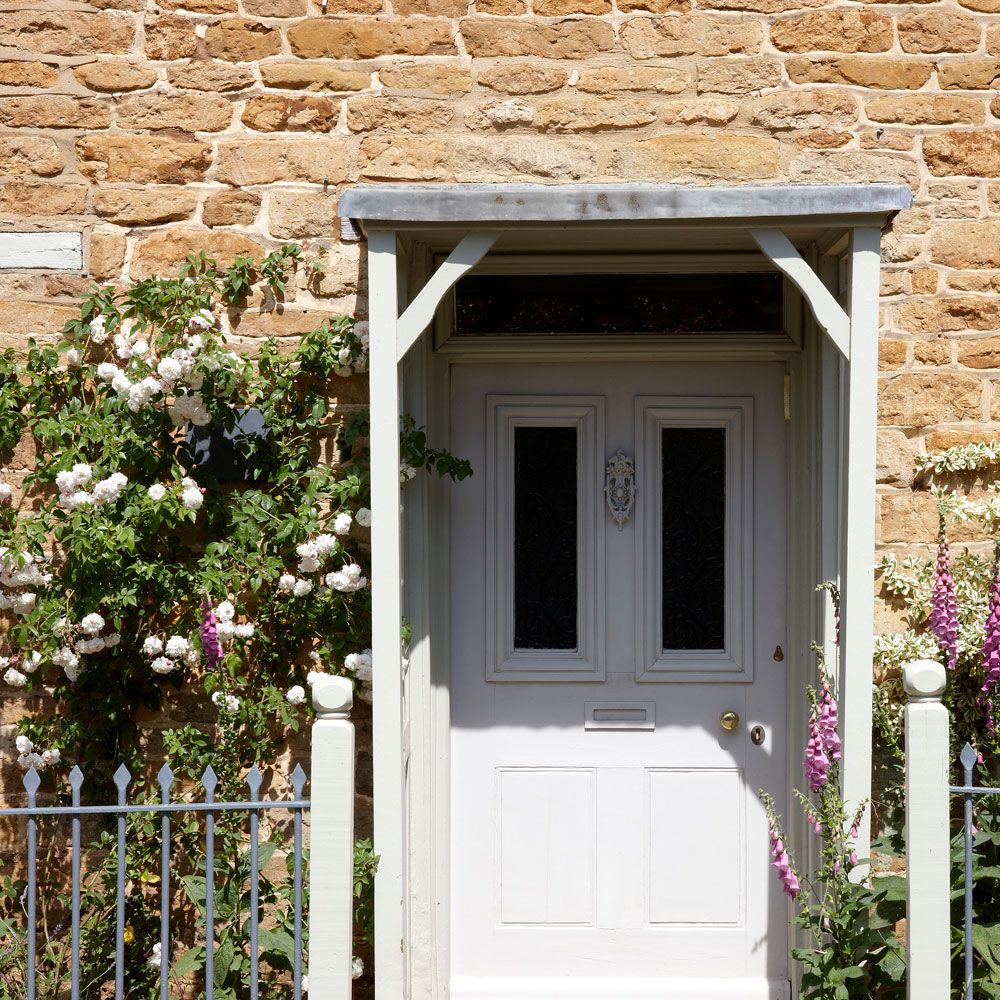 The smallest patch can provide a home to growing plants. Tucked behind the spearhead railings, there's just enough room for a scented rose and a selection of cottage garden plants.
28. Pick low-maintenance plants for colour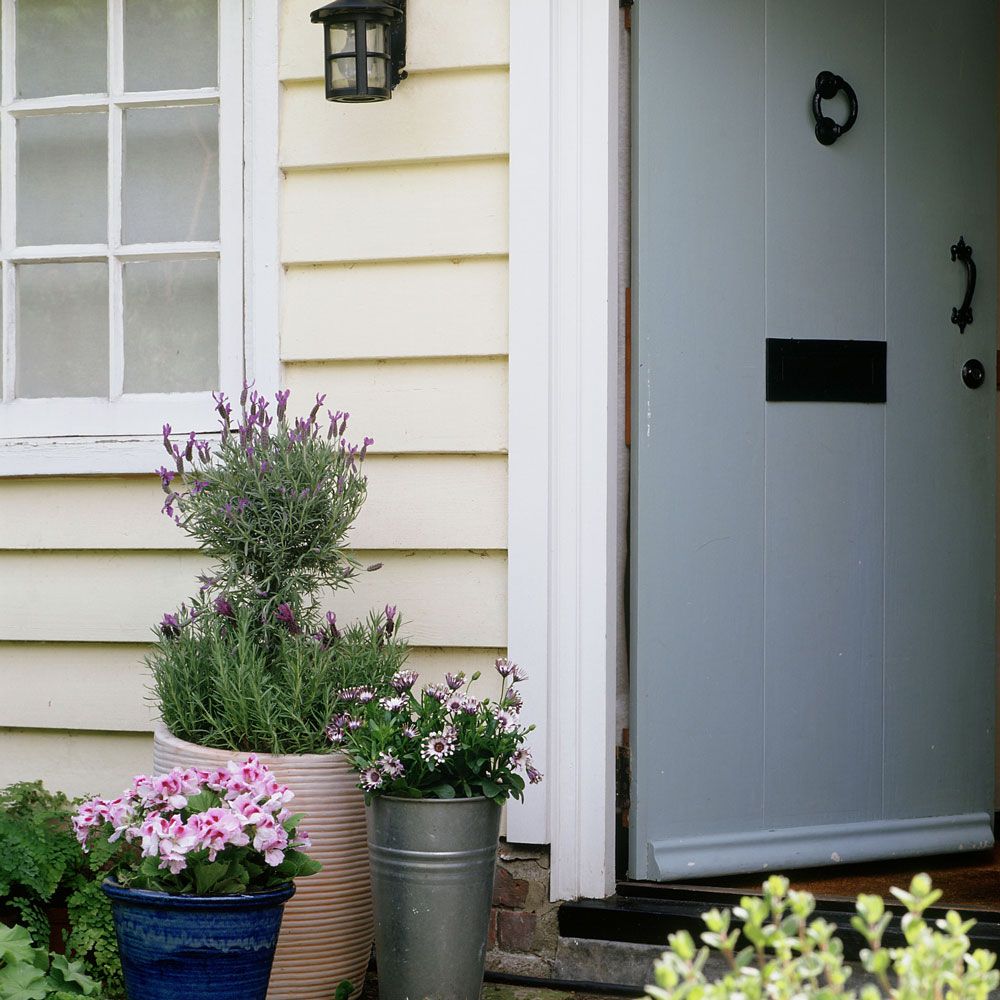 If your front garden is looking tired why not put aside a few hours for a quick revamp? It'll be worth it to create an entrance you can be proud of. Above all, a front garden should be easy to keep looking tidy.
Unless you have lots of time, aim for fuss-free landscaping and low-maintenance plants. 'A lot of people don't enjoy looking after their front gardens as they feel on show so low maintenance shrubs such as Choisya and Viburnums work well,' advises Chris from Gardening Express.
29. Build up a formal facade with multi-height topiary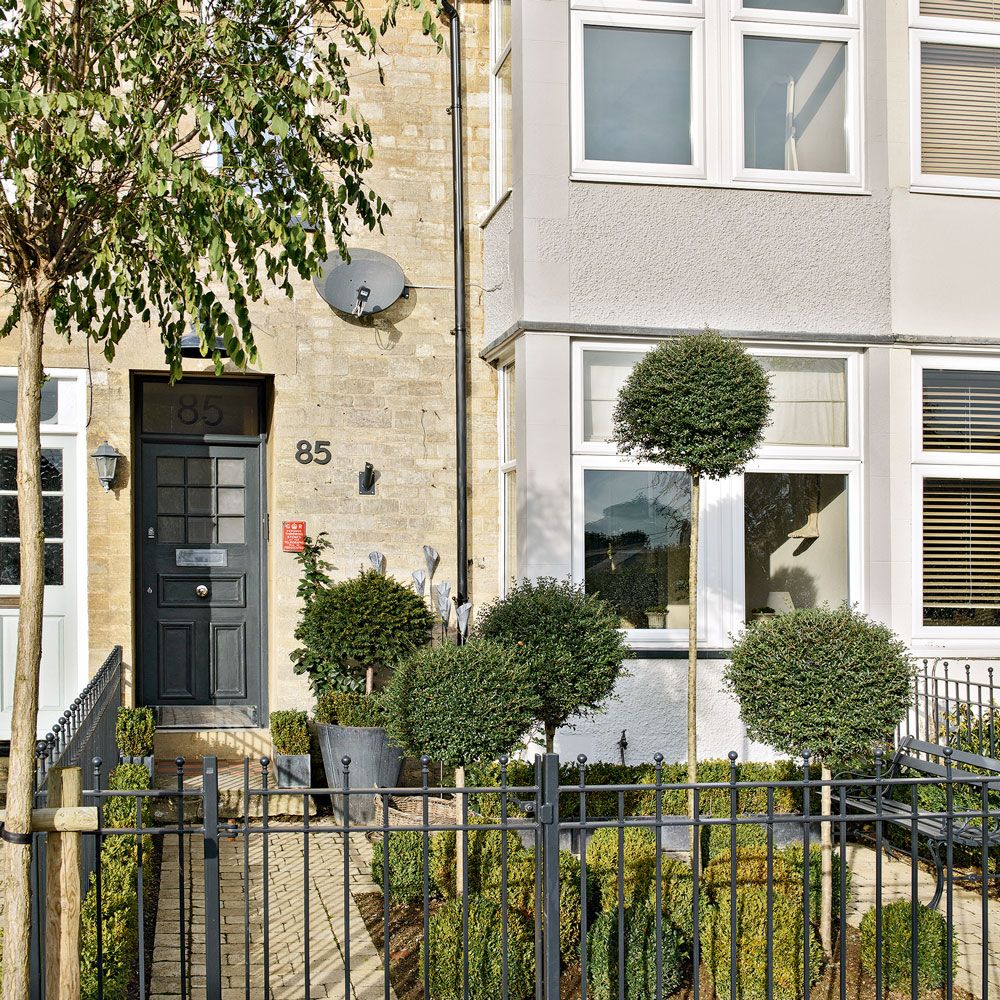 Topiary bushes aren't cheap, however - from around £80 for a pair of simple ball-shaped bushes to well over £200 for a pair of spiral designs. Water regularly, and consider chaining your plant pots to railings to ensure that opportunistic thieves don't make off with your precious plants.
Trim plants in June and August for best results. Get into a routine of applying slow-release fertiliser granules every three months and re-potting every two years.
30. Keep it neat with a smart and simple footpath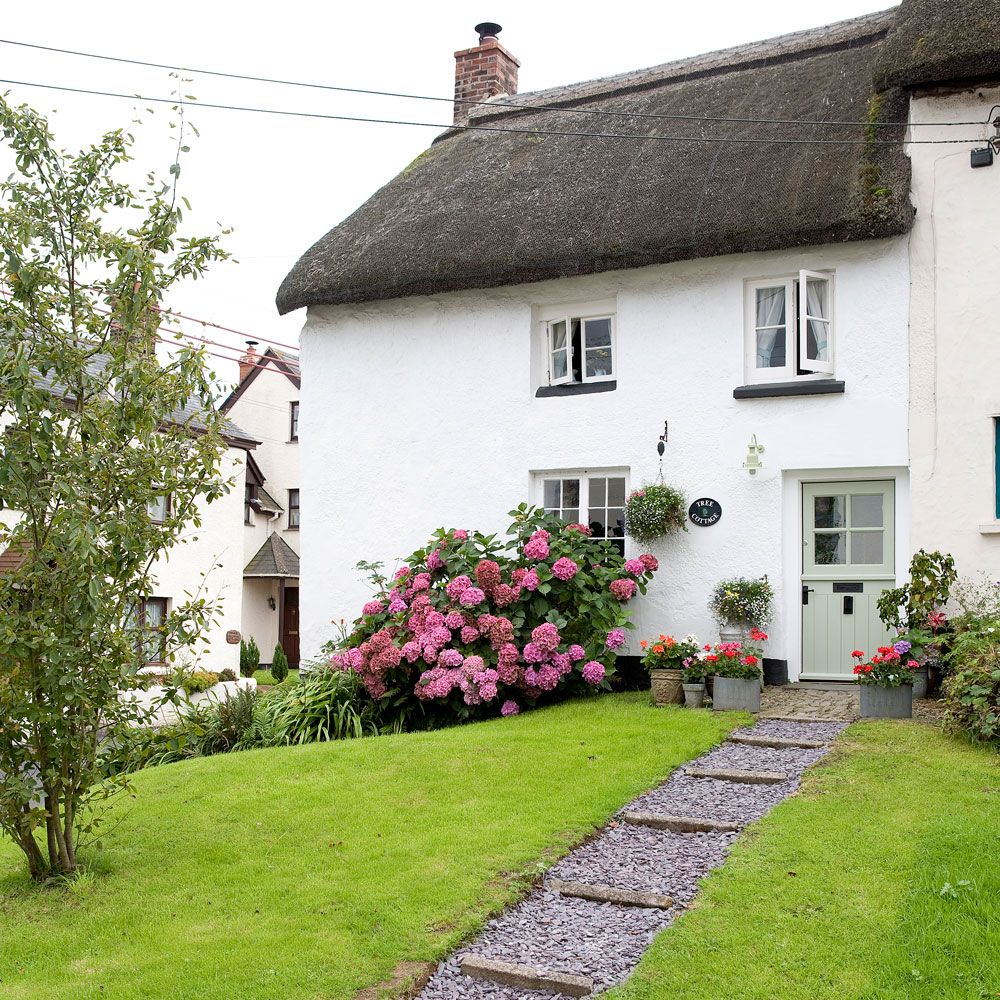 Keep soil and grass from being walked into your hallway with a simple garden path, which can be an attractive feature in its own right. Use materials that suit your home; so if you have brick walls and a slate roof, consider using brick edging and slate paving.
White pebbles or gravel will highlight your route as it gets dark, and the crunching underfoot will alert you to a visitor's arrival. You can lay new gravel (from £3 per bag) yourself if the path isn't too long, but you might need to get the professionals in to lay paving. If so, obtain three quotes for the work and expect to pay £20 to £60 per sq m.
31. Deck an American-style porch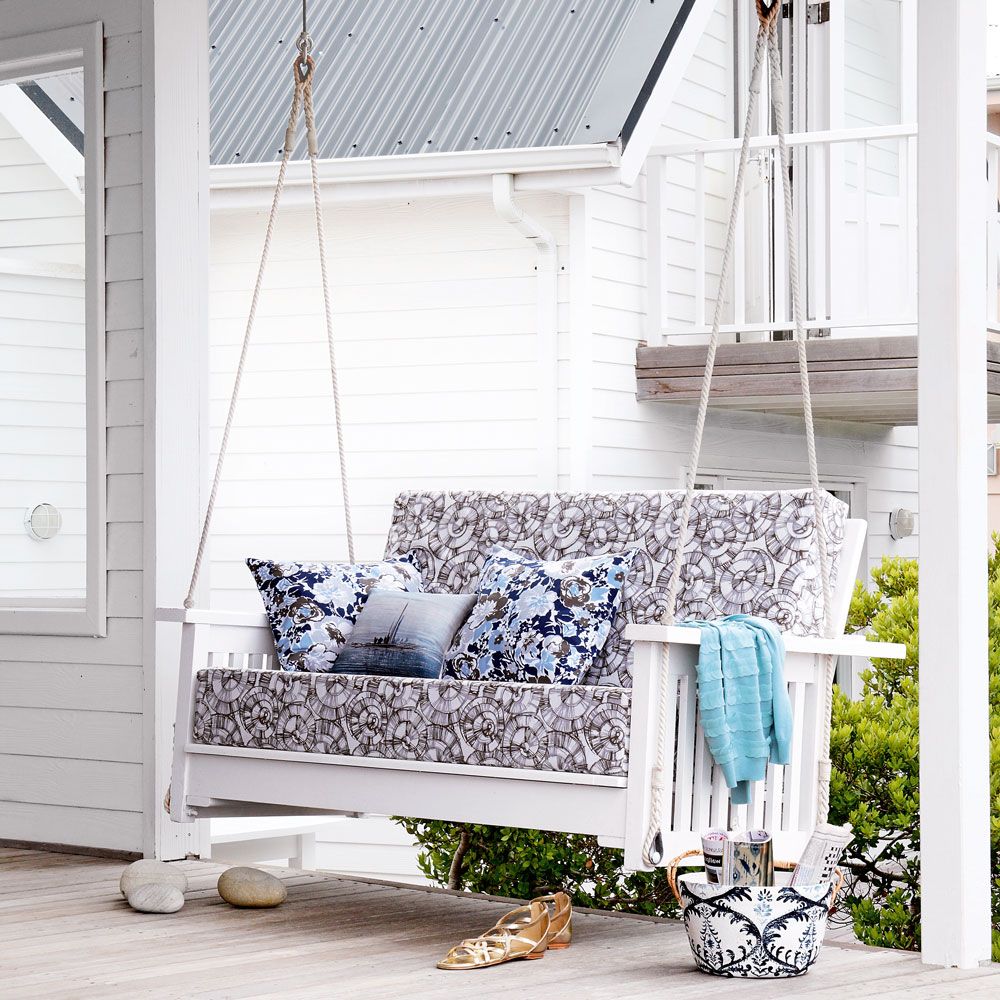 Decking is a great way to add character to your front garden design. A raised decking area with a porch swing is a quintessentially American style which translates just as well across the pond.
32. Paint a picket fence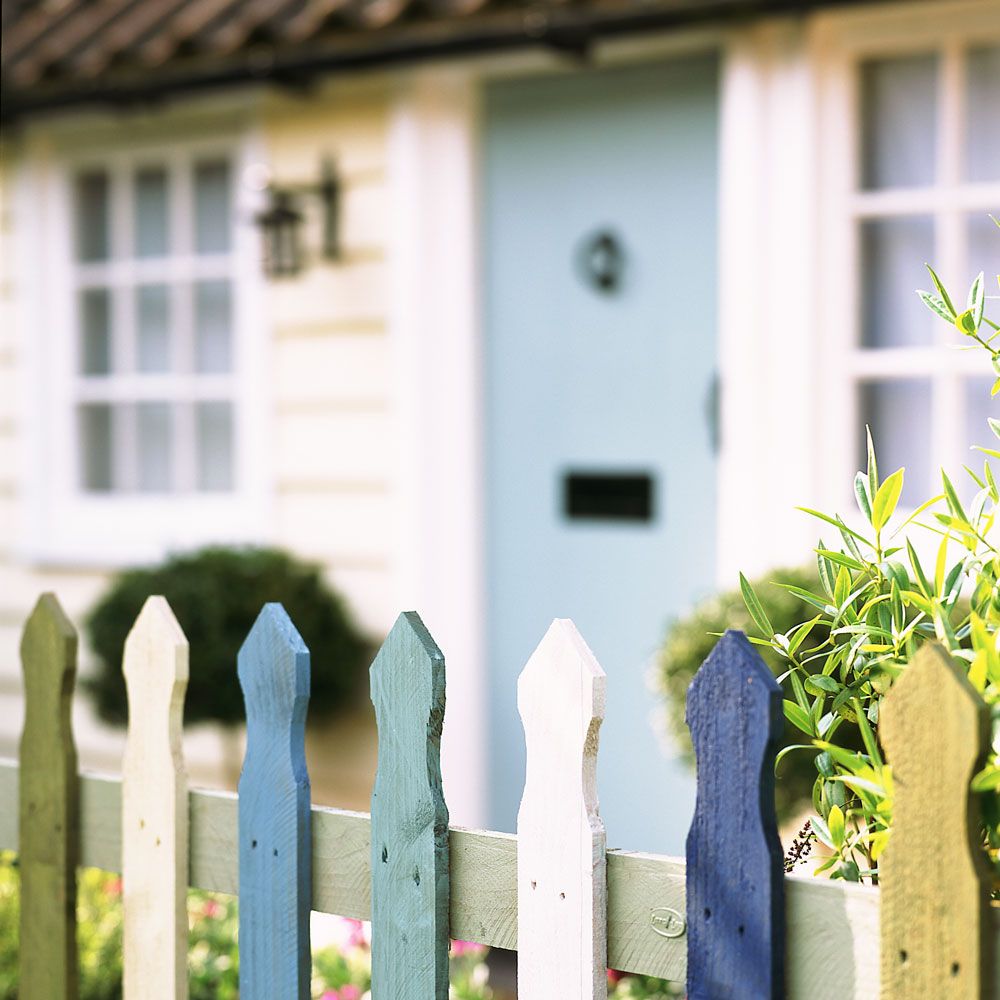 What could be more charming than a country home surrounded by a white picket fence you ask? A country home with a coloured painted picket fence that's what. If you've got any paint pot samples lurking in the back of your cupboards then this is the perfect way to make use of them.
33. Make a feature of a tree with a round bench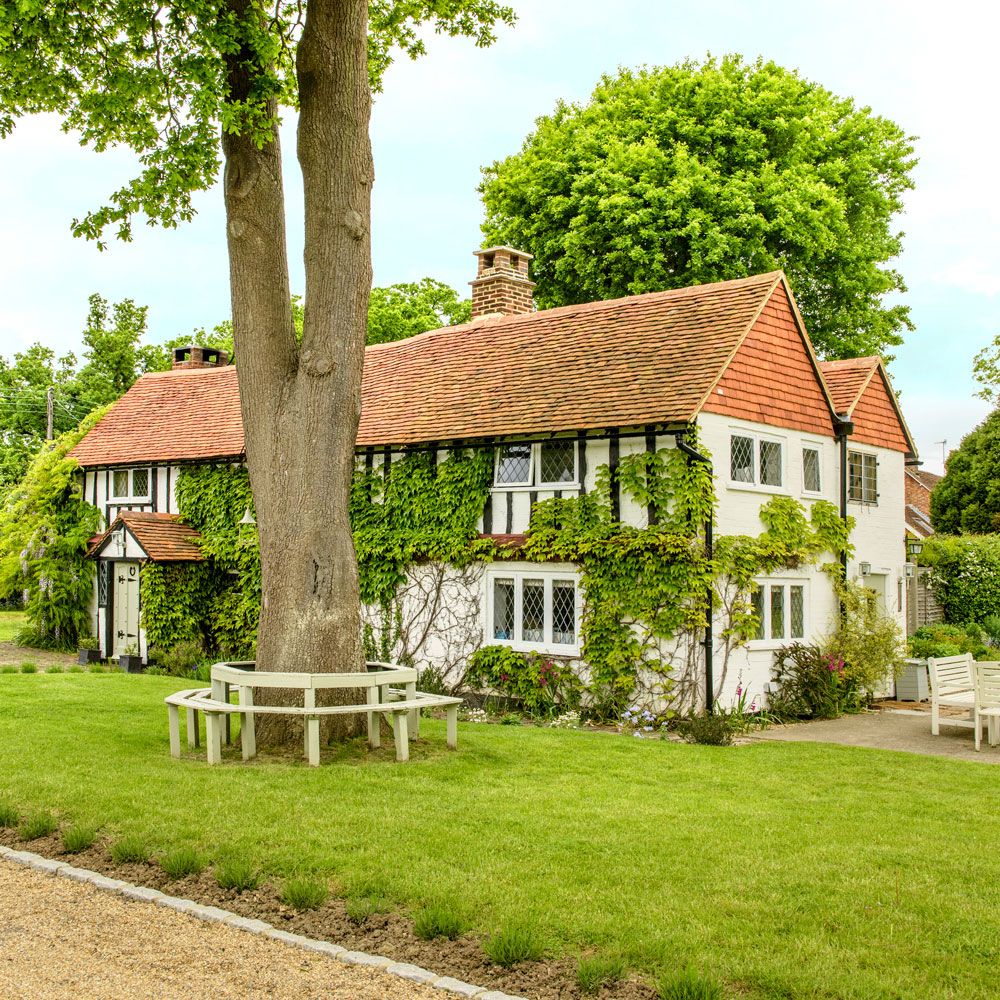 Wooden tree benches are are quirky seating solution you'll love, and are perfect for those who want to get back nature. You can pick up pre-made designs from as little as £150 - or potentially even less if you make use of garden discount codes.
Alternatively, if you're a competent DIYer there's are a number of instructional videos on YouTube showing you how to make wooden tree benches from old pallets and more.
34. Set a bench next to the door so you can enjoy the view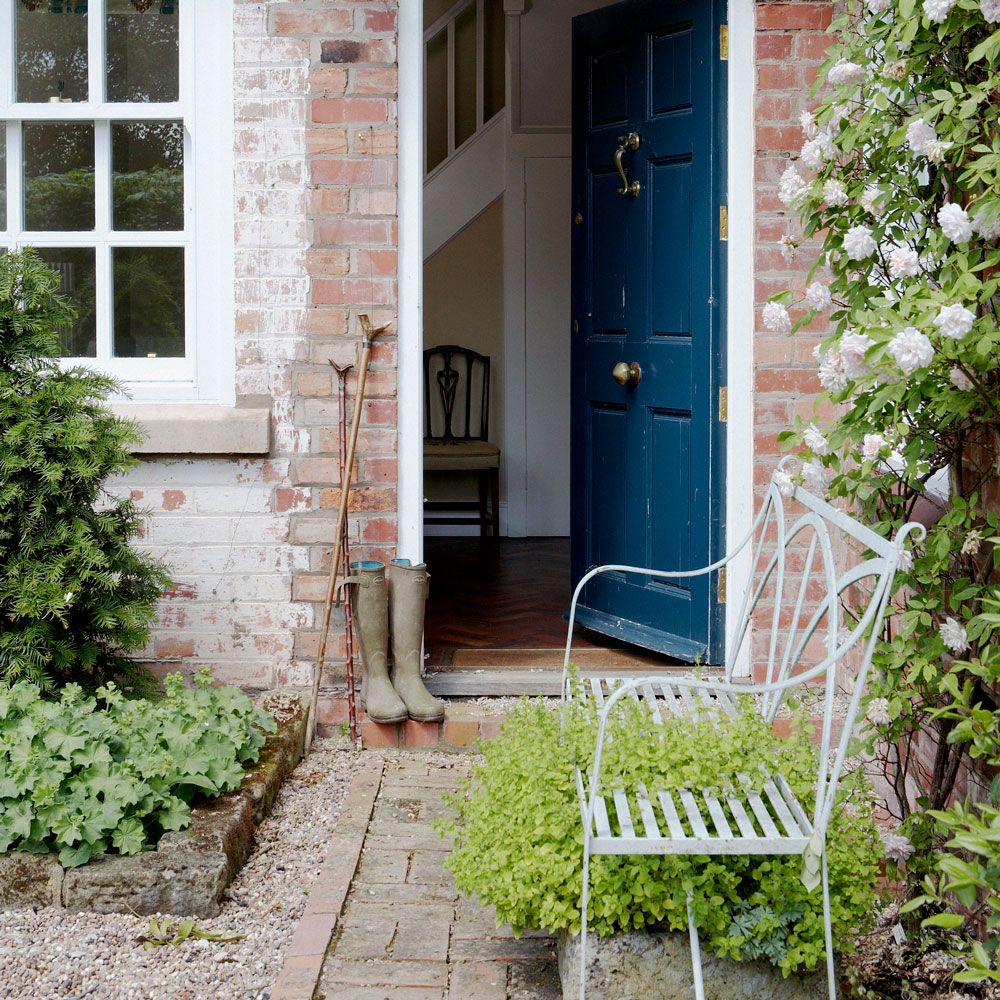 A charming painted metal garden bench placed before the front door is the perfect place to sit and reflect, especially if it's set in a spot that catches the sun.
The best garden furniture also gives you somewhere to remove dirty shoes after a long walk in the country.
35. Use pebbles outside a coastal home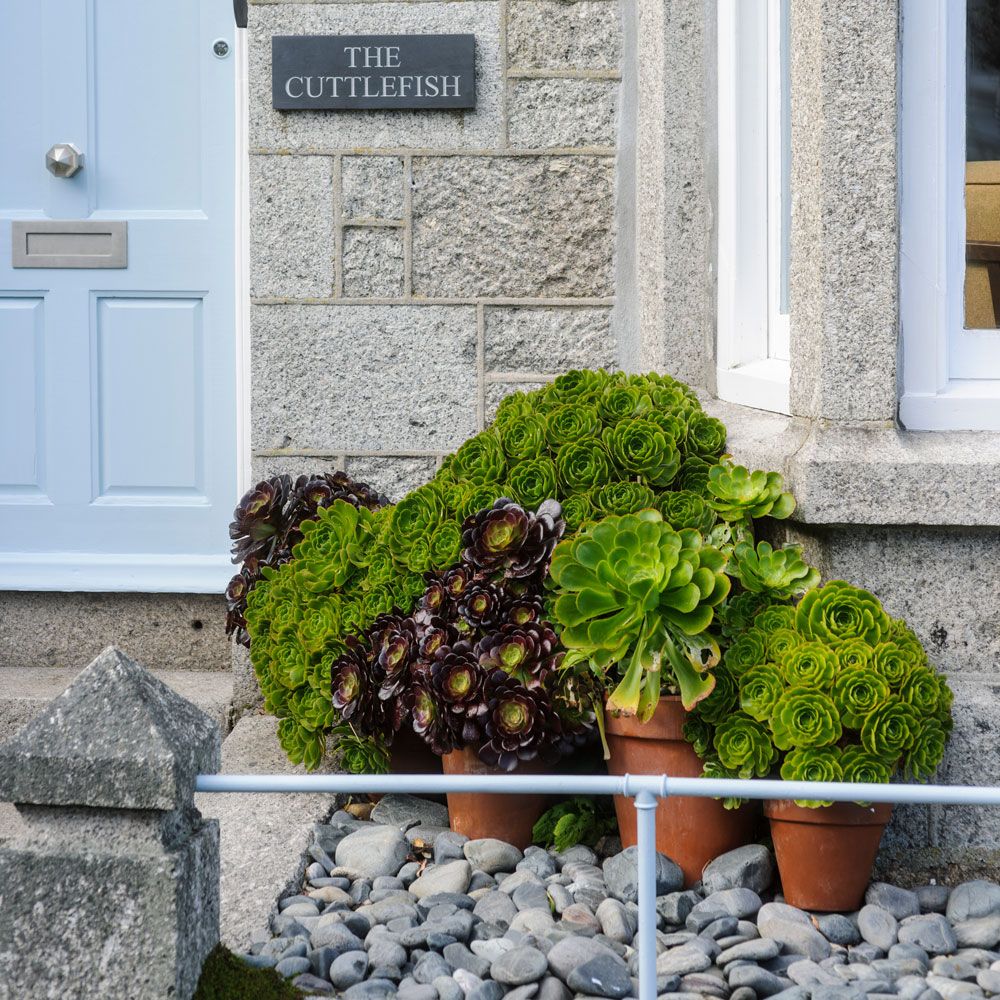 Pairing cabbage rose succulents with large stones brings a beach feel to this front garden, which works surprisingly well against the stone facade.
36. Plant rose bushes for a country look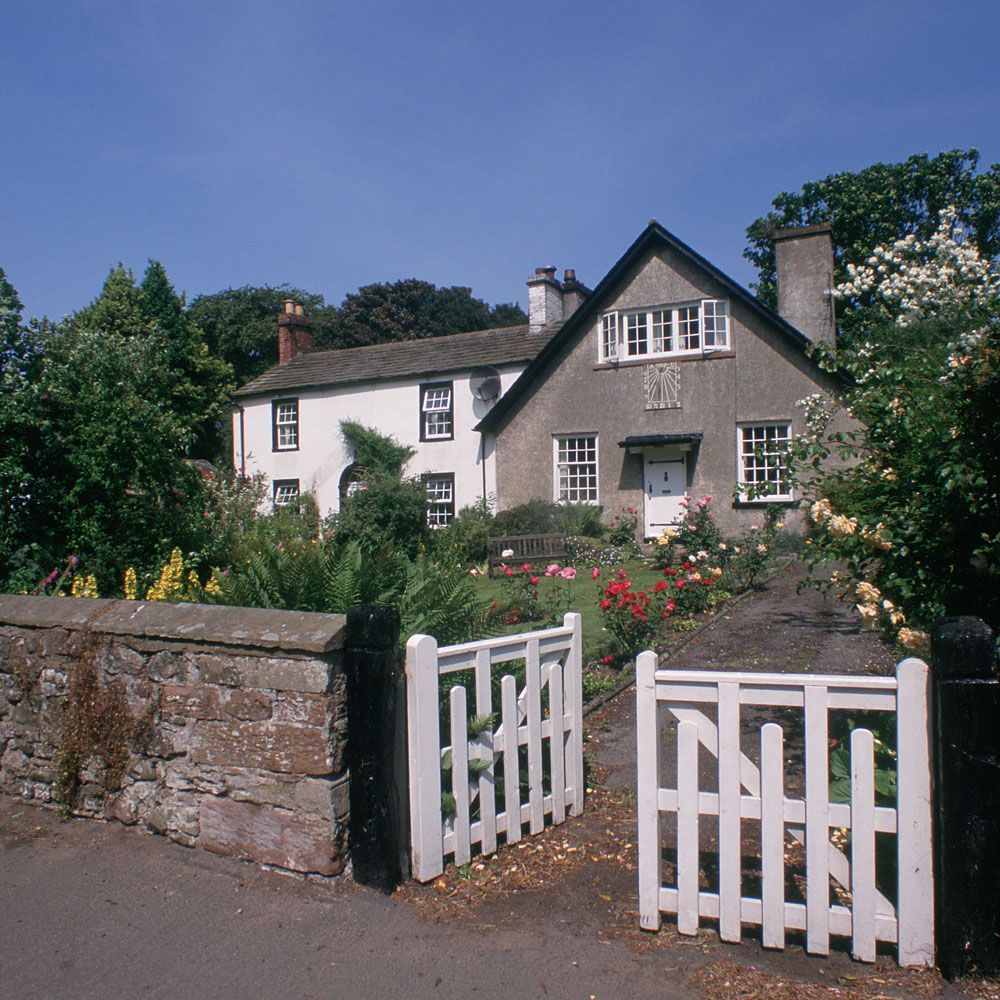 Complete a country home in picturesque style by including white-painted picket gates to mark the entrance to a charming floral-bordered driveway.
37. Fill a forecourt with a large-scale potted display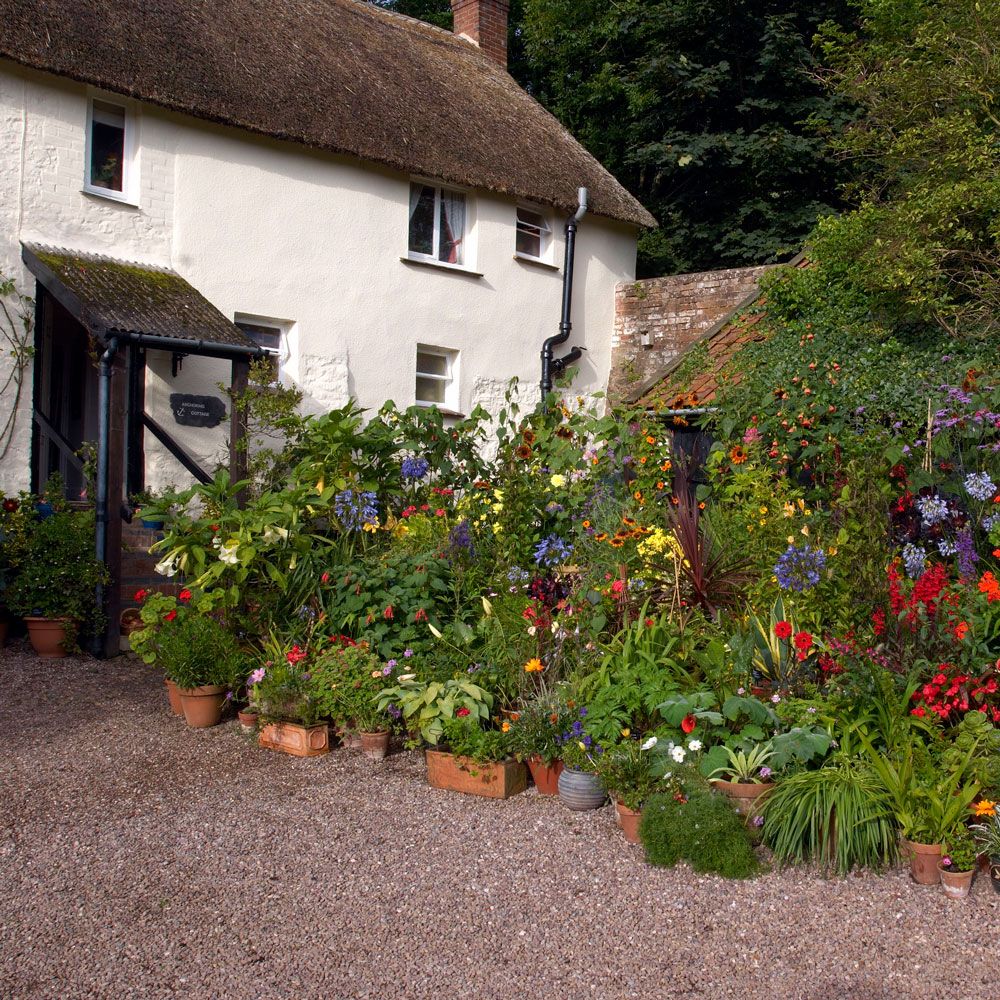 A proliferation of pots and troughs greets visitors to this charming white-painted home. Set out on the gravel forecourt, the unstructured arrangement can be added to or reorganised whenever the owners please.
How can I make my front garden look nice?
You can make your front garden look nice with simple measures and taking the time to tend to it, with as much gusto as your would the back garden. Lay a defined path to make the entrance feel more inviting and thought out.
Ensure if you have a lawn it's well tended so it looks it's best all year round. Edge the lawn or gravel frontage with evergreen foliage that will look gloriously green throughout the seasons, adding annual bedding and plant to welcome a splash of more vibrant colour during the spring and summer months.
How do you build a low maintenance front garden?
'Your front lawn says a lot about your home, it's the first thing visitors will see and these impressions last, especially in boosting the kerb appeal of your property,' says Chris Mcllroy, lawn expert at The Grass People. 'However, maintaining a front garden doesn't have to be time consuming with many ways you can keep it low-maintenance.'
'There are low upkeep and slow growing seed mixes which requires much less mowing than most grass seed types,' continues Chris. 'Ideal for those of us who are looking for a low-maintenance lawn. The seeds are expertly blended and are made up of 100% fine fescues which is particularly good for lawns that are shaded. This mix is also hard wearing, drought tolerant and can grow well in low nutrient conditions.'
For the most low-maintenance approach, opt for a gravel or paved frontage instead. Another great way to ensure your plot is low maintenance is by carefully selecting plants that are hardy and require little to no effort to stay green and thriving all year round – border shrubs such as Leylandii and potted bay trees, which can withstand the low winter temperatures surprisingly well.
How do you take care of a front garden?
According to Chris from The Grass People, there are three main areas to keep in mind for caring for a front lawn.
Fertilisation: 'A good idea is to fertilise twice a year. Give your grass a boost in spring and again in autumn and you will have a strong summer lawn and grass that is prepared for winter. By feeding your lawn twice a year you will provide your lawn with the nutrients that it needs to fight off diseases and keep your lawn looking green.'
Drainage: 'If your front lawn has poor drainage there is a risk that it may become waterlogged for hours and in some cases even days and if this isn't improved it can lead to other complications for your lawn's health. The most common causes for water build up is the absorbability of your lawn's soil or the landscaping.'
'Aeration can improve the flow of water and air and reduce surface buildup, you can also change the nature of your coil with organic materials to get the desired drainage levels. Aeration is performed by creating small holes in the soil and can be done using a garden fork but usually works better with specially made tools.'
Mowing: 'Typical mowing season in the UK is between February and October however with warmer winters in recent years we have also seen grass growth during this time. It's best to only remove one third of a grass's length when mowing, and to ensure a clean cut it's best if your mower has sharp blades as otherwise you could potentially pull up parts of your lawn. Avoid mowing when your soil or grass is wet as this can also cause damage to your lawn.'
What are the best plants for a front garden?
'The best options for driveway greenery are plants, hedges or trees that are resilient to weather changes and able to grow off hardscapes such as concrete, gravel or paving stones' advises Kane Hughes, from MyJobQuote. 'These include hardy geraniums, succulent plants, fragrant lavender or thyme and bay trees. If you are in the countryside, consider maintaining a garden and growing organic fruits and berries instead. If you are not an avid gardener, opt for the 'less is more' approach and choose only two potted varieties that frame your doorway'.
Get the Ideal Home Newsletter
Sign up to our newsletter for style and decor inspiration, house makeovers, project advice and more.