How to grow forced bulbs - Sarah Raven's top tips for winter flowering
Ideal Home's garden expert Sarah Raven lists how to grow forced bulbs now and create stunning centrepieces, all in time for Christmas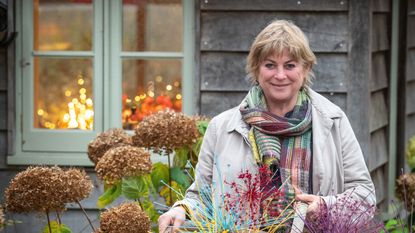 (Image credit: Jonathan Buckley)
As we move into autumn, the garden ideas to try should begin with forced bulbs - starting to prepare a few mini-indoor pots to decorate window ledges, shelves and tables and make our houses colourful and fragrant for winter.
From now onwards, we start forcing bulbs here. Hyacinths in particular take their time and should be planted soon, followed by the galloping-grower, the paperwhite daffodil.
It's also worthwhile having a walk round the garden to pick seedheads before they get blown and broken. My favourite garden-harvested indoor decorations are allium seed heads, of almost any size, left natural for the autumn and then sprayed either crimson or silver for Christmas.
The football-sized Allium schubertii is the showiest; then comes A. cristophii and finally A. 'Purple Sensation'. These are modest in size but still beautiful, and the mix of all three added to a tree or scattered down the centre of a mantelpiece ideas or eating table look as good – or even better – than anything you can buy.
If your allium heads are already shot, do you have any honesty, agapanthus, crocosmia or Japanese anemones out there? They make excellent alternatives.
Sarah Raven's tips for growing floral centrepieces
Single Hyacinths
In terms of forced bulbs, let's start with the simplest, just a few hyacinth bulbs in glass forcers. I love these, one on its own under a table lamp, or a group running along a window ledge or well-lit table.
With jewel-like containers, the great thing is they stream their stained-glass colours into the room way before the flowers appears. You can buy tailor-made forcers but any narrow bottle where you can jam a bulb in the neck is fine.
White hyacinths are wonderful for winter, but the beetroot-purple 'Woodstock' win the day for me. I also love the dark blues, which are the quickest to force and have the strongest scents. 'Peter Stuyvesant' is widely available: deep and deliciously fragrant.
Buy prepared hyacinths which have been pre-chilled. They're a little more expensive but it cuts six weeks off the forcing timetable. One word of warning — wear gloves when handling the bulbs as they can cause a strong skin reaction. They certainly make me itchy.
Fill your forcing jars with water so that the level is just below the basal plate of the bulb when you sit it on top. As the roots begin to grow, they touch the water which encourages them to grow faster. Keep the water topped up to the same level and change it twice a week.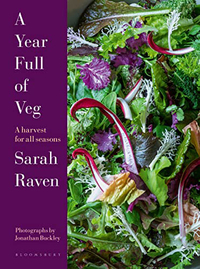 A Year Full of Veg: A Harvest for All Seasons by Sarah Raven | £22 at Amazon
Discover all the inside tips and tricks on how to grow your own, from garden to table, all broken down into monthly tasks and do do lists to make the journey a whole lot easier.
They need a period in the dark as well as the cold (at a temperature below 10ºC for 3-4 weeks). Vita Sackville West used to shove them under her bed at Sissinghurst, but any cold cupboard, garage or garden shed will do. The cold fools them into thinking it's winter, and when they are brought into the warm it breaks the bulbs' dormancy, so they flower early.
The darkness is also important, as it gives the root time to develop before the light pulls the flower and leaves from the bulb. And, if you can't find anywhere dark, make mini-cone paper hats to cover the top of the bulb. This works almost as well as all-round proper dark. Once the shoots are up about 4cm, bring them into the light and warm (above 15ºC) and they will start to grow more quickly and bloom within about 6 weeks.
Although it's tempting to buy hyacinths already forced in compost and wash the roots before placing them on a hyacinth forcer, it doesn't really work. Without the roots growing in situ, they won't go deep enough to secure the top-heavy bulb firmly on to the top of the forcer and the bulb will fall all over the place and often end up on the floor, and in my experience smash the glass!
Hyacinth troughs & bowls
If there's anything better than a single hyacinth, it's these fragrant bulbs en masse in a pot, trough or bowl. One hyacinth flower can fill a warm room with scent, but a bowl will perfume a house.
If your container has drainage holes, lay 2.5cm of grit or crocks in the bottom, and then add a shallow layer of soil and grit mix. In a contained pot with no holes in the bottom, it's best to use bulb fibre.
Place the bulbs on the planting medium, 3–4cm apart. Backfill with the same planting medium, leaving the pointy bulb tip just protruding from the soil surface. After planting, water only very sparingly, as hyacinth bulbs are prone to rot. Then put them in the cold and dark (as above).
Once they come into the warm and start to grow, you may find the foliage and flowers need supporting. That's part of the fun, making a mini garden. Using branches picked from the garden, make them a nest of twigs. Poke some sticks in – good and sturdy – all through the pot and scatter dried leaves or clumps of moss in any gaps.
When the hyacinths are in flower, don't water. Once they've flowered, plant them out in the garden, leaves and all. Their food stores will be depleted by the forcing process and they may not flower well next year but should do so for years after that.
Paper white daffodil table centrepiece
We have a long-standing family tradition for this time of year — to plant up a tiered wedding cake, made from with flowers, not food.
In order to create one of these stunning Christmas table centrepiece ideas, you will need as large a pot or bowl as you can fit in the middle of your table to form the base of the arrangement, with a smaller one stacked on top. Narcissus bulbs are large, with an extensive root structure, so deep pots are ideal. You can plant the bulbs in plastic pots, three to a pot (or buy them already planted), and then move them into your final centrepiece as they come into flower. Or plant them straight into their final pots from the start.
Plant the bulbs just below the soil surface, about 2.5cm apart, into a soil-based compost lightened with some grit, with crocks at the bottom of the pot (or use bulb fibre). Store them somewhere cold, at a temperature below 10ºC. Keep the compost moist, but not dripping wet.
Once the bulbs really start to shoot, with leaves up to 20–25cm, bring them into the warm. If they're still in plastic pots, transfer them into your final pots. (Place a large platter underneath the largest pot to catch any water.)
Add the bulbs to the pots layer by layer, packing them in as thickly as you can with more of the planting medium.
If you've planted them straight into the final pots, then just assemble them at the table. Poke in a handful of silver birch or hazel twigs around the bulbs in every layer to support them. This looks lovely and staves off collapse. Water as and when the compost begins to dry out.
As a final touch, at Christmas, hang silver and clear glass baubles on the twigs and surround the whole thing with a halo of candles on the table. With this on your Christmas dining table, who needs Christmas tree ideas?
So, here is a call to action. Now is the time to set the stage for later in the autumn and your winter to be as flower-filled as it can be.
Get the Ideal Home Newsletter
Sign up to our newsletter for style and decor inspiration, house makeovers, project advice and more.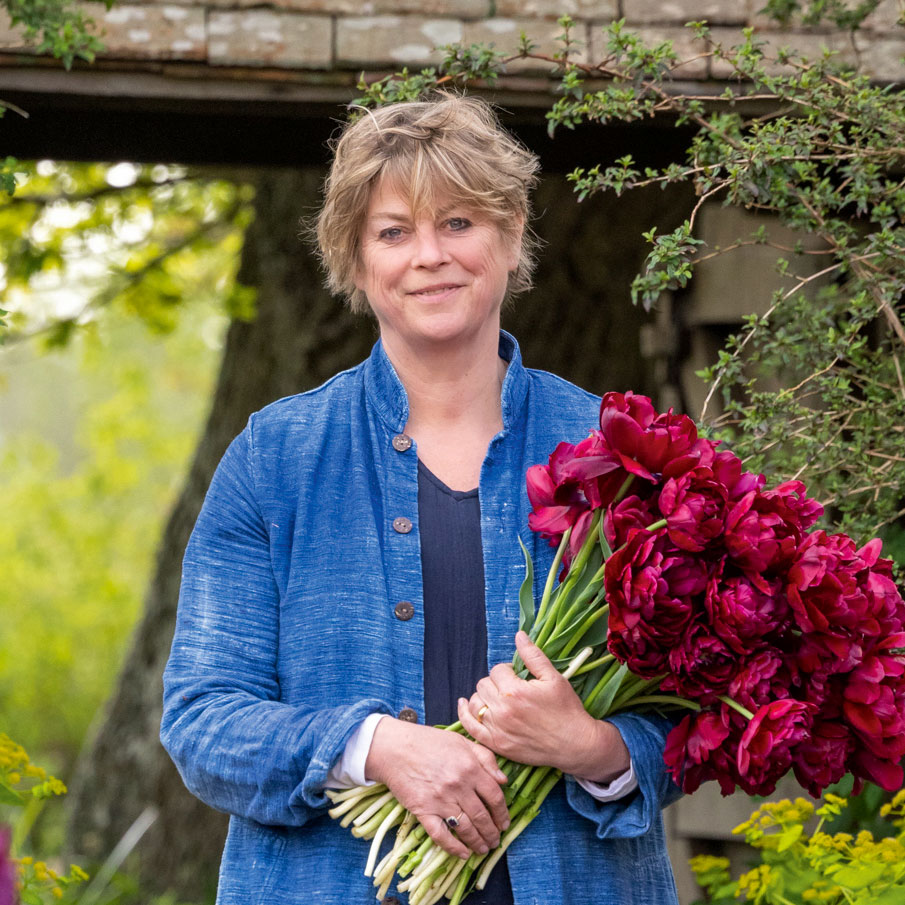 Sarah Raven is a gardener, teacher and writer who runs her own online plant nursery specialising in colourful, productive cut flower seeds and seedlings, edible crops and a large range of perennials, shrubs and roses (as well as the kit to grow them).
Over the last three decades, she has written regularly for the Financial Times, The Telegraph, and many other publications including Ideal Home.
Sarah presented on BBC Gardener's World, including several one-hour specials (e.g., Bees, Butterflies and Blooms).
She has an online course with Create Academy on growing cut flowers launching in autumn 2023 and has her own successful podcast Grow, Cook, Eat, Arrange.
Her garden - Perch Hill Farm in East Sussex - is open 20 days a year.