DeliVita pizza oven review: a wood-fired, outdoor oven which cooks pizzas and more
We've reviewed the beautiful DeliVita pizza oven to see how easy it set up, use and cook pizza (and more). Here's what we found...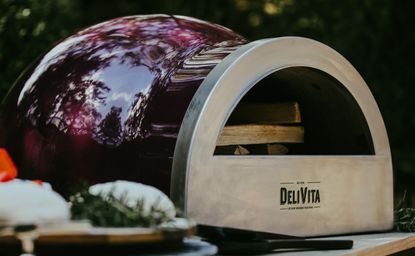 (Image credit: DeliVita)
The DeliVita pizza oven is a wood-fired clay oven which will cook delicious pizzas, and more. It's of a beautiful quality in a selection of colours, but it is heavy which makes it difficult to easily move around and if you're catering for more than one or two then others may be waiting a while until it's their turn.
Reasons to buy
+

Perfect for beginners

+

No set up required

+

Easy to use (if you can light a fire)

+

Suitable for any flat surface

+

Looks beautiful
Reasons to avoid
-

Can only (easily) cook one food item at a time

-

Mega heavy for a portable oven
Why you can trust Ideal Home Our expert reviewers spend hours testing and comparing products and services so you can choose the best for you. Find out more about how we test.
I like pizza (very much) so when I was given the opportunity to review the DeliVita pizza oven I couldn't wait to get stuck in. I'd never used a pizza oven before, nor successfully lit a fire, so this was going to be a good challenge for me, too. I was surprised at just how much fun I could have with an outdoor oven and the key is to be confident.
Whilst I had the DeliVita pizza oven to review we were blessed to have a good start to summer which meant that I used it multiple times, even on a lunch break when working from home. It's that easy. There are a few experiences worth sharing with you about it, though, so if you're looking for the best pizza oven then keep reading for some intel and also where you can find the best deals.
Product specifications
Suitability: outdoor, only
Fuel type: wood
Max. temperature: up to 500ºC
Dimensions: 65 × 59 × 35 cm
Weight: 30kg
Who would it suit?
Anyone with outdoor space who loves pizza, meat / fish and veggies - it'll all cook perfectly in clay oven, and is a chance to try something new.
Delivery, unboxing and set up
How the DeliVita oven arrived for me was on the back of a pickup truck, and out of a box. This is not how it will necessarily arrive for you since I have a press loan so it's a little different but the overall experience should be the same. Looking on the DeliVita website, delivery of one of these outdoor ovens will set you back £60 but this is a small price to pay (relatively speaking) for a product which has a five-year guarantee, and there's lots of fun to be had.
There was no set up required for the oven - it was already 'as one'. I was really quite worried for myself if there was to be several stages of installation since I find when reviewing the best BBQs, this can take me a while to get my head around. Relieved was the word. As part of the delivery I also received the all-weather DeliVita oven cover, oven brush, pizza peel, pizza cutter, dough scrapper, prod & blow, Fired recipe book and an infrared gun. Aside from the infrared gun, everything else was out of a box already (for me) but nothing needed to be set-up before the first use - it was all ready to go.
Choosing where you would like the DeliVita to reside is something of importance before the first use, however. The patent-pending insulating heatproof handles and oven base means that it can be position anywhere, on anything sturdy enough to bare the 30kg weight. We've got a small patio so we actually ended up putting the oven on a crate on my un-sowed veg patch - it wasn't the best place to put it by any means but it was still safe and secure. Do just bare in mind that although it is marketed as being 'portable', 30kg is still heavy so frequently moving it around would be a challenge.
Image 1 of 2
Performance
The key to getting a delicious meal from using the DeliVita pizza oven is being confident with it. If you can start a fire, you'll be fine. I used the natural eco wood firelighters which are £15.63 for a box of 200 on Amazon and kiln dried logs like this 22 litre bag of Jack Logs which are 14.99 on Amazon. I used two firelighters and four or five pieces of wood to get the fire started, and that's all I needed to get it up to temperature to cook two pizzas.
Getting the oven up to temperature took me about 25 - 30 minutes, and I'm a beginner. Putting the logs in the middle towards the front of the oven ensured that plenty of air could get in to keep the flames dancing around. Once it got to the 25-minute-mark I used the prod & blow tool to shunt back the logs and the (really useful) infrared gun to tell me where the temperature was at. I was aiming for about 450°C, but often settled for 430°C because I had hungry mouths to feed. If the temperature was much below this I put another log in the oven and used the prod & blow tool to blow in some extra air. These, I'm told, are soon going to be available at a longer length with olive wood handles which will be useful because at the moment they aren't quite long enough to reach to the back of the oven without getting your arm covered in soot.
Top tips for making pizza:
- Stretch the dough for a thin base
- Flour the work surfaces and pizza peel
- Put the dough on the pizza peel BEFORE adding toppings
- Ensure oven is AT LEAST 425 before cooking
- Regularly turn the pizza for an even bake
- Have a chopping board ready to serve
Making pizza
There is an art to making pizza, and thank goodness DeliVita has a selection of artisan, Italian pizza dough ready-made which can be delivered to your door for free. We had the organic taster pack which has 3x Traditional doughballs, 3x Sour Dough Balls, 2 x Charcoal Activated Dough Balls, 2 x Turmeric Dough Balls and 2x Wholegrain Dough Balls. Although I'm yet to cook the turmeric dough, the others were really delicious.
The first pizza I made was a margarita - similar to the one you see in the Fire Recipe Book - and let's just say that practice helps. It took me a few goes to get it onto the pizza peel (which I'm told is also going to be longer with an olive wood handle) and then equally a couple of goes to slide it off into the oven. It went in a bit of a mess and came out looking the same albeit it charred around the edges, but this is not a downfall of the oven just more my poor pizza sliding skills.
It took just a minute for the pizza to cook one side, and you'll want to rotate it around using the peel for another minute to get an even bake. Although (the first) pizza didn't look great, it tasted really good. Making more than one pizza was a little stressful because it meant that I was running in and out of the house to check on the pizza cooking and make another pizza / collect the other pizza but if it's just for two of you or a small group, then it'll be manageable if you have a conveyabelt of help.
Cooking anything else
The DeliVita is a clay, wood-fired oven so you can pretty much cook anything in it, plus pizzas. I also cooked corn-on-the-cob laid on a foil bed in there and oh my, it was so sweet and delicious - it's amazing how much difference it made to cook it this way, than just boiled on the hob.
I also attempted to make garlic dough balls using the DeliVita charcoal dough but I very much failed with this. With the dough being black I just couldn't tell whether it was cooked or burnt by looking at it, and it was far too hot to handle. When it had cooled, it was evident that it was still raw because the dough was really soft. Being a ball made the dough really dense so even though the outside may have been cooked, the inside wasn't and I wasn't cooking to ruin the outside any further just in case there was a chance the dough ball was edible.
The other food type I tried to cook was chapattis, and I part-followed the recipe in the wood-fired oven recipe book. I halved the flour and then halved the water, but the mix was really runny just like water in fact so I added way more flour than I was intending to and went off-pest from the recipe. By the time it had resting for the advised 30-minutes the oven had dropped in temperature to 272°C. I still put the chapattis in, but only managed one or two at best since the dough was sticky and the oven was still hot so the reality was it was a logistical issues to cook any more than one. They took a while to cook but still ended up alright-tasting.
Cleaning, maintenance and storage
The DeliVita wood-fired oven requires very little cleaning and maintenance. After each cook you will want to brush out the charred wood and any burnt-on residue using the oven brush, once it's all cooled down. Just as with the prod & blow tool and pizza peel, this is being made with a longer, olive wood handle which will really help to get to the back of the oven which will (hopefully) prevent your arm and hand from getting covered in soot.
The outside of the oven will want a quick wipe down with a microfiber cloth, too, to keep it in a pristine condition. As I'm sure you can imagine, the front of the oven does build-up soot quite quickly, too, since the flames often flare out so wiping it down will help to preserve it.
Storing the DeliVita can be left outside just where you positioned it to cook. It is weather-resistant but if you want to give it some added protection from the elements and prevent any creepy-crawlies from moving in then I would highly recommend the all weather DeliVita oven cover which is easy to slip-on and secure with the side straps.
How does it rate online?
Looking on the DeliVita website I can see that customers have awarded the oven 4.7 out of 5 stars. I clicked through to read the reviews on TrustPilot and Wow, such lovely things are being said about it. There's a lot of love out there for the DeliVita team, so that's a big tick for customer service. The oven itself is a 'high quality product', 'not just an oven, it's an experience', 'surprisingly easy to use'... lots of really positive things to say about it. Any bad words on the review site is about the delivery, or the dough not being as expected. These are just 2% of the reviews, though, which sound like very much isolated incidents.
On Cuckooland, there are just two reviews but both are very positive. It has been noted that the oven is really well designed and it heats up really quickly, with the only downside being that it can only accommodate one 12-inch pizza at a time.
How does it compare to similar outdoor ovens?
DeliVita have got a strong holding in the wood-fired pizza oven market, meaning that there isn't anything quite like it around so it's not the easiest to compare like-for-like.
There is, however, the Ooni Frya which is a wood-pellet pizza oven. This also reaches 500°C ( 950°F), cooks 12-inch pizzas and in just 60 seconds. It is lighter at just 10kg (22lbs) but the most obvious different is the price - it's £249 (when not on sale) - which is a much more affordable option that the £1,395 DeliVita oven. It's this price difference which puts these two ovens in a completely different market, especially since the DeliVita is wood-fired (not pellets) and can cook more than just pizzas.
Another popular pizza oven is the Gozney Roccbox which can be bought with a wood burner accessory (sold separately). This will convert the Roccbox to a multi-fuel pizza oven, meaning that you'll be able to cook with wood, charcoal or briquettes. The foldable legs also make it a much more portable option, all for £419.
Image 1 of 2
Two new DeliVita ovens have joined the range in celebration of the Queen's Platinum Jubilee; Emerald Fire and Platinum Blue Jubilee. There's no difference in performance, it's just the colour of the gorgeous domes that are different.
Two new DeliVita ovens have joined the range in celebration of the Queen's Platinum Jubilee; Emerald Fire and Platinum Blue Jubilee. There's no difference in performance, it's just the colour of the gorgeous domes that are different.
Should you buy the DeliVita pizza oven?
Personally, for me, if I had the space, a more permanent base and £1,300 of 'fun' money then I would absolutely be buying the DeliVita pizza oven. The sticking point for me is that high ticket price tag. I would figure something out if it wasn't for that.
What I have learnt from reviewing the DeliVita, however, is that I have enjoyed making handmade, wood-fired pizzas for lunch, thinking about what else I can cook in it and not worrying about it when I've left it outside in the rain without a cover. It's a really fun option to have in the garden, which can look rather pretty in a choice of your chosen colour. And what I've experienced with the customer service team, and what I've read, is that you'll have support with you every step of the way with your wood-fired cooking journey, which means a lot.
What I would say though is that it probably wouldn't be a pizza oven for you if you want an outdoor oven for the road (it's heavy) nor if you regularly have a family of hungry mouths to feed at the same time (you can only cook one pizza at a time). However, later on in the year DeliVita are launching the DeliVita Pro which is dual fuel and has more than double the capacity than the original oven so I'm looking forward to seeing how I get on with that.
I'll come back to the price, too, because that is a hard one to swallow so, if like me, you can't yet justify spending that kind of money on an outdoor oven which you know you won't be using every day then I'd be looking at getting something a bit smaller and a much more affordable.
Get the Ideal Home Newsletter
Sign up to our newsletter for style and decor inspiration, house makeovers, project advice and more.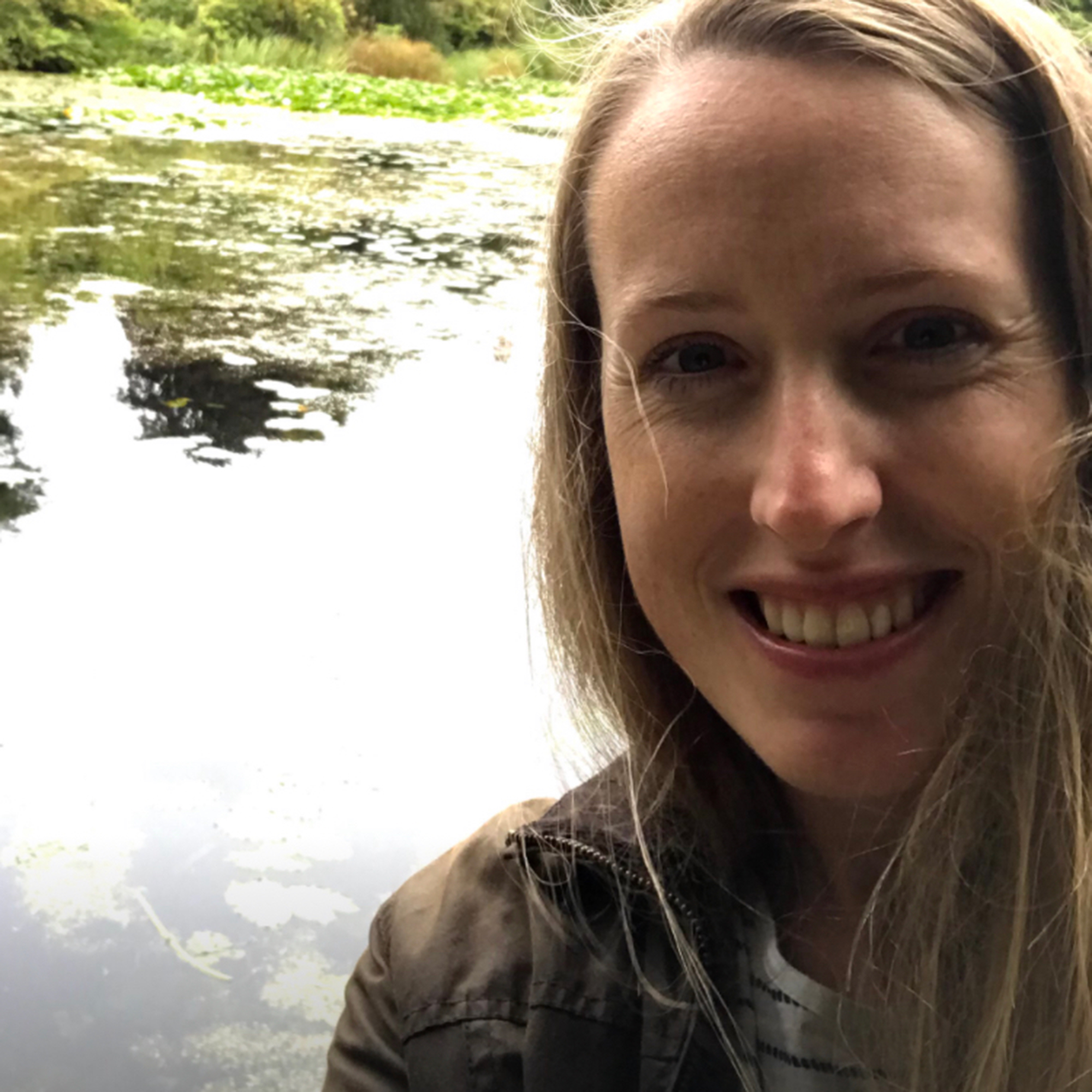 Jennifer Oksien has been our large appliances editor on Ideal Home since March 2021. Jennifer (Jen) has over 10 years experience as a product writer specialising in appliances, smart tech and mattresses for some of the UKs leading retailers and magazines. She also works on Real Homes, Homes&Gardens, Livingetc and Gardeningetc in the Future Homes portfolio.