Best pizza ovens of 2023 in the UK – the top 8 tested by the Ideal Home team
We've tried all of the best pizza ovens from Ooni, Delivita, Gozney, and more at home, to tell you which one is best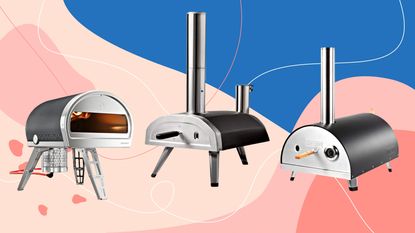 (Image credit: Future)
One of the best pizza ovens can add a new dimension to your cooking at home year-round. We know that creating authentic chargrilled pizza at home doesn't come cheap, with quality pizza ovens ranging anywhere from £150 to £1500+. So how do you decide how much cash to splash, and how do you choose between all of those different fuel types?
That's where we step in to help, with the lowdown on all of the most popular pizza oven models that we've actually tried– whether you're looking for the authenticity of a wood-fired pizza oven, the ease and convenience of a gas-fired pizza oven, or the best of both worlds in a multi-fuel option.
If you're still pondering the value for money aspect of a pizza oven, bear in mind that certain pizza ovens can often double up as a best BBQ alternative, enabling you to grill fish or meat, and even bake bread, cookies or cakes outdoors too.
The ovens you'll find below from Ooni, Gozney and DeliVita, all of which we've tested, are of the quality you need in order to spruce up your space and spark outdoor gatherings and alfresco family meal times.
Best pizza ovens - The quick list
Best for home chefs
Best for home chefs
+ Huge cooking area
+ We love how it looks
+ Cooks far more than just pizza
- It's expensive, and not at all portable
Best gas
Best gas
+ Perfectly portable
+ Convenient gas controls
+ No assembly needed
- Doesn't have wood fired flavour
Best pizza oven overall
Best entry level pizza oven
Specifications
RRP: £249
Pizza size: 12 inch
Fuel type: wood-fired
Heat up time: 15 minutes
Max temperature: 500°C
Wood consumption: 1.13kg for 10 pizzas
Dimensions: 74.2 x 39.4 x 72.6cm
Weight: 10kg
Reasons to buy
+
Sturdy build
+
Easy to set up and use
+
Doesn't take up much space
+
Portable
+
Authentic wood-fired pizza oven taste
Reasons to avoid
-
It's exclusively wood-fired
-
Tending the flames is more high-maintenance than a gas-fired option
-
No built-in temperature gauge
-
Accessories sold separately
The Ooni Fyra is a five-star buy for many reasons, and an easy winner of the title of the best pizza oven. The first is that a wood-fired pizza oven is generally going to be the most affordable option in terms of initial outlay, and, as a rule, wood is a cheaper – and potentially more environmentally friendly – fuel type when compared to gas.
This budget-friendly oven earned a perfect score from our most discerning reviewer, Helen McCue, a feat that is not easy to do. She thinks that this pizza oven is 'great if you enjoy wood-fired pizza as well as the challenge of mastering the techniques of pizza making, you'll have an absolute blast creating pizzas for everyone who comes to visit.'
It managed a flawless performance in testing thanks to its low maintenance set-up and cooking process, with the flames it creates achieving that authentic, smoky wood-fired flavour (without burning)
Of course, the Fyra is more effort than a gas-fired alternative, and it will need one person's (almost) undivided attention for the best results, especially if you want to cook multiple pizzas for a large group when you'll need to get the oven back up to temperature between bakes.
Affordability-wise, the Ooni Fyra only comes in a 12-inch option, and at £249 it does work out a little more expensive than its closest competitor – the Woody pizza oven – mainly because it doesn't come with the added accessories that the Woody includes in its £249.99 price tag, like the all-important pizza peel (you'll struggle to cook a pizza without one) or the in-built thermometer the Woody offers (not essential, but it does help with getting that crispy base without burning).
However, in terms of build quality and professional looks, for us, the Ooni Fyra just steals the show. As long as you have the time and patience to invest in the authentic wood-fired pizza-making experience, this option could be the fit for you. If you're still undecided on which oven to buy from the brand, we've covered the subject in more depth in our rundown of which Ooni pizza oven to buy.
Our Ooni Fyra 12 Pizza Oven review has the full details.
Best affordable pizza oven
An affordable pizza oven with accessories included
Specifications
RRP: £249.99 (£309.98 with gas attachment)
Pizza size: 12 inch
Fuel type: Wood (gas attachment also available)
Heat up time: 15 minutes
Max temperature: 500°C
Dimensions: W41 x D54 x H40cm
Weight: 13kg
Reasons to buy
+
You get everything you need for less than £250.00
+
Accessories included
+
Built-in thermometer and view hole
+
Portable
+
Fast to heat
Reasons to avoid
-
Some of the edges are a little sharp
If you're looking for one of the most affordable pizza ovens you can buy, then we think the Woody Pizza Oven is a great balance of price and performance.
This is a 12-inch wood-fired pizza oven first and foremost, but it also offers the flexibility of converting to gas with the addition of a gas burner. The solely wood-powered Woody oven is £249.99, and we've covered its pros and cons as compared to Ooni's wood-fired Fyra pizza oven at £249 above.
We've even re-tested this oven after Woody released a new and improved version off the back of our reviewer Lindsey's recommendations. The main benefits of opting for the Woody are the lower initial investment and the fact that with this oven you get the (essential) pizza peel, an in-built thermometer, and a carry cover included in the price.
In addition, the Woody also offers the flexibility of transforming into a gas-fired oven with the additional purchase of a gas burner. This brings the total cost to £309.98. You'll need to invest in Ooni's Karu 12 for similar multi-fuel functionality, which will set you back £378.99 in total (£299 for the oven, and £79.99 for the gas burner), and again, that's without some of the accessories Woody provides as standard.
Our reviewers were impressed by the Woody's performance, both in the more labour-intensive wood-fired mode and the comparatively quick and easy gas-fired mode. They also noted the arched roof of the Woody Pizza Oven made cooking a range of dishes a little easier than with the Ooni Fyra's more shallow opening.
The only downside? The edges can be a little sharp and therefore make this oven a bit trickier to carry.
However, for the price point, it does everything you need for delicious pizza and offers an affordable way to get your hands on the versatility of a multi-fuel pizza oven, so we think it's definitely an option worth considering.
Our Woody Pizza Oven and Kit review has the full details.
Best multi-fuel pizza oven