Outback Meteor 4-Burner Hybrid Gas & Charcoal BBQ review
We tested the Outback Meteor 4-Burner Hybrid Gas & Charcoal BBQ to see if it delivered on practicality and style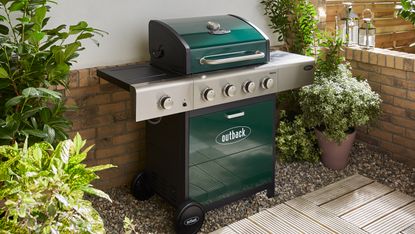 (Image credit: Outback / Robert Dyas)
If you are looking for a well-priced and smart-looking Gas BBQ that can accommodate the food needs of a large gathering this is worth investing in. It is a great gateway into gas BBQs if you still like the flexibility to use charcoal occasionally. My main issues with it were how long it took to build, and it struggled to stay lit in windy locations. However, overall I really enjoyed using it and think it is the perfect addition to a garden if you enjoy cooking outside a couple of nights a week.
Reasons to buy
+

4 gas burners

+

Large cooking area

+

Hybrid charcoal and gas cooking function

+

Built-in warming rack
Reasons to avoid
-

Large size best suited to larger gardens

-

Tricky to use in windy locations
Why you can trust Ideal Home Our expert reviewers spend hours testing and comparing products and services so you can choose the best for you. Find out more about how we test.
The Outback Meteor 4-Burner Hybrid Gas & Charcoal BBQ is one for big family gatherings and entertaining. If you have a small garden or are just looking for something to cook the occasional sausage on, save your money. However, if you enjoy cooking up a storm for friends and family without any fuss or frills this could be the BBQ for you.
The Outback Meteor 4 burner gas charcoal BBQ is an upgrade from Outback's smaller, popular Meteor gas BBQ. It features 4 burners with enough cooking space to feed six plus people easily. A warming rack and side burner mean you can transfer your whole cooking process outside. From prawn skewers to slow-cooked pork, size-wise this is one of the best BBQs for delivering incredibly tasty results on a large scale.
As the youngest in a family of six, cooking space has always been key and I have never shied away from a large BBQ. However, I am traditionally a fan of a charcoal BBQ and currently use a charcoal Weber BBQ. Tempted by the convenience and speed of a gas BBQ, what pushed me over the edge with the Outback Meteor BBQ was the hybrid gas and charcoal function, allowing the flexibility to switch between the grilling two styles. It was for these reasons I was excited to see if the Outback Meteor 4 burner Hybrid Gas & Charcoal BBQ would make my grilling experience easier, without sacrificing flavour and experience.
Outback Meteor 4-Burner Hybrid Gas & Charcoal BBQ Product Specifications
Fuel type: Propane patio Gas bottle
Number of burners: 4 Stainless steel burners
Side burner: 1
Weight: 60kg
Dimensions: H128 x W140 x D61cm
Materials: Porcelain enamel roasting hood, porcelain coated cast iron cooking grills and stainless steel body
Total cooking area: 64 x 42 cm
Side tables: 2
Charcoal basket: 1
Unboxing the Outback meteor 4 burner hybrid gas charcoal BBQ
The first thing to note about the Outback meteor 4 burner hybrid gas charcoal BBQ is that it's big, not one for small gardens with limited outside access. In fact, I was enlisted to help with the review after the original reviewer couldn't fit the BBQ into their garden, which only had inside access.
It was delivered to the house in a large cardboard box, which could be lifted by two people easily. I was sent a press sample version which had previously been put together and taken apart again so it didn't accurately represent what most people would receive. However, despite this, the packaging held up being reused a second time around.
The body of the BBQ is slotted together neatly in several sections at the bottom of the box. They were layered with the cooking grills sandwiched between thick cardboard. The screws and bolts arrived in cardboard and plastic container, which was particularly handy for keeping track of them. The hood sat on top of the other items holding them all neatly in place during transit and padded with bubble wrap and a plastic protective cover.
Putting the Outback meteor BBQ together
The BBQ came in 40 pieces and was far from a quick job to put together. I'll be honest and say that putting the Outback meteor BBQ together didn't go smoothly. However, the reasons behind this had nothing to do with the instructions or the product itself, but because the sample I had been sent was missing a couple of pieces. Fortunately, Outback is able to provide replacement parts for all its BBQ - this is something that's included in its warranty - so the missing parts arrived with next-day delivery.
It took me a total of 3 hours to put the BBQ together by myself, however, other customer reviews claim it only took 90 minutes with assistance. While most of the BBQ was easy enough to put together solo, you will need help lifting the hood onto the body.
The instructions were largely very clear and any confusing parts, such as the sides of the BBQ body, had been labelled 'left' and 'right. However, I did have difficulty when it came to attaching the side burner and connecting the burner wires due to the picture in the instructions being quite small and dark.
Attaching the snap-fit regulator and hose to the gas bottle was the final challenge. I attached the propane snap fit regulator to a 13kg Calor Leisure Patio Gas bottle. It went on easily, however, the valve only just fit inside the neck of the gas bottle so it was a squeeze to turn it on and off.
Once the BBQ was assembled it was sturdy and looked very striking in racing green. It ticks all the boxes when it comes to looks. Rather than looking like a lump of metal, it blended seamlessly into the outdoor greenery.
What is the Outback meteor BBQ like to use?
The BBQ is relatively easy to light using the ignition switch; it takes a few clicks and lights quickly. There is also the option to light the BBQ manually if that is easier. However, I did find it was quite tricky to see when the burners were actually lit as the flame was quite low.
However, after checking the manual I think this was largely due to the wind. My garden is located at the top of a hill in Yorkshire, so the wind is always going to be a challenge even on a mild day. Overall it didn't affect the cooking hugely (it just took slightly longer) apart from on two occasions when the flame was particularly low and made a hissing sound.
A couple of the reviews for the BBQ note the same issue with the wind, one saying 'I had problems with one of the burners lighting back when even a small puff of wind blew.' I have since relocated the BBQ to a more sheltered location. It is definitely worth considering how exposed your home is to the wind if you are considering investing.
The instructions recommended leaving the BBQ to preheat for 3-5 minutes with the hood open before cooking. The manual recommended leaving the BBQ hood open while preheating. I followed but found I had to wait a bit longer to get the BBQ to temperature before starting to cook.
The BBQ comes with a handy built-in thermometer in the hood to make it easy to track when it was at the perfect temperature for grilling and BBQ-ing which made it easy to preheat the BBQ.
Cooking small bits of meat
First up to be tested was some sausages, pardon peppers and baby corn. I am a huge fan of BBQ sausage, I like them to be just a little bit charred on the outside and juicy on the inside. This BBQ definitely delivered that, the sausages took 20 minutes to cook, the exact recommended time. They were hands down the best BBQ-d sausages I'd ever made.
The flame tamers underneath the grill helped to impart that smoky taste you expect from a BBQ. It does this by vaporising any natural food juices that fall on it, basting the food in smoke as it rises. The four burners meant I could control the temperature when cooking so the sausages were nice and succulent.
I did find that I had to play around with placement on the BBQ for the sausage to cook and brown. Cooking them over the middle burners towards the back delivered the best results. I found it was a similar case when cooking the pardon peppers that needed to be charred on the edges.
Luckily thanks to the large cooking area I had plenty of space to do this while cooking a pack of 6 sausages alongside two kinds of vegetables. The warming rack also came in super handy keeping items warm whilst waiting for other items to finish cooking.
Cooking larger joints of meat
One of my favourite parts of the Outback Meteor BBQ was that it was large enough to use cook large joints of meat. The roasting hood meant it could easily be turned into an outdoor oven.
I tried it out with a slow-cooked pork shoulder, the pork came in a ready-to-cook pack that had already been partially cooked. All it needed was 30 minutes in an oven to finish it off. The manual recommends avoiding placing anything with a marinade directly onto the BBQ so I placed it in a baking tray.
I tracked the BBQ coming up to temperature using the built-in thermometer exactly like I would when preheating an oven, this took about 8 minutes. When it was ready, I put the tray on the BBQ, and turned off the burner directly underneath as instructed. I did have to keep a careful eye on the temperature, adjusting the burners to keep it at 180 degrees.
It took a little longer than the packaging stated (35 minutes in total) as the temperature kept dropping when the wind picked up. However, I was honestly amazed at how well it worked, the results were tasty and delicious.
Additional features of the Outback meteor 4 burner hybrid gas charcoal BBQ
Sideburner
I tested the side burner with some coronation chicken flatties that needed to be cooked in a pan. It was incredibly easy to light, heated up the pan super quickly and meant I could cook everything in one place. When not in use the side burner had a lid that could be pulled down to turn it into additional serving space
Charcoal function
The charcoal feature was a little trickier to use. The BBQ came with a basket that could be used to switch to charcoal BBQ-ing. My biggest issue was that there was no explanation of how to use the basket in the manual that came with the BBQ, I had to look on the Robert Dyas product page to find out how to use it.
It was relatively easy to put into place, however, it was quite fiddly, laying each charcoal briquette flat to ensure the grill plate would fit over it. I also found it used quite a lot of charcoal to fill the whole basket. The basket is lit via the burner below, which took about 15 minutes to catch, however, it came up to temperature very quickly.
I did find that the burgers I was cooking caught much quicker than my usual charcoal BBQ as they were much closer to the charcoal on the grill.
How easy is the Outback Meteor 4 burner hybrid gas charcoal BBQ to clean?
The manual recommends cleaning the BBQ after each using soapy water or a cream cleaner. The porcelain-coated cast iron grill of the Outback Meteor BBQ claim to make clean up easier, however, I found that it depended on what you were cooking. The sausages and vegetables were incredibly easy to clean up after. I had wiped the grills with olive oil before cooking as recommended so they didn't stick, all they needed was a gentle wipe down after cooking.
However, less fatty items such as prawns and anything with a marinade stuck more easily and were much trickier to clean off. Despite leaving the residue to burn off after cooking, as recommended to make it easier to clean, I found it difficult to remove all residue, even after using a clean cleaner and sponge.
The drip tray needs to be cleaned each time too to prevent a fat fire. The manual recommends lining it with foil and a layer of sand for easy clean-up. However, I found that if you're cleaning it regularly you only need to run over it with a soapy sponge and towel.
Storage
The instruction manual recommends that the Outback Meteor BBQ shouldn't be left outside without a cover on. It doesn't come with a BBQ, however, you can invest in the Outback four-burner BBQ cover from Robert Dyas for £49.99. If you'd prefer to keep it inside it does come with two wheels so when disconnected from the gas it can easily be moved around a garden. However, you will need a lot of space as the side tables can't be folded down.
I would definitely recommend investing in a cover or finding a room to store it inside. The Outback Meteor BBQ in my garden was caught uncovered in a sudden downpour that flooded the drip tray and caused condensation to gather in the thermometer.
Should you buy the Outback meteor 4 burner hybrid gas charcoal BBQ?
If you are looking for a well-priced and smart-looking Gas BBQ that can accommodate the food needs of a large gathering this is worth investing in. Although I had a few difficulties constructing and lighting the BBQ due to my windy location, overall I really enjoyed using it and other customers have had a great experience cooking on it.
The BBQ has received really good reviews online, securing a 4.3-star rating on the Robert Dyas website. 62 of the reviews gave the BBQ five stars praising its looks, and how easy it was to put together and cook with. One reviewer said: 'I've used it virtually nonstop and it's a joy to use. Brilliant results every time really glad we bought it.'
I did enjoy having the flexibility to use the BBQ for gas and charcoal cooking. However, I found it is best suited for a gas BBQ-er who occasionally likes to dabble in charcoal. It gets the job done with charcoal, but you lose half of the direct cooking area and it's quite fiddly.
On writing this review the BBQ was priced at £379.99, it isn't cheap, but it sits in the average price range for a gas BBQ. In my opinion, it is a good price for a sturdy four-burner BBQ with a side burner. It only works out to £50 more expensive than the Outback Hunter three-burner hybrid BBQ, which doesn't include a side burner. All the reviews praised the quality of the BBQ, despite coming flat packed it is well made and easy to construct, which I agree makes it worth the price tag.
About the reviewer
Rebecca Knight is the Website Deputy Editor on Ideal Home and has been writing about all things homes and gardens for over four years. She lives in a flat in London without a garden so the Outback meteor 4 burner hybrid gas charcoal BBQ was tested at her family home in North Yorkshire.
A keen cook, she regularly takes charge of the BBQ for family dinners and summer gatherings. The youngest of four, she is used to cooking large quantities of food in typical northern portion sizes for the family (a small BBQ would simply not do).
As with all our reviews, the Outback meteor 4 burner hybrid gas charcoal BBQ was tested first-hand by Rebecca with the help of some of her family members over a number of weeks so you know exactly what you're buying. The product was given to us free of charge, we test the BBQ for as long as possible before sending it back, unless we are able to keep it. Then we are able to continue testing the product to see how it fares over a longer period of time and report back in our review.
Get the Ideal Home Newsletter
Sign up to our newsletter for style and decor inspiration, house makeovers, project advice and more.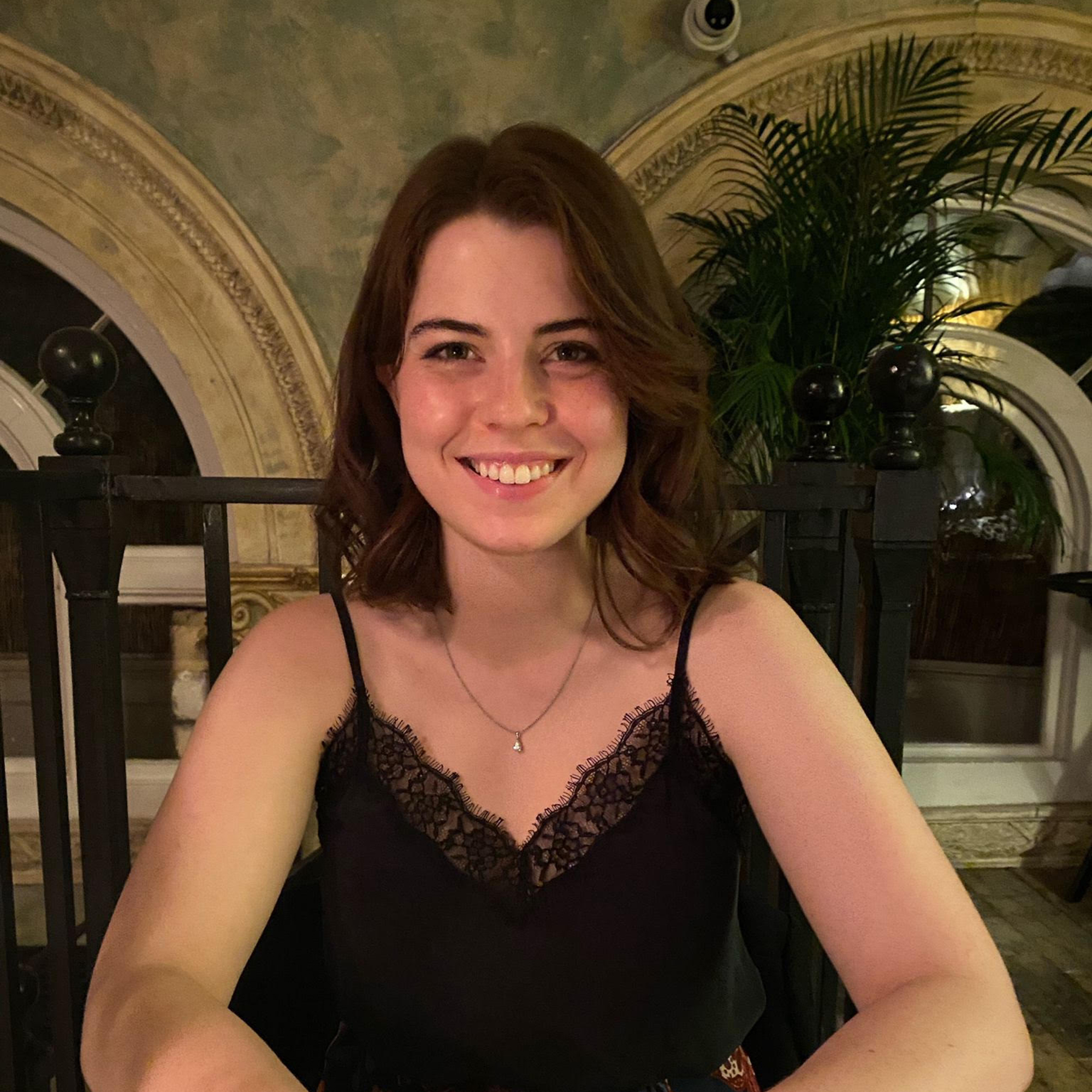 Rebecca Knight has been the Deputy Editor on the Ideal Home Website since 2022. She graduated with a Masters degree in magazine journalism from City, University of London in 2018, before starting her journalism career as a staff writer on women's weekly magazines. She fell into the world of homes and interiors after joining the Ideal Home website team in 2019 as a Digital Writer. In 2020 she moved into position of Homes News Editor working across Homes & Gardens, LivingEtc, Real Homes, Gardeningetc and Ideal Home covering everything from the latest viral cleaning hack to the next big interior trend.