This Ibiza-style garden transformation was built around a handmade flamingo mosaic!
Budget buys and secondhand finds helped keep costs down on this peaceful makeover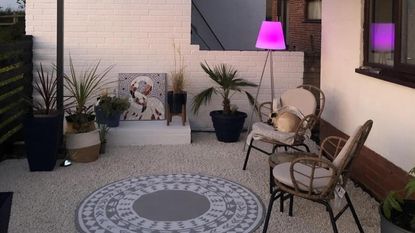 (Image credit: LatestDeals.co.uk / Sharon Jones)
Sometimes all it takes to inspire a room makeover is just one thing, whether that's a piece of art, a colour or even a destination. Then, before you know it, you have a theme in mind and a scheme starts to come together.
That's exactly what happened to this homeowner, whose starting point was a handmade flamingo mosaic that she found at a craft fair. Garden art ideas for outdoor spaces can be a great way to bring colour, pattern and interest to your home, providing a personal touch, just as they would inside, whether it's a large wall mural or a smaller sculptural piece.
Ibiza-style garden makeover
Faced with a dreary outdoor space, Sharon Jones from Wrexham was keen to create something a little more inspiring. 'Our garden is very narrow and opens onto fields with cows that come to our fence,' she told money-saving community LatestDeals.co.uk.
'Even though it was block paved, it always looked dark and miserable, even when we put the effort into weeding and jet washing it. My husband and I wanted to create a low maintenance space as we work full time and don't have time to spend hours gardening.'
Before
We can see why Sharon wanted to update the space and turn it into a place she could spend time in, along her with her husband and children. 'The garden just never felt inviting and I wanted that to change,' she says.
Having visited a craft fair, Sharon bought an item that sparked the start of the makeover. 'The theme came together after I bought a handmade flamingo mosaic for £20,' she says. 'I wanted to place it out in the garden, but I also wanted the garden to have a vibe to match.'
After
The revamped garden has been beautifully executed, with artificial grass and white stones providing a base underfoot, while a pergola creates a zone to sit out under, with a canopy that can be taken off or put on when needed.
'We wanted a low-maintenance Ibiza-style area where we can sit and just watch the stars at night,' says Sharon, 'and after a month of hard work, our project is finally complete.'
After Sharon's husband picked up some gravel grids at a car-boot sale for their front drive, the couple were inspired to use gravel in the back garden. 'We were browsing in Wickes and saw the bags were only £5.50 each, so the idea for an Ibiza-style garden began to form more in my head,' says Sharon. 'I picked up 20 bags in total, which cost £110. We also had fake grass put in, which was donated by a friend.'
With the base in place, next it was on to the roof. 'The 3x3 pergola was from eBay and cost about £160,' says Sharon. 'I've seen similar ones on Amazon for at least £70 more, so we made a good saving there. It's wall-mounted, so my husband built the legs up.'
That wasn't the only bargain though, as Sharon also managed to bag some chairs and a table from Aldi that were reduced to £49, while the rug and lamp came from Home Bargains.
When it came to the walls, it was over to Sharon's husband… 'He made the small black slat fence with recycled roofing battens and some old trellis from the side of our house,' she says.
Although the couple can't plant anything along the fence 'as the cows can reach in and eat it!', they have decorated their small garden with a range of potted plants. 'I chose grass-type varieties from Amazon, which didn't cost more than £50, and I found a Yucca reduced to £10 in Morrisons,' says Sharon. 'We were given the blue ceramic pots by a friend when she moved house, and I was also gifted the palm for my birthday.'
By buying secondhand pieces from car-boot sales and charity shops, the couple have achieved a tranquil spot that's a far cry from the tired space they had before. 'It's so tranquil out here now,' says Sharon. 'This style may not be to everyone's taste, but it suits us perfectly.'
Get the Ideal Home Newsletter
Sign up to our newsletter for style and decor inspiration, house makeovers, project advice and more.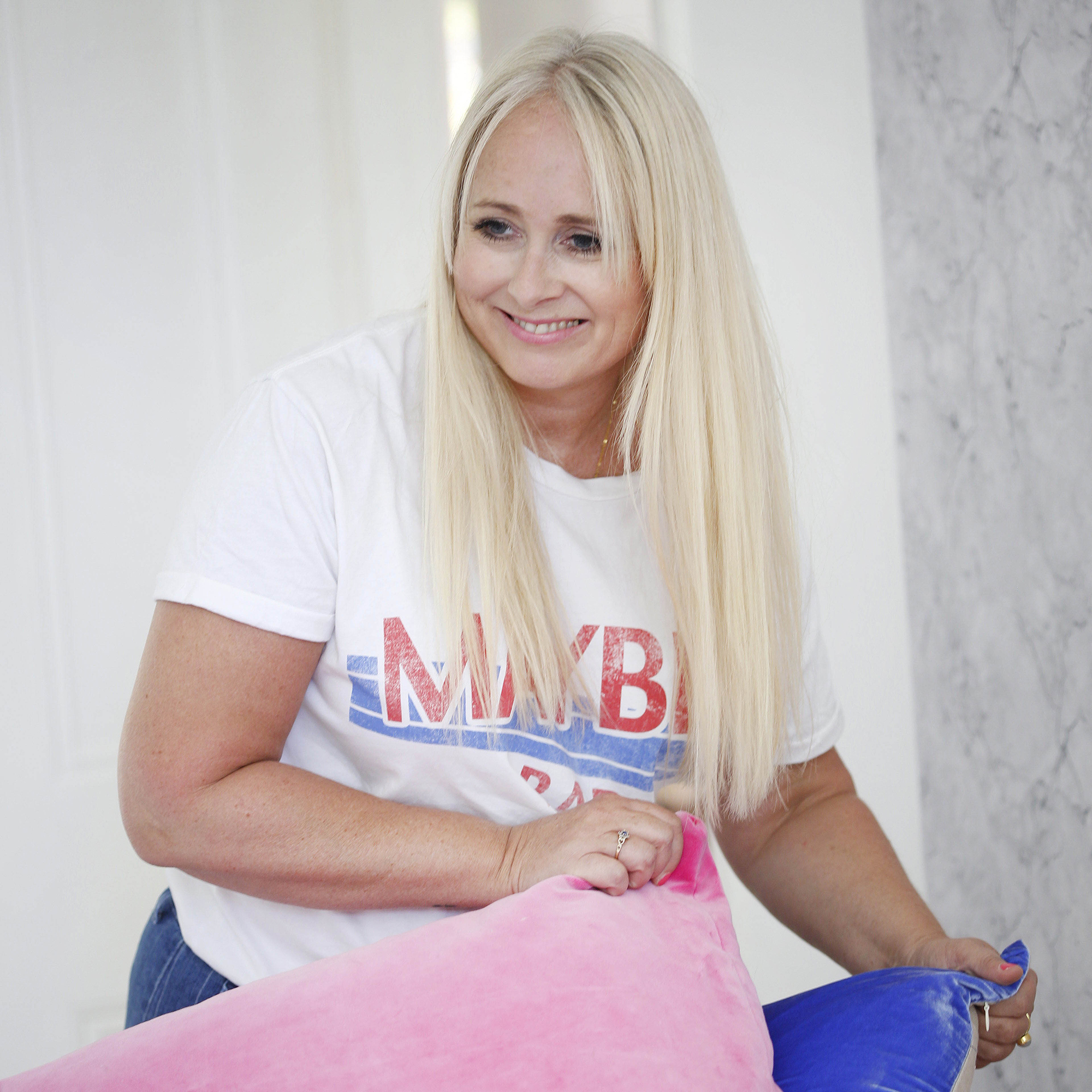 Laurie Davidson is a professional stylist, writer and content creator, who lives and breathes interiors. Having worked for some of the UK's leading interior magazines, styled homes up and down the country and produced sets for TV shows, adverts and top brands, it's safe to say Laurie has had a pretty exciting career. Find her on Instagram at @lifeofaninteriorstylist or over at lauriedavidson.co.uk