Experts reveal their 12 insider tips for buying second hand furniture to upcycle
How to sniff out the bargains to save cash, prevent waste and make something unique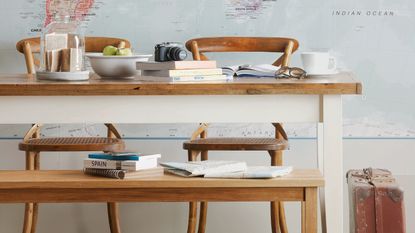 (Image credit: Future PLC )
Buying second hand furniture to upcycle is a popular pastime. A combination of the cost of living crisis and climate change has seen more people turn to repurposing pre-owned pieces.
Rather than buying new, these easy DIY projects can save you cash and divert perfectly good furniture from landfill. Not only that, you get to flex your creative muscle and add personality to your home.
'Buying second hand is the most sustainable way to shop for your home,' says Harriet Wetton founder of marketplace app, Narchie. 'It gives new life to something that would otherwise be chucked away, but you can also get cheaper, better quality, and unique designs at a fraction of the price.'
In fact, recycling experts Wrap UK estimate that UK households can save over £320 million per year by using resale sites including Gumtree and Preloved rather than buying new items.
So what should you look out for?
12 tips for buying second hand furniture to upcycle
'Before thinking about buying second hand furniture, the first place I recommend looking is in your own home, shed or garage,' says Chantell Mapp-Pope, co-founder of No 21 Bespoke Interiors.
'Quite often we have pieces of furniture that we have fallen out of love with, neglected over the years or even just forgotten about. By repurposing your original pieces you can bring them up to date so that they will last you for many more years to come.
'If there's something you're looking for in particular and you don't have anything at home that can be repurposed, then I find best places to source second hand furniture are Facebook Marketplace and eBay, ' adds Chantell.
1. Work out the size and style first
It's easy to lose hours scrolling through pages of photos, or trawling junk shops looking at pieces that may not work in your home. So when you're considering upcycled furniture ideas, be clear about what it is that you want.
'Searching for second hand furniture to upcycle is fun but it can be time consuming,' says Chantell at No 21 Bespoke Interiors. 'To save time it's always best to be specific about what you are looking for. Make sure you know the size, style and its function first.'
'Remember to always measure the piece, as well as the space at home,' says Harriet at Narchie. 'This prevents falling in love with an item that simply won't fit.'
2. Cast your net wide
Finding the perfect piece in your local charity shop is the dream, but be prepared to cast your net further afield. Seek out some of the larger car boot fairs in other areas or put in a wider radius in when searching online.
Many charity shops don't actually sell furniture. However, the British Heart Foundation does through its online charity shop on Ebay, where you can arrange for collection or delivery.
'Facebook marketplace is great if you want to find someone local to you selling second hand furniture but obviously that may limit your choice,' says Chantell.
'EBay is great as there's lots of choice, lots of people selling their old furniture but you need to be prepared to travel. Alternatively it's easy to arrange a courier to collect your items.'
3. Ask for more information
If you're not 100% sure about something, don't be shy about asking for more detail or photos.
'If the piece has drawers or cupboards, I always ask the seller for photos of the inside, whether the locks work and have the keys and if it's made from solid wood,' says Chantell at No. 21 Bespoke Interiors. 'I also like to ask about its history too.
'It's always good to find pieces of furniture that have been looked after well over the years, that are made from solid wood. Period furniture that is built to last with dovetail joints are always good finds.'
4. Check for damage
Just because something is damaged, old or worn doesn't mean it's ready for the tip. TV shows such as BBC hit, The Repair Shop and Money for Nothing have shown how restoration can transform family heirlooms, much loved items and even pieces that some deem as rubbish. However, be realistic about your DIY skills or whether the item needs specialist attention.
'When buying second hand furniture the things to be wary of are broken doors and drawers,' says Chantelle at No 21 Bespoke Interiors. 'These can usually be fixed but it depends on how much work you want to do to make it right.'
'Check the piece carefully for any signs of irreparable damage, whether that's rotting wood, water damage, burn marks, or woodworm,' says Harriet at Narchie. 'This structural damage is difficult, expensive, and usually not worthwhile to fix.
'However, do shop with an open mind and ignore minor imperfections. Focus on the overall construction and craftsmanship of the item, rather than on small blemishes or scuff marks like shallow scratches or chipped paint, as these can easily be fixed.'
5. Shop around for a fair price
When buying second hand it's worth looking around, just as you would when buying new. It's good to know that you're paying a fair price or getting a bargain. Although if you've found something you love and it's the right size and price, snap it up.
'I don't normally haggle,' says Chantell. 'I decide if the piece I want to buy is good value for money, checking what similar pieces are being sold for based on its condition. If I think it's worth the money then I will pay the asking price. But do shop around to make sure you are getting the best deals.'
6. Consider small tweaks
It's easy to be put off upcycling if you don't consider yourself to be 'creative' but updating a piece needn't involve drastic changes or lots of work.
'Upcycling doesn't necessarily mean you have to spend hours completely reinventing an item,' says Harriet at Narchie. 'Often small changes can make a huge difference to how an item looks.
'Reframing artwork, swapping drawer handles, giving existing cupboards or shelves a lick of paint, or dying cushion covers, are just a few popular examples of how you can give homewares a glow up without buying new.'
7. Focus on the form, not the fabric
Surface elements, such as the colour, finish or fabric on a piece of furniture are often the easiest parts to change, so focus on whether you like its overall form.
'It pays to be imaginative when you're buying second hand sofas or chairs,' says Harriet at Narchie. 'If the fabric is outdated, worn, or doesn't suit your aesthetic, but you love the shape, you can always have an item reupholstered.
'It can be costly to have this done professionally, but you'll be able to create a piece that is completely bespoke to you. Plus it's usually cheaper than buying new. There's also plenty you can do to revive a sofa to make it feel as good as new. Restuffing cushions, adding new legs or simply dying it a new colour are all ways you can give a sofa a new lease of life.'
8. Don't rule our calling in a professional
Not all upcycling has to be done yourself. If you see a beautiful old sofa, wing chair or ottoman that you love, consider having it professionally upholstered. Even sagging seats can be sorted.
'Older furniture tends to be made of higher quality wood, so can be perfect for re-upholstery,' says Sarah Page, Plumbs Managing Director. 'An experienced reupholstery firm can talk you through every step of the reupholstery process.
'They will also be able to assess the joints, frame and foam, and carry out any necessary repairs. Seat cushions can also be replaced making furniture secure and comfortable once again.'
9. Be prepared to roll up your sleeves
There are plenty of upcycling ideas for the garden too. If you've spotted a rusty old bistro set in a junk yard or garage sale, it could be transformed into a modern outdoor dining set with a lick of chalk paint.
Be prepared to do a fair amount of rubbing down with coarse sandpaper first to make the surface smooth. Also, check the manufacturer's instructions as to whether you'll need a coat of primer before painting, or lacquer afterwards.
'Getting the garden prepped for better weather is a satisfying project,' says colour and paint expert, Annie Sloan. 'Bright hues are best for bringing year round joy. Yellow will bring sunshine and colour on the rainiest of days, whether your flower beds are in bloom or not.'
10. Consider a colour change
Painting a piece of pre-owned furniture is the quickest and easiest way to bring it bang up to date and refresh a room. But you don't have to cover it in one colour. Choose your favourite shades and paint a table top and legs in different tones for a personalised look.
'I would encourage everybody to look to their local freecycle groups or charity shops with an open mind and creative eye, rather than buying new,' says colour and paint expert, Annie Sloan. 'There's a much greater sense of satisfaction in making your house a home this way.'
11. Go for a mismatched look
It is possible to furnish a conservatory or garden without spending a fortune. There are plenty of DIY outdoor furniture ideas if you're being thrifty.
When buying second hand, pairs or single chairs and stools may be easier and more cost effective to find than a complete set. If that's the case, go for a mismatched look and enhance this by painting each piece in different (coordinating) colours.
Using tester pots for smaller pieces or leftover paint from other DIY jobs will save more cash if you're on a tight budget.
'Wooden dining chairs can become really interesting with the use of paint effects or by adding some stencilled patterns,' says Chantell at No 21 Bespoke Interiors.
12. Think outside the box
It's worth considering what other purposes a piece of second hand furniture could have, beyond its conventional purpose. When it comes to DIY headboard ideas, the canny owners of this home have upcycled vintage shutters into an eye-catching headboard.
Of course, if you prefer to lean against something softer, it's possible to clean and recover an upholstered headboard with new fabric for a refresh.
Get the Ideal Home Newsletter
Sign up to our newsletter for style and decor inspiration, house makeovers, project advice and more.
Jacky Parker is a freelance interiors & lifestyle journalist, specialising in modern interiors, design and eco living. She has written for Future's interior magazines and websites including Livingetc, Homes & Gardens, Country Homes & Interiors and Ideal Home for over fifteen years, both as a freelance contributor and inhouse, with stints as Acting Digital Editor, Livingetc and Acting Style Content Editor, Country Homes & Interiors. Her work also features in national and international publications including Sunday Times Style, Telegraph Stella, The Guardian, Grand Designs, House Beautiful and more. With years of experience in the industry Jacky is privy to the insider view and the go-to places for interior inspiration and design-savvy décor.