This clever wardrobe transformation hides a glamorous ensuite bathroom
You'd never know it was there!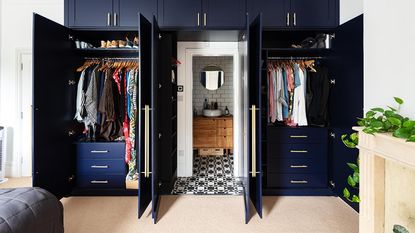 (Image credit: Bespoke Carpentry London / Anita Taraniuk)
Hands up who loves a secret room? Whether it's a bookcase that opens up to an office, or a kitchen cupboard that leads into a pantry, we're here for those discovery moments – and this clever makeover had us itching to see more.
With a combination of the best fitted wardrobes and en-suite ideas, this space has it all. But how did it come about?
Secret en-suite makeover
Faced with old, dated wardrobes and an en-suite bathroom that had seen better days, homeowner Katy Medlock from London got her thinking cap on as to how best to set about transforming both rooms. 'The bedroom had horrible plastic mirror sliding doors on the existing wardrobes,' she recalls. 'They always fell off their hinges and made an awful noise when you slid them!'
'The wardrobes weren't full height either, so there was a lot of wasted space. Plus, the carpet in the room was bright green and the en-suite was pretty tired.'
Safe to say it was time for a makeover.
Before
Katy knew the old wardrobes had to go, so she enlisted the help of Bespoke Carpentry London. After giving the company her wish list, they came up with a beautiful design that not only transformed the room, but made use of every inch of space. Ready to see the new look?
After
Dark blue doors and brass handles create a standout feature in the bedroom – and just look at all that storage space!
'For the wardrobes, we thought a secret door would be really fun,' says Katy. 'I loved the richness of the blue colour, and I love the chrome and brass combination, so wanted to use that in the bathroom.'
'The space feels modern, bright and airy in the daytime, but somehow transforms to be a little bit "vintage boudoir" with the deep, rich blue and antique brushed brass at night,' she continues.
'The wardrobes are a real statement, but also extremely practical and so well-made. Fitted wardrobe companies gave us quite high quotes, but we paid £6,500 with Bespoke Carpentry London, which was a steal for going bespoke.'
When the wardrobes are closed, you'd never know the en suite was there – it's hidden away and adds a fun touch to the room. 'We once had an Airbnb guest stay and she messaged us to complain there wasn't an en suite like we advertised. It was very funny when we told her to open up the wardrobe!' Katy recalls.
The en suite is equally luxe, with tiled walls, a walk-in shower and brass finishes to echo the wardrobe doors. 'We worked with a fantastic designer called Jesper at Jigzaw Interiors,' says Katy.
A black framed shower door complements those smokey-grey tiles perfectly, with an alcove to store shower gels and shampoo.
Switch to the other side of the room and you can see everything has been planned out perfectly so that when the wardrobe doors are open you're met with a view of the basin and vanity rather than the loo.
So how does Katy feel about her new bedroom and bathroom? 'I'm thrilled with the result,' she says. 'One of my favourite things about the space is how well it goes from day to night. I love to use the space to relax in the evening. We've just had a baby so sleep is a little bit precious – lighting a candle and reading for a few minutes at bedtime is the ultimate self-care.'
Has this makeover got you thinking about how you'd include a secret room in your home?
Get the Ideal Home Newsletter
Sign up to our newsletter for style and decor inspiration, house makeovers, project advice and more.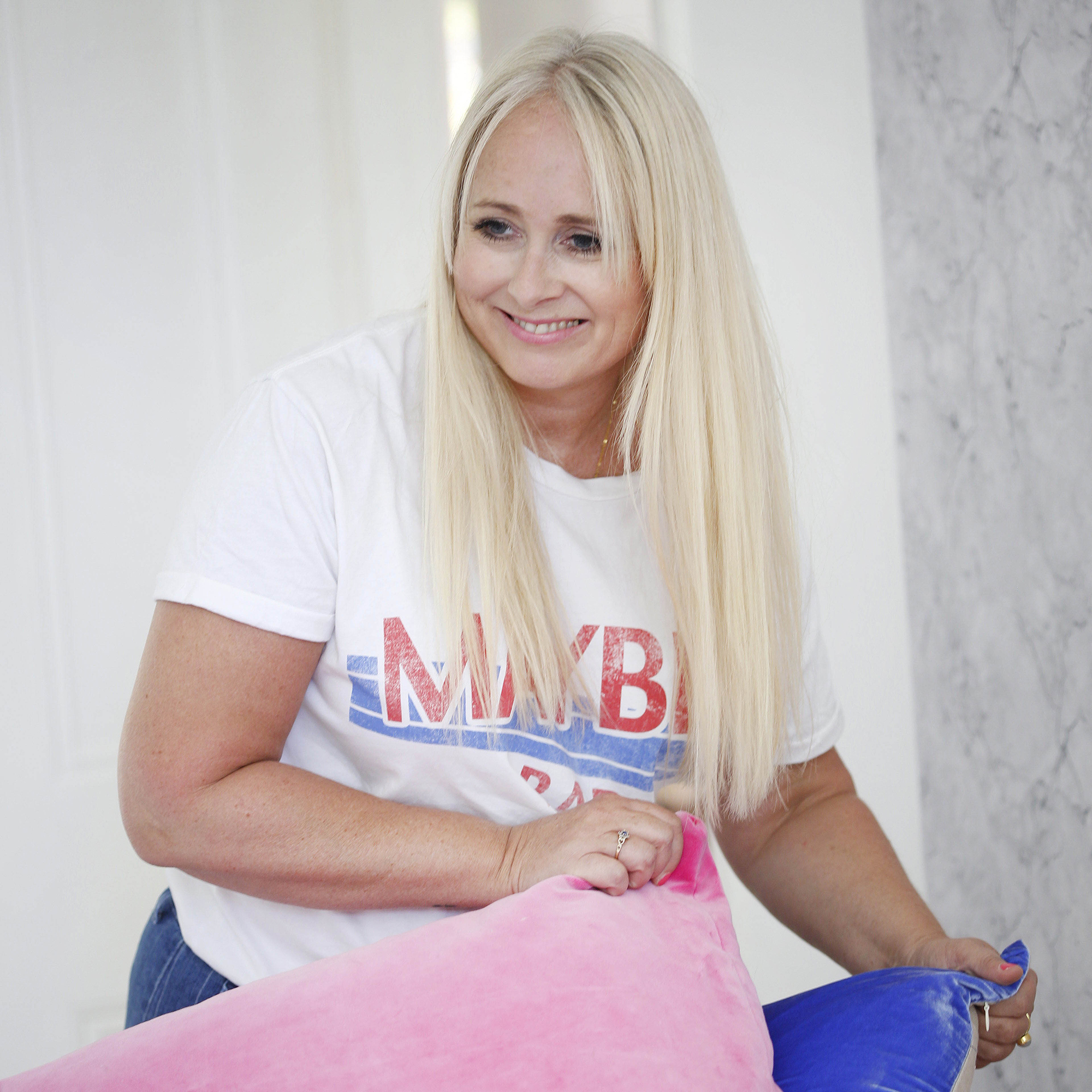 Laurie Davidson is a professional stylist, writer and content creator, who lives and breathes interiors. Having worked for some of the UK's leading interior magazines, styled homes up and down the country and produced sets for TV shows, adverts and top brands, it's safe to say Laurie has had a pretty exciting career. Find her on Instagram at @lifeofaninteriorstylist or over at lauriedavidson.co.uk