35 en-suite ideas to design the perfect bathroom retreat
Channel hotel chic with these beautiful en-suite ideas and bring a little luxury to your space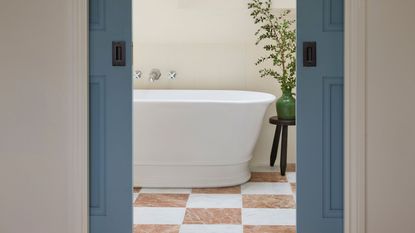 (Image credit: BC Designs)
These en-suite ideas will help you bring a touch of luxury to your bedroom, and can also value to your home.
In this private space, you can have free rein to go bold and be more adventurous with the bathroom ideas – bright colours, intricate patterns, and beautiful finishes all have a place.
'Also an en-suite is generally only used by adults, it also won't have the same wear and tear that a family bathroom would have, so it makes sense to be the place where you invest in high-end fixtures and fittings,' says Barrie Cutchie, Design Director at BC Designs
En-suite ideas
Bringing a little luxury to your day-to-day life, an en-suite bathroom is a room for indulgence. Not only does it provide you with a place to refresh away from the busy family bathroom, but it can also increase the value of your home. 'En-suite ideas can add around 4.5 per cent to your property's value,' says James Forrester, managing director of estate agents, Barrows & Forrester.
However, it's worth taking the time to ensure you're planning a bathroom for the right reasons. 'While it is possible to convert most spaces into an en-suite, including smaller bedrooms and using part of an existing bedroom, it can sometimes be detrimental, especially if the space is too small or it would devalue your home in other ways,' says Barrie. 'While an extra bathroom is nice, it doesn't want to be at the expense of making the bedroom too small.
Steer clear of error by being aware of en-suite planning mistakes to avoid.
1. Create harmony between your bedroom and en-suite ideas
Your bedroom and en-suite ideas are fundamentally linked, therefore design the two spaces in conjunction with each other. Opt for the same colour scheme in both to ensure harmony and flow. This is where bathroom wall ideas really come into their own.
Here, a modern take on a Toile de Jouy has been used as a bathroom wallpaper to add a bold touch to the en-suite ideas and establishes a grey, pink and white palette, which is continued with soft furnishings into the adjoining bedroom. The use of natural materials and white-painted panelling and walls also ties the two areas together. The featured wallpaper is La Musardiere in Cyclamen from Manuel Canovas.
2. Channel hotel luxury with a double basin
Your en-suite ideas should be somewhere that feels a little special – more luxurious than the family bathroom.
'Where possible, we would always go for a double vanity in an en-suite bathroom over a single as it aids flow and is easier for couples to use when in a bathroom together. After all, an en suite should be indulgent,' says Fi Crole of Eadie & Crole, who designed this space. Opt for a vanity on legs, rather than a cabinet, to prevent it from overwhelming the space.
3. Maximise your en-suite space with pocket doors
Space is at a premium in both en suites and bedrooms, so trade space-hungry swing doors for a compact pocket design – perfect for both modern bathrooms or those with more traditional tastes.
When the bathroom is not in use, the doors can be left fully or partially open to increase natural light and a sense of space or closed for privacy.
This sophisticated en suite features BC Designs' Aurelius bath paired with taps from Lefroy Brooks. Marble tiles in Rosso and Calacatta from Mandarin Stone, add subtle pattern and texture.
4. Make a bold statement
An en suite is totally private, so, unlike a family bathroom, which often needs to be more practical, you can go bolder and more experimental with the décor. 'Many people are following the "more is more" maximalist ethos when it comes to en-suite bathroom design and experimenting with vibrant colours and bold patterns,' says James Lentaigne, creative director at Drummonds.
'En suites bathrooms are the perfect spot to make a statement, as being an extension of your bedroom, they are highly personal, letting you inject more of your individuality into the scheme.'
In this space, mural artist Nancy Daniell designed a bespoke African landscape. The space also draws on pink bathroom ideas with herringbone pastel pink metro tiles and Drummonds' sanitaryware to achieve just the right blend of the playful and the timeless. Its Kinlock basin, with its open metal stand and built-in towel rail, enhances the feel of space.
5. Add a petite bath tub for optimum luxury
A small bathroom layout doesn't mean you have to compromise on your dream design. A compact bath, such as the Victorian-inspired, Tubby Torre Plinth design at Albion Bath Company, provides enough space to fully submerge despite its compact 1,195mm length. Freestanding taps prevent the pipework from encroaching on the soaking space and here are paired with a hand-held shower to increase its versatility.
6. Don't overlook storage
When curating your dream en-suite ideas, consider the practical needs of the space, and most importantly, bathroom storage ideas.
'Incorporating space-saving designs, such as bespoke bathroom shelving ideas, is the perfect way to keep an area tidy and aesthetically pleasing. Baskets, potted plants and folded towels complete the look, making the room feel inviting and less utilitarian,' explains interior designer, Louise Wicksteed, founder of Sims Hilditch, who designed this beautiful en-suite bathroom.
7. Introduce antiques for added character
Since an en-suite bathroom is likely to be an adult-only wash space, bathroom cabinet ideas don't need to be quite as durable as that in the family bathroom.
'Antiques add heritage and meaning to a space; however, be sure to take advice on individual items, as some will not be suitable for the steamy bathroom atmosphere. They work particularly well with on-trend brass hardware, especially unlacquered pieces that develop a natural patina over time,' says Nigel Palmer, marketing manager for Perrin & Rowe.
Alternatively, you can upcycle a vanity unit to create a showstopping one-of-a-kind piece.
8. Create a feature with mosaic floor tiles
Small spaces require deft design to prevent them from feeling cramped. One way is with tiling. Large-format tiles with few grout lines can make an en suite feel more spacious, while, small bathroom tile ideas let you embrace your creativity.
'I love using small tiles as part of en-suite ideas. These tiles – often mosaic – are proportionate to the space and so can add interest without overwhelming,' says interior designer Laura Stephens, who designed this space. 'Here we created a narrow border as well as a flower motif in a jade mosaic to bring pattern to an otherwise plain space.'
9. Use matching brassware to create harmony
In a small space, bathroom lighting ideas need to illuminate but not overwhelm. In a petite room, such as here, the best wall lights positioned on either side of the mirror will provide ample illumination. To create a sense of cohesion throughout the room, ensure all metalwork is of the same material; here, Brooklyn outdoor and bathroom wall lights in a brass finish from Industville, are paired with MPRO Industrial Unlacquered brushed brass wall stop taps, and shower head, both from Crosswater.
10. Treat yourself to a little luxury with marble
Genuine marble is the epitome of luxurious design, and while it is loved for its luminosity and endless character, it also comes with an expensive price tag. However, since en suites are smaller than the family bathroom, your budget will be able to stretch a little further. Featured are Fired Earth's East Hampton marble wall tiles and Lattice mosaics on the floor.
Save elsewhere in your bathroom renovation by keeping an eye on home decor discount codes. Alternatively, you can get the look of high-end marble bathroom ideas by opting for marble-look porcelain tiles.
11. Find a place for plants
Nothing makes a space feel as calm and reinvigorating as houseplants. Tropical houseplants – such as snake plants – thrive in the humidity of the bathroom and will help to filter the air. If you don't have a shelf or windowsill, why not try hanging your plants on a hook from the ceiling?
12. Make the most of small nooks
If your en-suite ideas are to be slotted into an extension or loft, or you've got a period home with lots of nooks and crannies, use those odd bits of space for storage shelves. Not only is this a smart budget small bathroom idea to make good use of the room, but it means you gain extra room to store piles of towels within easy reach, or storage baskets filled with toiletries or face cloths for guests.
13. Make it a shower room
Rather than trying to squeeze in a bath, why not try some luxurious small bathroom shower ideas as part of your en-suite ideas, with a spacious cubicle that you won't have to climb in and out of? The beauty of this pink tiled design is the simplicity – with clean lines, no clutter and a black shower that keeps it from feeling overtly feminine.
If you're wondering which colours to go for, Polly Shearer bathroom design expert from Drench has these recommendations: 'Top bathroom trends for 2023 include terracotta, peach and emerald green for a touch of nature.'
17. Warm it up with wood
Bathrooms can often feel quite cold when it comes to decor, being that there are lots of hard, shiny surfaces, metallic fittings and tiled floors or walls. To counteract that, embrace neutral bathroom ideas by introducing unpainted wood in your schemes.
You can decide between something rich and rustic – perfect for traditional bathrooms – or a lighter, more Scandic-style design, depending on your taste.
18. Factor in a gallery wall
En-suites can be just as interesting as other rooms in your home if you incorporate decorative pieces. This can come in the form of bold bathroom colour schemes, pattern tiles or even adding some gallery wall ideas.
While three small alcoves provide the perfect spot for toiletries next to the bath, above it, a selection of prints and paintings, all in different frames, create interest, and the circular mirror breaks up the run of square and rectangular picture frames.
19. Invest in hooks
Hooks are worth their weight in gold when it comes to bathroom storage in a small space like an en suite and is ideal for hanging towels, dressing gowns, body brushes and even a small bag of extra toiletries.
Get creative with the hooks you choose, whether you opt for an over-door design – like this Yumore stainless steel door organiser for Amazon– or something more minimalist like these Laris wall hooks from Tom Raffield.
Just make sure that they're not in a spot where you're likely to catch yourself on them or knock towels off.
20. Paint the ceiling
Painting your ceiling can change the look of your room and help make it feel much cosier, so it's worth considering incorporating this into your en-suite ideas – especially if you want to keep your walls white or have tiles there already.
When it comes to bathroom paint ideas, make sure you opt for a formula specially formulated for bathrooms, which will be more durable and specially designed to be mould, moisture and steam resistant.
21. Brighten with a skylight
En-suite ideas are often lacking in natural light which can make them look and feel even smaller than their actual footprint.
If you are considering adding an en-suite as part of extension ideas or loft conversion, think about adding a roof light to your en-suite ideas. Position above the bath or shower to get the most out of the extra natural light.
22. Opt for broken plan
Not one for wallflowers, but the broken plan look has made its way into en-suite ideas. Crittal-style sliding doors, partitions or similar room divider ideas add a cool, industrial touch to the room. Plus, you'll save space without having to fit in room for traditional doors, while the glass panels provide ample natural light directly from the bedroom.
23. Double up storage to save space
Space is at a premium with en-suites, so get creative with your storage. Consider turning a spice rack into a loo roll holder with this Ikea spice rack hack. All you need is a couple of leather handles, cup hooks and a length of dowel to create this ingenious toilet roll holder.
24. Trick the eye with an oval bath
If you can fit it in, a bath with an oval or rounded end can create the illusion of space, making your small bathroom look bigger than it is. The more floor space you see, the larger the room will look – and that goes for other elements of your en-suite ideas too, where wall-hung vanities and toilets will have the same effect.
'An en-suite bathroom will most likely be one of the smallest rooms in your home,' says Richard Ticehurst, Brand Expert for Crosswater. 'It's important to be mindful of space when arranging your layout, as you'll need to be able to move comfortably in the room. To maximise space, opt for a wall-mounted toilet, basin, or vanity unit. Wall-mounted fixtures free up floor space to make the room appear bigger while creating a smart and modern look.'
25. Wall-mount the taps
Wall-mounted mixer taps work well in compact bathroom designs as the pipework can be hidden without the need for a bulky basin pedestal. For a smart storage solution to keep the area neat and tidy, use that freed-up space to house some shelving and a laundry basket.
26. Use patterned tiles
Your choice of tiles will play a vital part in the finished look of your en suite,' says Amanda Telford, marketing manager at CTD Tiles. 'But there are a few things to take into consideration when choosing bathroom tiles, from visual impact to practicality. Patterned designs are great for adding a real statement to a space, while large-format tiles can create a calming and spa-like ambience.'
27 Add the feeling of space with mirrors
Go big, go bold and make a statement in your bathroom with bathroom mirror ideas. Hang a large bathroom mirror (or two or three) over the basin to bounce around the room and make the whole space feel larger. You'll be surprised how effective it is. No wonder it's the number one trick used by interior stylists to make a room feel larger!
28. Borrow space from a bedroom
If you have a large main bedroom then you could consider making part of it serve for your en-suite ideas. Of course, if opting to add a bath to your bedroom then knowing how to zone out and open plan space is vital.
You can section a corner of the room off with a stud wall to create an en-suite, or if you want to make a statement, add a glamorous freestanding bath in the bedroom, with basins, shower and toilet behind closed doors.
29. Take it to the loft
Considering a loft conversion? If so, it is a great place to add an extra bathroom.
When thinking about how to incorporate en-suite ideas when planning a loft conversion it is important to take note of where ceiling heights and where it slopes and allow this to inform your design.
30. Choose cool country
When it comes to decorating, a good adjoining bathroom will always look like it belongs to the bedroom. You don't want to be too matchy-matchy, but the colour scheme and overall style should sit happily side by side. White bathroom ideas are popular for a reason - it never fails as a space enhancer.
If your en-suite bathroom ideas are of the timeless, hint-of-vintage variety, be sure to reflect that in the design of the room. Here wood panelling and built-in storage make the bath and basin feel right at home. If you prefer to inject an extra punch of colour, add some vibrant accessories, such as painted tiles or a patterned shower curtain.
31. Panel the walls
Wall panelling ideas are a great way of adding interest and texture to even the smallest of bathrooms. Plus, it's a practical choice for boxing in pipework.
Use paint to colour the panelled section of the walls in a tonal shade to the rest of the painted or tiled space for a cohesive look with added depth.
32. Create pattern with tiles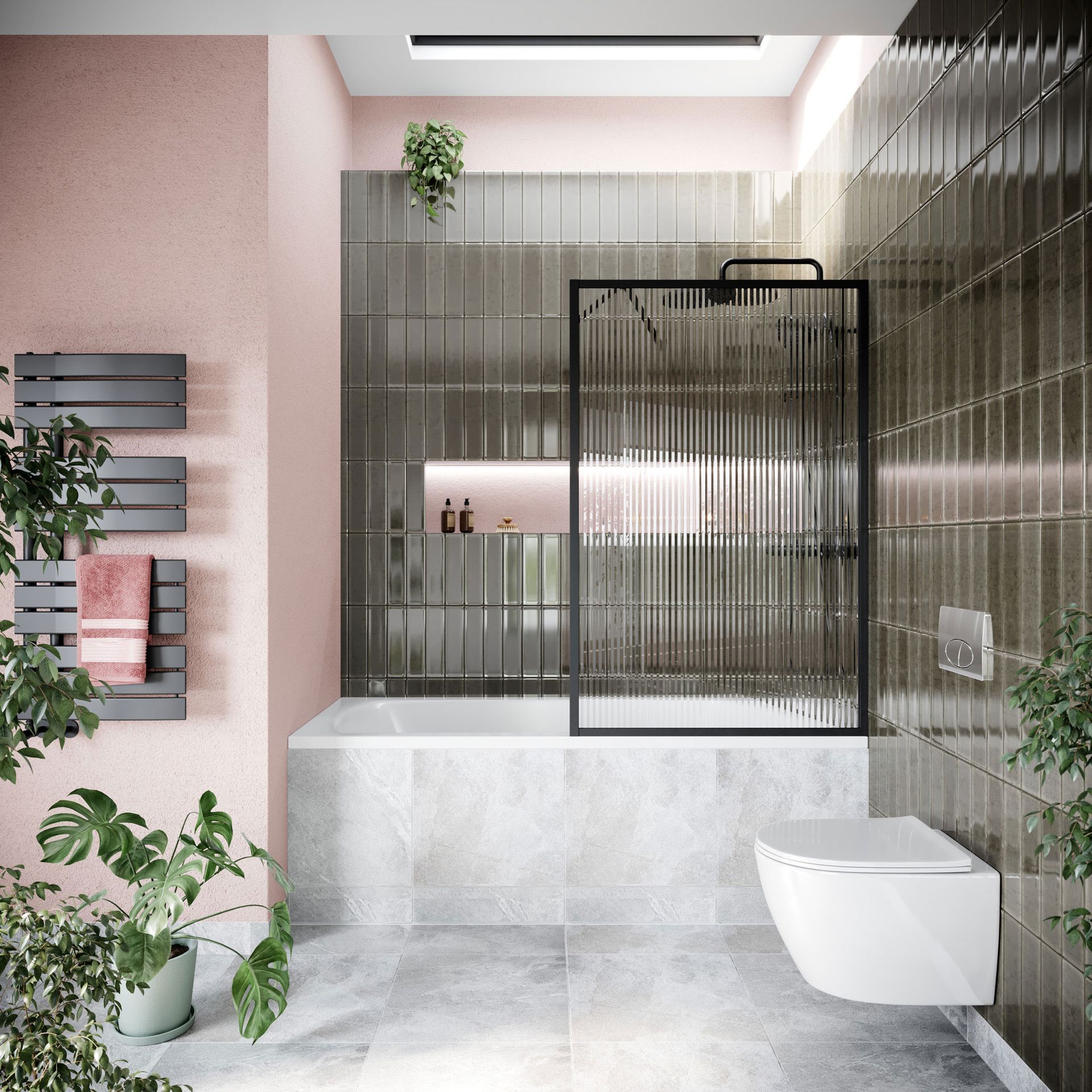 Patterned tiles don't actually have to be patterned. Clever use of laying patterns allows you to create your own pattern using block colour. Alternatively, alternate sizes of similarly shaped tiles. A contrast grouting will heighten the look even further.
33. Give signature pieces space
Roll-top baths make for a stunning focal point in a bathroom of any size, so let it work its magic by giving it room to shine. Opt for a bath in a colour that contrasts with the rest of your scheme – as here the eye is immediately drawn to the pink bath in this small blue bathroom.
The best way to figure out which colours will work together is to consult the colour wheel and opt for shades on opposite sides.
34. Colour up for contrast
Build up a backdrop of colour on walls, floors and storage that foregrounds the white of your bathroom suite: metro tiles in a beautiful green; slate tiles in mid-grey; smart chrome fittings; and wood-finish storage and shelving. Reserve white for shutters, lighting and bath towels for a decorating scheme with a difference.
'With tile trends constantly changing within the home, we have seen a big increase for unusual textures and patterns designed to make bold feature walls and floors,' says Amanda Telford at CTD Tiles. 'There's also high demand for more colourful tiles in a deep blue colour palette, creating a look that is coordinated and inviting.'
35. Factor in soft furnishings
If you have a window in your en suite, or are lucky enough to have a roll-top bath, why not factor in a curtain and/or blind? It's a great way of working in pattern and colour and helping to give the room a softer, cosier vibe.
If it's a shower curtain you're after, you'll need to make sure it's waterproof, so either line some fabric or layer up with a plain shower curtain and a normal, patterned curtain on top.
FAQs
How should I plan my en-suite?
'Start by deciding what colour scheme you want, which bathroom trends excite you, and what fixtures matter most to you,' says Richard Ticehurst, Crosswater's brand expert. 'Look to interior magazines, Instagram, and Pinterest if you're in need of inspiration.
'Next, draw out a plan of your bathroom on graph paper, using metric measurements, and noting the location of windows and doors. Then, create to-scale cut-outs of every fixture and rearrange them on your page until you find a layout that works for you.'
What is the smallest space needed for an en-suite?
You'll forever be surprised at how much you can actually fit in a small bathroom. There's no strict minimum square footage, but you may need to reconsider what you wish to include.
That said, working in a small space doesn't have to mean forgoing a bath. 'People often try to fit large-footprint baths into small rooms,' says Barrie Cutchie, at BC Designs. 'Ideally, baths need at least 100mm round each of the edges to help clean and maintain them. However, if you want to install a bath in a smaller en-suite, this can still be achievable. There are several models out there that are just 1400mm long, which is smaller than a standard shower, and can be the perfect solution.'
Leed Reed, Head of Design at Easy Bathrooms, adds: 'To be considered an en-suite, your bathroom needs to have a sink, WC and shower and in an ideal world, should be at least 17 square feet to make it comfortable to use. If you are having a bath, then you'll need around five by six-and-a-half feet so it isn't all squished in. To make sure it doesn't feel cramped, allow 30 inches from the front of your toilet to any other products, with 40 inches in front of a bath or shower.'
What can I do with a small en-suite?
'If your space is limited and you desire practicality over a space for full relaxation, then choosing a shower over a bath is perhaps the quickest and easiest way to maximise space,' advises Fabrizio from Lusso Stone. 'Opting for a corner shower or even a walk-in shower unit can ensure that space is used to its full potential. However, to make sure you are not compromising, a large rainfall shower keeps that luxury feel.'
'Another key trick is removing those clunky old-fashioned cisterns and instead investing in a 'Back to Wall' toilet system. They are stylish, minimalistic, and extremely convenient for smaller spaces. They not only look incredibly slick but give an illusion of there being no cistern at all.'
Get the Ideal Home Newsletter
Sign up to our newsletter for style and decor inspiration, house makeovers, project advice and more.
Jennifer is the Deputy Editor (Digital) for Homes & Gardens online. Prior to her current position, she completed various short courses a KLC Design School, and wrote across sister brands Ideal Home, LivingEtc, 25 Beautiful Homes, Country Homes & Interiors, and Style at Home.