Beldray Airlite cordless hand vacuum review: a mini cleaner with big ambitions
We've tested the Beldray Airlite cordless hand vacuum to find out if it's worth the hype or just another social media gimmick. Here's how we got on…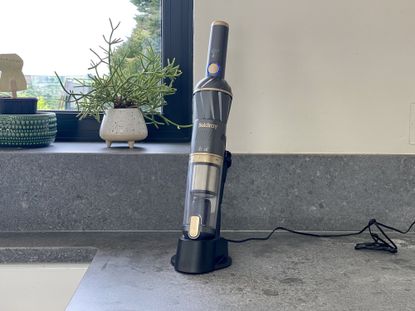 (Image credit: Future)
If you are in the market for a secondary vacuum cleaner that's super-portable and ready-to-go, the Beldray Airlite Cordless Hand Vacuum is a decent choice at an exceptional price. It is specifically designed to be stored on a worktop or other convenient surface next to a socket, to deal with those quick-blitz jobs that aren't worth getting the main vacuum out for. Unless you live in a shoebox, do not buy this as your sole vacuum cleaner.
Reasons to buy
+

Easy to use

+

Nice design

+

Space-saving

+

You eat lots of croissants
Reasons to avoid
-

So noisy

-

Clutters worktops

-

Bin hard to fully empty
Ideal Home Newsletter
The Home Of Great Ideas For More Than 100 Years
Thank you for signing up to . You will receive a verification email shortly.
There was a problem. Please refresh the page and try again.
The compact countertop vacuum cleaner has recently been thrown into the spotlight by Mrs Hinch, who waxes lyrical about her Shark handheld on social media. Smaller than your typical cordless handheld, and designed to sit neatly next to the toaster, these mini marvels are always on-hand, ready to suck up dry cereal, blitz the bottom of the biscuit tin and eradicate errant crumbs.
As in most homes, worktop space is a precious commodity in our kitchen, and I admit to being sceptical about whether I really needed to clutter up the surfaces with another small appliance. What's wrong with a damp dishcloth for wiping away crumbs, or dustpan and brush? Still, I take testing the best vacuum cleaners (opens in new tab) very seriously, and was determined to keep an open mind.
I allocated the Beldray Airlite Hand Vacuum prime counter space for a little more than one month in the hope I would naturally reach for it to tackle all manner of stray spills and crumb catastrophes in our busy family home. With two young children, three dogs and a lone budgie, we really put the Beldray Airlite Hand Vacuum to the test. Read on to find out whether it proved worthy of a socket slot in our kitchen.
Product spec:
Cleaning time: 15-25 minutes
Charging time: 4-5 hours
Dimensions: H40cm x W7cm x D7cm
Dustbox size: 100ml
Power settings: 2
Weight: 0.6kg
Who will the Beldray Airlite Cordless Hand Vacuum suit?
Mrs Hinch wannabes who take cleaning into every nook and cranny very seriously indeed will love the handy convenience of this miniature vacuum. It will also suit super-busy homes, especially if you often find there's zero time to get the 'big vacuum' out before everyone hustles off to school/work.
However, it will not suit those with tiny kitchens where every wall socket is already allocated, or anyone with a noise intolerance disorder such as hyperacusis. If you already have a standard size handheld vacuum, or even a regular cordless stick vacuum that can be made into a handheld, you can probably survive without this scaled-down version.
How easy is the Beldray Airlite Cordless Hand Vacuum to set up?
Setting up the Beldray Airlite Cordless Hand Vacuum could not be easier. The box comes with a base, charging socket, the main motor unit, bin unit with filters already inside, and a 2-in-1 nozzle that switches from crevice tool to brush.
All I needed to do was connect the power up, join the two main parts together and leave it charging. There was a little charge in the unit, but I left it charging on the base for about four hours (as per the instructions) before I had my first go. The power light changes from red to blue when it reaches full charge.
The instruction leaflet was easy to follow but one part that caught my attention was the warning to always unplug the mains power adaptor once the battery is fully charged, presumably to avoid fire risk. This makes the charging dock less convenient, as it would be tedious to have to take the plug out of the wall (and put it back in) all the time. But I also didn't want to burn my house down…tricky.
What is the Beldray Airlite Cordless Hand Vacuum like to use?
The Beldray Airlite Cordless Hand Vacuum is so easy to use, a small child could operate it without any adult guidance whatsoever (although the instruction leaflet says it should only be used by children older than eight, with adult supervision).
All you need to do to turn it on is press the round power button once to get basic power, and then again to get the higher power level. Be warned, for a small appliance, it makes a heck of a lot of noise, especially in the higher mode. As I was mostly only sucking up very lightweight crumbs, dog hair and dust, I didn't find much call to put it in eardrum splitting mode, luckily.
Obviously in higher power, you'll also drain the battery faster, which was another reason I tried to stay in the lower power mode – only shifting up a gear to suction up stubborn dirt. Beldray's given battery usage time – 15-25 mins – was pretty accurate and, although it sounds inadequate, I never once ran out of juice before I had completed a cleaning task. These kind of countertop cleaners are really for grab-and-go, quick clean-ups, not extensive Spring cleans after all.
So, what did I clean with the Beldray Airlite Cordless Hand Vacuum? Naturally I was looking for things to tackle for the purposes of this review, but I can easily see how people like Mrs Hinch get a little obsessed with these devices. I started by dusting out the cutlery and utensil drawers (without having to move any cutlery – nice!), then did the bread drawer, snack drawer and so on. I also had a go at the veg crisper drawers in the fridge, which was embarrassingly strewn with dried onion skin, tomato stalks and the like.
During the test process I tried to dream up new and interesting things to clean, which included around the budgie cage (several times – he's a messy little fella, constantly shedding feathers) and along window ledges once dead fly season got into full swing. Sadly, the Beldray Airlite Cordless Hand Vacuum is not designed for use on wet spills, but there's always the humble dishcloth for that.
As the crevice tool is very slender, much more so than the crevice tool on my cordless stick vacuum, I was able to push it through the rungs of my cast iron radiators, which was very satisfying. I also used the Beldray Airlite Cordless Hand Vacuum to tackle the staircase on several occasions (note: don't paint your staircase black if you have a dog with white fur, or any children, or a life beyond cleaning). Normally, I would use my cordless stick vacuum in handheld mode for this task, but the Beldray Airlite Cordless Hand Vacuum was far lighter and, surprisingly, better at getting into the corners.
How good is the Beldray Airlite Cordless Hand Vacuum at cleaning?
On most simple crumb and debris removal tasks, the Beldray Airlite Cordless Hand Vacuum did admirably well. It is never going to have the power to suction into a deep-pile rug, but on hard surfaces like worktops, it generally clears the decks nicely.
However, one area I noticed the Beldray Airlite Cordless Hand Vacuum struggled was with fine dust, and powdery spills like flour. I tried to use it to clean out my drawer of baking supplies, which is frequently coated in a fine layer of flour, icing sugar and stray nuts etc, and while it got the nuts up ok, flour and icing sugar stayed lurking in the base liner, which admittedly is textured to stop contents sliding around, and the drawer's corners.
Intrigued, I poured a small amount of flour on the worktop to see how the Beldray Airlite Cordless Hand Vacuum faired. Although it did pick up the bulk of the flour, I still had to use a damp cloth to remove the particles left behind. I also noticed the fan outlet vent on the main unit, which is not too far away from the suction nozzle, was blowing the flour away in the process. Not terribly helpful.
Is it easy to empty, maintain and store the Beldray Airlite Cordless Hand Vacuum?
Emptying the Beldray Airlite Cordless Hand Vacuum is as easy as releasing a catch at the bottom and shaking the contents out into the bin. In theory. However, I did find a few crumbs etc often got trapped around the filter part, which meant twisting off the main motor unit and pulling the filters out to release the blockage. While this was also a simple manoeuvre, it did make the job a little more involved than simply flipping open the bin lid.
Cleaning the two filters is incredibly simple, just tap out the dust and run under the tap for a minute. Beldray recommends the filters are cleaned once a fortnight, depending on usage. You do need to make sure they are completely dry before reassembling, which in the case of the cloth HEPA filter, takes a good 24 hours. Pop it on the radiator or a sunny window ledge to speed things up. You can buy a spare HEPA filter for £7.99 to swerve any downtime.
How does the Beldray Airlite Cordless Hand Vacuum compare?
As mentioned, the Shark Cordless Handheld Vacuum Cleaner loved by Mrs Hinch is possibly the closest competitor to the Beldray Airlite Cordless Hand Vacuum. Both models are similarly sleek in design, although I do think Beldray's Graphite and bronze design has the edge looks-wise, and Beldray's 15-25 min run time beats Shark's paltry eight minutes, too.
Both models store attachments neatly in the back of the base charger unit and are easy to empty. Reading the user reviews of the Shark, it does sound like it might be a touch more powerful (and the shorter battery life also indicates more power) but the Beldray Airlite Cordless Hand Vacuum is no slouch in the suction department either and, crucially, costs less than half the price.
Should you buy the Beldray Airlite Cordless Hand Vacuum?
This is a tough call. If you are convinced you need a miniature cordless vacuum in your life, then the Beldray Airlite Cordless Hand Vacuum is a strong contender. It looks nice, it's compact, doesn't take up much space, and, in the main, it does a decent job.
Personally though, I am just not sure any hand vacuum is worth sacrificing my (mainly) clutter-free work surfaces. I am the sort of person who hides the toaster and coffee machine behind closed doors. I fear if I also put the Beldray Airlite Cordless Hand Vacuum in the pantry cupboard (there isn't a spare socket, but let's pretend there is), I'd never remember it was there.
During the month or so I was testing the Beldray Airlite Cordless Hand Vacuum, I had to consciously choose to use it instead of the dishcloth I would normally reach for to clean the countertops. And if I spilt anything on the floor that needed immediate attention, my natural choice was to reach for the cordless stick vacuum, which is hanging on charge in a nearby cupboard. If that wasn't the case, then perhaps I would have used the Beldray Airlite Cordless Hand Vacuum a lot more.
Tellingly, even though the Beldray Airlite Cordless Hand Vacuum was right there on the worktop, never once did I see my husband or children use it (and not because they're lazy, they are well trained in cleaning up after themselves).
About this review – and our reviewer
Linda Clayton is a professionally trained journalist who has specialised in home tech, interior design and fitness for more than two decades. She's a fastidious product reviewer, design obsessive, serial renovator, and amateur runner.
She was sent the Beldray Airlite Cordless Hand Vacuum to test in her Devon home and find out how well it performs in a chaotic family setting, which includes two young girls, both mad keen bakers, and far too many pets.
We are not given any compensation for our reviews, but we may be gifted the product meaning that we can test it over a greater length of time and update our reviews if required. We may receive affiliate commission for some products bought through our site.
Linda Clayton is a professionally trained journalist, and has specialised in product design, interiors and fitness for more than two decades. Linda has written for a wide range of publications, from the Daily Telegraph and Guardian to Homes & Gardens and Livingetc. She has been freelancing for Ideal Home Magazine since 2008, covering design trends, home makeovers, product reviews and much more.