I'm a first-time buyer, what are my chances of getting a mortgage right now?
And what you can do to increase your odds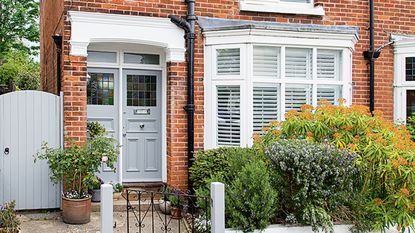 (Image credit: Future PLC/David Giles)
If you're a first-time buyer, you might be wondering what your chances are of getting a mortgage right now. Taking that first step onto the property ladder isn't easy, and thanks to rising mortgage rates and the cost-of-living crisis squeezing budgets, your dream might now feel completely unobtainable.
But the good news is there are still plenty of first-time buyer mortgages available, even if you don't have much of a deposit saved up. Plus, there are steps you can take to boost your chances of mortgage approval and help you find the best first-time buyer mortgages.
'Lenders are still lending, in fact we are expecting some increased competition for new business to actually reduce lending rates quite soon and with better economic news, it is just possible that the worst of the rate rises is now behind us,' explains property expert and buyer Jonathan Rolande.
'However, first-time buyers have a stark choice – reduced affordability thanks to higher interest and factoring in the cost of living rises means either adding to the deposit to increase buying power, or reducing expectations of what can be bought.'
What are my chances of getting a mortgage as a first-time buyer?
First-time buyers are more likely to get a mortgage if they can put down a decent deposit as this gives them access to a greater range of deals. But even with little to no deposit, it's still possible to get a mortgage.
'Prospective first-time buyers should go ahead and take the plunge if they have managed to save for a deposit or if family members are able to help,' says Mel Whiting, mortgage expert at Norton Finance.
'This is especially true if the alternative would be to rent, as rents are at an all-time high due to increased demand and a decrease in supply.'
Most lenders require a deposit of at least 5% to 10%. But if you can save more than this, the better the interest rate you'll secure and the lower your monthly repayments will be.
'There is actually a fair amount of flexibility in the market, but lower deposits tend to come with higher interest rates which reduces your overall affordability,' says Alex Chambers, senior mortgage adviser at Clifton Private Finance. 'For example, Skipton is currently offering a 0% deposit mortgage, but you need to have a track record of renting for the past 12 months to qualify and the interest rate is fixed at a high 6.19% for five years.'
'Elsewhere, Nationwide will lend at 95% LTV (loan to value) for first-time buyers and up to 5.5 times your salary. But again, with interest rates so high, affordability becomes a real squeeze in these cases.'
How can I increase my chances of getting a mortgage?
As well as a higher deposit, there are several other ways to increase your chances of getting a mortgage. These include checking your credit score is the best it can be and paying down any existing debt, such as personal loans and credit cards.
Lenders will also want to see that you have a steady source of income as this tells them you're more likely to be able to repay your mortgage debt. However, this doesn't necessarily have to be your main salary.
'We see many first-time buyers with side hustles or second jobs, and if you can demonstrate the earnings with either payslips or a tax return then it can be used to show the lender that you can afford the loan,' says Dominic Sheahan, mortgage expert and director of the Mortgage Branch. 'Universal credit, employment allowances, maintenance - these and many other incomes are now acceptable.'
Different lenders have different eligibility criteria so compare a range of lenders before making a decision.
'To assess your specific chances of getting a mortgage right now, you should reach out to multiple mortgage lenders or consult with a mortgage broker,' explains Gary Hemming, financial expert at ABC Finance. 'They can evaluate your financial situation and creditworthiness, provide guidance on available loan options, and help you determine the best course of action based on your unique circumstances.'
'Some lenders might be willing to offer you a longer-term mortgage, with terms of 35 to 40 years (compared to the traditional 25 years) available. This can help to lower your monthly mortgage repayments, making them more manageable, although it does mean you'll pay more in interest overall.'
'In addition, it can be worth exploring some of the first-time buyer schemes on the market. Barclays, Lloyds and Halifax, for example, offer mortgages where parents can deposit savings with the lender for a fixed term, reducing the amount of deposit required from the first-time buyer.'
'Some mortgage lenders also allow parents to join their children on the mortgage application, as chief executive of mortgage broker SPF Private Clients, Mark Harris, explains: "These enable parents to buy with their child, boosting income and the deposit for mortgage purposes but the parents' names don't go on the property deeds so there is no additional stamp duty to pay.'
Alternatively, the First Homes government scheme can help you purchase a home for 30% to 50% less than the market value, while the shared ownership scheme lets you buy a share of the property and pay rent on the remaining share.
Get the Ideal Home Newsletter
Sign up to our newsletter for style and decor inspiration, house makeovers, project advice and more.