7 mortgage mistakes all homeowners should avoid, according to a finance expert
We highlight the big mortgage no-nos that could prevent you from getting the best rates from the best lenders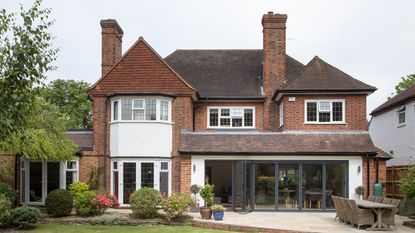 (Image credit: Future PLC/David Giles)
Tens of thousands of borrowers take out a mortgage every month and for most, it will be the largest financial commitment they will ever make. When buying a house, your mortgage typically lasts for a quarter of your life and can dictate the size and quality of the home you buy.
As such, careful planning and the right advice are vital to avoid making costly mistakes which, after the sharp rise in mortgage rates last year and the ongoing cost of living crisis, is more important than ever.
Nicholas Mendes, mortgage technical manager at mortgage broker John Charcol, says: 'Whether you're a first-time buyer or a home mover, moving home can be a stressful experience. From finding the right property to getting the mortgage agreed and dealing with surveyors and conveyancers there's certainly a lot to think about.
'You may not be able to control or prevent issues from arising considering all the stages in the home moving process but there are certainly steps you can take to make your life easier when it comes to getting your mortgage approved.'
Nicholas Mendes has been a mortgage adviser at John Charcol since 2019 and is now the mortgage technical manager at the brokerage.
His career in financial services spans 15 years and includes financial planning. He began his career with Lloyds Bank managing its commercial customers.
He is a frequent and well-respected mortgage commentator in the media.
1. Not shopping around
There are a staggering 4,341 mortgage options on the market, according to data firm Moneyfacts. By not shopping around, you could be missing out on a cheaper rate or a deal with better features, such as cashback or no fees.
To narrow your search try using a price comparison website, like our sister brand Go.Compare. By answering a series of simple questions you will be presented with a list of lenders and mortgage deals for you to choose from that match your requirements. Many comparison websites also have partnerships with mortgage brokers whereby once you've selected a deal, you can opt to speak to a broker to discuss your choice.
Alternatively, you can ask a mortgage broker to search the whole mortgage market for you. They will carry out a more in-depth assessment of your needs and circumstances first.
2. Skipping expert advice
Picking the best mortgage doesn't just mean choosing the cheapest rate. There are a whole host of features, such as flexible overpayments, no early repayment charges or low and no fee options that don't always accompany the lowest rate deals, but may be more beneficial for your circumstances.
A mortgage broker will meet with you to discuss your plans, now and in the future, find out about your employment and family circumstances and chat through any affordability or credit history questions or challenges you may have. After your interview, they'll tell you how much you can afford to borrow and how much it will cost a month to pay back. They can also help the mortgage process run more smoothly too.
'A mortgage broker can help you avoid any delays in the application process, increase your chances of success when it comes to getting a mortgage and also ensure that if rates reduce during your application you will be switched to the cheaper rate where possible,' adds Nicholas Mendes.
3. Sticking with your bank
If you're buying a home for the first time, going to the bank or building society you've always banked with can seem like an obvious choice. Likewise, if you've already got a mortgage and you deal is about to expire you may be tempted to stay put and take another deal from your current lender.
This could be a mistake for two reasons. Your bank might not be offering the cheapest or most suitable mortgage for your needs and you may not get the best advice on what other mortgage products from other providers might be more suitable for your needs. If you're a remortgage customer and want to switch to a new rate because your old deal is expiring, you can do so online in 15 minutes. This can seem really convenient but you will not receive any advice on other options that could suit, however, which could prove costly in the long run.
4. Not checking your credit score
Make sure your credit score and history are in the best shape possible to ensure a lender looks favourably on your application. Be sure to pay your bills on time - direct debits are a handy way to keep on top of regular payments. Add yourself to the electoral roll too to give your credit score a boost and avoid asking a company to search your credit history on your behalf. This is likely to show up on your credit report and multiple searches on your credit report can lower your score.
'If you have had credit problems in the past, it doesn't mean you won't be successful when applying for a mortgage, but by having a healthy clean credit file you will benefit from getting the best rates available meaning cheaper monthly payments overall,' explains John Charcol's Nicholas Mendes.
Check your file across the main three credit referencing agencies; Experian, TransUnion and Equifax to make sure you have no black marks registered against you.
5. Taking on more debt during the application process
Applying for loans or a credit agreement prior to or during a mortgage application is not advisable.
A mortgage lender carries out an assessment of your affordability by considering both your earnings and your regular outgoings. The more debt you have, the less you'll be able to borrow from your mortgage lender. If your debt levels are too high in relation to your earnings, you could be turned down altogether.
6. Making avoidable big life changes
Mortgage lenders don't just look at what you earn, they're also interested in stability and how sustainable your income is. 'Changing jobs regularly or worse changing your job just before an application can have a detrimental effect even in the event of a pay increase,' says mortgage technical manager Nicholas Mendes.
'Lenders want to ensure that the mortgage remains affordable, if you are in a probation period some lenders can take a negative view on this. Likewise going from employed to self-employed despite being in a similar position.'
7. Withholding information
When you apply for a mortgage it's important that you are truthful and honest to the mortgage adviser and the lender.
Withholding or not disclosing information can result in a lender pulling the mortgage at the last moment. For example, if you have recently gone on maternity leave and do not disclose this to the lender, this can be spotted on your payslips and bank statement. By being honest with the lender, they can understand your circumstances better and make the best recommendation for your needs.
Get the Ideal Home Newsletter
Sign up to our newsletter for style and decor inspiration, house makeovers, project advice and more.
Samantha Partington is a personal finance journalist specialising in mortgages and the property market.
Over the past nine years, Samantha has worked for the Daily Mail, trade website Mortgage Solutions and business title Property Week. She regularly writes for national money pages including Money Mail and Sun Money and supports prop tech firms with content writing.