Take a tour around this contemporary 19th-century Victorian terrace in south London
The owners thought their first real home together would be strictly short term – it proved to be anything but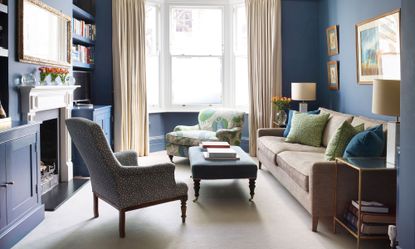 (Image credit: Future PLC/ Rachael Smith)
Ideal Home Newsletter
The Home Of Great Ideas For More Than 100 Years
Thank you for signing up to . You will receive a verification email shortly.
There was a problem. Please refresh the page and try again.
When the owners moved into their first home together after three months of marriage, they did not think they would be staying long. 'I knew I wanted to live in this part of southwest London, I just wasn't sure about this particular house,' says the owner. 'I was hoping to find more of a renovation project, but there weren't many properties on the market at the time.'
Check out our dedicated real homes channel for more inspirational house tours
Living room
My husband, a banker, was keen to buy the home as it was convenient for his daily commute to work, and his enthusiasm convinced her that this was indeed the right property for them. 'It's a great area,' she says. 'We had friends and good schools nearby, and there were plenty of green spaces where we could walk our dog. We were also ready to start a family.'
Kitchen
A year later, she had the couple's first daughter, soon followed by two more daughters. Now a family of five, the couple wanted more space downstairs, so they built a side-return extension to create a kitchen-diner. 'We also knocked through to the sitting room,' she says. 'As a result, the sun comes streaming right through the house now.'
Dining area
The owner had a clear vision of how to make the most of the space, having set up an interior design business, Otta Design, with their friend. 'I knew that I wanted to paint the sitting room a strong blue colour and keep some of the original Victorian features,' she says. She decided to retain the fireplace in the formal part of the sitting room, but remove the chimney breast at the back, to give her more design options for a practical office space.
Bedroom
The plan worked so well downstairs that it made sense to take out the original chimney breasts in the girls' bedrooms upstairs, opening up some much-needed floor space. 'It's amazing what a difference it made to how I could lay out the rooms,' she says. 'It was also important to me that the decor in the girls' rooms reflected their individual personalities, so I played around with mixing bright colours, fabrics and textures.'
Children's room
The final piece of the jigsaw was to make space for an additional bedroom. 'In 2007, we built the loft as our bedroom, but planning regulations prohibited us from building an extra room at the back of the house,' she explains. However, last year, the couple finally gained permission to add the fifth bedroom they had planned.
Bathroom
'It's worked out perfectly,' she says. 'We've made the double bedroom at the front of the property a stylish playroom for the girls, so they can hang out with their friends.' This meticulous preparation and design talent has paid off, as the couple have created a family home that will last the family a lifetime.
Exterior
'I'm surprised we're still here, but it's been worth all the expense and mess,' she says. 'Having built our ideal home, we're not moving for a long time. I want to relax and watch my daughters grow up while enjoying the results of our hard work.'
This house tour originally featured in 25 Beautiful Homes, July 2018.