How to organise a fridge - expert storage ideas and techniques for a beautiful fridge
Storage solutions and organisation techniques aren't just for the kitchen cupboard, they're vital in a fridge too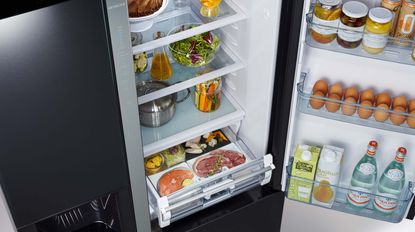 (Image credit: Hitachi)
Many people might laugh fridgescaping off as a ridiculous social media trend. However, knowing how to organise a fridge is a useful skill that will cut down on food waste, and help you save money. The fact that an organised fridge can also be aesthetically pleasing is just an added bonus.
Organising a fridge well is just as important as organising kitchen cabinets for preventing food waste and saving money. According to an environmental charity, WRAP we throw away 6.6 million tonnes of household food waste a year in the UK. Shockingly, the majority, 4.5 million tonnes, is food that could have been eaten.
'A properly organised fridge can save you money and keep you healthy in the long run by preventing the growth of bacteria. It can also drastically reduce the amount of food you throw out,' says Joe Authbert, Buying Manager at ProCook.'Organising the contents of your fridge is also recommended to allow foods to live a longer life.'
With UK homes throwing away around 3.1 million glasses of milk, 86,000 whole lettuces and 2.2 million slices of ham, plus much more every day - organising a fridge properly is one way we can all do our bit to reduce food waste and save money at the same time.
Where should things be placed in a fridge?
Before investing in clever fridge storage solutions, or trying out clever new techniques for organising a fridge it is important to first know where things should be placed in a fridge.
'Certain foods can last longer in specific places in the fridge,' says Helen White, special advisor at Love Food Hate Waste. This is because the temperature will vary between the different shelves and doors.
Top shelves
As a general rule of thumb, keep dairy and cold cuts on the top and middle shelves, raw meat, poultry and fish on the bottom shelves. This is so that cooked food isn't accidentally contaminated by any raw meat drips.
The top shelf is also likely to be a slightly warm temperature, making it better suited to things such as deli meats and leftovers.
Middle shelves
'Place ready-to-eat foods, such as cheese, yoghurts and other dairy items, cooked meats and leftovers on the top and middle shelves,' says Helen at Love Food Hate Waste.
The middle section is the coolest part of the fridge so is the best spot to place anything that needs to be kept at the most consistent temperature such as eggs and dairy.
Bottom shelves
'Keep raw meat, poultry and fish on the lower shelves,' says Helen. 'And always cover it and keep it in sealed containers.'
Whether it's mince for bolognese, a whole chicken, chops or fish fillets, this helps to keep it fresh and prevent any drips from leaking or contaminating other food in your fridge. Raw and cooked meats should never be stored next to each other, due to the risk of contamination.
Drawers
The big drawer or drawers at the bottom of most fridges are best for keeping salad and vegetables fresh but you can store fruit such as apples and oranges here too.
'Contrary to popular belief, we recommend storing your fruit and veg on the bottom shelf so you can have a clearer idea of when it is nearing its use-by date,' says Joe.
'Store wrapped raw meat, cooked meat, and fish in the drawers at the base of the fridge as this is the coldest part of the fridge. Keeping these in separate compartments, or raw meat in sealed containers will also minimise the risk of cross-contamination.
'Items such as bananas, tomatoes and stone fruits should not be stored in the fridge as they can spoil prematurely.'
Fridge door
Bottles of milk, water, juice and open jars are best stored in the fridge door for easy access.
Tips for organising a fridge
We've all been there, with limited time to unpack the shopping and go onto the next thing, it's tempting to put food away wherever there's a space, without checking what's already there. Yet a few simple changes can get us into good habits.
1. Create an 'eat me first' shelf
If you're frequently finding you're struggling to keep track of best-before dates, creating an 'eat me first' shelf is a great way to tackle this.
'Why not use the top shelf in your fridge to store food that is close to its use-by date or close to going off, so you remember to eat it before the fresher stuff?' says Helen at Love Food Hate Waste.
The top shelf is the perfect spot to house leftovers, and food that is about to go out of date. The best time to sort out this shelf would be just before your next big shop, so nothing gets lost and wasted behind the new products.
2. Reserve the door for open produce
The fridge door is the best spot to store bottles of milk, juice, cold drinks and jars, but keep only those that are open there. Store sealed bottles of milk on the shelves, so the open ones get used first.
According to WRAP, most milk is binned because it's not used in time, so freeze any you're unlikely to get through. 'Keep it in the original carton, or decant into an airtight container or ice cube trays, if you only have a small amount to freeze to save on space,' says Helen White at Love Food Hate Waste.
3. Decant vegetables into storage containers
Berries will keep better in containers lined in kitchen towels than they do in their plastic tubs. As well as lasting longer, decanting berries and vegetables into stackable tubs will make them easier to store in a fridge.
Remove carrots, cabbages, parsnips, broccoli and other veg from plastic bags, as plastic attracts moisture, so the contents will rot quicker. Alternatively, buy fruit and veg loose and line the drawer with a cotton tea towel or brown paper bag to absorb any moisture.
'Storing fruit and veg such as carrots, limes, and broccoli in jars of water will go a long way in prolonging their lives,' says Joe Authbert at ProCook. 'Further, leafy greens such as spinach and lettuce will last longer in an airtight container with a paper towel or cloth which is regularly replaced and kept away from the back of the fridge to prevent freezing.'
4. Invest in stackable containers
Stackable glass containers with plastic lids, like those from IKEA, are ideal for storing food so that it lasts longer. The other benefit of stackable containers is it makes use of the verticle space inside a fridge.
'Glass storage containers with airtight lids make it easier to see what's inside and offer great versatility in the kitchen as they can go from oven-to-fridge to fridge-to-microwave, making cooking and reheating easy,' says Joe Authbert, Buying Manager, ProCook.
The stackable feature is also crucial to make the most of vertical space in a fridge. 'A fridge is such high real-estate, they're not very big, no matter how big they are they're still not that big,' says Joanna Teplin, one half of celebrity organising duo, The Home Edit. 'So being able to take advantage of all of the space in the fridge by being able to use clear stackable containers allows you to take advantage of the available vertical space too.'
5. Label sections of the fridge
'Labels are really important for keeping your systems accountable and setting up a set of instructions for everyone in the household,' says Clea Shearer, the other half of The Home Edit.
However, while it is handy to label specific shelves and containers to guide your family on where to put things, it is key to not be too specific.
'It's really important that you keep your labels broad. So instead of just having a label that says cucumbers, you want to have a label that says veggies. Instead of having a label that is for ketchup, you want a label that says condiments,' explains Clea.
'So keeping those categories broad but specific is really helpful in terms of keeping up organisation within the fridge.'
However, if the contents of your fridge changes frequently consider using chalkboard labels like Ideal Home's Digital Editor Rebecca Knight. 'Since I switch between a Gusto box and batch cooking each week, and only have a small fridge I prefer the flexibility of chalkboard labels which I can rub out and rewrite on at the start of each week.'
6. Consider adding a turntable
A turntable as well as being an excellent kitchen storage idea can work wonders in a fridge too. They are a smart way to store small items such as yoghurts or condiments that don't fit in the door, so you can reach them easily without sending your fridge into chaos.
Amazon sells a range of storage lazy susans for under £10. Before investing in one, however, do check the dimensions and consider what you will store on it.
Now there's no excuse for that forgotten block of cheese at the back of your fridge.
7. Add dividers into drawers
Drawers in fridges might help keep fruit and vegetables fresh, but they can also become almost impossible to navigate bottomless pits. Keep yours organised by adding in divides or baby baskets to keep produce organised in the drawers as well as on shelves.
8. Stack cans in dedicated storage
Juggling cans in a fridge can be a nightmare, while you might want a cool drink ready and waiting when the fancy takes you, they can take up alot of space in a fridge. If you have the space consider investing in a stackable fridge can dispenser available on Amazon. These will roughly cost £10 and upwards, but they will help keep your can orderly and contained in the fridge.
Get the Ideal Home Newsletter
Sign up to our newsletter for style and decor inspiration, house makeovers, project advice and more.
Jacky Parker is a freelance interiors & lifestyle journalist, specialising in modern interiors, design and eco living. She has written for Future's interior magazines and websites including Livingetc, Homes & Gardens, Country Homes & Interiors and Ideal Home for over fifteen years, both as a freelance contributor and inhouse, with stints as Acting Digital Editor, Livingetc and Acting Style Content Editor, Country Homes & Interiors. Her work also features in national and international publications including Sunday Times Style, Telegraph Stella, The Guardian, Grand Designs, House Beautiful and more. With years of experience in the industry Jacky is privy to the insider view and the go-to places for interior inspiration and design-savvy décor.