Kitchen storage ideas – 28 smart ideas to curb the clutter
Max out your storage and create a calming, clutter-free kitchen with these easy ideas.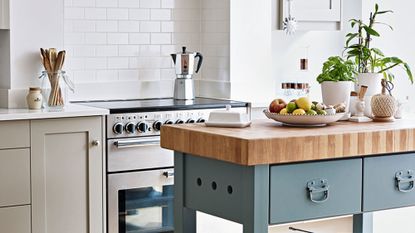 (Image credit: Future PLC)
As the hub of the home, smart kitchen storage ideas are number one in ensuring this busy room of the house works successfully, for you and your family.
No longer just a place for cooking, we now need our kitchens to be a place for dining, socialising, unwinding and even working. So it's essential the space works as hard as possible to deliver all these things and more.
With so many demands on this versatile space, the key to keeping a kitchen clutter free and easy to use, regardless of size, is well-considered storage solutions.
Vicky Silverthorn, professional organiser at You Need A Vicky, advises, 'Start by pulling everything out of your kitchen cupboards, getting right to the back and uncovering tins and jars that probably haven't seen the light of day for years! It's going to take some time, but really look at the contents of your drawers and cupboards like you've never done before, thinking about location, positioning and shelf heights as you go. Always have the word 'practicality' in your head, it's not just about making your kitchen look pristine, but it has to work too.'
With a plethora of things all jostling for a place, the kitchen requires particularly careful consideration. Luckily, modern kitchen designers have upped the ante with space-saving, super-strong drawers that can bear the weight of stacks of china or heavy pans. Pull-out larders, magic corners and adjustable baskets also ensure space is utilised down to the very last inch.
'It's all about convenience', says designer Dominic Ash. 'Think hard about exactly where to create storage to make your kitchen user-friendly. For example, pans should be near the cooker, and crockery near the dishwasher so you can unload straight into the cupboard.'
Kitchen storage ideas
From counter-top storage and built-in cabinets to freestanding dressers and open shelving, there are plenty of smart ideas for practical and effective storage in a small kitchen space and open-plan kitchens alike. With the kitchen coming under increasing pressure to perform a variety of crucial roles such as family dining, relaxing, working and entertaining, a good layout and adequate storage are more important than ever for a successful kitchen idea.
Keeping everything neatly behind closed doors is much easier if the interiors are designed with specific contents in mind. Smaller items will benefit from a shallow drawer with numerous compartments to keep items separated and easy to locate. Consider whether any cupboards will benefit from integral electric sockets, allowing you to charge gadgets out of view. Oh, and don't forget how handy a cupboard organiser or drawer organiser can be when it comes to maximising the storage space in your kitchen, to make for more storage for food and cookware.
Condiments and spice jars tend to come in standard sizes so kitchen shelving can be fitted at precise heights to get more in, which can slot into racks on the back of an easily accessible cupboard door. Many kitchen furniture ranges are now designed to morph into dining and living room furniture, enabling full coordination throughout.
1. Add a kitchen island
If your kitchen has space for it, a kitchen island could be the perfect solution to adding in some extra storage, as well as creating more prep space too. Free up cupboard and drawer space that pots and pans were taking up and store these within the island, pop every day essentials on top with in reach.
2. Hang a shelf from the ceiling
Take advantage of high ceilings in your kitchen and hang a shelf above your worktop to keep cookbooks and other kitchen essentials. It could just be a simple length of wood hung from a chain, or something more glam like marble, just ensure its not at eye level but a bit higher!
3. Utilise baskets in the kitchen
Baskets are fantastic are curbing the clutter and can be just as handy in the kitchen as elsewhere in the house too. Use to keep kitchen textiles such as tea towels, aprons or oven gloves, or have on hand to quickly sweep the kids homework or after-school doodles away once it's time to eat.
4. Opt for a utensils rail
To save on precious drawer space, hang a rail along the top of your splashback for utensils to live. A simple length of copper piping would serve perfectly for this, so attach to the wall and then use S hooks to hang each utensil. Even boards, jugs and mugs could be hung here, so anything with a handle, get it hung up!
5. Make your storage a stylish display
Rather than try and hide things away in cupboards, embrace all your bits and bobs and make a display of keeping them out on shelves. Cook books, chopping boards, mugs, teapots- they can all be left out on display, especially if they match your colour scheme. Incorporating a rail with open wooden shelves, just doubles up on the display possibilities.
6. Try a clever hack
This wall rack is actually a set of webbing-mounted bed slats hung from a couple of wall hooks. Just add S-hooks for hanging bits and bobs. It could also be handy in a bathroom, kids room, utility, office...
7. Kit out cupboards with storage solutions
Dedicate a kitchen cupboard to store all your household cleaning chore essentials out of sight. Utilise every inch in a tall kitchen cabinet or an under-stairs cupboard by kitting out the interior with hooks and racks so you can stash bulky items securely. Slide-out interior storage like this example at IKEA will give easy access to cleaning essentials, within the existing layout of your kitchen.
Metod/Maximera high cabinet with cleaning interior, £241, Ikea
8. Create a multi-tasking kitchen hub
Make family life run more smoothly with a strategically placed storage unit at the hub of your kitchen. Use Billy bookcases (£45 each, Ikea) arranged in a configuration that suits your space. Allocate different compartments for stowing kitchenware, paperwork, school kit and other daily essentials and then add a chalkboard panel on one side as a family memo board. Use chalkboard paint or buy self-adhesive panels.
9. Run a shelf above your splash back
Gain extra storage and display space in a kitchen by fixing up a length or two of shelving above the worktop. Paint shelves to match the wall colour for a sleek look and to give a contrast backdrop for displays of crockery and kitchenware. Add a row of cup hooks underneath shelves to hang tools and utensils.
10. Showcase everyday essentials
While there's a lot to be said for hiding clutter away behind closed doors, having favourite things on show gives heart to a home. Tableware looks good displayed en masse - whether its all-white china, decorative glass or rustic earthenware - and behind glass will keep it safe and dust-free. Arrange collections artfully so that shelves don't look overly cluttered. Stack plates, dishes and bowls together and cluster glasses, jugs and pitchers in groups with the tallest items at the back so that everything is easily accessible.
Glass display cabinet, £995, The White Company
11. Slot in a slimline larder
Make use of an empty alcove or recess in a kitchen by creating a built-in larder cupboard. Shallow shelves are great for storing jars and packets, just add a couple of crates or baskets at the bottom for storing loose items.
12. Build in shallow cabinets
If your tableware collection is a combination of hand-me-downs, charity shop finds and new buys, it might look a little messy out on display. Instead, store it in a tall cupboard with solid-fronted doors. Dedicate a shelf to each style to ensure order.
13. Make a display of jars
Free up cupboard space at the same time as making a stylish countertop display by popping dried food into glass storage jars. Arrange in height and size order. Create fun labels that say which pasta is your kids favourite or your family nickname for each shape.
14. Choose a multi-functional freestanding unit
Here's a neat kitchen storage idea - turn a kitchen trolley into a moveable work bench or cooking aid. Whether it's used to house glasses, bottles and decanters for cocktails or herb planters, oils, spices and a pestle and mortar, this is a great way to store special kit that you use a lot in your kitchen space.
15. Opt for open-shelving
In a shabby chic kitchen, storage doubles as a design feature. White painted open shelving - which mimics the look of traditional country dressers - suits the relaxed style of this kitchen, while providing a neutral home for the mix-and-match china and storage jars that add character to this room. Below the worktop and butler sink, panelled cabinets hide away bulkier kitchen items so that the space still feels tidy.
16. Hang pans from a rail
If your built-in kitchen storage is limited, free up space in cabinets by hanging colourful or patterned mugs and tea cups on a wall-fixed rustic wooden rack. Not only is this a practical way to utilise space – and always have a mug on hand for a cuppa - but it also makes an interesting decorative feature in a neutral kitchen space.
17. Consider a pantry or larder
A pantry or larder should be close to your fridge and freezer for instance, making it quick and easy to unload groceries. Likewise, in a dream kitchen scenario, china and cutlery should be stored near the dishwasher. It is usually a good idea to keep storage for glasses and frequently accessed items away from the main cooking area so as not to interrupt the cook while they're creating a culinary masterpiece!
18. Mix freestanding with fixed storage
Use more glass fronted cabinets or open-shelving in non-cooking areas to create a distinction between spaces and prevent the whole room looking like one giant kitchen. Mixing up freestanding and fitted furniture will also help define roles. Stick to one colour palette for a considered look.
19. Use a room divider as storage
The right storage system can double up as a room divider in an open-plan space. Solid, freestanding shelves, that reach almost to the ceiling and are open on both sides can be used to house pots and pans and more attractive serving ware plus dining table essentials.
20. Build storage into your furniture
Use your kitchen cabinetry to introduce a smart alternative storage solution. In this open-plan kitchen idea the back of the kitchen cabinet provides the perfect shell for open shelving, to offer the living room area display shelves.
21. Utilise wasted space
If you need small kitchen storage ideas, explore every inch of your room for hidden storage opportunities. Ceiling racks can be used to hang pans and utensils, while plinth-line drawers are perfect for stashing away baking trays and outsized cookware. There's no excuse for wasted space in corner cupboards any more – a carousel or swing-out Le Mans shelving create storage in the spaces your arms will never reach.
22. Reclaim your kitchen storage
The temptation to pack a kitchen with floor-to-ceiling storage can be really strong but, if you have a sizeable space or a streamlined selection of cookware and serve-ware, consider restricting your cabinetry to base units alone. This creates an airy, spacious feel.
23. Add a rack
Drawers might seem like a great place to store kitchen utensils, but it can be hard to find what you need in them. Instead hand a slim rail along the wall above the hob or by the sink, and use S-hooks to hang utensils.
24. Add in slide down storage
Getting to things at the back of the cupboard always runs the risk of the flour and oil clattering to the floor in a big mess. Make the most of your cupboard space by adding in secret storage such as this motorised shelving unit from Cabinet Plus, Magnet. All you do is touch a button and the unit will reveal itself, saving your rummaging in the cupboard for the balsamic vinegar or sugar.
25. Hide a charging station away in a drawer
A busy family kitchen design can quickly become a clutter of chargers, phones and iPads. Keep all electrical safe and out the was with a built in USB charging tray like this one from Magnet. It fits neatly inside a drawer, so come dinner time you have a perfect excuse to make sure all the family have put there phones away (to charge of course).
26. Integrate kitchen storage into your splashback
'The biggest trend at the minute is people wanting storage integrated into a splashback', says Mark Dyson of Enclosure Architects. 'This idea comes from the fabulous b3 kitchen by Bulthaup. You only have to add about 15cm to the back of the worktop to make space for spice racks, chopping boards and cleaning materials.
'If there's space in a partition wall use it to create a place for your toaster or radio. Conceal behind stainless-steel sliding doors for a really smart finish.'
27. Under-cupboard drawers
Eke out another few inches from your kitchen with under-cupboard drawers. Perfect for tea towels, trays, trivets or those utensils you only use once a year, these shallow drawers fit under the units where there is usually a plinth, making use of this otherwise redundant space. Try Ikea for clever devices like Exceptionell push to open drawers.
28. Make use of ceiling height
In period houses a kitchen ceiling can often be 2.7 to 3m high, so standard units fall short. Get a builder to create made-to-measure storage all the way up to the ceiling. 'You can then store lots of stuff in a space where you would normally only leave things to gather dust,' says Mark. 'It finishes the back wall of a kitchen off perfectly, too.'
How do you maximise storage in a small kitchen?
Think about what you actually need to store in your kitchen and try to relocate the items you rarely use to somewhere else (or get rid entirely!)
Vicky Silverthorn, professional organiser at You Need A Vicky, says, 'It's incredible how many gadgets and unnecessary items we own but can most definitely live without. An apple corer or an egg slicer's job can be done with a knife. Is the avocado storer used? The lemon squeezer a necessity? Does the popcorn maker actually get used more than once a year? Think hard about space versus how much you use these items and make some decisions. Don't forget many electrical items can be recycled or donated via certain charity shops and schemes so it doesn't need to go straight to the tip!'
You could also look at investing in free-standing storage such a dresser for plates and serveware, or a kitchen island to keep prep essentials in. Also think about what could be kept 'on display' and doesn't need to kept inside drawers and cupboards, such as pans hung on a rail or utensils kept in a jar on the worktop.
How can I increase my kitchen cupboard storage?
It's all about making smarter choices when it comes to storing your food and crockery.
Vicky advises, 'Look at adding extra shelving to the insides of cupboards, spice racks to the insides of doors and opting for stackable tupperware and pans that fit perfectly into each other. Plate shelves (in cupboards) are a great top tip and wire racks on walls have saved me lots of cupboard space too!'
Using a lazy susan style rotating tray will help you store tins and jars that you can then actually see easily and not forget about at the back of the cupboard.
Additional words: Holly Walsh
Get the Ideal Home Newsletter
Sign up to our newsletter for style and decor inspiration, house makeovers, project advice and more.
Jennifer is the Deputy Editor (Digital) for Homes & Gardens online. Prior to her current position, she completed various short courses a KLC Design School, and wrote across sister brands Ideal Home, LivingEtc, 25 Beautiful Homes, Country Homes & Interiors, and Style at Home.