Is the Smeg Personal Blender as functional as it is pretty? We tried the Instagram-friendly buy
Add a splash of colour to your kitchen while blitzing up healthy shakes and smoothies with the Smeg Personal Blender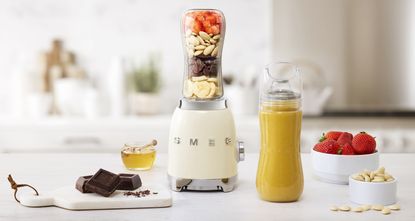 (Image credit: Smeg)
The Smeg Personal Blender is an eye-catching vintage 50s style blender that's fun and playful. It can whip up shakes and smoothies, but it can't liquidise hard or tough ingredients and it's pricier than the competition.
Reasons to buy
+

Colourful retro style

+

Two cups included

+

Compact on worktop

+

Simple settings
Reasons to avoid
-

Can't blend for longer than 60 seconds at a time

-

No on/ off button

-

Can't blitz tough ingredients into a smooth drink

-

Can only blend 4 ice cubes in a drink

-

Expensive
Why you can trust Ideal Home Our expert reviewers spend hours testing and comparing products and services so you can choose the best for you. Find out more about how we test.
Most people have seen the rather iconic Smeg 50s style fridges, but fewer people are aware of the matching range of small kitchen appliances. These super cute, curvy vintage-style appliances come in a range of colours and can add instant impact to a kitchen.
There's already a full-size blender in the range (you can read more about that in our best blenders guide), but this personal blender is a new addition. It comes in the same great colours so you can coordinate it with any other Smeg 50s style appliances you already own.
As a big smoothie and protein shake fan, I often swap my usual lunch or breakfast for a smoothie. And I'm no stranger to weird and wonderful combinations of ingredients - I'll add anything I can find laying around the kitchen - which means I've made some pretty gross smoothies in my time! I was interested to see how this blender could cope with a variety of ingredients, especially as it's pretty expensive in comparison to market leaders like Nutribullet and Ninja. Here's how I got on.
Smeg Personal Blender specs
RRP: £109.95
Watts: 300
Power cord: 1m
Blending capacity: 600ml (per cup)
Dimensions: 33.5 x 14.2 x 13.6cm
Blending speeds: 2
Accessories: 2 Tritan blending cups, blade assembly
Who tested this blender?
After completing a Home Economics degree, Helen went on to work for the Good Housekeeping Institute and has been reviewing home appliances ever since. She lives in a small village in Buckinghamshire in the UK, where she reviews all sorts of home and garden appliances for Ideal Home using her wealth of experience.
Helen reviewed the Smeg Personal Blender in her home, she was sent the product on loan for a week. In that time she tried out a variety of smoothies and shakes, using as many different ingredients as she could think of to put it through its paces.
Unboxing, setting up and first impressions
As is typical for a personal cup blender, this Smeg blender arrived in a neat little box. And when I pulled it out of the recyclable packaging, I was immediately struck by the bold red colour that I'd been sent for the review. The base comes in a range of colours including cream, black and white, just like the matching Smeg toaster set. But for the more adventurous it also comes in pastel pink, pastel blue and pastel green. I'd say these are the more love-it or hate-it statement colours.
Regardless of the colour you choose, the silver accents and streamlined curvy base give a look that's distinctly recognisable as part of the Smeg 50's style range. And if you like everything coordinated, you'll be pleased to know there are plenty of other kitchen appliances in the range, from kettles to juicers and even coffee machines.
On the front of the blender there's a dial to switch between the two blending speeds. But, notably it lacks an on/off switch. That's because you have to push down on the cup to start blending. You then have to keep pushing down until you want it to stop, at which point you can let go. It's worth bearing in mind that this won't suit everyone, those who are particularly short or people with hand, wrist, or arm issues may struggle to keep it pushed down.
There are two cups included in the box and they share one blade assembly. The cups are made of a clear plastic called Tritan Renew, which is dishwasher safe and made from 50% recycled content. Both cups come with a two part lid; the drinking spout, and the top cover that has a looped handle as well as a silicone seal to stop any potential leaks.
Everything is very straightforward and it's immediately obvious how it all goes together. You simply fill a cup with your ingredients, screw on the blades, invert the cup and push it down on the base. However, a quick flick through the instruction manual alerted me to some restrictions that I wasn't expecting.
Firstly, I was surprised to read that the manual advises adding no more than four ice cubes to any one drink. It also states that hard ingredients should be a maximum of 1cm x 1cm. Oddly, there's no mention of frozen ingredients, so I'm going to assume I can load it up with frozen berries. But there's no chance of making pesto or using it to crush nuts, as it needs to be at least 50% liquid to blend effectively.
The other big restriction is that it says you can only blend for 60 seconds at a time and you must wait for 60 seconds before using it again. And since there's not a timer on the blender, I'm going to have to keep an eye on the clock to make sure I don't go over.
What's it like to use?
For my first drink, I blended a breakfast smoothie from frozen banana chunks, almond milk, 3 tbsp oats and a scoop of vanilla protein powder. I blended it for 60 seconds on the higher of the two speeds to make sure the oats got completely broken down. The texture was like a lightly aerated milkshake, but there were some small gritty pieces of oat in the drink. So if you want a grit-free smoothie, you'd need to blitz it again.
The drinking spout is large, so you can glug even the thickest smoothies with ease. But when the outer lid is removed, I can't help thinking it looks a bit like a baby's bottle - but maybe that's just me!
Next I tried a carrot cake style smoothie that included a large grated carrot, cinnamon, nutmeg, raisins, a scoop of protein powder, 1 tbsp flax seeds, ice, and almond milk. I blended it for 60 seconds, but at the end I could still see flecks of unblended raisin and flax seed. However, as I mentioned above, the manual says that after 60 seconds of blending you have to leave it for 60 seconds, before you can blend again - which is super frustrating.
Anyway, I followed the rules and waited 60 seconds before blitzing it again for another 60 seconds. At the end of this second blending cycle, I could still see unblended bits, but in all honesty I was too hungry and too impatient to go through the whole process of waiting 60 seconds before I could blend again.
The smoothie had a thick, pulpy and fibrous texture from the carrot and flax seed. But it wasn't until I got to the last few mouthfuls that I realised that virtually all of the raisins remained whole. They weren't even cut in half! I can't quite fathom how everything else got blitzed apart from the raisins, but it's safe to say I won't be adding whole raisins to any other drinks I make in this blender.
My next blend was a super thick spoonable smoothie bowl style smoothie. In fact, it ended up being too thick to comfortably drink out of the cup, so I did pour it into a bowl and eat it with a spoon. The ingredients were a whole avocado, 1 tbsp chocolate powder, 2 generous dessert spoons of peanut butter, 1 tbsp chia seeds, 1 tbsp protein powder, 4 ice cubes and I topped it up with milk to the max line.
Once again I had to blend it on the higher speed for two 60 second bursts with a 60 second rest between them. And at the end, some chocolate powder remained stuck to the base of the cup, but it looked worse than it was. And aside from a hint of grittiness from the chia seeds, it was well mixed, thick and very creamy.
My final smoothie was a combination of frozen cherries, whole almonds, whole cashews, desiccated coconut, vanilla protein powder and coconut milk. And by this point I was generally blending all smoothies on the higher setting for two 60 second bursts.
The smoothie looked well blended, there were some pieces of cherry skin suspended in the drink, but otherwise it looked quite creamy. The texture was gritty though, I could feel lots of pieces of coconut that hadn't been broken down and when I got to the bottom of the drink, there were some chunks of cashew and almond. But it was only really the last mouthful, so I wasn't too bothered.
To check for leakage, I left the full cup on its side for a few hours and not a drop leaked out of the lid, so it should be safe in your gym bag or work bag. But the looped handle on top can be attached to the outside of your bag, with a carabiner or similar style clip, if you'd prefer to keep it upright.
Cleaning
The cups and lids can go in the dishwasher, which makes it easy to give them a thorough clean. Although as long as you wash them out soon after using, they're not tricky to clean by hand either. The blade assembly is the only removable part that can't go in the dishwasher, but I found that a quick rinse under the hot tap was enough to get it clean as long as I did it immediately after blending.
The base doesn't tend to get dirty so it just needs a bit of wipe now and then to buff it up and keep it looking shiny. And while it adds a fun pop of colour to your kitchen, if you are planning to store it away, it won't take up much space in a cupboard or a deep drawer.
How does it compare to other blenders?
At around £70 the Nutribullet 600 Series is a significantly cheaper alternative. Granted, it doesn't add a colourful retro vibe to your kitchen, but if you can live without that, you'll get a more powerful 600W motor. It only offers one blending speed though and you'll still have to push down on the cup to blend.
The Ninja Blender with Auto IQ is currently the best personal blender in our round-up of the top-rated blenders. The RRP is £99 but it's often discounted and at the time of writing it was available for £79, which makes it more like one of the best cheap blenders. Its 1000W motor is more than three times more powerful than the Smeg, meaning it's a better choice for hard and frozen ingredients. Plus, with an on/off switch you don't have to push down on the cup during blending, so it's easier on your arms.
Should you buy the Smeg Personal Blender?
If you want to make pretty simple milkshakes or smoothies that don't include tough or challenging ingredients, you'll be fine with this blender. But if you like to make drinks with lots of ice, or if you're looking for a high power blender capable of crushing nuts, seeds and creating the silkiest of smooth smoothies, then this won't be the model for you.
Its colourful base and retro styling will be more appealing to some people than others. But it's worth pointing out that this is an expensive personal blender and you're paying for how it looks. So if you're planning on keeping it in a cupboard, you could probably save some cash and get a more generic looking model that's more powerful.
Get the Ideal Home Newsletter
Sign up to our newsletter for style and decor inspiration, house makeovers, project advice and more.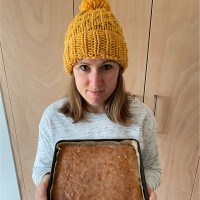 After completing a Home Economics degree, Helen went on to work for the Good Housekeeping Institute and has been reviewing home appliances ever since. She lives in a small village in Buckinghamshire in the UK.