Hot shopping: In bed with Kylie, Laurence, Kirstie and Zandra
Every fortnight we bring you our pick of the hottest home products based around what's going on in the world of celebrity and entertainment - this week we're between the sheets of some of our favourite celebs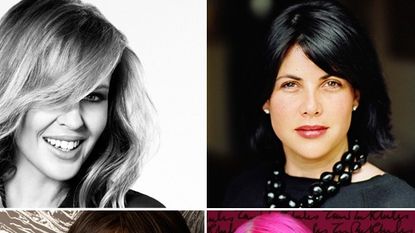 (Image credit: TBC)
Ideal Home Newsletter
The Home Of Great Ideas For More Than 100 Years
Thank you for signing up to . You will receive a verification email shortly.
There was a problem. Please refresh the page and try again.
Here at Housetohome we like to pride ourselves on our celebrity knowledge. So we decided to set you a little challenge. Can you match the celebrity up with their own-design bedlinen? Ah, go on, it's easy!
1 Lets start with exhibit A. First of all note the soft, feminine colour palette, the patchwork inspired pattern and the small house motif on the cushion.
This is a celeb who likes crafts, isn't afraid of a feminine colour palette and places importance on Location, Location, Location.
Who would design a duvet like this? Why, property-guru turned craft-queen Kirstie Allsopp of course! Give yourself a gold star if you guessed correctly. Hattie Bedlinen by Kirstie Allsopp, from £22, for stockists see Ashley Wilde Group. (opens in new tab)
2 Next up is this lovely, uber-girly design - note the pale pink satin, the glittery sequins and the tiny pair of dancing shoes casually discarded by the bed.
Who would you find spinning around in a room like this? Yes, of course, it's Kylie's brand new range.
Get the look when it hits stores next week. Evangeline bed linen by Kylie, from £16, House of Fraser (opens in new tab)
3 For your third gold star - this bedlinen is bold, bright and definitely not designed for a shrinking violet. Can you guess who's it is yet? Yup, this range was designed by the pink-haired design guru, Zandra Rhodes.
Put this on your bed and you'll instantly be transported to tropical climes. You might also need to wear a pair of sunglasses at all times. But then no celeb worth their salt would be caught without their shades anyway. Cosmo Bed linen by Zandra Rhodes, quilt cover set from £45, find stockists at Ashley Wilde Group. (opens in new tab)
4 And finally - no prizes for guessing this one. If the rich purple colour palette and baroque styling didn't give the game away, the dramatic roomset should have given you a clue.
Yes, it's Laurence Llwellyn Bowen's bedlinen for Littlewoods. We wouldn't expect anything less from the flamboyantly-attired Changing Rooms designer. Fabulous darling. Morocco duvet cover set, from £47, Littlewoods. (opens in new tab)
Loved this? See more great shopping ideas in our dedicated shopping channel. And for more decorating inspiration, don't forget to follow us on Twitter (opens in new tab) and find us on Facebook. (opens in new tab)