Step inside the 2016 House of the Year – Murphy House in Edinburgh
Murphy House in Edinburgh has been crowned the RIBA House of the Year 2016. We take a tour...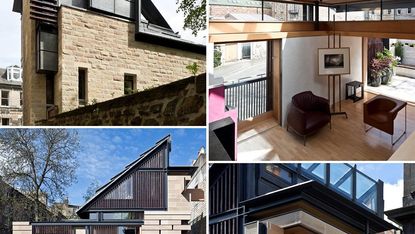 (Image credit: Future PLC/ Keith Hunter)
Ideal Home Newsletter
The Home Of Great Ideas For More Than 100 Years
Thank you for signing up to . You will receive a verification email shortly.
There was a problem. Please refresh the page and try again.
The Royal Institute of British Architects (RIBA) has revealed the winner of its annual House of the Year competition.
Step forward Murphy House, a five-storey beauty full of clever design tricks and hidden surprises in Edinburgh.
Designed by Richard Murphy, the house was built on an awkward plot at the end of a terrace, and was inspired by the owner's love of the late Carlo Scarpa, a 20th century Italian architect.
Described as a 'Wallace and Gromit' home, Murphy House has all sorts of hidden suprises. From a hidden bath in the master bedroom to sliding bookshelf ladders and a folding corner wall, this is the storage obsessive's dream home.
Richard, who runs Richard Murphy Architects, said taking the crown was a fantastic present for his company, which recently celebrated its 25th birthday.
"To receive this award is a wonderful present with such astonishing levels of public interest," he said. "It's our 21st RIBA award, and takes its place in a long line of awards for buildings small and large and for whole variety of types including domestic, educational, health, arts and a new British Embassy.
"It emphasises yet again that the practice demonstrates both great versatility and consistently high quality in all its work current and past. It's been a huge pleasure to develop a lifetime's themes and now it gives me great pleasure to live there."
Speaking about the winning property, RIBA President Jane Duncan said: "The Murphy House is this year's best example of how to overcome challenging constraints – from planning restrictions and an awkward site in an urban location - to build a stunning house. Plus the architect overcame one of the biggest obstacles: a demanding client – himself!
"Nearly a decade in the making, this house is a true labour of love for Richard. Part jigsaw puzzle, with its hidden and unexpected spaces, and part Wallace and Gromit with its moving pieces and disappearing walls, this is a model house of pure perfection and a worthy winner of the RIBA House of the Year 2016."