14 Practical Drying Rack ideas to dry clothes quickly and efficiently indoors
Save time, money and even space with our round up of savvy drying rack ideas, to get clothes dry, fast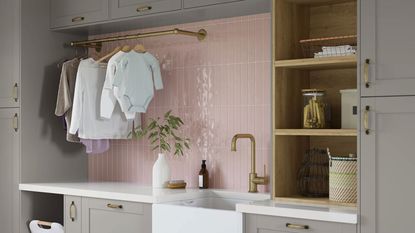 (Image credit: Magnet)
Drying clothes during the winter months, or if you don't have access to any outside space throughout the year, poses problems for many homes across the country. While those of us with utility rooms can utilise this space to dry our wet clothes, if your home doesn't include this dedicated space, the alternative is to use costly tumble dryers, or use drying racks set up around your home.
A budget-friendly substitute to the tumble dryer, is the best heated clothes airers, which will certainly speed up drying time and save on energy, but if you're really looking to keep costs as low as possible, then the humble drying rack is your answer.
Drying rack ideas for all spaces
A common problem for many households is a lack of laundry drying space. As we can't rely on the great British climate to make use of any outside space – with our unpredictable weather, the likelihood is that you'll need to do much of your laundry drying inside. That's where savvy drying rack ideas come in handy, to dry clothes fast.
Of course with many of us living in compact spaces or in house shares, or indeed having to launder for a brood of kids, a lack of drying space can easily become a regular domestic irritation. Before long you may well find yourself with more articles of clothing floating around than the local laundrette, with socks on radiators, sheets hanging from doors and towels lingering on the banisters. A home looking like a laundrette is never a great look when unexpected visitors drop in.
To solve the dilemma we've found some fabulous drying rack ideas for happily hanging laundry indoors.
1. Swap a rack for a rail
While a drying rack typically offers more space to dry clothes, it can sometimes mean your clothes end up with creases and drying marks on them. So to avoid these, hang items like shirts and dresses onto hangers and hang from a slim rail in your kitchen or utility space.
Not only will they then dry without big creases, it means they are ready and on hand to iron and you won't be scrambling around to find hangers mid-iron. A hanging rail could also save you space and will ensure a successful utility room design.
Accstore Metal Clothes Rack
This sleek clothes rack in matte black will hold plenty of your garments while they air dry.
Perfect for neutral bedroom ideas, this white rail is compact, but will easily hold clothes while they dry.
2. Work a hanging rail into your utility space
Rather than having to move your wet laundry from your utility room to another area of the house, work in a hanging rail above worktops to hang your clothes to dry them. One of the top utility room design mistakes is not leaving room to sort your laundry, but a hanging rail will allow you to hang delicates straight from the washing machine.
3. Wall mount a laundry ladder
Smart wall-mounted wooden drying racks are ideal for laundry rooms and bathrooms. A great space saver, simple laundry ladders also look stylish and utilitarian, plus fold flat when not in use to take up minimal space.
'Incorporate a drying rack into your utility space so you've somewhere to air clothes when the weather's bad,' says storage guru Vicky Silverthorn of youneedavicky.com.
'Slatted shelves are also handy for storing freshly-laundered linens as slats allow air to circulate so washing won't get damp.'
Collapsable Clothes Drying Rack
Hang a handful of clothes at a time on this drying rail, and you can collapse it when it's not in use.
Wall Mounted Laundry Ladder
You can save space with this fold-up wall mounted ladder, with perfectly sized racks for holding clothes.
4. Extend to maximise drying potential
Choose a wall-mounted drying rack to utilise vertical storage. Go one further by choosing an extendable drying rack design that can be pulled out to offer all the drying capability a full loaded washing machine needs. Utilise every nook and cranny to make your utility as efficient as possible. Use a recessed wall to make even better use of otherwise unusable space.
5. Collapse and store out of sight
A collapsable drying rack is ideal for storing out of sight and this Folding clothes horse, £45, Garden Trading is ideal for smaller homes. There are two height options so it can adjust to fit any living space, and can be used both inside and out.
You could even try throwing a fitted sheet over the rack to help speed up the drying time, as it's a hack that's deemed popular on TikTok.
Once your clothes are dry you simply fold it down to a compact concertina shape then store it out of view under a bed, in a cupboard or in a utility room.
A rack with fold out wings like this one from Dunelm will help dry your clothes without taking up much space.
To save on space, opt for a tall clothes dryer that collapses, like this three tier one from John Lewis.
6. Save space with a suspended clothes airer
It's not new or revolutionary, but the Sheila Maid clothes airer, £88, Amazon is a style that's been popular in Britain for well over 100 years. A great place for it is on the ceiling above your staircase – high up and out of the way. The space-saving solution is simply lowered down using a pulley rope system, making it easy to retract out of the way when not in use – ideal for small kitchens or utility rooms.
7. Look for hotspots
Speed up the dying process by seeking out the hottest point within your kitchen or utility room, and placing your airer there in order to make use of the warmth. If your home is lucky enough to use AGA make the permanent heat serve as a hot air dryer for your laundry. Simply hang a traditional clothes airer above the stove to benefit from the heat below.
Of course don't forget to take the washing down before you start cooking tea, because the smells will be absorbed into the freshly laundered washing!
This ceiling mounted rack can be fixed in your kitchen or above a radiator to make the most of the heat.
Portable and compact, this white drying rail can be easily attached to any fixture in the house.
8. Fill ceiling space above work surfaces
Make your drying rack work within the existing layout of a room. Suspending a rack above a work surface without higher level cupboards provides the perfect place to rest a laundry basket or pile of items ready to hang. On a practical level this means you're not bending down more often that necessary when hanging the washing out. It also means you are making the most of the space, by utilising the unused ceiling above.
9. Utilise the smallest of spaces
No matter how attractive your hanging solution (and in the case above it's pretty good!), no one wants laundry to overtake the house – even in a dedicated utility room.
Choose a triangular shaped drying rack to tuck perfectly into a small corner that is out of the way, so it doesn't feel too intrusive within the space. I
if you don't have a utility room this solution is ideal for use in any small living space but is great for hanging tea towels and dish clothes in a kitchen.
Free Standing Drying Rack
Ideal for corners and awkward spaces, this rack will get the job done while saving space.
Tuck this bamboo airer into any small space while it dries your clothes. It's stylish too.
10. Scent and dry clothes at the same time
Make your drying rack multipurpose by hanging dried lavender, or other fragrant stems, to gently scent the washing while it dries.
Another way of scenting your laundry is to make a home-made linen spray, by mixing a witch hazel or rubbing alcohol base, with some essential oils and even some fresh herbs such as rosemary or thyme. Give your solution a shake and lightly mist over your laundry as it dries.
11. Hang a rack directly above the washing machine
Make the laundry even easier by locating your drying rack as close to your washing machine as possible. If choosing a traditional pulley drying rack, use the ceiling area directly above your appliances to make it possible to hang directly from the machine, to save having to decant the load into a laundry basket to transport it around the house to hang elsewhere.
Jazz up the utility with a splash of colour on the walls and a fun sign to add character to the space.