How to make a bed runner
Follow Style at Home's step-by-step guide to making your own bed runner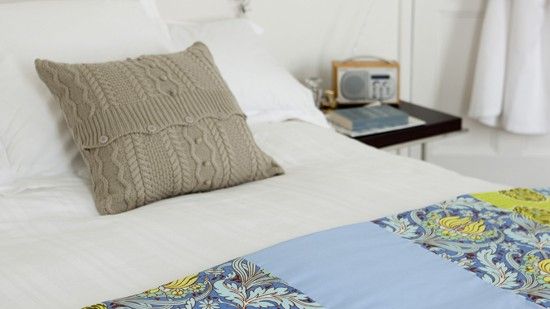 (Image credit: Future PLC/David Giles)
Looking for bedroom decorating ideas? Style your bed with an easy-to-sew bed runner. This pretty patchwork runner will add a boutique hotel look to your bedroom.
Takes
2 hours
Costs
£21.47
What you'll need
*Maison Essentials single sheet, £8, BHS (opens in new tab)
(opens in new tab)* Fabrics: Laurel Dots in Periwinkle (132cm x 20cm); Delhi Blooms in Lime (132cm x 20cm); Temple Tulips in Azure (132cm x 30cm); all £10.70 per m, Amy Butler collection, John Lewis (opens in new tab)
* 2m 270g wadding, £2.99 per m, Dunelm Mill (opens in new tab)
Tip
Cut up a single bed sheet to use for the plain sections for a chic but cheap addition.
Step-by-step guide
1) From the sheet, cut two 26cm x 52cm edge pieces, a 30cm x 52cm
centre piece and a 202cm x 52cm back piece. From the Temple Tulips fabric, cut two 52cm x 28cm pieces and from both Delhi Blooms and Laurel Dots, two 20cm x 52cm pieces.
2) To form a strip (plain edge, Laurel Dots, Delhi Blooms, Temple
Tulips, plain centre, Temple Tulips, Delhi Blooms, Laurel Dots, plain
edge), pin and machine-stitch the nine plain-sheet and fabric front pieces along their 52cm edges, allowing 1cm seams.
3) Cut the wadding into two pieces: 150cm x 50cm and 50cm x
50cm. Tack-stitch together to form a 200cm x 50cm strip. With the right
sides together, pin the patchwork front to the plain back piece. Machine-stitch together along two long and one short sides. Turn the right way and press. Insert the wadding and slip-stitch closed.
Looking for more craft ideas? Why don't you try making our Retro curtain and Pretty floral cushion.
Tamara was Ideal Home's Digital Editor before joining the Woman & Home team in 2022. She has spent the last 15 years working with the style teams at Country Homes & Interiors and Ideal Home, both now at Future PLC. It's with these award wining interiors teams that she's honed her skills and passion for shopping, styling and writing. Tamara is always ahead of the curve when it comes to interiors trends – and is great at seeking out designer dupes on the high street.