Best coffee machine of 2023 in the UK - 12 machines reviewed by coffee-lovers
We tried the 12 best coffee machines in 2023 to bring you our favourites for pod coffee, espresso and filter-style brews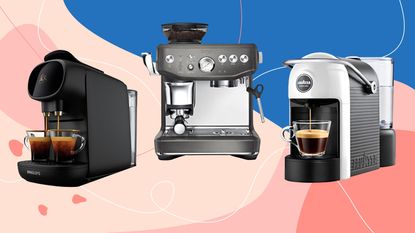 (Image credit: Future)
The best coffee machine can unlock your caffeine fix for you at home, and make mornings that bit more bearable. Whether your caffeinated drink of choice is an iced latte or an espresso, there's an appliance to help you get there, with features designed to secure the taste you want.
This guide features some of the best bean-to-cup coffee machines, the best pod coffee machines and more. There's also a range of brands including De'Longhi, Sage, Nespresso, KitchenAid, and Breville, and a selection of prices and styles to choose from.
The one thing these machines all have in common is that we've tried and enjoyed each of our top picks from our own homes and our testing facility, using them for a prolonged period to see how easy they are to use and clean.
Using our quick list below, you can skip straight to the one you want. Or if you're not sure yet, you can take your time mulling over all of your possible options with all the in-depth individual reviews we link to below.
The quick list
Searching for the best coffee machine but short on time? Look no further than our quick lists which has all of our favourite machines in one easy view.
Best coffee machine overall
Best coffee machine
Specifications
Best for : Dedicated coffee lovers with bigger budgets
Type of coffee: beans
Pressure : 15 bar
No. of cups: up to 2
RRP: £729.95
Reasons to buy
+
You can adjust grind size and volume
+
Excellent espressos
+
Top tier milk steaming abilities
+
Formidable design for your kitchen
Reasons to avoid
-
Hugely expensive - an investment buy
The caveat that we have to get out of the way with the Sage Barista Impress is that it's a serious spend. At £729.95, this isn't a coffee machine in most budgets, but it might be one to daydream about or save towards if not - thanks to just how incredibly good it is at making coffee.
The unique selling point of this particular machine is the in-built grinder to give you elevated control over your cup of coffee. For coffee lovers, it streamlines the process of getting your brew to exactly how you like it, with a lot less mess at the same time. During testing, our Head of Reviews Millie found the coffee she could make with this machine absolutely delicious, and she was extremely impressed by the steam wand too.
Read our full Sage Barista Express Impress review for more information.
Best affordable coffee machine
Best affordable
Specifications
Best for : Those on a budget who don't mind pod coffee
Type of coffee : Pod
Pressure : 19 bar
No of cups : up to 2
RRP : £109.99
Reasons to buy
+
Solid performance in testing
+
Nice design and a fair quality
+
Excellent price
With an RRP of £109.99, but with the opportunity to find this machine on sale for much, much less, we can whole heartedly recommend the L'OR Barista Sublime. In terms of cost per use, if you buy the XXL pods in bulk, it works out as around 30p per coffee. That's true value if you still want to have coffee at home admist the cost of living crisis.
Sure, there's also a small cost of running it added to your electricity bill, and the cost of buying a descaler once in a while, but overall we think it's well worth it because coffee is one of those small but important pleasures.
Our reviewer Millie found this machine to not only be excellent value, but easy to use and extremely convenient. The quality of the coffee can't be overlooked either, with Millie saying that this machine yields high-quality coffee, that wasn't too strong but not bitter either, and with a decent amount of crema. All in all, it's a certified bargain.
Read our full Phillips L'OR Barista Sublime review for more information.
Best coffee machine under £100
Best under £100
Specifications
Best for: strong coffee
Type of coffee: pod
Pressure: 15 bar
No. of cups: 1
RRP : £95.00