Best duvets 2022 – 8 bedtime buys for a good night's sleep
Whatever your sleep style, we've tried and tested the best duvets so you can sleep better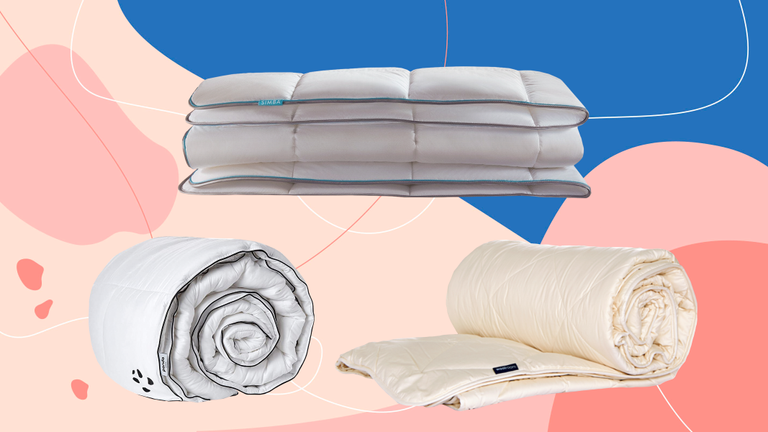 (Image credit: Future)
What type of sleeper are you? Do you overheat in bed? Are you cold under the covers? Or are you having middle-of-the-night duvet fights for extra layers? Either way, we've got you covered with the best duvets to help you sleep better. Though not just for the hot and cold sleepers, if you're not getting eight hours of essential shut-eye, then it's worth reconsidering whether your bedding is best for you.
Whether you're sneezing at night, struggling to store a growing range of bedding options or are just in need of a bedtime upgrade, our best duvet buying guide can help you catch up on interrupted sleep. From cooling to cosy, all-season to lightweight, luxurious to hypoallergenic, and even a duel duvet for you and your partner, there's a style for every sleeper. And we've tested them all.
Tried by various sleepers, with different needs, we've slept under a selection of duvets so you can choose what works well for you. Available in a variety of sizes, TOG ratings and materials, this list offers the best duvets at a range of great prices too. Because we know that finding the best bedding also needs to work with your budget.
Whilst you're in the market for better sleep, don't snooze on our best mattress guide. When it comes to getting comfortable in the bedroom, a duvet should be your second purchase, right after the best mattress.
---
The best duvets to buy in 2022
1. Simba Hybrid Duvet
Best overall duvet
Specifications
Sizes: Single, Double, King, Super King
Material: Stratos fabric and cotton
Filling: Simba Renew wadding - Recycled PET bottles
Tog rating: 10.5
Care: Machine washable at 40 C and tumble dry on low heat.
Reasons to buy
+
Temperature-regulating technology
+
Hybrid for all-season use
+
Eco-friendly
Jumping to the top of our list is Simba's hybrid duvet. From mattress specialists, this reversible duvet is double-sided, for all-season use. Due to its smart fabric technology, one side is made from Stratos fabric with cooling qualities and the other from 300 thread-count cotton for natural warmth. Upon testing, there was no doubt its technology did as it's supposed to, keeping us cool and regulating body temperature when used during the hottest summer months. Although it's worth us warning that the Stratos side did feel a little stiffer and more constructed than regular duvets - more like a mattress protector. But after a few nights of use, it did lose its 'out of the box' feeling.
Never heard of Stratos fabric? We hadn't either. Initially designed by NASA for astronauts, Stratos fabric utilises phase-change materials that absorbs, stores and releases heat when needed, to keep a steady body temperature all night long. Plus, it's machine washable. This clever technology paired with its 10.5 TOG rating (the only option mind), makes it the best duvet for all-round use.
The two sides sandwich a wadding filling called Simba Renew, made from recycled PET bottles. Taking their sustainability mission seriously with the use of recycled materials and emphasis on the provenance of their cotton, this hybrid duvet makes the ideal eco-friendly alternative to natural duvets. Whilst it may be one of the more expensive on our list, we think it's a great value for money swap.
Ideal Home's rating: 5 out of 5 stars
2. Scooms Hungarian goose down duvet all seasons
Best down duvet
Specifications
Sizes: Single, Double, King, Super-King
Material: 100% sateen cotton
Filling: 90% Hungarian goose down & 10% selected small Hungarian goose feather
TOG rating: 11.5
Care: Machine washable at 40 C
Reasons to buy
+
Luxury feel
+
3 in 1 for all-season use
Reasons to avoid
-
Most expensive duvet on this list
-
Down isn't the most eco-friendly duvet material
If you're in the market for luxury, and willing to spend for it, then Scooms' Hungarian Goose Down duvet is worth the investment. A 3 in 1 duvet that can be styled to suit your sleeping needs, we loved how you can use one of the two duvets separately or snap the 2.5 and 9 TOG together to be winter-ready. It is also available in a number of TOG customisations. Given its natural filling we expected this to have a weighty feel, and upon testing it did not disappoint. Luxuriously thick, almost like a weighted blanket we felt snug during the colder months. Separated for the warmer weather, we found this all-season duvet to bring luxury to every night's sleep.
Made up of two pieces filled with Hungarian Goose Down, this 11.5 TOG duvet provides the perfect all-season warmth. Pairing a spring/autumn 9 TOG option with a lighter summer 2.5 TOG to create a cosy 11.5 TOG winter duvet is the ideal bedding bundle if you love the luxury feel and want it to last all year round. Fix together with cufflink fasteners or store away in the storage bags provided, this is a one-stop purchase. Not to mention its naturally breathable and anti-allergy, this Scooms duvet is the best down option out there.
Ideal Home's rating: 4 out of 5 stars
3. Panda The Cloud Bamboo Duvet
Best sustainable duvet
Specifications
Sizes: Single, Double, King, Super-King
Material: 100% Bamboo
Filling: 50% bamboo, 50% Nano-Microfibre, made from recycled water bottles
Tog rating: 10.5
Care: Machine washable at 40 C and air dry
Reasons to buy
+
Eco- friendly
+
Suitable for all-season use
Reasons to avoid
-
Maybe too lightweight for some
-
Best for summer / warm weather use
Crafted from bamboo for both the covers and filling, this eco-friendly duvet takes the top spot for the most sustainable duvet. Organically grown and sustainably managed, Panda thrives on providing environmentally considered bedding. And we love bamboo just as much as Panda does. Upon testing, its moisture and odour-wick properties worked well for our tester whose partner suffers from night sweats. They endured uninterrupted sleep whilst both never being cold.
Providing the down feather feeling in a more ethical package, Panda's cloud duvet is a great eco-friendly alternative. It stands by its name, too! Light and fluffy, this duvet really is as soft as a cloud. Lightweight without losing warmth at 10.5 TOG, it feels cool but cosy all year round. Easy to sleep in and just as easy to care for, you can machine wash and naturally air dry in just half the time than other duvets. Though you won't have to worry about washing regularly either. Bamboo is both hypoallergenic and antibacterial, meaning the duvet will stay fresher for longer. Not to mention, this sustainable duvet comes with a five-year guarantee.
Ideal Home's rating: 4.5 out of 5 stars
4. Eve the warm:cool duvet
Best all-season duvet
Specifications
Sizes: Double, King, Super-King
Material: 100% cotton
Filling: Hollowfibre
TOG rating: 10.5 TOG + 4.5 TOG
Care: Machine washable at 40 C, if you have a drum big enough.
Reasons to buy
+
Affordable
+
Split TOG for all-season use
+
Practical for guest bedrooms
Reasons to avoid
-
Too big to wash together (unless you have a big drum)
Similar to the Simba hybrid, without the technical fuss, Eve's warm:cool duvet is split TOG, with one side a luscious 10.5 TOG and the other a light 4.5 TOG rating. Affordable and practical with easy access to either side of the sleep scale, this duvet is best for year round use. Although recommended for those facing the bed-sharer problem of being both hot and cold sleepers, during testing, we found this duvet works great for a guest bedroom. With the option to adapt the TOG based on who is staying, your guests are sure to get a great night's sleep. Especially, we loved the labelled sunshine and snowflake - there's no confusion over selecting your guests' ideal sleep temperature. And since each duvet is separate, it makes them easier to wash when necessary. But washing the two together? We couldn't fit both duvets in our small-medium sized washing machine.
This duvet really is for the best of both worlds, or seasons. No need to compromise on being too hot or too cold, it's practical for both sides of the bed. And no compromise on quality either, its hollow fibre filling is hypoallergenic, easy to plump, wash and dry. Plus its pure cotton cover is breathable for a blissful night's rest.
Ideal Home's rating: 5 out of 5 stars
5. Soak and Sleep British wool duvet
Best breathable duvet
Specifications
Sizes: Single, Double, King, Super King
Material: 100% cotton
Filling: 100% British wool
TOG rating: 4-7 TOG, 8-14 TOG
Care: Machine washable at 30 C, never tumble dry
Reasons to buy
+
Temperature-regulating and moisture-wicking
+
Eco-friendly
+
Handcrafted in UK
Reasons to avoid
-
All season option is quite expensive
If you're often too hot (or too cold) at night, like our tester, then this wool duvet might work well to regulate your temperature. Whilst you may think wool to be overly weighty and warm, when tested, we found this our best breathable duvet. And the reviews agree. Many love wool for its moisture-wicking and temperature-regulating properties. It's no surprise given wool's natural ability to create a personal micro-climate, absorbing and releasing heat as you sleep.
Sold in either a 4-7 TOG or an 8-14 TOG option, Soak and Sleep offer duvets suitable for both warmer and colder weather. At a higher price, you can buy an all-season option, which ties spring and autumn TOG duvets together for ultimate warmth. Buying the bundle may not seem so much of a spend when you consider its eco-credentials. Each duvet is handcrafted in the UK with nothing but British wool and cased in ethically sourced 100% cotton. Impressive! As claimed by Soak and Sleep themselves, these duvets are better for the environment and better for you too.
Ideal Home's rating: 4 out of 5 stars
6. Slumberdown Anti-Allergy 10.5 TOG duvet
Best anti-allergy duvet
Specifications
Sizes: Single, Double, King
Material: Microfibre
Filling: 100% Hollowfibre
Tog rating: 10.5
Care: Machine washable at 40 C
Reasons to buy
+
Affordable
+
Allergy UK approved
Reasons to avoid
-
Maybe too lightweight for some
-
Best for summer / warm weather use
If you suffer from 'home fever', also known as out-of-season hay fever, then this anti-allergy duvet is best for subsiding these symptoms. One of our testers is a martyr to home fever, so we were keen to test it out. There did seem to be less sniffing and an overall improvement when it comes to uninterrupted sleep. The hollow fibre filling does make the duvet lightweight in feel, but we found it substantial enough for cooler nights.
Not just tested by us, this anti-allergy duvet has a leading expert Allergy UK Seal of Approval. Specifically made with synthetic filling to help reduce the build-up of dust mites, bacteria and fungus, it's top in its market for those sneezing and itching at night. At a surprisingly affordable price and great for all-year use at 10.5 TOG, it's a great synthetic alternative to keep allergies at bay.
Ideal Home's rating: 5 out of 5 stars
7. Woolroom organic washable wool duvet - medium
Best wool duvet
Specifications
Sizes: Single, Double, King, Super-King
Material: 100% unbleached organic cotton
Filling: 100% organic British wool
TOG rating: 7-10 TOG equivalent
Care: Machine washable at 30 C, never tumble dry
Reasons to buy
+
Traceable, high-quality British wool
+
Entirely organic
Reasons to avoid
-
Only suitable for winter / cold weather use.
-
Can only wash on a wool cycle, with wool detergent
Fully traceable, organic and of the highest quality UK wool, it's no surprise Woolroom has the best wool duvet. If you've previously used synthetic or natural duvets, like our tester, you may find a wool duvet weightier than you are used to. Though not fluffy and thick like a feather or down duvet, this duvet has a flat, thin profile. Like a bedspread or weighted blanket, we found it felt reassuring when underneath, and we found it looked beautiful when draped over the bed.
Woolroom are experts in wool, and hand select the most appropriate wool for product use. Like Soak and Sleep, their duvets use 100% British wool from UK farms. However, in developing a traceability programme, Woolroom are able to track its wool from the finest farms through the finished product, ensuring no artificial fibres are mixed in along the way. Being entirely organic, it is at a higher price point. You should treat this duvet with care - Only wash on a wool cycle, with wool detergent, and line-dry for the best results. That being said, one of wool's many great qualities is its self-cleaning properties. You may have to wash with care, but not as often as you would for other alternatives.
Ideal Home's rating: 4 out of 5 stars
8. Silentnight Yours and Mine Dual Tog duvet
Best duvet for couples
Specifications
Sizes: Double, King
Material: 100% polyester
Filling: 100% polyester
Tog rating: 4.5-7.5 TOG / 10.5-13.5 TOG
Care: Machine washable
Reasons to buy
+
Affordable
+
Temperature-regulating
+
Split duvet for all-season use
Reasons to avoid
-
Lightweight, not weighty enough for some
-
Not available in single or super-king
A great solution for different sleepers, Silentnight's unique two-tog design features a higher rating on one half and a lower on the other, making it the best duvet for couples. Tested by two sleepers who struggle to harmonise their sleeping temperatures, the combination of a warmer, winter and a light, summer side was an agreed advantage. Whilst it is on the lighter side, they both slept through the night, without having to reach for an additional layer (or stick a leg out for air).
So if you or your partner aren't getting the best sleep, whether they're waking up with nighttime sweats or sleeping soundly whilst you're too cold for comfort, then this may be the duvet of your dreams. It's not available in single or super-king size however. Whilst it makes sense for a single bed to not need a duvet for couples, some super-king bed owners out there, might be missing out. Nonetheless, next time you're waking up tired because your partner insisted on a duvet that didn't quite suit your needs, consider a dual tog duvet because you both deserve the best night's sleep. Without having to overspend either, it's worth a duvet upgrade for the both of you.
Ideal Home's rating: 3.5 out of 5 stars
---
How to buy the best duvet for you
From down to feather-filled, anti-allergy and washable, simply choosing a duvet can be a bit of a nightmare. And that's just variations in filling! There's size, TOG rating and price to consider too. It's worth knowing what will work best for you ahead of pressing pay, so that you can make the process of finding the best duvet a little more dream-like. We've got you covered with knowledge and know-how so you can source a good night's sleep.
How do I select a duvet inner?
First, there's filling. Before the bedding jargon of goose, duck and other bird type fillings, it's important to differentiate between natural and synthetic fibres. Natural duvets are the more expensive option, either filled with wool, feathers or down for a luxurious feel. But if you suffer from allergies, then it's important to opt for synthetic duvets, made from microfibres that are often anti-allergy or hypoallergenic. These are also usually more budget-friendly.
Natural duvets
Down-filled duvets: Made with fluffy feathers from the breast of the bird, down-filled duvets are lightweight and known to offer the best level of warmth. If you're willing to invest in keeping cosy, then Hungarian, Swedish or Danish down are popular as their filling is designed to keep you warm in extreme cold.
Feather filled duvets: As a slightly cheaper option, feather-filled duvets are made with larger and stronger feathers that result in a weightier feel.
Wool-filled duvets: Not only does the softness of wool fibres set it apart from other types of fillings, but it's also a natural insulator. A breathable fabric, with temperature regulating capabilities, wool is great for keeping you warm in winter and cooler in the summer.
Synthetic duvets
Microfibre: For the same luxurious feel, at a fraction of the cost, microfibre duvets are a great affordable alternative to natural-filled duvets. Made using extra-fine fibres that give a lightweight feel, this synthetic duvet option is perfect if you're wanting an allergy-friendly duvet that doesn't sacrifice quality.
Hollowfibre: Filled with hollow fibres that are thicker and denser than microfibre, hollowfibre duvets are practical and hardwearing. Often coated with anti-allergy treatment and machine-washable, they are long-lasting and easy to care for.
What's the difference between anti-allergy and hypoallergenic?
Whilst often used interchangeably, they do differ in meaning. Hypoallergenic refers to the duvet being less likely to trigger allergies. Anti-allergy means the duvet has been treated to combat the development of dust mites and protect against allergens. So if you're needing a duvet to fight off symptoms, then be sure to select anti-allergy as your battle player.
What is TOG?
A tog is a measure of how effectively a duvet insulates heat. The higher the tog, the warmer the duvet will be, ranging anywhere from 2.5 TOG, being very cool and lightweight, to 15 TOG being weighty and warm.
And what TOG rating should I choose?
The TOG rating you choose should be based on how hot you want to be beneath the covers. For example, a 3-4.5 TOG duvet is best for the summer months or for those who overheat at night. Great for the transitional months, duvets rated 9-10.5 TOG, often termed all-season duvets, offer a great middle-ground for trapping a little more heat on colder evenings. In winter, or if you find yourself shivering in bed, then a duvet with a 13.5 TOG or higher, is sure you keep your toes toasty under the duvet.
Most duvets come in a range of TOGs, meaning you can buy both a summer and winter duvet to alternate as the seasons change. Even more conveniently, some duvets can be attached together with poppers, buttons or ties to create a high TOG duvet; simply separate for a lower TOG when the summer heat arrives. This is a great solution if storage space is limited too.
It's also important to remember that TOG rating does not relate to the weight of the duvet. In fact, duvets filled with natural feathers or down contain better thermal qualities than their synthetic counterparts.
What size duvet do I need?
It's also important to make sure you select the correct size duvet. Whether you're looking for a duvet suitable for a sofa bed, an upgrade to go with your new mattress, or one for a guest bedroom, ensure you choose a duvet the same size as your sleeping surface. Buy something too small and you won't be covered in bed, too big and you'll be swimming in excess material.
Some companies make specialist duvets for cots and European sizes, as well as the general single, double, king and superking sizes. Always check the dimensions before buying new bedding for the best sleep setup.
---
How to care for a duvet
It's safe to admit not many of us wash our duvets, or know how to without fear of damaging its weight and softness. Whilst many are washing machine safe, some recommend different temperatures and cycles. Not all are able to go into the tumble dryer either. It can seem like less of a priority task with too many rules to follow. That's why we've called in some bedding and duvet specialists for their advice on how to care for your duvet.
How to wash and dry your duvet
Sally Bonser, spokesperson for Silentnight, says: "Caring for a duvet properly can extend its lifespan whilst also ensuring you get a hygienic and relaxing night's sleep". It's important to consider the material of your duvet to see how they wash best. Sally states "Hollowfibre duvets can typically be washed at home in the washing machine. If your duvet is of a high enough quality, it should stay fresh and clean after each wash and maintain its softness and bounce for a comfortable night's sleep. If you choose a natural feather or down filling, professional cleaning is always the best choice, as it's very difficult to get a naturally-filled duvet dry without specialist dryers and you may damage the comfort levels of your duvet".
For a wool duvet, Chris Tattersall, Clean Sleep Environment Expert and MD of Woolroom, suggests due to wool's natural moisture management qualities that make it difficult for bacteria or fungus to grow "simply hanging your wool duvet outside to aerate every two months is enough to keep it fresh and clean". If it's part of the machine washable range then "placing it on a wool or delicate cycle with a slower spin speed on your washing machine and adding specialist wool detergent, before hanging it out to dry is the best way to care for your duvet."
---
How did we test these duvets?
Since we're all different types of sleepers, with a different understanding of what makes the perfect bed, it only made sense to have more than one of our team testing out these duvets. From hot sleepers to cold sleepers, to sleepers who are sometimes a bit of both, we've tested these duvets to ensure there's one that works for you. Tried for several nights, and if possible, in a variety of temperatures too, we've managed to get a good idea of how each duvet adapts to different situations. We've even put them in the washing machine after use, and in some cases tumble dried them to see how they wash. This is an updated review, and some have maintained their place in our best duvets buying guide. After all, a duvet is something we use every day, so it's important to come back and review how long and well they've lasted.
Jaclyn Turner is our E-commerce Editor, overseeing sleep content. A regular at scouting out the best bedding buys, she knows what to look for when testing sleep products. She reviewed two of the duvets on this list, including our the most expensive Scooms 3 in 1 all-season duvet and Woolrooms organic wool duvet. Both of them passed the test for best. Specifically, Jaclyn pays attention to detail. She loves the "loops for attaching your cover" on Woolroom's duvet and the notes the fastenings of Scooms' duvet are "meticulously aligned".
Louise Oliphant is our Ecommerce Writer, using her knowledge in the bedding industry to help you source the best night's sleep. "As a 'home fever' sufferer, synthetic fibres and breathability are key when it comes to choosing a duvet. On a budget too, this affordable anti-allergy duvet is ideal for me, ticking all boxes for a sniffle-free sleep".
Lindsey Davis is the Homes Ecommerce Editor across Future Home brands and she reviewed our best-rated duvet. Since she often struggles to regulate her body temperature, the Simba hybrid duvet provided the ideal balance between lightweight and warm. "It leads to a rather structured feeling duvet, which some claim to be a bit on the heavy side, but as someone who uses a 13.5 TOG duvet in winter and doesn't like the overwhelming 'flump' of down, I think this is the perfect feel".
Annie Collyer is our Deputy Ecommerce Editor at Ideal Home. With two bedrooms in her London flat, Annie has tested two of these duvets, both of which are perfect for year-round use. The first duvet she tested was the Panda Cloud Duvet. "It's eco-friendly and super lightweight whilst being great for temperature-regulation. The other split duvet is the Eve warm:cool duvet that can be your choice of a 4.5 tog duvet, a 10.5 tog duvet or alternatively when both pieces are buttoned together, it's a cosy 15 tog. It's the best of both worlds and super convenient in terms of storage, especially if you prefer a thicker duvet in winter and a thinner duvet in summer".
Anna Cottrell is the Consumer Editor across Future Home brands. As someone who often struggles with being too hot at night, Anna loved Soak and Sleep's wool duvet for its breathability. "Switching to a wool duvet solved all the problems with being too hot at night. I find they're great for improving overall sleep quality for hot sleepers".
Louise Oliphant is the Ecommerce Writer at Ideal Home. Bringing a bunch of bedding expertise from her previous role in PR, Louise is eager to share useful sleep content, including what to look for, when and where to buy the best bedroom products. Think everything from gorgeous luxury bedding, to duvets that'll keep you at optimum temperature all night long. Aside from reviews to help get essential shut eye, Louise also writes shopping content for homeware items that'll add a decorative touch to your space.