The essential first-aid kit
Every home should have one – but what exactly should it contain? We pick the items you really need to be prepared for everyday incidents.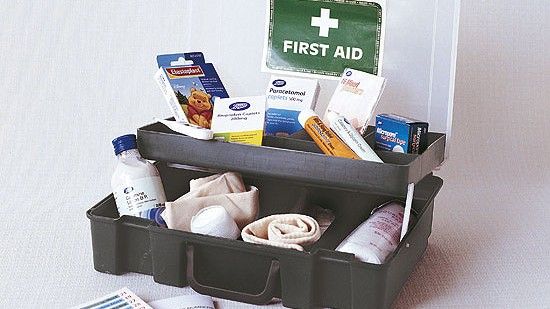 (Image credit: TBC)
Plasters - include a wide selection of shapes and sizes in both fabric and waterproof materials. Have both plain ones and some with coloured cartoon designs to help distract crying children.
Painkillers - Paracetamol and ibuprofen for pain relief (use liquid sachets for young children - check the age range first).
Tape - micropore adhesive tape is essential for holding dressings in place or protecting small cuts and bruises.
Antihistamine cream/tablets - to help reduce the effects of allergic reactions and insect bites.
Antiseptic wipes - ideal for cleaning wounds and grazes.
Cotton wool - good for applying calamine lotion and antiseptics.
Disposable gloves - vital for hygiene reasons if dealing with heavy bleeding.
Scissors - use sharp pointed ones for cutting bandages.
Safety pins - for securing large bandages and holding slings in place.
Tweezers - splinters are very common with children. Pointed tweezers will make removing them easier.
Emergency names and numbers - ensure you have an up-to-date list, including close relatives, your GP and local hospital. Include medical details for all the family such as blood groups and any allergies.
First-aid manual - handy as a quick guide to help you make the right decisions before treating ailments.
Sling - a triangle of fabric will support injured limbs.
Bandages/dressings - melolin padding can go directly onto cuts as it won't stick. Also include crepe and gauze rolls to go between the wound and bandage. Tube bandages will help support muscle sprains.
Calamine lotion - for soothing rashes, sunburn and chicken pox.
Thermometer - try to choose a digital design - they are more accurate and easier to read.
Choose a first-aid box that is clearly marked, waterproof, and has separate compartments for dressings and sterile items.
First aid box, £12.35, First Aid Warehouse
Need some DIY help? Hire a tradesman today with our handy tool!
Millie Hurst is Senior Content Editor at Ideal Home. She first joined the team at the start of 2021. Previously, she worked in women's lifestyle and homes news, writing about everything from budget kitchen makeovers and gardening tips to homeware dupes and cleaning hacks. Millie can often be found looking up trending terms, spotting news stories our readers need to know about and finding ways to decorate her rented flat.