19 Christmas card ideas – Creative ways to display yours around the home
Make a feature of well-wishes and seasons greetings sent from family and friends with these inspiring ideas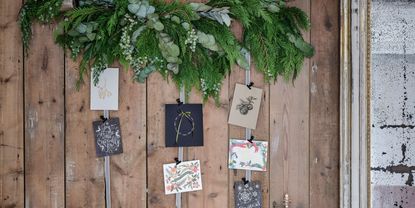 (Image credit: Future Plc/Tim Young)
There's always one that arrives in November, some keen Auntie somewhere sends hers earlier and earlier each year, but as December arrives, you find yourself with a growing pile of Christmas cards and in need of somewhere to display them.
That's where these inspiring Christmas ideas come in, more specifically Christmas card ideas and how to display them.
You could go for the traditional option of lining them up along the mantel piece but if you don't have one or don't like that look, then the flurry of ideas below should help you out.
Christmas card display ideas
From buying card holders to fashioning a display or making your own DIY one with lengths of ribbon, there's a wealth of creative way to show off Christmas cards. We explore some of the most creative Christmas card display ideas to show them off in our homes.
And who knows, maybe they'll inspire you to send off your Chrimbo cards super early this year and even beat your Auntie!
1. Hang from rainbow-bright ribbon
One for the colour lovers, or even the kids. Take lengths of satin and silk ribbons in all the colours of the rainbow and string up along a wall. Using colourful pegs, display your cards in a casual line-up, mixing the shapes, sizes and colours.
Make a real feature of your hanging cards, by surrounding them with a rainbow-coloured bauble garland, made by gathering baubles of the same colours and wiring together. It will add to the overall pizzazz and is a great DIY Christmas decor idea.
2. Attach to a star shape on the wall
This one is a great Christmas wall decor idea, as well as being one of our niftier Christmas card ideas. Take a long length of festively-colour ribbon and cut it into six equal pieces. You'll want the ribbon to be fairly thick in width, perhaps an inch. Next arrange these in a simple star shape and use drawing pins to attach to the wall. Then use mini bulldog clips or small wooden pegs to clip each card to a different section of the star shape.
If you're particularly popular and find yourself with lots of cards to display, make several stars for a wall in each room of your house.
3. Go for a garland as your base
A faux garland isn't just a great Christmas mantel idea. Choose a slimmer design and string it up over a window, down a wall or along a stair bannister. Then use gold paper clips to attach each card to the garland, leaving gaps for the foliage to peep through.
If you don't want to fork out on buying a new garland, try threading foraged pine cones and sprigs of fir (perhaps pinched from the back of your Christmas tree) onto rustic twine and clip your cards on to this instead.
4. Use washi tape to make a mini gallery-wall
Take your favourite selection of Christmas cards, or a set that works harmoniously together, and create a mini gallery wall, a fab Christmas craft idea. Using washi tape, stick your cards to the wall in a relaxed grid formation, then use the tape to make a 'frame' around the edge of each card. You could use a plain gold washi tape to frame all of the cards, or a patterned one to really create a jazzy display.
5. Go for greenery
Create a country-inspired display by incorporating fresh greenery into your display. Source a foraged branch, as well as a selection of greenery such as eucalyptus, evergreen, mistletoe and ivy and create a sort of swag. Attach this along the length of the branch and secure it in place with florists wire.
Next take a long length of striped ribbon and tie to each end of the branch so you hang it from a hook or nail in the wall. Cut three of five lengths of ribbon to hang vertically from the branch and then use small, black bulldog clips to attach your cards.
6. Drape ribbon over the back of doors
Doors are the ideal blank canvas to welcome a splash of yule time decorating and festive sentiments. Cut lengths of ribbon, choosing one to suit your wider Christmas decorating colour scheme, and pin them to the top of the door. A simple drawing pin will do the trick and be unseen to the eye, because it's on the top of the door – plus it won't leave any holes visible once removed.
Let the ribbons hang down the back of the door, you can choose to white tack these in place to stop the ribbons moving if the door is used – but if it remains open you should find the weight of the clipped cards will keep them in place.
7. Make your own DIY card holder
Create your own DIY card holder for displaying your festive best – all you need is a hoop and some ribbon. Choose a gold hoop, or simple paint a decorative one, to give the display a festive theme and simply cut to length strips of ribbon to dress the hoop.
The ribbon lengths form the 'ladder-like-runs' to peg your cards to to. Add a sprig of foliage for a stylish finishing touch and hang securely on a wall to show off your cards galore.
8. Arrange cards in a Christmas tree shape
Using white tac, Washi tape or masking tape, attach your Christmas cards to the wall or door in a triangle shape, replicating a Christmas tree. Try to use smaller cards at the top, getting progressively larger in size towards the bottom. Place a cut out star or star decoration at the top of the display to really give it that Christmas tree feel.
9. Line the shelves
Fill a dresser or kitchen cabinet with seasonal cards to welcome a festive touch to the kitchen. The shelves provide the perfect tiered levels to stagger a display, with the potential to hang cards from each one – as the shelf spaces starts to run out. Add faux foliage and simple decorations on each Shelf to enhance the festive look.
10. Peg cards to a vase arrangement
Create a simple seasonal vase arrangement using woodland twigs in a generous vase to hang baubles, fairy lights or Christmas cards from the branches. To attach cards to the branches simply use mini wooden pegs to enhance the rustic feel.
Dried twigs is an arrangement that requires no upkeep – no water needed, making it perfect for the lengthy festive period.
11. Tuck them into a window mirror
Make a hall mirror idea feel festive by tucking Christmas cards in around the edges. This work brilliantly with a mirror window, where the panes naturally provide a gap to place cards in gently. Alternatively, invest in an old pair of shutters that you can tuck Christmas cards into for a festive centrepiece.
12. Style on-trend shutters
Perfect for the cottagecore trend, this idea shows how distressed painted shutters can provide the perfect place to create a charming card display. A distressed green is the ideal complimentary festive shade to add a splash of background colour to enhance the festive display.
Whether using functioning shutters on a window, or sourcing vintage shutters purely for decoration this idea is sure to accommodate all your Christmas cards, plus act as a fab Christmas window decorating idea.
13. Hang from the bannisters
Make the most of a staircase by hanging them with Christmas cards. Choose a wide strip of ribbon and tie it to the banister in a big bow at the top and bottom, leave a long strip of ribbon running between the two. Attach the Christmas cards to the ribbon using bulldog clips in a complementary colour. Cluster the cards together for a full looking display and a wonderful Christmas stair decor idea.
14. Adorn a decorative display on wrapping paper
Get creative with the way you display your Christmas cards by opting for this quirky DIY effort using wrapping paper as a decorative backdrop. Use Washi tape to hang a piece of your favourite wrapping paper on a focal wall.
Next fashion a tree shape using ribbon and stick on hooks. Either drape your Christmas cards and Christmas decorations through said ribbon, or stick cards into place with blu-tack. Voila!
15. Create a Christmas card pinboard
Either use a pin board with a pretty frame and pin each card in a random, layered fashion or tie string across the frame and peg each card in a line to the string. The frames can then be lent on a shelf, mantelpiece or ledge and work in any sizes.
You can even have one in each room and colour code your cards to match a room or scheme.
16. Peg to a twig tree
If you're able to forage a fallen branch, or even just a few twigs, arranged in a vase or jar, they then become the perfect place to hang your Christmas cards from with pretty ribbons or twine. Or if the twigs are slim enough, use mini pegs to attached each card and then hang mini decorations in between each one too.
17. Make a card wreath
Wire ring card holders are a great way to create a wreath of cards that can they be hung from a door or propped up on a shelf. Just slot your cards between each wire shape, and either layer up the cards crossing over each other, or leave space between so you can see each card in full. A few hung together looks really effective and a great alternative to a fresh wreath.
18. Use a wire card holder
Using a wire card holder means you only need a shallow space to place it, and then its super easy to display your cards in varying heights and shapes. Put smaller ones in the middle, larger ones at the back and the rest can be placed alongside and in front. It can also be used again for birthdays, and other celebrations through-out the year.
19. Display in a hamper
If you're short on space, but still want to display your cards together, then making a feature of them layered up in a wicker hamper will allow you show off the prettiest ones but still keep them altogether. Intertwine with lights and ribbons for a twinkling display.
What is the best way to display Christmas cards?
There are plenty of ways to display Christmas cards, and they will certainly make you feel merry and bright. Think of them as a festive tool to make your home feel seasonal and jolly. While birthday cards tend to get displayed along a mantel or perhaps on a coffee table, Christmas cards end up spending more time on display, so you might as well make a feature of them!
Hang them in a window for passers-by to enjoy, stick them in frames to make a simple gallery wall, or line them up along shelves, weaving fairy lights among them to give a glow.
Just remember to recycle them at the end of the season, or cut them up to use a gift tags for the following year.
How do you showcase Christmas cards?
There a lots of ways to showcase your Christmas cards, whether you opt for a traditional look or not. It's all about making an eye-catching display of your cards, and remembering the message they convey too.
Ribbons, garlands, strings of fairy lights- they can all play host to your Chrimbo cards and up the ante when it comes to displaying them.
Whichever idea you decide to go with from our list above, don't forget to send some out yourself as at this time of year, it's all about sharing the love.
Get the Ideal Home Newsletter
Sign up to our newsletter for style and decor inspiration, house makeovers, project advice and more.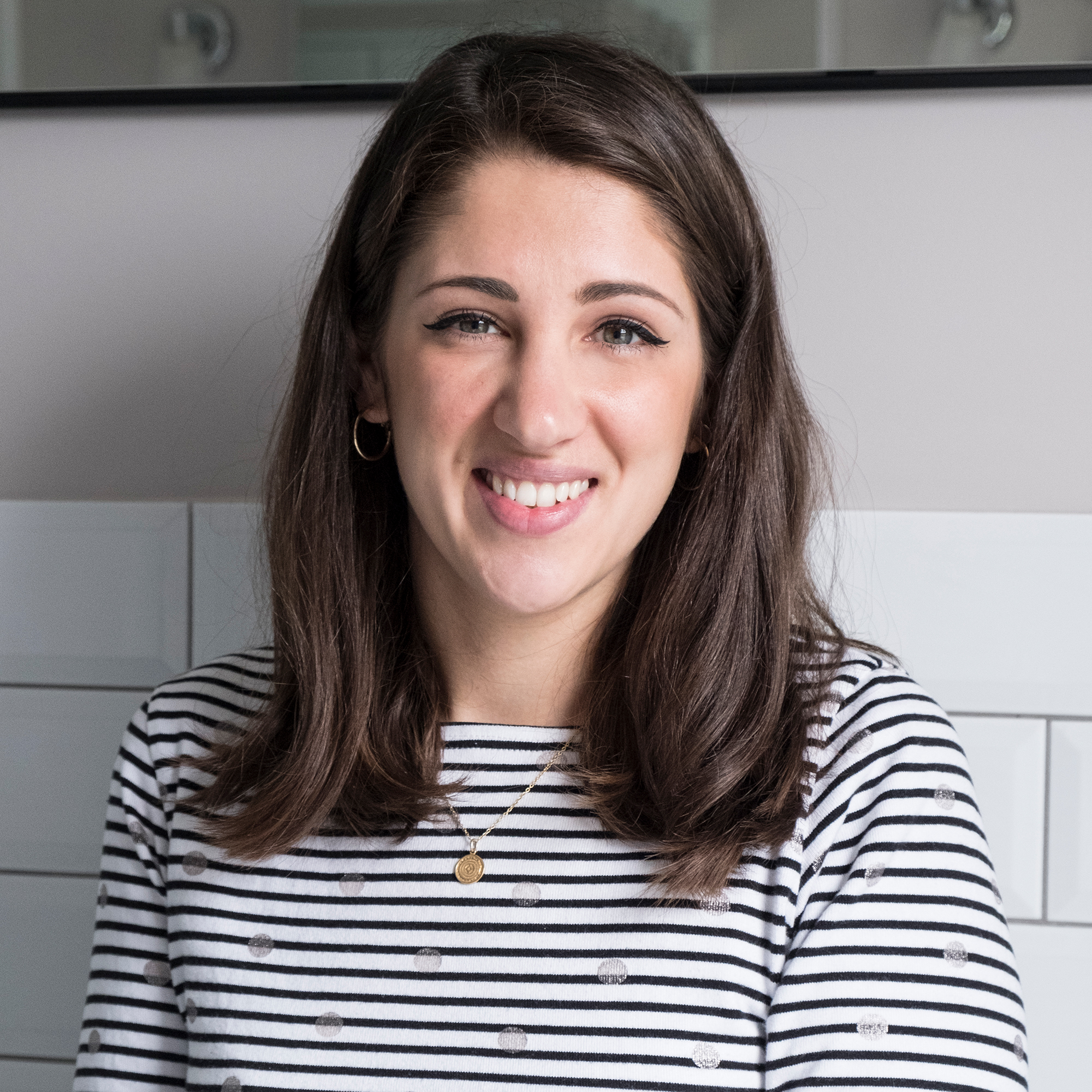 Holly Walsh has been Content Editor at Ideal Home since 2021, but joined the brand back in 2015. With a background of studies in Interior Design, her career in interior journalism was a no-brainer and her passion for decorating homes is still as strong as it ever was. While Holly has written for most of the home titles at Future, including Livingetc, Country Homes & Interiors, Homes and Gardens and Style at Home, Ideal Home has always been her ideal home, and she can be found sharing her expertise and advice across both the printed magazine and the website too.