Christmas window decor ideas to add a festive flair to the outside of your home
Don't forget about Christmas window decor ideas - it could be just what your home needs for the perfect festive finishing touch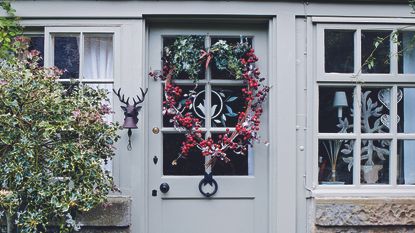 (Image credit: Future)
This year, it's not just about decking the halls with wreaths and a big tree, it's just as important to focus on Christmas window decor ideas that bring joy to those both on the inside and outside of your home. Window decorations are the perfect way to add more festive cheer to your Christmas ideas, and these creative window decor ideas will allow you to do just that.
'When decorating your home for Christmas, many people may forget to pay attention to their window space,' says Jo Trotman, marketing manager at the The Residence Collection. 'However, windows are the one part of your home that can be seen from the inside-out, and dressing them for the season can not only make you feel warm and cosy inside but can bring Christmas joy to passers-by walking or driving past your home.'
Christmas window decor ideas
Jo from The Residence Collection says the most important factors to consider when thinking about Christmas window decor ideas are:
1. Don't overcrowd the space
'Simplicity is key if you want to achieve a sophisticated look. Choose two or three key elements to dress your window, and make sure they're of various sizes. For example, mixing one larger decoration with a couple of smaller ones is a great way to ensure that they're not overpowering one another.'
2. Match your current interior
'It's a good idea to stick to a similar colour scheme and style that's already in your home, if you want the space to look cohesive.'
3. Use lights and candles
'Ambient lighting is key to festive decor, you can go all-out by choosing fairy light curtains that hang from the top of your window to the bottom, or a simple fairy light string draped over the top. A row of candelabras in varying heights on your windowsill make for a stylish look, and for extra peace of mind there are LED options available.'
4. Position your tree in the window
'Placing your tree in the window instantly dresses your windows without a fuss, but if space is an issue, why not place a smaller Christmas tree in front of your window instead? You can still decorate with baubles and lights, and pop it on a table in front of our window for extra height.'
5. Incorporate festive greenery
'You can drape a garland over the top of your window frame, just low enough for passers-by to see it, or place it along a windowsill. If you don't want to buy anything new this year, you can add Christmas decorations - think baubles, fairy lights or winter berries - to your existing houseplants to spruce them up for the season.'
6. Get involved yourself
'Decorating your windows for Christmas doesn't have to come at a price, as there are plenty of creations you can make from the comfort of your own home. You can create your own wreath quite easily, and you can even forage the items needed from your home and garden, such as berries, dried fruits, twigs, pinecones, or greenery. Another great DIY festive window decoration is simply gathering twigs - by popping them in a long vase and adorning them with fairy lights, you've created a festive centrepiece in a matter of minutes.'
1. Hang a festive bouquet
Mimicking a typical Christmas tree display on a smaller scale can be a great way to add colour and interest to your window space. Plus it won't require you buying new decorations you can just nab a few spare baubles and sprigs from your main tree, or outside. Hanging a bouquet is a homely way of making a focal point in your window, but they work just as well in a vase too.
Andrea Waters, head of brands, at Portmeirion says, 'Vases of flowers are often an overlooked element when it comes to decorating for Christmas, but they can bring a burst of festive colour to any room and complement areas which usually receive less attention during this season. Choose a statement vase to draw attention to your arrangement; metallic embellishments will reflect light beautifully, making this the perfect choice for Christmas when your house is adorned with fairy lights and candles.'
We love this faux hand-tied winter bunch from The White Company. It will look just as chic dressed up with baubles or on its own, all year round.
2. Use real winter foliage
Using winter foliage, both looks good and adds texture to your Christmas window decor ideas. Using evergreens will allow your foliage to last longer and herbs such as rosemary and parsley aren't just for cooking, they can also be used in your arrangement. They also work great as a Christmas mantel decor idea.
'One of my favourites to add in is real winter foliage such as fir, different types of eucalyptus and some winter berries,' says Becca Thurston, owner of British handmade brand Sewn. 'These add a wintery feel to a window from the outside and inside and with a natural colour theme the berries will add that pop of colour.'
'The best part about real winter foliage is you can hand pick it all yourself and not have to break into the bank to add some extra touches, they also have the Christmassy smell to them.'
3. Decorate with Christmas blinds
Thermal blinds are an easy way to decorate your window which not only adds festive cheer to your windows, but also helps keep cold out in these winter months. These Christmas Roller Blind, from £40.02, Blinds By Post provide added insulation and are also blackout.
Plus they are versatile and affordable so can be used during the Christmas season year after year. There are plenty of different designs from alpine tress to mini Santa's, and a variety of colours so matching it to your decor is a breeze.
4. Snow spray your decorations
If you feel like getting arty and want the freedom to create your own festive designs then snow spray may be the way forward as one of your Christmas window decor ideas. They can be picked up at most garden centres, or from £5.99 on Amazon. You can use the spray freehand and create your own designs, or if you would like more guidance, stencils are a great way to produce a nice design and handy if you want to create repeating patterns.
'Once you are happy with your snow spray window scene why not add that extra touch and light it up!,' suggests Keri Ackling, CEO, Snow Windows. 'Use cheap and cheerful LED lights which are really easy to buy or you might even have them in the house – most children's bedrooms have LED strip lights now! The LEDs will really make the snow spray pop and you'll be the envy of your street.'
5. Set the scene with large silhouettes on doors
Create an alpine scene with your outdoor Christmas decor ideas. As the trend for sliding or opening French doors on the back of home extensions soars, there's all the more window to decorate. Embrace this blank canvas of glass as a way to set the scene with an array of stickers depicting a seasonal winter wonderland story.
Advice for using window stickers. Wash your chosen window first to remove any dirt and grease. With the backing paper still in place play around with compositions by laying your stickers out on a flat surface. Once you're happy with the design remove the backing paper and smooth onto the window. Use a credit card or squeegee to remove any bubbles.
6. Illuminate windows with twinkling lights
Who doesn't love a set of twinkling fairy lights, whatever the season! Lights hanging in the windows offers a beautiful way to welcome warmth to your decorating scheme – for both inside and out. This delicate Osby Star Christmas Window Light, £32.99, Lights4fun is specially designed to frame the window perfectly to cascade floating star lights down the window pane.
Fairy lights never fail to do the job of creating ambience. Suspend strings of simple fairy lights by windows to benefit from the effect both inside and out. They can help to act as outdoor lights to do your bit for the street, without having to hang them out in the cold. From indoor they help to enhance the view, meaning whatever the whether your home will feel festive and cosy.
7. Hang homemade garlands inside the window frame
Make your own decorative garlands to hang inside window frames to add a decorative touch – whether you choose colour, foliage or sparkle, make your garlands fit with the scheme that suits your home.
Dried orange garlands are affordable and incredibly easy to make at home. Simply slice thinly, lay on baking paper and pop in the oven on low heat. It will take a few hours, but you'll be able to use them all around your home. They look great as Christmas tree decorations or attached to presents too.
8. Frame the front door with window decorations
Set the scene at the front door by decorating the window panes either side. Simple snowflake stickers or stencilled snow spray patterns are ideal to add a magical touch to the overall look of your Christmas window decor ideas.
Bring the whole decorating scheme to life with an array of outdoor Christmas lighting ideas to illuminate your garden or entranceway.
9. Decorate with snowflakes
You can buy simple stickers, designed specifically for the job – meaning they shouldn't leave a sticky residue behind once taken down. From snowflakes to forest scenes there's a captivating sticker to do the job for your window display.
Etsy is a great spot for finding stylish seasonal designs. With snow not always guaranteed in the UK over the holiday period, make your own snow instead.
10. String up seasonal bunting
If you're a big fan of a paired back decor then Christmas decorations might feel overwhelming. But fear not because they can be spectacular and subtle in equal measure. A simple string of bunting is enough to welcome a seasonal touch of added style, without adding colour and bling. Placing the bunting in a window goes a long way to extend Christmas cheer to the world beyond.
Traditional hessian bunting is perfect in a cosy country cottage or paired with neutral interiors and an elegantly-styled Christmas tree. Adding an adorable dog into the mix is never a bad idea either.
11. Cut out paper silhouettes
Like childhood crafts, make your own simple but stylish paper cutouts to adorn the windows. Stick with simple White Tack, so the paper cutouts are easy to remove and look as thought they stick by magic.
This is a great activity to do with your kids because you can let their imagination run wild and see what creative designs they come up with to add to your Christmas window decor ideas.
12. Fill window sills with colour
Another addition to you Christmas window decor ideas is to create a curated festive display on the window sill, that can be enjoyed both inside and out. From coloured tealight votives to mini decorated trees, set the scene with colour that will cast a warm glow.
You can go traditional with green and red, but golds and silvers also work really well if you want to break up some of colour with more neutral shades.
13. Get creative with cacti
As the plant of the year, it's only right that some form of succulent play a pressing role in festive decorating this year. This playful display sees mini cacti arrangements suspended on wires with a window frame, to float above the festive floral arrangements on the window sill, to add some greenery to you Christmas window decor ideas.
These simple plants are perfect, because they won't require watering in the time they are up over Christmas. Follow our Christmas Cactus care guide to care for Schlumbergera plants.
14. Make a garland of crackers
This idea is a little crackers perhaps...but doesn't it look fabulous! Simply string together two sets of crackers, tying a thread around each send of one cracker to the next. Hang the handmade creation across the window as your would a garland. Using shiny metallic crackers is a good way to catch the light and get them noticed from the outside too.
To save waste you could simply take these down on the big day to use around the table.
How do I decorate my window for Christmas?
Christmas is a time where you can be creative and get stuck into plenty of DIY Christmas decor. 'When decorating a window I always like to have an odd number of decorations especially with your statement decorations,' says Becca from Sewn.
'I like to do this because odd numbers are more appealing to the eye. I will always try and stick to a theme or a colour pallet and don't go overboard. I'd say to opt for more neutral decorations instead of bold colours, that way your decorations can last many more years and you won't tire from them.'
How do you dress a window with Christmas lights?
Christmas lights are the perfect addition to you Christmas window decor ideas. 'Place lights around the perimeter of your window frames, and it will most certainly achieve the festive ambience you are looking for,' advises Paula Boston, visual merchandiser at Festive Lights.' I've found that adding LED lighting or string lights in order to emit a warm glow can really enhance the overall look. However, when doing this ensure they are secured tightly to the window to achieve a sleek finish.
Equally, vertical lights hanging from the window frame can also be effective and add dimension to the room. Opt for lights with multiple flickering settings in order to achieve a range of different aesthetics over the Christmas period.'
How to secure Christmas lights to a window
'The best way to secure your Christmas lights to the window will depend on the type of lights that you're using and whether you're installing them indoors or outdoors,' says interior design expert Ryan McDonough from My Job Quote.
'For indoor Christmas lights, it is recommended that you use some small, clear adhesive hooks for threading the lights through. These can then be removed easily once the festive season is over.'
'When it comes to outdoor Christmas lights, you'll want to secure them with something a bit more sturdy. You can choose stronger adhesive hooks that are designed for outdoor use. If you want to hang your Christmas lights from the gutter so they hang down over your windows, you can get some gutter hooks which are easy to put up and aren't very noticeable.'
Get the Ideal Home Newsletter
Sign up to our newsletter for style and decor inspiration, house makeovers, project advice and more.
Tamara was Ideal Home's Digital Editor before joining the Woman & Home team in 2022. She has spent the last 15 years working with the style teams at Country Homes & Interiors and Ideal Home, both now at Future PLC. It's with these award wining interiors teams that she's honed her skills and passion for shopping, styling and writing. Tamara is always ahead of the curve when it comes to interiors trends – and is great at seeking out designer dupes on the high street.