25 kitchen wall ideas to decorate the heart of your home
Plain kitchen walls are the ideal blank canvas for styling – from plates to panelling, chalkboards to open shelving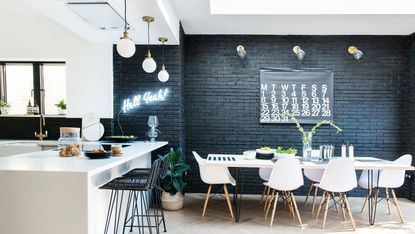 (Image credit: Future PLC / Colin Poole)
We often stumble when choosing our kitchen wall ideas, because for some reason it feels way more challenging than decorating the walls in our hallways and living rooms.
The kitchen is a highly functional space, usually with lots of wall cabinetry, and appliances. But filling these empty spaces in your kitchen ideas becomes easier when you treat it just like any other room in the house.
Hanging prints, family photographs or plates are popular ways to adorn blank kitchen walls, but you needn't stop there. Add interest and personality with kitchen wall decor ideas, like a neon light, a large feature clock, or even an eye-catching mural you love looking at. There are also ways to visually expand your space and bring a sense of warmth by incorporating a copper feature wall.
Kitchen wall ideas
Bringing your kitchen to life doesn't have to be expensive – we've found some cost-effective options if you're on a tight budget. Be inspired by our kitchen wall ideas and create a space that's personal to you.
'Kitchens are hardworking spaces, so practicality and durability often lead the conversation during the design process,' comments Ben Burbidge at Kitchen Makers. 'If you are working with the main wall in the space which is in the vicinity of the hob or sink then consider using an interesting splashback solution.'
'Tiles are a traditional choice and there are some beautiful decorative patterns and plains on the market, but you can also use other materials such as stainless steel, copper, brass, or granite for more modern kitchen ideas.'
1. Curate a display of plates
Follow interiors blogger Lisa Dawson's lead with a colourful display of plates collected over the years being transformed into kitchen wall decor ideas.
This is a budget-friendly way to put your stamp on the space and create something totally unique. Plus, even just a few look striking, meaning they work perfectly in small kitchen ideas. Pick up plates of different shapes and sizes in charity shops or on your travels for daily reminders of holidays to sunnier climes.
2. Bring the outside in with botanics
A bold patterned wallpaper makes a big statement in small kitchens, while also adding a sense of depth. Worried about the practicalities of papering your kitchen wall ideas?
'You don't need to use wallpaper specifically designed to resist moisture in your kitchen,' says Kerry McKenzie at wallpaper retailer Brand McKenzie. 'Regular wallpaper will work – just avoid using it behind the hob unless you intend to mount a layer of plexiglass over your wallpaper to protect it from food splashes.
'Kitchen wallpaper ideas won't last forever,' Kerry adds. 'Be prepared to redecorate roughly every five to six years – exactly how long the paper will last depends on whether it has a varnish coating and how good your kitchen ventilation is.'
3. Don't forget something vintage
Source some second-hand artwork at flea markets and car boot sales – or online – to soften the look of your modern kitchen ideas. A landscape painting in a gold frame will make your kitchen feel less 'kitcheny' and more like any other room, creating a more inviting and homely impression. As well as being stylish and unique, this is a great example of budget kitchen ideas, as you're bound to pick up some bargains.
Sarah and Sally Wilkie, Founders of Home Barn say vintage or antique pieces are a great way to add character, be it a print, photograph, or even just the frame. 'This will bring characterful charm into your kitchen, as each piece will have its own history or story before hanging on your wall,' they say.
4. Get creative with tiles
Use mismatched tiles as a way to add colour and pattern, arranging them to make a visually interesting feature. Arranging tiles in a herringbone pattern will also add a pop of interest as kitchen splashback ideas, or simply for decor.
'Any brick tile can be 'herringboned' but it works especially well with 'kit-kat' style brick tiles that are long and thin,' says Hannah Guilbert from Original Style. 'This is also a great way to introduce colour into a scheme while including some texture and interest.'
5. Add a metallic element
As an alternative to tiles, you could use metal sheeting to bring a metallic element into your kitchen – adding copper or brass will add warmth, while steel lends itself to a more modern and industrial look. 'Fitting metal sheeting to different spaces can be a fantastic way to rejuvenate your kitchen on a budget by making a statement above your kitchen sink ideas, stove or even in a home bar area,' says Leigh Start, operations director at The Metal Store.
'This is a much cheaper alternative to fitting tiles as you will save costs on installation, tile adhesive and grout. Plus, metal sheeting is incredibly low maintenance and easy to wipe down without the added hassle of keeping grout clean,' Leigh adds. You can attach a piece of metal cut to size with adhesive or a drill and screw fittings.
6. Visually expand with horizontal and vertical lines
Kitchen design is constantly evolving, comments Matt Phillips, Head of UK Operations at kitchen manufacturer Rotpunkt, and with today's busy lifestyles, it has become a space that requires easy, everyday use and lack of visual clutter. 'Interestingly, combining a series of horizontal and vertical lines will mean you can visually expand the height and/or width of your kitchen space,' says Matt.
This is ideal for how to make a small kitchen look bigger, or you want to emphasise the architectural features of your space, such as the windows or a bare wall.
7. Bring in textiles with a wall hanging
'Opt for a beautiful wall hanging to make a statement in a kitchen as it will naturally draw the eye of you and your guests to the space,' says Ann Marie Cousins from Yorkshire-based interior design studio AMC Design.
'Not only is this easy to instantly make an impact, but it can be easily swapped out later on if you choose to redecorate.' With some fabric glue, a wooden dowel and some string you can make your own out of a rug or runner, like this £30 one from Dunelm.
8. Choose a chalkboard to offer flexibility
Paint a section of wall with chalkboard paint, at Amazon to create a fun feature wall that's interchangeable and personal. Use a chalkboard pen or chalk to create a Parisian menu-inspired artwork one day, then fill the space with a motivational quote the next.
A chalkboard wall created from kitchen paint ideas is a lovely way to personalise your space with family names, as well as providing a handy place to write reminders and to-do lists. Even when wiped clean, a chalkboard adds texture to a pared-back kitchen scheme.
9. Embrace bare brick
An exposed brick wall makes for cool decor in it's own right! Perfect for period and contemporary homes alike, either strip it back to the originals, or if the bricks aren't in good shape, or you want to make a feature of an internal wall, opt for brick slips. Brick slips are thin slices of brick that can be added retrospectively to walls, to create the look of a bare brick wall.
To stop exposed brick walls looking too cold and bare, bring some life to it by hanging and displaying an array of houseplants along it, in a variety of colourful pots.
10. Make a display of boards
Got an impressive collection of wooden chopping boards? Then make a display of them to create stand-out kitchen wall decor, plus free up cupboard or surface space. Use screws fitted into wall plugs for your heavier boards, but for lighter, smaller ones, you could just use some transparent plastic hooks, or some brass nails that easily tap into the wall.
Play around with the orientation of the boards, so some are hung upside down, to create a stylish and whimsical display.
11. Fill your wall with open shelving
If you have lots of glassware, crockery and cookbooks, make a display of them by opting for open shelving that covers an entire wall of your kitchen. Not only will this mean everything you need is to hand, but it will also create an impressive display on your wall, and one that can easily be changed to suit your style.
'Open shelving, whether it's from reclaimed timber or chic minimalistic glass can really liven up a wall,' comments Looeeze Grossman from The Used Kitchen Company. 'Just don't worry about filling every inch of space. A well-positioned vase of flowers, candles, wine glasses, or even stacked crockery can look simple and chic.'
Worktop to ceiling kitchen storage ideas can easily be built by a carpenter, or even yourself if you're a dab hand at DIY. Add even more colour and personality to your kitchen wall, think about painting the shelves in bright colours to match your flooring or tiles, or even pop some wallpaper at the back of each shelf too.
12. Light up your wall with neons
Forgo traditional wall lights in your kitchen and opt for something that sparks a bit more personality and fun, like a neon light. Letters, words, slogans or even a line from your favourite song look super cool lit up in neon.
Think about choosing your lights in a colour that will really pop against the wall behind it. And don't be afraid to go big - small kitchen lighting ideas don't have to be small themselves, after all.
13. Super-size your shopping list
Make a giant shopping list or meal planner to display on your kitchen wall, by hanging a roll of brown kraft paper. Use a length of dowl or a wooden baton to support the roll of paper and hang on the wall with leather drawer pulls, like the Östernäs leather handles, £12 for 2, IKEA. Position the roll of paper so that it can be unrolled and written on, and use bulldog clips to weigh it down.
14. Add wooden wall panelling
Another kitchen wall decor idea is to add wooden panelling that can be in a shade to match your painted kitchen cabinet ideas. Tongue and groove planks are easy to attach either individually or in ready-made panels.
Once attached to the wall and painted, add a peg rail and shelf to create space to display crockery and accessories, giving your kitchen wall a striking new look.
15. Mount plates to display
Plates mounted to the wall can be cool. The roundness of these beautiful plates complements the bulbous kitchen island lighting idea, while the pattern breaks up the plainer elements of the kitchen. These artisan woven plates help add a beautiful element of texture to the wall, with texture playing a key role in emerging home decor trends.
You can buy smart adhesive discs from Amazon to secure to the back of any decorative plate, allowing you to hang your kitchen wall ideas with a concealed hanging.
16. Frame your favourite wallpaper
If you're unsure how to wallpaper a feature wall but love a wallpaper design, try framing small sections instead. Framed samples of vintage wallpaper makes for interesting alternative artwork that can tie in colour choices that feature throughout the rest of the kitchen.
Plus it's a cost-effective type of kitchen wall ideas and a great way of making artwork work harder.
17. Captivate with a large wall clock
Killing two birds with one stone, so to speak, a large wall clock helps to keep track of time while adding kitchen wall ideas. In open-plan kitchen ideas which are frequented by all the family, a clock becomes invaluable, because they say time flies when you're having fun!
This functional but attractive solution helps to ensure time doesn't get away from you.
18. Serve up a large-scale wall mural
Make a statement by going large with your chosen kitchen wall ideas design. A 3D Trompe L'oeil design, like the Dandy Spoons Wallpaper Mural, from £40, Surface View, will go a long way to add humour and a talking point to a family kitchen-diner.
Great for a smaller section of wall, a neutral background fills the rest and really lets the images pop, bringing them to life. Stylist tip: Think of your eye line. Position the mural so it sits just above the level of the table, so none of the detail is lost.
19. Inject personality with photos
Adding a personal touch, such as family photos, is also a welcome way to make any room feel comforting using kitchen wall ideas. The people and places that hold fond memories of fun times and travel offer an ideal conversation starter.
This is a great example of DIY kitchen ideas that doesn't cost the earth and offers a montage of memories.
20. Stick to a theme
From the kitchen wall decor ideas to the china, create real impact by choosing a theme – such as a coastal one. This popular maritime theme is popular for kitchens, given the seafood element that ties in seamlessly in a room where you prepare and serve food.
21. Add accent colour with wall art
A single piece of statement artwork can help to add bold accent colours to the kitchen wall ideas. If your kitchen colour scheme is that of on-trend dark grey or navy, you might be looking to lift the colour palette with hits of bright colour.
One statement artwork is enough to do that in abundance. As this fine example shows, the expressive wall art jumps off the wall to add an element of decorative flair.
22. Embrace a gallery wall element
To give the kitchen unprecedented style credentials a gallery picture wall is the ultimate in wall decor. This can be easily achieved on a budget thanks to the handy Mosslanda Picture Ledge, £5, IKEA. Simply mount one or two together to create a unique display space for all manner of prints and decorative items.
The beauty of using a picture ledge means you can mix things up and rearrange the displays whenever the mood takes you. As opposed to making holes in the wall to hang each frame independently.
23. Co-ordinate colours throughout
Even a busy kitchen can still sport kitchen wall ideas. The key is to coordinate colours to prevent the scheme from feeling overwhelming.
A fine example is this cheery wooden peace sign which uses mixed materials to effortlessly tie in the colours that run throughout the kitchen.
From the rusted tone of the exposed brick and leafy greens of the plants to the striking blue on the walls. The artwork adds interest to the wall but offers an element of camouflage due to its coordinated colours.
24. Dominate one wall with design prints
As you'd find in an art gallery, use one plain wall – preferably neutral in colour – to align matching framed prints. Artwork in a kitchen space can welcome a point of interest.
Using decorative artwork can help to add uncommitted accent colours that can be changed as and when the mood takes you. Art is a great way to coordinate a colour scheme through kitchen accessories, such as tableware or appliances.
25. Celebrate the written word on walls
You can never go wrong when quoting Winnie the Pooh and friends – it's a classic for feel-good and motivational messages.
An understated piece of text is a great way to add a touch of personality to your kitchen wall ideas.
What can I do with a plain kitchen wall?
'If I had a plain kitchen wall ideas, I would try and be practical with it – because, let's face it, there is never enough storage space in a kitchen – while making sure that it's still beautiful to look at,' says Abbie Ireland, Director at Patrick Ireland Frames.
'Shelves are perfect for kitchen wall decor ideas as you can lean framed artwork and photos next to some of your prettiest cookbooks. Indoor plants, or even better, kitchen herbs can also adorn the shelves. Just don't clutter!
'If practical isn't your thing, then get creative and hang a gallery wall; they are the perfect excuse to show off your eclectic mix of art. The framing of each piece is essential – in my opinion combining different styles and finishes can elevate a gallery wall beyond just the artwork.'
How can I make a kitchen wall more attractive?
"I buy artwork when I fall in love with it, so an obvious answer would be to find one of your favourite pieces and hang it!' says Abbie Ireland. 'Depending on the wall space you have, sometimes just a single, larger piece is all it takes.
'Another idea would be to find a mirror you love, or even better, have a bespoke one made to complement the style of the kitchen wall ideas. As well as being beautiful to look at, they are a great way of bouncing light around the room and creating a greater sense of space.'
What is wall decoration?
Quite simple it's anything hung from a wall that adds a decorative element. Whether it be a piece of captivating artwork, a metal sculpture-style piece, or even a length of fabric like a wall-mounted rug – anything goes. If you can safely and securely attach it onto walls, it can welcome a decorative touch.
Wall decoration can help to add colour where necessary, it can add a colour inject for an all-white colour scheme or act as an accent colour in a bolder navy kitchen ideas for instance. You can add texture with kitchen wall ideas, too, to break up the blank canvas of a bare wall.
What should I put on my kitchen wall?
That all depends on the style and scale of the kitchen in question. As we've shown from our ideas above, if you can wall-mount it then it's fair game to consider as kitchen wall ideas.
But there are lots of ways to decorate your kitchen walls, from panelling, to tiling, painting or artwork. It's all about getting creative and turning your vision into reality. With kitchens often being the hub of the home, it's a space you can have fun with and show some personality in too.
So what are you waiting for, time to get decorating with kitchen wall decor ideas!
Get the Ideal Home Newsletter
Sign up to our newsletter for style and decor inspiration, house makeovers, project advice and more.
Tamara was Ideal Home's Digital Editor before joining the Woman & Home team in 2022. She has spent the last 15 years working with the style teams at Country Homes & Interiors and Ideal Home, both now at Future PLC. It's with these award wining interiors teams that she's honed her skills and passion for shopping, styling and writing. Tamara is always ahead of the curve when it comes to interiors trends – and is great at seeking out designer dupes on the high street.