35 easy DIY Christmas decor ideas for a more creative, affordable and personal festive season
Deck the halls with these cheap and cheerful homemade projects – and create special memories in the process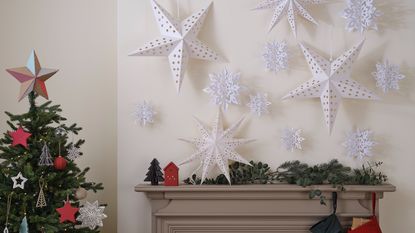 (Image credit: Hobbycraft)
Christmas can be an expensive time of year as we spend on presents for loved ones, food for a lavish Christmas dinner for the whole family and often travel to reach them. So the last thing any of us needs is splashing out on pricey Christmas decor (as tempting as it is). That's where our DIY Christmas decor ideas come into play.
Not only that going down the DIY route is the perfect budget Christmas decorating idea, it's also a great excuse to get creative and add a bespoke, personal touch to your festive decorations.
Christmas is a time to spend with family and/or loved ones and there is nothing better than a project that everyone (even the little ones) can get involved in and create memories together. 'For families with children, DIY decor can be particularly special as it allows you to create precious memories as well as pieces that can be hung on the tree year after year,' says Dayna Isom Johnson, trend expert at Etsy, as the site's seen a 17% increase in shoppers searching for 'DIY bauble kits for kids'. Apparently, it's in to DIY this Christmas. And we couldn't be more excited.
35 DIY Christmas decor ideas
There are so many benefits to creating homemade ways how to decorate a Christmas tree, your Christmas dinner table or alternative Christmas wreath ideas to craft from things you already have at home.
'Creating DIY Christmas decor gives people the opportunity to learn a new skill, whilst having an enjoyable time being creative,' says Rachel Fearnley from Rachel Fearnley Designs. 'Being able to decorate your home and work space with hand crafted DIY decorations enables us to be more conscious of the products we are using and the impact they are having on the environment. I fully recommend creating DIY Christmas decor because it is kinder to the environment, kinder to our finances and is good for our mental wellbeing.'
Who can say no to that? So here are our favourite ideas for making our own Christmas decor this festive season.
1. Tomato paste tube decor
You read that right. This year, Instagram and TikTok have gone crazy over DIY Christmas decorations made from emptied tomato paste tubes as their interior reveals a beautiful metallic gold finish similar to gold leaf or brass. Who knew something meant for the bin could look so luxurious?
'It's both a fun and easy material to work with,' says Frida Sömskar (@fridasomskar), DIY content creator on Instagram who's tried her hand at crafting Christmas decorations from this unexpected material. 'I think the most fun crafting material to use is what you have at home. And who would have thought that aluminium tubes had such a beautiful inside?!'
2. Updating plain clear baubles
'A really simple way to DIY is to use old decorations and give them a bit of a refresh,' says Rachel Miles, head of home and garden at eBay UK. Our favourite way to do just that? Upgrading some clear Christmas baubles with arts and crafts essentials you probably have at home already.
You can opt for the TikTok-famous Anthropologie bauble DIY dupe using plain iridescent baubles and filling them with acrylic paint. Or, you can create a speckled finish resembling Murano glass by filling the baubles with crayon shavings and heating them up with a hair dryer to melt them just like Natalie Minarich of @the.mini.crew has done on Instagram.
'I was trying to think of an easy ornament to make with my children, something that wouldn't be too messy,' she says. 'I'm always saving broken crayons and I thought it'd be a fun way to use them. It's super easy and fun! The kids love picking the crayon colours, they even help get the shavings and their favourite part is watching it spin around as it dries.'
3. Foraged decorations
The ultimate money-saving way to decorate your home for Christmas is by using seasonal foraged materials collected from forests, parks or even your garden. Whatever is available to you.
'Our gardens and local parks can provide some of the best festive decorations,' confirms Paula Sutton, interiors influencer of @hillhousevintage. 'Holly has been used for centuries as organic decorations at Christmas, but you can also use dried branches to hang baubles from as well as pine cones, fir tree branches and draped ivy.'
4. Unconventional paper decorations
Paper decorations are having a real moment this year as one of the hottest Christmas tree trends. But one of the most convenient ways to DIY them at home is by using things you might already have in your kitchen such as cupcake cases, paper doilies or coffee filters.
All you need to do is pick your material - make sure you have quite a few of them. Then fold each and glue them together before fanning them out. The paper doilies make the perfect Christmas stars or snowflake shapes like the ones Bethany Joy of @realitydaydream has made in her Instagram reel.
Meanwhile, the cupcake cases and coffee filters are ideal for round-shaped pompoms to turn into either singular baubles or a garland.
5. Chain garlands
Paper chain garlands are a nostalgic classic that everyone will probably remember making from their childhood. So why not create the same fond memories for your little ones? And even better, you can further elevate the timeless design.
'A favourite seasonal decor of mine and something that is easy to make is garlands – paper or fabric there are a lot of options to choose from,' says Rachel of Rachel Fearnley Designs. 'The garlands can be printed, stitched or even painted and given an extra festive nod with embellishments. Alternatively, try making a garland out of old books, it's quick and eye-catching. What's more they are both likely to become a talking point when family and friends visit too!'
6. Air dry clay decorations
Pottery can be an intimidating craft to get into. But working with air dry clay is surprisingly easy. And so is making pretty DIY air dry clay Christmas decorations. Whether it's ornaments to hang on your tree or elevating your gifts with handmade gift tags stamped with the receiver's name, this is one versatile material. Just cut out or mold you desired shape and then let air dry. It's in the name.
And if you fancy, you can then paint it with some acrylic paint.
7. Milk carton light-up houses
Ceramic light-up houses are a big trend this Christmas season, which we've been seeing in Christmas collections of all the major retailers. But what if we told you that you could DIY your own Christmas village using empty milk cartons?
'I remember really wanting a Christmas village but my kids were so small and I knew they would want to play with the houses,' says Sibia Torres, DIY and crafts content creator of @sibster on Instagram, who inspired this DIY hack in our eyes. 'They would probably get broken so I decided to save up juice and milk cartons instead. They already kind of look like little houses to me. We painted them white and added roofs and we had a diy toddler proof Christmas village. Now they're a bit older but it's still one of our favourite traditions!'
8. Make berry-filled lanterns
Brighten up your Christmas mantel decor or hallway console table with this Scandi-style lantern in festive red and white. Super-simple to put together, You could swap the berries for greenery and mini pine cones if you prefer a more muted, natural look.
Start by popping a small tumbler inside a large glass vase. Place a pillar candle inside the tumbler and then surround the base of the vase with red Christmas cranberries. Finish off with a length of stripey ribbon wrapped around the outside and tied in a bow.
9. Try a fun pompom wreath
Jolly up doors, windows or mirrors with a colourful pompom christmas wreath idea made using up leftover yarn from knitting projects. Choose three complementary coloured wools and start by making your pom-poms - you'll need around 12 in each of the different colours (36 in total).
Take a wire ring wreath base and wrap with hessian ribbon to cover it. Tie a length of yarn around it to form loop for hanging. Then start attaching your pompoms - there should be a tail of wool hanging from each, use this to stitch them onto the hessian, alternating the colours as you go. Once covered, make a bow from the hessian ribbon and glue gun into place before hanging.
10. Personalise place settings
Wrap mini boxes filled with a festive gift to use for dinner table place settings and as a takeaway treat for guests.
Use co-ordinating giftwrap and ribbon that complements your table theme or give the packages a personal touch by making your own printed wrap on a computer using your guest's name or a fun festive greeting. Finish off each gift with a sprig of foliage or berries.
11. Make festive gift toppers
A roll of plain brown or white paper stashed in the cupboard is a good standby Christmas giftwrap idea that can be used if you run out of Christmas giftwrap (and for birthday's too). Plain paper is cheap to buy and super-easy to jazz up with home-made decorating ideas.
Make plain paper parcels look festive by tying with colourful striped and spotted ribbons, with sprigs of eucalyptus and berries as a topper. Luggage labels are another stationery standby that can be prettied up with rubber stamps or hand-drawn design. Or bring out the trusty DYMO label maker and make name tags or festive slogans to decorate your parcels.
12. Craft easy paper crackers
Make pretty paper crackers to brighten up the festive dinner table. Use remnants from your craft stash or opt for hand-picked papers in colours that complement your Christmas decorating scheme.
Cut a piece of crepe paper three times the length and two times the width of a cardboard tube. Roll the paper around the tube and secure with tape. Push a mini gift inside the tube and pinch the paper together at each end. Carefully tie with twine, then decorate with a band of gift wrap, more twine and pop a button on each.
13. Alternative wreaths
Deck chair backs or doors inside the house with alternative DIY wreath ideas made with naturally fragrant food items that will smell delicious when you've got a houseful of family and friends.
Whether it's rosemary sprigs, dried orange slices or star anise, all you really need is florist wire like this one from Amazon to form a small circle. Then either use a hot glue gun for the star anise and orange slices or string for the rosemary to attach the goodies to your base. Finally, simply add a piece of wire or narrow cord to hang.
14. Decorate a festive larder