Bedroom wall decor ideas – 19 creative ways to adorn your walls with personality
From paint to wall hangings, our bedroom wall decor ideas will inspire you to update your space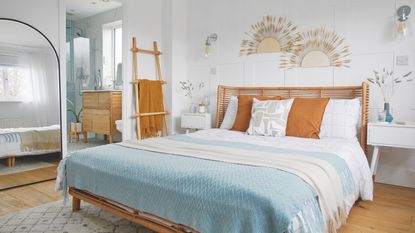 (Image credit: Future PLC )
A bedroom should be a peaceful retreat, but it should also be filled with personality as our own personal retreat that often only we get to see away from the prying eyes of guests. Our bedroom wall decor ideas will help you do add charm, personality and oodles of character.
Experimenting with different forms of bedroom wall art is half the fun - there are so many ways to incorporate art into your bedroom ideas, whether that's through traditional canvas paintings, photo prints, or tapestries and tufted wall hangings.
'When designing your bedroom, the decision to put something on every wall really comes down to personal preference, but there are some things to consider,' advises Anna Hill, brand director and colour consultant, Fenwick & Tilbrook. 'It's important that you create a restful, balanced and harmonious space, and although making a feature of every wall may provide symmetry and balance, you need to make sure you don't overload the space.'
'More than ever, shoppers are purchasing items that bring them joy and reflect their individuality, and many are turning to handmade wall decor to add one-of-a-kind touches to their bedroom walls,' says Etsy Trend Expert Dayna Isom Johnson.
Bedroom wall decor ideas
The process of bringing wall decor into the bedroom should be driven by design ideas you're personally drawn to, and what you can visualise having a home for in your room.
'When designing a bedroom, there are no hard or fast rules around whether you should have something on every wall as this largely depends on your personal preferences, the size and layout of the room and the overall aesthetic you're trying to achieve,' says Lorraine Aaron, founder, Curious Egg.
Whether you're looking for bedroom accent wall ideas or simply to add a couple of understated pieces here and there, our bedroom wall decor ideas will help you make a drastic impact with minimal fuss.
1. Make a bold statement with a wall hanging
Wall hangings and even lightweight rugs can successfully be hung on walls – as long as you use the correct fittings. They're a fabulous way to add colour, print and texture to a plain wall.
The easiest (and most affordable) way to add a wall hanging to your home is to convert a budget rug into one. Large wall hangings can come with a price tag, but you can find affordable and pretty runner rugs at many high street stores. One of our team turned a £39 Dunelm rug into a statement wall hanging, and it looked amazing.
Keep the rest of the scheme simple so your chosen design takes pride of place and if you have wall lights place them symmetrically on each side for balance.
2. Add a decorative flourish with a wreath
You may think that bedroom wall decor ideas need to be big and bold, but smaller elements can have a big impact too.
'Introducing a natural wreath into your bedroom décor is an innovative method of bringing the calming influence of the outdoors into your personal space,' says Mara Rypacek Miller, managing director, Industville.
'As these pieces are often handcrafted, they incorporate an element of rustic charm, while their organic nature can introduce a sense of serenity. The green or natural hues of the wreath can serve as an invigorating visual accent, helping to set a peaceful mood'
The wreath shown here is matched with the beautifully crafted Brooklyn wall light that complements the colour of the wreath.
3. Get crafty with box shelving
Sometimes it's good to think out of the box – pardon the pun! If you love an easy DIY project consider buying (or making) some box shelving and hanging them on your walls. These are ideal if you want to turn your storage into a wall decor moment, which is sometimes essential when planning small bedroom ideas.
You can paint the shelves the same colour as the walls to help them blend in and your belongings do the talking. Alternatively, opt for a bold colour to make them a statement all on their own.
4. Be creative with colour blocking
Why pick one shade when you can choose three? This is your chance to get really creative with your paint ideas – just do your prep first with frog tape so you get your edges perfectly marked off.
'Colour blocking not only adds a fun pattern to the room but also draws focus to a particular area within a space,' says Helen Shaw, director of marketing, Benjamin Moore.
'It allows you to explore colour combinations that challenge traditional styles. Try combining orange, coral and pale green for a fresh, tropical feel transporting you to a holiday oasis. Due to the contrasting colour palette, it is recommended to keep this theme to one wall or corner of the bedroom – this allows for the vibrant and unique patterns to make a statement but not be overbearing.'
5. Add a fabric canopy
For a truly decadent and Bridgerton-esque style bedroom opt for a dramatic fabric bed canopy. Eye-catching for sure and ideal if you love period features it will be a cosy addition to your bedroom that also takes up wall space in a decorative way.
You can match it to your scheme or opt for a purely maximalist style and use various prints and patterns. Keep your walls plain so they can act as a grounding visual element for the pattern to sit on.
6. Be clever with your shelving
If you're a renter there's a small chance you might not be able to hang things from you walls, this is where you need to be clever and adaptable to new options.
'Modular shelving is an ideal way to add interest to your bedroom walls,' says Jonathan Clark, creative director for Shelved. 'Making use of all the available vertical space, a shelving unit provides the perfect base for displaying your favourite books, souvenirs, or decorative items, alongside keeping your bedroom neatly organised.'
'The best part? They're renter-friendly too, so you can add personal touches without leaving a trace, ideal for those who are unable to hang wall art or pictures directly on the wall.' You'll be able to find options at most of your favourite brands and it's worth checking out home decor discount codes to see if there's anything relevant for your needs.
7. Hang up a wall mural
Wall murals have become a popular addition in the last few years and they are a great alternative to standard bedroom wallpaper ideas as they have much more impact on a large scale.
'Expressive wallpaper all around the room can actually make a small room seem bigger by animating and opening up the walls,' says Lorraine Aaron, founder, Curious Egg. 'Alternatively, having a focal point on one wall can be really effective too, you can also have fun with the scale of the design. This could be a large piece of artwork, a statement headboard or a beautiful, statement wall mural like the Mystic design in teal – it can act as an anchor for the room's design.'
8. Create a focal wall above a bed
Anna Hill, brand director and colour consultant, Fenwick & Tilbrook, suggests creating a focal wall to anchor your bedroom design scheme around, we think this is an excellent option especially if your bedroom is large and needs a cosy element.
'You could create a feature using paint – be it a bold colour, a wall mural using geometric shapes, or even having two or three colours as 'panels' across the wall behind your bed.
'This can really make a statement and turn the headboard wall into the focal point of the bedroom, leaving the other walls as 'negative space' in neutrals or tonal, complementary colours. You could then add decor such as artwork or mirrors to add that all-important balance.
'Be sure to consider how the decor on each wall contributes to the overall flow and cohesion of the room. The design should draw the eye around the space without creating a disjointed or cluttered feel.'
9. Be creative with paneling
Bedroom wall panelling has become the new trend this year and it's a wonderful way to add a subtle texture to your walls. It can be painted white for a Scandi feel or dark and dramatic in a darker shade.
You can still add wall lights and decorative elements to it as well. Wallpaper can be added to the panels for a decorative look, or paint in the squares if you want a touch of colour.
10. Hang a gallery wall
A feature wall is a great way to experiment with different types of wall art, without changing the whole dynamic of the room. 'Art is a very individual choice, but sometimes it pays to move outside your comfort zone, and feature walls give people the opportunity to do this. After all, you're only experimenting on one wall! ' says Sam Baldry, Head of Design at Swoon.
A feature wall can have a dramatic and stylish effect in a bedroom, especially if it combines art and accessories in various colours. Play around with some bedroom picture wall ideas and select couple of different prints, photos and other pieces that matches your chosen colour scheme.
11. Create a flexible display with shelves
Bedroom shelves are a create way to style wall art without the commitment to a nail and picture hook. They will look stylish when layered up with different art pieces, their is also the added benefit that they can easily be updated as your tastes change.
'To create the ultimate shelf wall design, I'd opt for open backed shelving or individual shelves that allow the colour of the wall to be exposed, without it dominating the room,' Swoon's Sam Baldry advises. 'This way interest can easily be added to the bold expanse of wall, without detracting from its colour or design.'
IKEA sells a range of picture ledges from £5 in a range of finishes. For a discreet shelving look, try the IKEA hack of painting the ledge the same colour as your wall to allow the wall art to stand out.
12. Choose calming watercolours for a relaxing effect
Given's the bedroom role as a sanctuary to wind down, including wall art with a relaxing effect when decorating above a bed can help invoke a calm atmosphere in the room.
'A bedroom should feel like your own personal sanctuary, so I recommend opting for calming watercolours, soft abstracts, or blue tones that add a touch of serenity, while also adding visual interest to your space,' says Etsy Trend Expert Dayna Isom Johnson.
Opt for a beautiful canvas painting above the bed, or stack two watercolour images above each other above a bedside table.
13. Combine art and accessories
Combining wall art with other furnishings and accessories can really complement your chosen pieces. 'Mix art prints, photographs, hanging plants and mirrors that all share common colours or metals for a varied display – the key is to aim for coherent and interesting, not messy!' says interior designer Sam Baldry.
There are no rules with this one, so play around with different combinations to see what looks good in your bedroom. Your art and other decor should work together to naturally draw the eye without being overbearingly loud.
14. Hang macrame for texture
Handcrafted pieces like macrame are a different way to incorporate wall decor into the bedroom, and will add texture to the space to make it feel more homely.
Hang these on walls that are bare, or incorporate them into feature walls to complement framed art and prints. You can use them to bring accent colours into the room, and they'll complement other soft decor like blankets and cushions piled on a mattress perfectly.
15. Incorporate a sophisticated print gallery
Select a few photo prints that complement each other's style, tone and subjects. Place them in matching frames and for a sophisticated photo gallery wall.
'Whilst the framed art is still on the floor, take a few minutes to experiment with the placing', advises Annica Wallin, Executive Creative Director at Desenio. 'Start with a large art print as the focal point and add the smaller prints around to create a structured gallery wall.'
16. Hanging plates are for bedrooms too
Though we typically tend to keep our plates in the kitchen, hanging them on a bedroom wall is a fun way to mix up the decor and incorporate a different type of wall art into the space.
'I'm a huge fan of hanging plates', says homeware expert Harriet Pringle. 'It's a lovely way to show off beautiful china that may otherwise be hidden in a cupboard.' One large plate could act as a standalone centerpiece, or you could place a few smaller plates with matching designs next to each other.
17. Try the tufted wall art trend
Tufted wall art was revealed by Etsy to be one of the big home decor trends of the year, and with the variety of designs to choose from, it's not hard to see why.
Tufted art combines felt and other fabrics to create wall hangings that are soft, textured and comforting. They add visual interest to a room and are sure to make the bedroom feel cosier, which we love. Mirrors and photo frames with a tufted felt finish are also a great way to try out the trend.
18. Match art with patterned wallpaper
Placing art on top of patterned bedroom wallpaper ideas doesn't have to be a no-go, and in fact can be a really stylish way to make a statement wall in the bedroom.
'Art prints combined with patterned walls can be a match made in heaven if the order and structure connect with each other', says Annica Wallin from Desenio. 'The best way to create a pleasing aesthetic is using on-trend colours that harmonise with each other.' If your wallpaper is dominated with grey tones for instance, look for art pieces that carry elements of this.
19. Hang a shelf above wallpaper
Sometimes all you need is a small shelf to pop keepsakes and books on, to turn it into a decorative wall decor idea wallpaper up to the shelf so you're adding pattern and texture to your scheme too.
Make sure your wallpaper works with the rest of your scheme – match the colour a throw or cushion or two for cohesion.
FAQs
What looks good on a bedroom wall?
This is down to personal preference, but we love the idea of artwork that you love, wallpaper, wall hangings that add impact and texture plus there are some fabulous paint ideas around currently.
You can use box frames to display favourite pieces, hang hats and plates, create a gallery wall or introduce panelling.
How can I decorate my bedroom walls?
You can decorate your bedroom walls in a variety of ways. Aside from traditional artwork and canvases, you can hang tapestries and quilts, or vintage finds to mix up your wall decor.
Consider having a statement mirror in the bedroom too, for decorative as well as functional purposes. According to Harriet, 'mirrors are a great wall accessory if you want to make a small space feel bigger. You can find amazing sculptural and unique mirrors on marketplace apps such as Narchie, which also double up as incredible art features.'
Should I hang pictures above my bed?
There's no harm in hanging pictures above a bed if they are securely attached, and in fact artwork can complement the bed perfectly to create a focal point in the room.
'Just make sure that there's enough space from the headboard to art, as well as from art to ceiling', says Harriet. 'You don't want the piece to appear cramped or as if it's in the wrong place.' Larger art pieces may be more suited to other parts of the room, but the wall behind the bed looks great with two or three matching pieces sitting next to each other.
Get the Ideal Home Newsletter
Sign up to our newsletter for style and decor inspiration, house makeovers, project advice and more.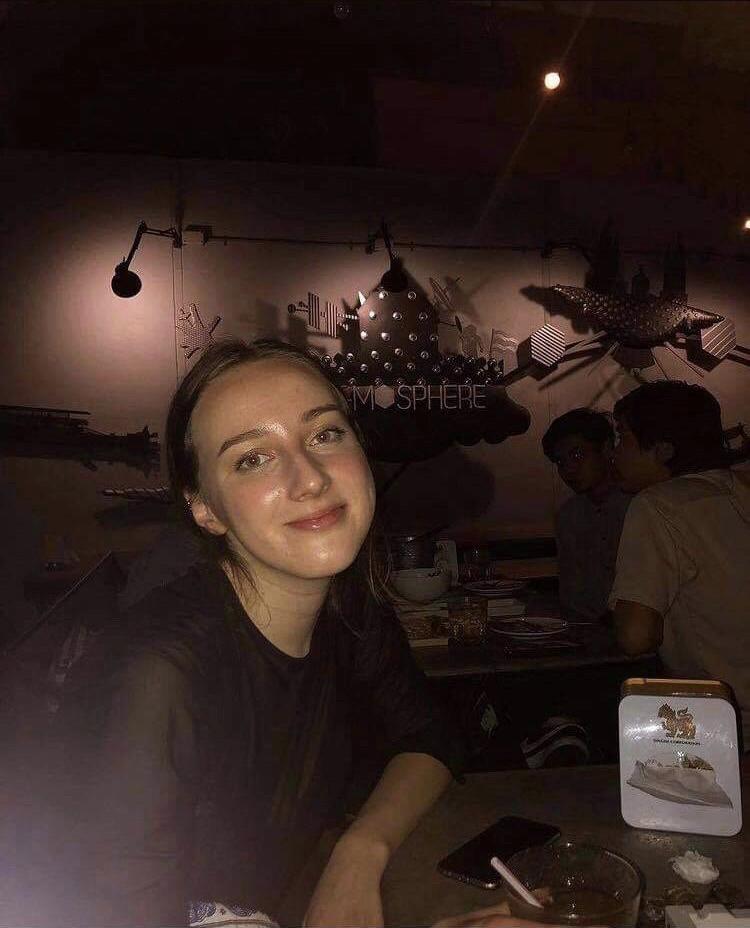 Katie Sims has been writing for Ideal Homes since spring 2022. She qualified from her Master's in Media and Journalism in 2021 and has been writing freelance since. She has worked on Ideal Home's ecommerce team where she researched the best home products on the market, and on the news team, researching the latest trends for feature pieces.