Christmas hacks – 83 brilliant money-saving ideas to try if you LOVE Christmas
Get inspired by our crafty budget-saving ideas to help keep the rising costs of Christmas down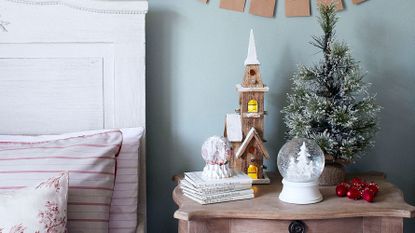 (Image credit: TBC)
Let this Christmas be your most inspiring yet with our bumper selection of fabulous ideas to help get your creative juices flowing. Whether it's homemade decoration makes, top styling tips, or money-saving gift ideas, there's something to inspire even the non-crafty among you.
Read more: The best book Christmas trees of 2017
It's important to plan ahead and think outside the box when it comes to saving on the budget, but you'll be amazed at how much can be done to lower the dreaded festive season bill by investing a little time and creativity.
Follow our nifty budget-saving ideas for the best Christmas yet...
1. Start by setting a strict budget for you and your family to stick to. Then you can begin to break down exactly how much you want to spend on each aspect of the celebrations.
2. Think about what you already have and whether you'll be able to reuse it in any way to help cut costs. It's easy to spruce up old decorations and avoid splashing out on brand new ones.
3. Before you begin, organise your very own craft kit box with all the essentials you'll need for wrapping and crafting. Stock up on things like tape and ribbon to make sure you have plenty and avoid panic later on.
4. Try to start as early as possible with any craft projects you take on. Draw up a list of exactly what needs to be done and delegate where possible to keep stress at bay.
5. Set the scene for the festive season by getting creative with your advent calendar ideas. Opt for something that can be reused again if possible to help keep future budgets in check.
Read more: Aldi advent calendars have the countdown to Christmas covered
6. Invest in the wooden advent tree for a calendar that will last for years to come. It comes as a plain structure for you to decorate, so get the kids involved and let them put their stamp on it!
7. Use mini paper bags as a budget-friendly idea for an advent calendar. Fill with individual gifts or chocolates and peg onto twine along your bedroom wall.
8. Recycle scraps of old fabric and sew together a DIY stocking. A patchwork effect with lots of different materials will create a lovely homespun feel and get you in the festive spirit on Christmas Eve.
9. Stencil your own design onto a fabric laundry bag for a personalised stocking idea.
10. Use a pillowcase as a stocking alternative to help keep costs down. Try adding a pompom trim along the opening or embellishing with an appliqué felt design to make it personal.
11. Avoid splashing out on fancy baubles and have a go a decorating plain ones at home. Cut shapes from colourful Washi tape and stick directly onto the surface, or tie pretty ribbon around the centre to make a festive bow.
12. Buy transparent plain baubles that you can fill yourself for a totally customisable idea. Try filling with paper stars or glitter for a romantic look.
13. Don't ditch old sweaters and jumpers; cut up and reuse the fabric to make homely decorations to hang on your tree or around your home. Cable knit is a popular style for creating a cosy vibe.
14. Apply spray adhesive to old jam jars and roll or dip in glitter to add some sparkle. Spray freely for a rougher finish or use masking tape if you prefer a clean, polished line.
15. Get the kids involved with crafts where possible to make them feel part of the celebrations. Ideas like simple paper lanterns are inexpensive and great fun for them to make. String them together for a homespun garland that you can add to every year.
16. Buy a can of fake snow and spray on glass vases or old jam jars for an instantly wintery look. Collect twigs from the garden and spray these too to help bring the outdoors in.
17. It's easy to fashion your very own wreath from a whole host of items. Try wrapping ribbon or wool around a cardboard wheel for a fun, homespun look in colours to work with your decorations. Or, why not create a wreath from candy canes?
18. Collect paper straws to stick together and craft a modern style wreath. Simply glue together, side by side, in a circular shape and leave to set against a flat surface before hanging.
19. Get the kids involved in making some pipe cleaner snowflake decorations for the tree. Simply cut and glue together into a snowflake shape for a fun afternoon of crafting!
20. Paper chains are a great way to get the kids involved in the Christmas preparations. These traditional garlands can be brought up to date by using different colours or patterned papers.
21. Have a go at cutting paper snowflakes from plain white paper. Fold a circle or star shape of paper in half first so that the cut pattern is symmetrical on both sides.
22. Try your hand at making adorable paper or card boxes to use as place settings or for smaller gifts. Look online for simple templates to follow that take next to no time.
23. Make your own decorative crackers by wrapping festive paper around an old toilet roll holder and finishing off with ribbon or twine at either end. Group together on a sideboard for a homespun display.
24. Paper doilies can be great for Christmas crafting. Use as pretty coasters or take several and make a garland using twine. Why not wrap around brown paper to add a pretty finishing touch to your wrapping?
25. Wash your used tin cans and punch out holes in the shape of a star of Christmas tree on one side. Pop a tealight inside for a pretty and simple DIY votive that you can use again and again.
26. Have a go at making quick tissue paper tassels to decorate your room. Pick traditional red and green paper, or add a modern twist with metallics.
27. A little spray paint can go a long way in giving your accessories an instantly festive feel.
28. Add some Christmas cheer to your guest room by making a paper chain garland to hang above the bed. This budget-friendly idea will instantly liven up the room and help get your guests into the festive spirit.
29. Keep hold of old light bulbs and recycle into baubles. Cover with glitter or fabric to hide the filament inside and give them a new lease of life, or keep them simple and channel an urban, industrial style.
30. Pop a length of ribbon through the hole in old CDs and hang as individual tree decorations for a funky look. For a longer garland, try stringing several together, alternating the ribbon between in front and behind each CD to keep them facing forward.
31. Make use of your collection of cheesy Christmas ties and hang them from the banisters of your staircase for a fun and quirky garland idea.
32. When it comes to decorating your table for Christmas meals, think about ways you can use the essentials to style it up. Simply using pretty crockery and glassware will immediately make it feel like a special occasion.
33. Be creative with your place settings around the table. Why not try spray painting pinecones or adding on a festive bow for a cheap and cheerful finishing touch? Sprigs of holly will make for pretty napkin decorations.
34. Collect wine corks to use as place settings. Simply slit along one long side of the cork and slide in a name card for a quick and easy idea.
35. Keep hold of party poppers to use as place settings. Clean them out and quickly spray with paint for a thrifty idea that can be used again and again.
36. Pick up some hessian from your local fabric store and use as a rustic table runner for your dinner table. Team with homespun accessories for a rural, country vibe.
37. Use cookie cutters as cute napkin rings at the table. Roll up the napkin and slide into the cutter for a simple and stylish solution that can be reused next year.
38. Pop to your local DIY store and collect paint swatch cards in festive colours. Then use a shaped hole punch, such as a tree or star, and make your own table confetti.
39. Tie pretty ribbon into dainty bows to use as budget-friendly wine glass markers throughout the day. Use a different colour for each guest to avoid confusion.
40. Opt for decorative paper plates if you want to give your table style a revamp without investing in new crockery.
41. Get creative when it comes to wrapping ideas this Christmas; think outside the box and consider using inexpensive alternatives to traditional wrapping paper. Even newspaper can be prettied up by adding on a festive bow and colourful ribbon.
42. Wallpaper samples can be collected from DIY stores and are great for wrapping smaller gifts or stocking fillers. Collect several sheets in coordinating patterns and colours to make a pretty set.
43. Try using old maps or atlases for a quirky wrapping idea. Pick a place that is meaningful to the recipient for a thoughtful and personalised touch.
44. Use buttons to spruce up plain gifts tags and wrapping. Group similar colours together to help you keep organized and speed up the process. Mix and match different sized buttons for a homespun feel.
45. Keep on top of your wrapping by making your own twine dispenser. Punch a hole into the lid of a jar, pop a ball of twine inside and thread through the hole to be pulled out.
46. Reuse old Christmas cards as tags for your gifts next year. Group cards into colours so you can quickly find a coordinating style and cut up into festive shapes such as stars or trees.
47. Glam up plain gift tags with a stripe of glitter along the bottom. Simply brush a line of PVA glue along the base of the tag, dip into a pot of glitter and leave to dry.
48. Personalise gift tags or place settings by using old Scrabble letters to spell out the names of your guests or cute Christmas phrases. Single letters can be used as initials to help keep costs down.
49. Buy simple plain brown paper to wrap up your presents and use a stamp to add a Christmas motif of message.
50. Inexpensive paper bags are a great alternative to wrapping your gifts and can look just as pretty and festive. Go for red or green stripes and finish off with ribbon and a gift tag for a speedy wrapping idea.
51. Try using Washi tape as an alternative to ribbon when wrapping your gifts. This speedy solution will save time spent knotting bows and comes in a wide range of colours and patterns for you to choose from.
52. Stick strips of patterned Washi tape down the fronts of wooden pegs for a quick and festive makeover. Use these to peg up your Christmas cards or as place card holders at the table.
53. For a budget-friendly Christmas feature, draw a star or tree shape onto the wall using strips of Washi tape. This is perfect for decorating bare wall space and injecting some colour.
54. Run a strip or two of Washi tape around napkin rings to spruce them up for Christmas dinner. It comes in different widths so you can pick the closest size to suit your rings.
55. Rather than buying new tealight holders, simply wrap a strip of Washi tape around the metal surrounding an individual tealight for a pretty finish that can be changed in a flash.
56. Try your hand at making DIY gifts this year; whether it's scented soaps or tasty baked treats, you can keep the costs down by making in bulk and spending an afternoon getting crafty.
57. Raid your local car boot sale or charity shop for vintage frames, which you can spruce up with a lick of paint and fill with a personal touches such as a memorable photo or message.
58. Buy inexpensive mugs or crockery and use an oil-based Sharpie pen to draw on your own designs or write a message to the recipient. Simply bake in the oven at 350 degrees for 20 mins to set.
59. Upcycle old Christmas jumpers into festive cushions to get your sofa ready for the holidays, or give as beautiful handmade gifts that won't cost the earth.
60. Customise a plain tote bag with a design or message of your choice by using iron-on transfer paper.
61. Get creative and put together small hampers of homemade chutneys, jams and sweet treats for your friends and family. Make in bulk to help keep costs down and present in a small wicker basket.
62. Get baking in the kitchen for some tasty gift ideas. Present homemade cookies or shortbread in a festive tin for a sweet treat for friends and family.
63. Fill jam jars with cookie mix for friends and family to bake themselves. Simply layer up the ingredients inside a pretty jar and add a label with cooking ingredients.
64. Have a go at making personalised 'kits' as a gift idea this Christmas. For example, if your Mum loves to be pampered, buy or make a toiletries bag and fill with a face mask, a bath bomb, a mini bottle of wine and a small box of chocolates.
65. Make your own gift vouchers to give to friends and family for them to redeem over the coming year. A meal out or trip to the theatre will be easier to pay for once the Christmas period is over.
66. Cover a plain notebook with pretty fabric for a quick and inexpensive gift idea. Simply spray adhesive directly onto the back of the fabric and stick immediately onto the cover of the notebook. Trim the edges and stick a small overlap inside to secure.
67. Use fabric paint pens to draw your own design onto a plain tea towel for a homemade gift idea. Why not write out the recipients favourite recipe for a lovely personal touch?
68. Collect instant hot chocolate sachets and present in a stylish mug with a pack of mini marshmallows and a chocolate stick. The perfect gift idea for any chocolate lover!
69. Craft mobile phone pouches from scraps of fabric to give as stocking fillers. Cut a length of fabric 0.5cm longer than the phone and 0.5cm wider, place it right side up, then fold in half and stitch the two long sides together. Turn the right way out and push out the corners.
70. Reuse screw-top wine bottles as sweetie jars to give as gifts or dot around the house. Wash out thoroughly and remove any labels, then fill with small sweets and add a festive label.
71. Keep an eye on the budget and be sure to use leftovers to make hearty meals for Boxing Day. Turkey sandwiches or bubble and squeak are much-loved classics and will make your money go that little bit further.
72. Have a go at making mince pie fridge cake to use up any leftover mince pies. Pour melted chocolate into a greaseproof tin and leave to set to form a base. Stir mince pies and chocolate into a pan and pour the mixture over the base, leaving to set and serve chilled.
73. Be clever with storage and hold onto mince pie trays and egg cartons to store fragile baubles when not in use and avoid them breaking against each other.
74. Keep hold of wrapping paper cardboard tubes and use these to wind your fairy lights around when not in use to avoid tangles. This can be handy for tinsel too.
75. Cut a slit lengthways down a cardboard toilet roll tube and use as a cuff around your rolls of wrapping paper to keep them from unrolling when stored.
76. Use wire cutters to snip a wire coat hanger at one end and slide on rolls of Washi tape or ribbon for easy unrolling. Bend the opening back into place to keep them from sliding off.
77. Reuse cupcake wrappers to make your own tree decorations. Fold each wrapper in half, stick back to back to form a sphere shape and add a piece of twine to hang. Pick wrappers with a Christmassy design for a more traditional look.
78. Cut star or reindeer shapes from coloured vinyl and stick to the window to make a mini silhouette display.
79. Before you do the big food shop, write a concise list of everything you need for each meal you're preparing. Do your best to stick to this list when in the supermarket and don't get drawn in by unnecessary bulk buy offers!
80. Online shopping means you're less likely to get tempted by last minute buys; just be sure to book your delivery slot early as they get snapped up quickly.
81. Christmas is a great time of year to use up your clubcard points at various supermarkets to help slash the cost of the day. If you save up all year you can earn enough points to take a chunk out of the total.
82. Consider buying individual portions of things such as Christmas pudding if only one or two guests like it, rather than forking out on a whole dish for the sake of tradition.
83. Accept offers from guests to bring extras along for the meal. Whether this is a dessert, some canapés or drinks, it will all help when it comes to saving both on your budget and your workload.
How many of these craft ideas will you tick of your list?
Get the Ideal Home Newsletter
Sign up to our newsletter for style and decor inspiration, house makeovers, project advice and more.
Jennifer is the Deputy Editor (Digital) for Homes & Gardens online. Prior to her current position, she completed various short courses a KLC Design School, and wrote across sister brands Ideal Home, LivingEtc, 25 Beautiful Homes, Country Homes & Interiors, and Style at Home.