How to make outdoor Christmas decorations
From wreaths to baubles, follow Country Homes & Interiors' step-by-step guide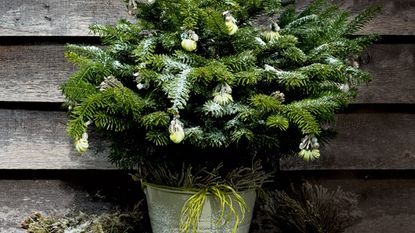 (Image credit: TBC)
Embracing the craft trend? Make this Christmas extra special by making your own festive decorations.
From paper angels to outdoor lanterns, Country Homes & Interiors have loads of craft ideas to tickle your creative tase buds.
Give guests a warm welcome this Christmas with these pretty jam jar lanterns. Fancy making your own? Follow Country Homes & Interiors' step-by-step guide.
How to make jam jar lanterns
What you'll need
Small glass jar Self-adhesive filigree paper border Silver florist's wire Spray-on snow Sprig of mistletoe Tealight
Step-by-step guide
1)
Wash and thoroughly dry the jar. Measure the jar's circumference around
the centre then cut the filigree paper border to this measurement plus
2mm.
2) Remove the plastic backing from the border then stick carefully in place around the jar.
3)
Cut a 60cm length of florist's wire then bend it in half so you have a
30cm double length. Wrap around the neck of the jar, bring the two cut
ends through the loop at one side then thread the wire around itself a
couple of times to secure.
4) Using the picture as a guide,
bring the wire up and over the jar to form a hanging loop and bind in
place on the opposite side of the jar. Carefully snip off the excess
using pliers.
5) Apply spray snow to a sprig of mistletoe
and use wire to attach it to the wire at one side of the jar, making
sure it will hang clear of the tealight. Add a tealight and hang in
place.
How to make paper angels
These pretty paper angels look beautiful on frosted window panes. Fancy making your own? Follow Country Homes & Interiors' step-by-step
What you'll need
Card for template White paper
Double-sided tape
Step-by-step guide
1) Decide
how many angels you would like to use and enlarge the template
(pictured below) to fit an A4 sheet of paper, or to your chosen size.
Cut out in strong card.
2) Carefully draw around the card template on to white paper and cut out the angel shapes.
3) Attach a tiny tab of doublesided tape at each corner of each cutout and press carefully in place on the inside of your window.
How to make button baubles
Embracing the craft trend this Christmas? Deck a mini tree with buttons and beads - simply follow Country Homes & Interiors' step-by-step guide.
What you'll need
Silver florist's wire 11 lime green buttons in different sizes 6 decorative beads in different designs Pearl flower head decoration, or any similar wired tree decoration.
Off-cut of narrow ribbon
Step-by-step guide
1)
Cut a 30cm length of florist's wire and thread on all the buttons so
that the largest sits in the middle tapering to the smaller ones either
side.
2) Thread 3 beads on to each end of the wire, pushing them to the centre so they sit flush with the buttons.
3)
Bring the two ends of the wire together and twist along the length.
Create a hanging loop above the uppermost beads then bend the excess
wire out to one side.
4) Hold the pearl flower head
decoration so that it hangs upside down between the two top beads under
the loop. Bend the excess wire around the sprig to bind it in place.
Snip any excess wire using pliers. Bend the wired end of the pearl flower head decoration neatly around the hanging loop.
5) Wind a short length of ribbon around the binding wire and tie neatly. Hang decoration in place on your tree.
Need more inspiration? Check out our essential guide to Christmas for decorating ideas, gift guides and Christmas trees.
Get the Ideal Home Newsletter
Sign up to our newsletter for style and decor inspiration, house makeovers, project advice and more.
Tamara was Ideal Home's Digital Editor before joining the Woman & Home team in 2022. She has spent the last 15 years working with the style teams at Country Homes & Interiors and Ideal Home, both now at Future PLC. It's with these award wining interiors teams that she's honed her skills and passion for shopping, styling and writing. Tamara is always ahead of the curve when it comes to interiors trends – and is great at seeking out designer dupes on the high street.