Conservatory interior ideas for a versatile space that you love all year round
Our inspiring conservatory interior ideas and decor designs will ensure you'll get extra value from the space all year long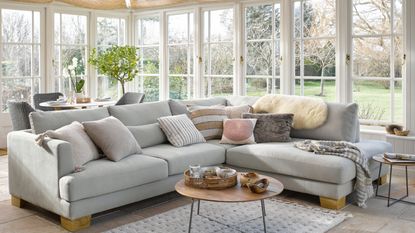 (Image credit: Bridgman)
When it comes to decorating and furnishing a conservatory, it's all about creating conservatory interior ideas that feel purposeful and functional, for how you want to enjoy using the space.
Allow your conservatory ideas to zone the additional living space. Whether that means creating a social space for entertaining, doing homework or just relaxing, you'll get extra value from the space all year round by giving the room a purpose.
'The conservatory is often regarded as the summer living room, perfect for all-year use but especially charming in the warmer months,' says Francesca Morris, senior buyer, Garden Trading. 'Enhance the feeling of summer by using natural materials such as rattan or wicker, the light and airy design of this style of furniture won't overcrowd the space.'
Conservatory interior ideas
Conservatories needn't be an afterthought or passing through space on the way to the garden. Decorate the space to make it feel like an integrated part of the house.
Use colours from the same palette throughout the adjoining downstairs rooms. Or be daring with bold, brazen colours for a scheme that makes the room stand out for all the right reasons.
Think of the conservatory as an extension of your living room or open-plan family room. It's important to give it as much consideration when it comes to decorating. Ensure the space is useable all year round thanks to thoughtful conservatory furniture ideas and decorative accessories.
Our stylish and practical conservatory interior ideas will help you to make more of your garden room.
1. Choose an all encompassing color
Go all out with a bold interior colour – from floor to ceiling and everything in between. It will create a cosy feel in the cooler months and a joyful look in the summer.
'Maximise sunlight and bring warmth to any room using Chalk Paint™ in Arles,' says Annie Sloan, paint and colour expert, Annie Sloan. 'A warm ochre inspired by its namesake town in France where earthy yellow ochres are dug straight from the ground. It's the perfect colour to maximise sunlight and add warmth on days when the weather isn't providing as much as one might wish for.'
2. Dazzle with marble style flooring
Don't overlook flooring, it's an important aspect to get right and you can either have the same as the linking room from the interior of your house, or, it could be unique and more of a statement.
A floor that reflects a little will help to bounce light around a small conservatory, for this you could use polished stone or a high gloss floor paint if you have floorboards. For extra shine use metallic and glass accessories and a side table or two.
3. Add seasonal flowers
Colour and texture can be added to your conservatory in the form of fresh seasonal flowers, there's nothing prettier than using varieties cut from your own garden is there? Look out for more unusual ways to display them, we love vintage crates as they are great for plants, but we're partial to a basket or two as well.
'Baskets are great storage solutions for every room in your home, especially if you're working with limited space,' advises Hayley Ker, senior buyer, Dobbies. 'Their versatility means they can just as easily be used as a place to store extra blankets and throws as they can be a quirky container for large houseplants and flowers. Group different-sized baskets together for a more curated look and have fun with colours and texture as a way to add some personality to your interiors.'
4. Play around with shades of green
'Bringing nature into an old conservatory using hints of green can inject a new lease of life to the space. Greens like Bancha, Beverly and Green Smoke will harmonise beautifully with the surrounding garden and create a relaxing sanctuary,' advises Charlotte Cosby, creative director at Farrow & Ball.
You can also use different green shades in your accessories too, if you opt for darker and lighter coloured cushions and throws than the paint colour you've chosen you'll create a contrast which will make your conservatory space more interesting visually.
5. Create an all-year round space
There's no reason why your conservatory can't be used all year round with a bit of clever planning. It's about being adaptable with your accessories – seasonal throws and blankets, and choosing key furniture like a versatile sofa that will work all year around.
'Create a space you and your whole family can enjoy all year round with a sofa that's large enough to seat all of your loved ones,' says Francesca Hadland, interiors expert at outdoor furniture specialists Bridgman.
'Whether you're snuggling up with some hot chocolate in the winter, enjoying warm summer evenings playing games with your doors open, or simply spending some quality time relaxing together, a large L-shaped sofa will play the perfect host for your seasonal activities.'
6. Bounce light with a mirror
When a conservatory is part of an extension they can often be more of a rectangular shape so it can be a case of juggling furniture to fit. Depending on the aspect they can be darker too, this is where clever interior design tricks like adding mirrors can come in.
You could have a trio along the main wall of the house, or choose one large one that will help to bounce the light around the space and reflect the garden perfectly. Keep the frame light in colour – ideally match it to the woodwork in the rest of your conservatory for cohesion.
7. Add in a dining table for entertaining
There's no reason why you can't dine in your conservatory during the warmer months, in fact, they make great spaces for entertaining, just pop in a table and make sure there's plenty of seating options for guests.
'By simply adding a dining table and chairs to your conservatory you can create a light and airy space that is perfect for dining,' says Debbie Leigh, design manager at fabric company ILIV.
'Bathed in natural light with views to your outside space, conservatory dining spaces can be used all year round. Good quality, lined curtains or blinds are worth the investment offering temperature control and privacy.'
8. Source reclaimed wood and recycled furniture
With sustainability at the forefront of our minds look to buy second-hand furniture for your garden room or conservatory. If you're handy at making things then a pallet sofa will work a treat, or make one using reclaimed wood. Flea markets are ideal for finding one-off vintage chairs, just give them a clean-up and add thick squishy seat cushions and throws for cosiness.
Indoor/outdoor rugs are so versatile and can add a touch of pattern to a plain floor, use printed cushions made from vintage fabrics for a burst of colour and repurpose other pieces like coffee and side tables.
9. Pick one key colour
'A good tip for gardening enthusiasts is to incorporate subtle hints of colour from flowering blooms,' says Helen Shaw, UK marketing director at paint brand Benjamin Moore. 'This scheme works particularly well to bring warmth and optimism to the space long into the autumn and winter months.'
We love this idea, the lime green colour of the interior structure is carried through into the green print cushions on the rattan chairs and there's only one plant used throughout – ferns, which creates a simple yet very effective look in this cottage style conservatory.
10. Display textured pots in a corner
Make the most of every corner by placing good-sized pots and planters filled with interestingly shaped plant varieties like cacti. The sculptural qualities will certainly add interest to your conservatory corners. Use home decor discount codes to pick up a whole section in varying shapes and sizes.
'There's no better time than spring to invest in some good-quality pots and planters,' says Hayley from Dobbies. 'The trend of terracotta and clay designs is showing no signs of slowing down and these classic designs will last for decades if cared for properly, making them a great value buy for your home.'
11. Create a harmonious scheme
Make the conservatory feel like an extension of your immediate living space by coordinating the decor. Rather than seeing the conservatory as a separate space, one you only use during the summer or to access the garden, give it a greater sense of purpose by making it a room you use everyday.
Use the same colour palette throughout the adjoining rooms to unify the living space. Continuing flooring choices throughout the ground floor will also help to form a natural flow from one space to the next – seamlessly extending your downstairs footprint. Dress the room with living room staples to add a homely touch.
12. Welcome the outside in with hanging house plants
There are a range of house plant ideas that will help make the transition from indoors to outdoors a seamless one in your conservatory.
Choose structural shapes and tall plants to fill empty corners and hang baskets from the ceiling to immerse the room in nature. Dressing a conservatory with an abundance of greenery ensures that even on rainy days you can feel at one with nature. Even if you can't venture outside.
Keep the decorating palette neutral, with soft shades of off-white or taupe grey. This will accentuate the fresh shades of green with the outdoor tones of your house plants and the garden beyond the windows.
Keep things classic by choosing natural textures such as rattan and sisal to ground the look. Take these choices into consideration for an outdoor living room to create the perfect living space in your garden.
13. Stay in control of the light
As well as adding some much-needed colour, in place of wall paint, there is a range of window blind ideas to choose from that give an advantage over the direct sunlight. Having the ability to filter the amount of sun allows you to utilise the space at all times throughout the day, from morning through to nightfall.
Without conservatory blinds, you're likely to face times of the day you'd choose to avoid sitting in the conservatory due to direct sunlight.
Being able to block the sun also provides temperature control too. This makes better use of the conservatory at all times of the day, throughout the year.
14. Look to your living room decor choices
Echo the decor choices of a classic living room – sofa, coffee table, rug and soft furnishings accompanied by trinkets and decorative touches.
Traditionally a conservatory is used as a garden room, where the aesthetic would feel very detached from the rest of the house with decor choices that felt akin to the outdoors. The modern home welcomes more continuity, very much thanks to the trend for open-plan living.
Unify the decor to create a greater sense of space, seeing the downstairs as a whole rather than individual rooms.
15. Welcome a feature wall with wallpaper
Many conservatories will have an adjoining structural wall from the house, in contrast to the other glass sides. Make a statement on this wall to give the decor more of a classic living room vibe by hanging wallpaper.
A captivating wallpaper idea will give the interior a more homely feel. It makes the room feel more like an extension of living space rather than a seasonal garden room.
16. Have fun with finishing touches
Garden rooms and conservatory extensions can often look bland due to the stark white structure. So, don't be afraid to add a pretty display of personal treasures. Hang on-trend exposed bulb lights for a statement conservatory lighting idea or add interest with on-trend macrame plant hangers.
'Embellish the room with foliage, big plant pots as well as hanging baskets which will connect you seamlessly to nature. This transitional room performs brilliantly all year round but really comes into its own in summer,' says Francesca from Garden Trading.
Make the conservatory a true extension of your home with tactile fabrics for upholstery and soft furnishings such as rugs. Substantial furniture like the coffee table are key for that real furniture feel that will last all year round. Add an armchair set up around said coffee table – inviting you to spend time entertaining or enjoying family time all year round.
16. Refresh the furniture
With limited walls to decorate, due to traditional conservatory structures being primarily windows, introducing colour can be tricky. Look to add colour through soft furnishings, from tablecloths to cushions. These can add both pattern and a pop of colour.
Or how about through an upcycled furniture idea instead. This example shows how a splash of paint can revive old wooden furniture pieces, to invigorate the space with colour. Look for the best paint for furniture, to carry out a quick and easy fixer-upper job.
17. Keep it traditional
Go for a traditional garden room vibe with a colour palette inspired by nature. Welcome the garden indoors through floral fabrics and hints of lush accent colours, such as sunshine yellow and leafy green. Add charming decorative touches such as bunting and lantern lighting to give the decor a country-style feel.
18. Build multifunctional furniture
Conservatory interior ideas can be traditional or contemporary. But why not update a classic conservatory with the addition of a modern, multifunctional seating solution. To make the most of any limited space opt for an on-trend, built-in bench seating will be a worthwhile investment all round.
Firstly it will maximise the space to allow for more seating around the dining table, while utilising unused corners and areas under the windows. It can also double up as hidden storage, if the seat lifts up to reveal a concealed storage compartment.
19. Invite a splash of colour to the structure
Refresh and invigorate the framework of an older conservatory with a splash of colour. Same as you would when painting a front door or window frames, you can buy a specialist paint to give a wooden, metal or PVC frame a coat of on-trend colour.
The type of structure will determine what paint material is most suitable to use. Take inspiration from this modern conservatory with its attractive shade of sage green, painted on the roof lantern structure to break up the neutral colour scheme on the walls.
20. Keep the layout simple
Give your conservatory space a dedicated focal point, be it a fabulous swing seat or an extendable dining table. Choose just one key piece of furniture to avoid overwhelming the space.
This stylish swing seat is the perfect reading spot, whatever the weather! Make this the place you choose to relax in with a good book. Complete this natural-style look with meadow-inspired cushions and throws.
Group indoor plants in containers of different shapes but similar materials and styles, so the look says 'conservatory' rather than 'potting shed'.
21. Mirror the green of the garden in your decor
With floor-to-ceiling windows, a conservatory can often need livening up with soft furnishings. Brighten up the windows with eye-catching patterned blinds. Create a fresh feel with botanical prints in leafy greens teamed with shades of white for a light and natural look.
Choose a fabric with a bold leafy design for cushion covers, blinds and a table runner to match. Fabrics with splashes of zingy lemon will really freshen up the look.
How do you decorate the inside of a conservatory?
Conservatories aren't dark and gloomy, so harness the natural light by keeping the decor light and inviting all year round.
'By their very nature, conservatories are light spaces so people often opt for a white to reflect the natural sunlight, enhancing this already bright space,' says Helen from paint company Benjamin Moore. 'However, a touch of colour is a great way to add character whilst maintaining that light and airy feel.'
'Take your inspiration from the vista – pull colours from our natural world and bring the outdoors in,' continues Helen. 'Think pastel blues, yellows and sage greens to fully immerse yourself in the outdoor environment whilst in the comfort of your own home.'
'Once furnished, the best way to decorate the inside of a conservatory is by using soft furnishings,' adds Debbie from fabric specialists ILIV. 'Soft furnishing has a significant impact on the overall feel of any space and will help a conservatory feel finished – add layers of textiles, such as throws, cushions and curtains to create a comfortable space that you can enjoy all year round and for many uses.'
How do I make my conservatory look modern?
Look for contemporary elements like sleek furniture, marble flooring and metallic accessories. Is your doorway big enough? Bi-fold doors are a fabulous way to really open up a space whilst giving it a modern look. Check out your lighting too, spotlights and lamps will be a better option than a single hanging pendant.
'Instantly infuse your conservatory with contemporary style by introducing organic materials and textures,' says Francesca from outdoor furniture company Bridgman. 'Introduce wood, stone, cane and fur to provide depth and contrast with any plain white windows or doors.'
How do I make my old conservatory look good?
Take down all the old fixtures and fittings, take out the furniture and give your old conservatory a good once over. When it's empty you can really look at the size of the space and make a plan for what you'd like it to look like.
'One of the simplest ways to make an old conservatory look good is by embracing colour,' says Francesca from Bridgman. Look to the vivid magentas, dark forest greens and rich navy blues that have proven so popular in recent years to enrich your space with a new sense of wealth and warmth.'
Invest in new lighting and flooring and source furniture styles that you love, comfort is key as with all rooms in a house. Consider new blinds if it gets too hot in the summer or you're overlooked and decide if you want to link the style with your existing house interior. Finish with new accessories and enjoy!
Get the Ideal Home Newsletter
Sign up to our newsletter for style and decor inspiration, house makeovers, project advice and more.
Tamara was Ideal Home's Digital Editor before joining the Woman & Home team in 2022. She has spent the last 15 years working with the style teams at Country Homes & Interiors and Ideal Home, both now at Future PLC. It's with these award wining interiors teams that she's honed her skills and passion for shopping, styling and writing. Tamara is always ahead of the curve when it comes to interiors trends – and is great at seeking out designer dupes on the high street.