Crafty little sew-and-sew - 11 sewing must haves
From sewing machines to pinking shears, get everything you need for your start-up sewing kit.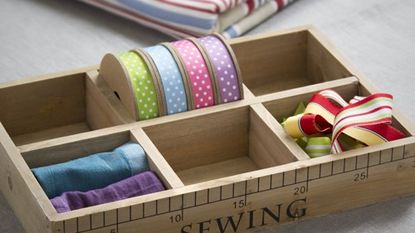 (Image credit: TBC)
Ideal Home Newsletter
The Home Of Great Ideas For More Than 100 Years
Thank you for signing up to . You will receive a verification email shortly.
There was a problem. Please refresh the page and try again.
Love sewing? Ready to embark on a fabulous new homemade project? From making roman blinds, to creating a few scatter cushions, before you start on anything you'll need to make sure you have the perfect sewing kit to hand. Here at Housetohome we've been rummaging through our sewing boxes to come up with a list of absolute must-have tools you need in your kit…
1. Fabric tape measure
Practical and super-light weight, a fabric tape measure is essential for working our sizes and cutting to patterns
2. Dressmaking scissors
A pair of specifically designed dressmaking scissors is a great piece of kit, but make sure you keep them for cutting fabrics only
3. Needlework scissors
Smaller than dressmaking scissors these needlework scissors should be as sharp and fine as possible for intricate jobs
4. Stitch un-picker
An essential tool, a stitch un-picker makes light work of correct mistakes
5. Pinking shears
This fabulous scissor gadget creates a zigzag edge that reduces fraying
6. Glass-headed pins
The bright colours on the top of the pins make them easy to find if you drop them! Perfect!
7. Needles
Make sure you have plenty of needles, in all shapes and thicknesses. Also, be sure to have both sewing machine and hand-sewing ones
8. Thimble
A thimble is essential for protecting your thumb or finger when working with tough materials
9. Thread
Tacking thread, button thread and sewing thread, which should be the same as the fabric you're using: cotton for cotton; polyester for mixed fibres, and so on
10. Notions
Make sure you kit is stocked with different coloured buttons, a variety of safety pins, as well as elastic and press studs
11. Sewing machine
From a good beginners' basic to state-of-the-art models, a sewing machine is an essential investment for making your own soft furnishings
******