How to revive a near dead house plant
Nurse your house plant back to life with these helpful tricks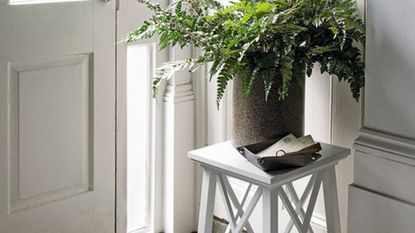 (Image credit: Future PLC/Paul Raeside)
Just because your plant is limp, crisp or browning doesn't mean it's necessarily on its way out. If the stems or roots still have a hint of green and aren't breaking off, there might be some life left in it yet.
1.Repot your plant
Moving tired-looking succulents into a fresh pot of soil can make the world of difference.
Make sure you give the roots enough room to grown and thrive by choosing a container that's wider than the one you are replacing. If a lot of root is damaged, you can trim the plant's foliage back so there is less for the root to support.
2.Feed it
Plants need healthy food too, so replace your old soil with a high-quality potting mix. Your newly potted plant will appreciate regular feedings. Follow the frequency recommended on the package. You might also want to try fertiliser - just stick with a slow-process variety that won't feed your plant's roots too much at once. The rejuvination of a plant is a slow and steady process - have patience.
3.Consider climate
A plant that has had too much sun will have dark or bleached patches on the leaves, the foliage will be frail and brittle and the compost will be dry to the touch. Water the soil well and use gardening scissors to trim off any dead leaves. Move the plant to a cool and shady location and consider sitting the pot in a tray filled with gravel and water to increase the humidity.
Insufficient light can also cause problems for indoor plants. Too little light causes a plant to grow small, pale leaves. Make sure you're providing enough light for the specific plant species. Try moving the plant to a brighter area of the home and see if it does better.
4.Don't overwater
This is quite possibly the most common mistake among gardeners. Get familiar with your plant's dormant phase. Remember to feed your plants during their growing season and to water less when they're dormant (usually in the winter).
5.Keep pests at bay
Don't let your house plant become a magnet for pests. Gnats, aphids, fruit flies and spider mites are all common insects that can attack your plants. Most can be wiped off with a damp cloth or washed off with a mild soap solution. Remember to clean your house plants regularly. Dust build-up on your house plant leaves often contains organic compounds that insects can feed on. Nom nom!
If you carry out all these tips, you should likely see signs of life within three to four weeks. Have you ever rescued your plants? What restorative tricks worked for you?
Get the Ideal Home Newsletter
Sign up to our newsletter for style and decor inspiration, house makeovers, project advice and more.
Tamara was Ideal Home's Digital Editor before joining the Woman & Home team in 2022. She has spent the last 15 years working with the style teams at Country Homes & Interiors and Ideal Home, both now at Future PLC. It's with these award wining interiors teams that she's honed her skills and passion for shopping, styling and writing. Tamara is always ahead of the curve when it comes to interiors trends – and is great at seeking out designer dupes on the high street.