My Moodboards FAQ's
Unleash your creative side with My Moodboards from Housetohome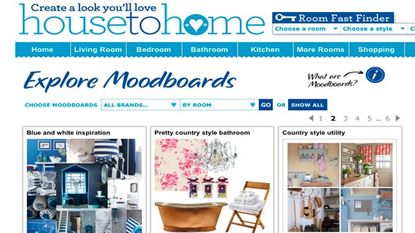 (Image credit: TBC)
What are My Moodboards?
My Moodboards lets you save, sort, share and get creative with images you find on Housetohome.
How do I find My Moodboards?
The My Moodboards widget appears in the top right-hand side of the screen on all Housetohome's main website channels and pages.
How do I see what Moodboards look like?
Click 'Explore other Moodboards' on the My Moodboards widget to view and share Moodboards created by other users and designers.
Do I have to login to create a Moodboard?
You can add and delete images to a Moodboard without being logged in.
If you'd like to save, share, email or get creative with your Moodboard, you will need to login first.
How do I add images My Moodboards?
Wherever you see the 'Save to My Moodboards' icon you can add images to your Moodboards. To help you get started, we've included some popular names for you. You can also create a new Moodboard name of your own.
How do I access My Moodboards?
Once you have clipped images from around the site, simply click on 'View My Moodboards'. You will be taken to your very own My Moodboards dashboard where you can sort and delete images and Moodboards.
How do I create a board?
You can create a board from your dashboard by clicking on the 'Name a new Moodboard' icon on the right-hand side of the screen
How do I delete an image?
Simply drag images from your boards into the bin on the right-hand side of the screen
How do I delete a board?
Simply click on the bin on the bottom right of the Moodboard
How do I login?
You need to have a Facebook or Twitter account to login. Click 'Sign in/Sign up' on the top right of the My Moodboards widget to login. Don't worry, we won't publish anything to Twitter or Facebook on your behalf.
What can I do once I login?
Once you click into a board to interact with it you will be asked to login. Once you login, you can do all this with your Moodboard:
Edit and name it
Sort and save your images
Email it to friends
Publish it on Housetohome, Facebook or Twitter
Get creative: rotate, move and mix images in your very own creative workspace
How do I edit a Moodboard?
Once you are on your My Moodboards dashboard, simply click on the blue 'Edit' button at the bottom of each board
How do I save a Moodboard?
The toolkit on the right-hand side lets you save, email and publish your board.
How do I get creative with a Moodboard?
Click on 'Get creative with these images" and you will be taken to a canvas page. Simply drag images onto the canvas, then rotate, resize and overlay to create your perfect Moodboard decorating scheme.
You can search through different images using the slider on the right-hand side
How do I share a Moodboard?
Once you have completed your Moodboard, you can publish it on Housetohome by simply clicking on the share button in your toolkit. Once you have shared it on Housetohome, you can share it on Facebook and Twitter.
Need more help? Click here to contact us
Get the Ideal Home Newsletter
Sign up to our newsletter for style and decor inspiration, house makeovers, project advice and more.