45 budget garden ideas to transform your outdoor space
Looking to revive your outdoor space with some budget garden ideas? These neat style tips and decor tricks won't break the bank or take ages to achieve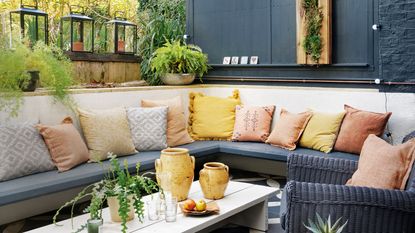 (Image credit: Future PLC/Dominic Blackmore)
If you've been neglecting your outdoor space, these budget garden ideas are just the thing to perk up your patio without spending a fortune. While low on spend, they're high on style and will transform your garden or patio into your favourite outdoor spot (and the envy of your neighbours).
From seating to colour, planting to hard landscaping, a little work now will make all the difference to your garden all summer long.
Don't just take our word for it - plenty of experts agree, starting with Charlie Davis, stylist and creative director. 'You don't need to spend a fortune on your garden makeover. Planning is key so that you make the most out of the space you have and budget available.'
'A boring patio doesn't need to stay looking dull,' says Charlie, 'even if funds are tight. Turn it into an extension of your interior, styled with either calm colours or flashes of brights.'
It's worth stressing that the art of gardening should never be overlooked as a way to revamp your space. Joel Bird, garden designer and presenter definitely thinks this is the place to start. 'Gardening is one of the few things you can do for free. People always look for the "makeover" but remember how important the plants are in a garden, providing cover, shade, colour, texture as well as space for nature.
'Look for the best place to sit in your garden, whether that's for a morning cuppa or a drink after work. Find out where the sun is, and then pop a seat or bench there. A place to sit and plants are the very foundations of a garden for me, whatever your budget might be,' he says.
So for starters, have a look at your space and assess what you need to tackle first before exploring the more decorative ideas that we've listed below. Your garden will probably need a good tidying up first, so get your the lawnmower, pruners and all the rest out of the shed and trim back any green overgrowth.
'Spring cleaning your outdoor space is a crucial first step when it comes to preparing for the new season, giving you a fresh canvas,' says Marcus Eyles, Horticultural Director at Dobbies. 'One of the easiest ways to tidy up your garden is by neatening your beds and borders for the growing season. You can do this by hoeing borders to remove weeds and applying a good layer of mulch or manure over the surface to lock in moisture and give plants a boost for spring.'
Don't forget that other straightforward DIY tasks like knowing how to clean a concrete patio or how to paint a fence can have a huge impact on your space for very little spend, too.
Budget garden ideas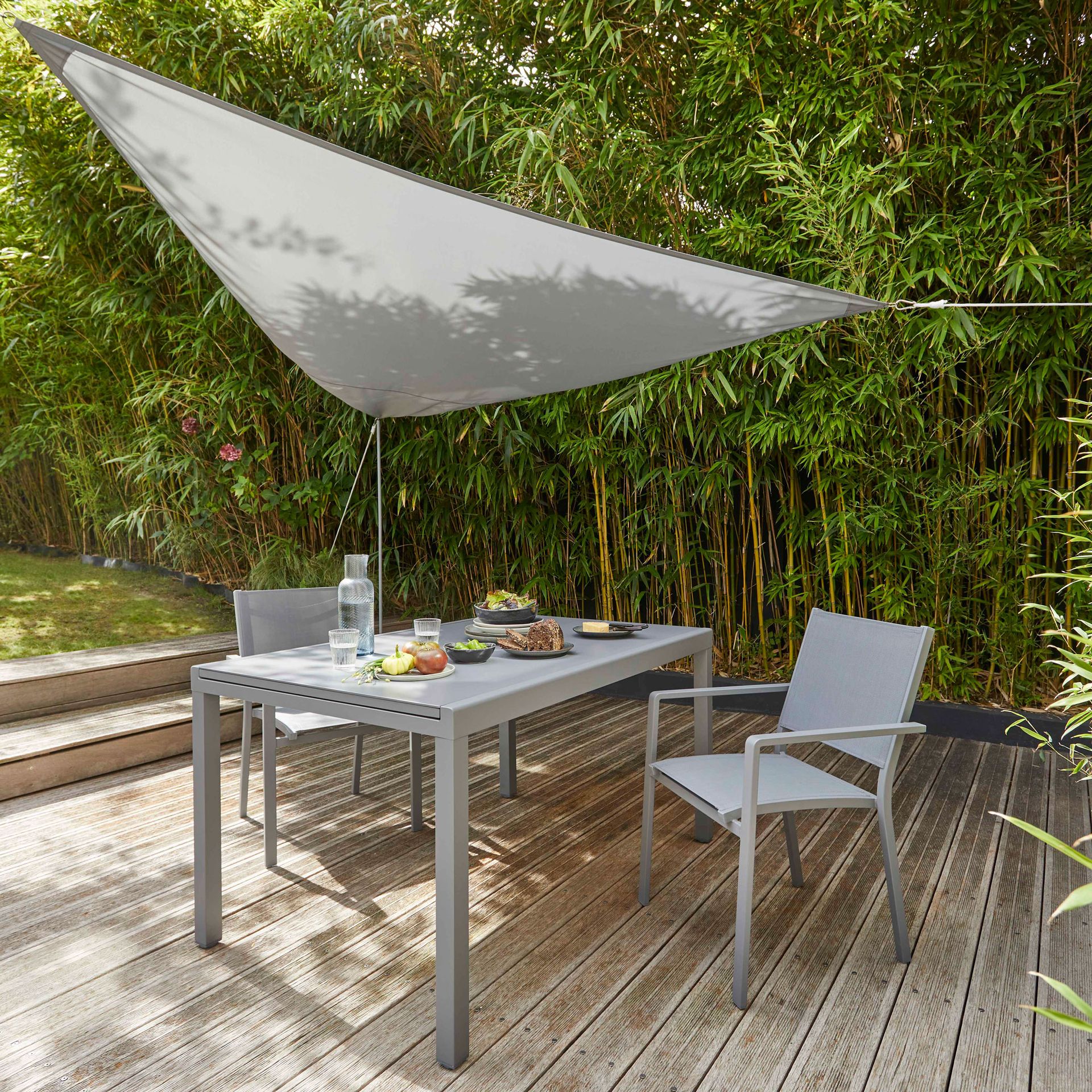 There are plenty of easy and affordable updates that you can make to your outdoor space, which can transform its appearance and make it a far more enjoyable space to be in. If ou're buying new items for the space, make sure to check out garden discount codes to nab yourself some bargains.
Even if you're really strapped for cash or saving up for something special, there are even some free garden ideas that you can try that won't cost you a penny, from using self-seeding flowers that will bloom season after season, to dividing up plants to boost next year's planting scheme.
1. Bring the indoors outdoors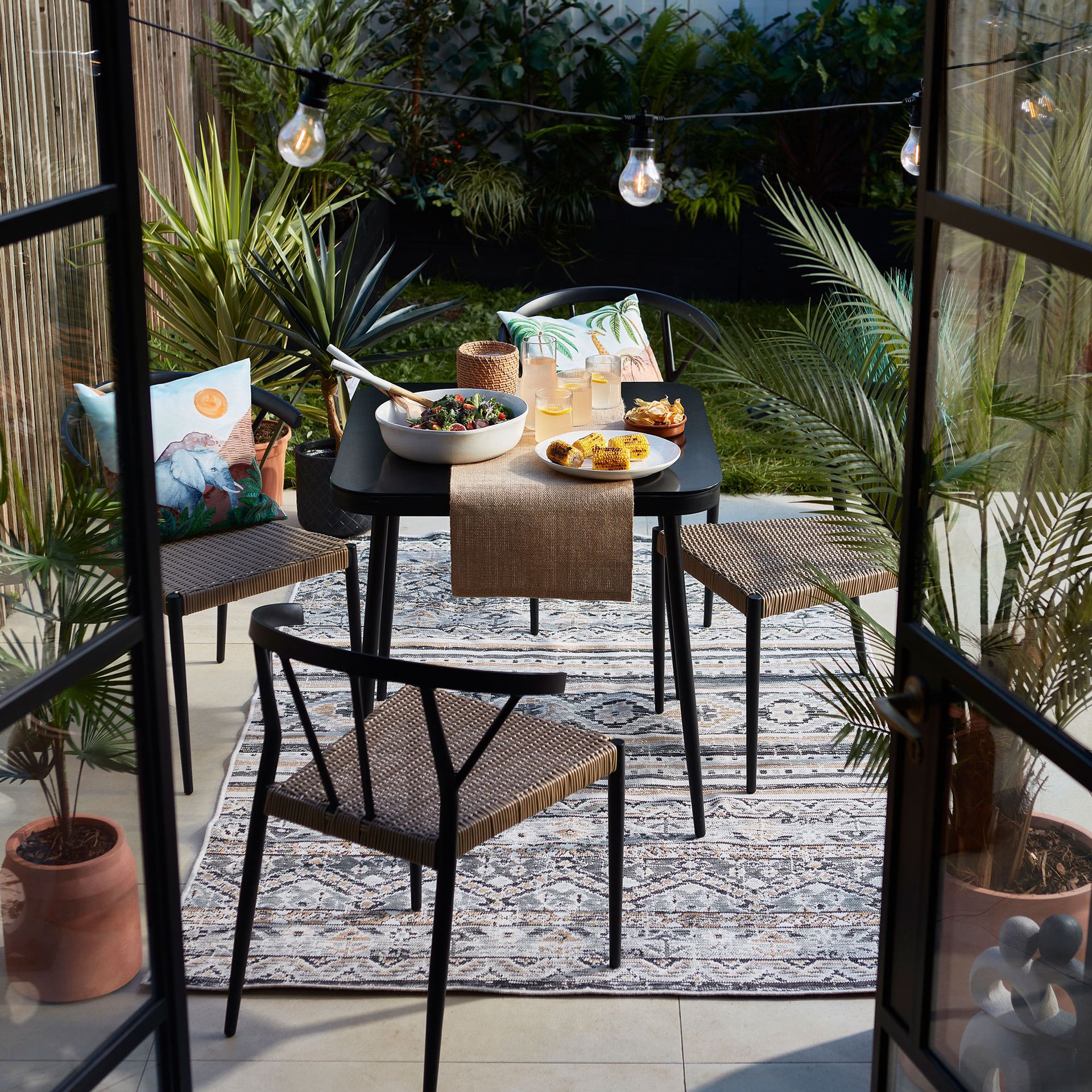 One of the easiest ways to redcorate your patio or garden is to shift your indoor furniture outdoors. Think rugs and dining furniture, perhaps an easy-to-move armchair, loads of cushions and throws for when it the sun goes down... the options are endless.
Don't bother with anything too unwieldy - be realistic, you won't fancy lugging it indoors at the end of the day. Go for lightweight pieces that can be bundled up come evening time.
Doubling up you decor like this also makes the outdoor an extension of your home's interior, which is an ever-popular trend for gardens.
2. Make a feature of your potting table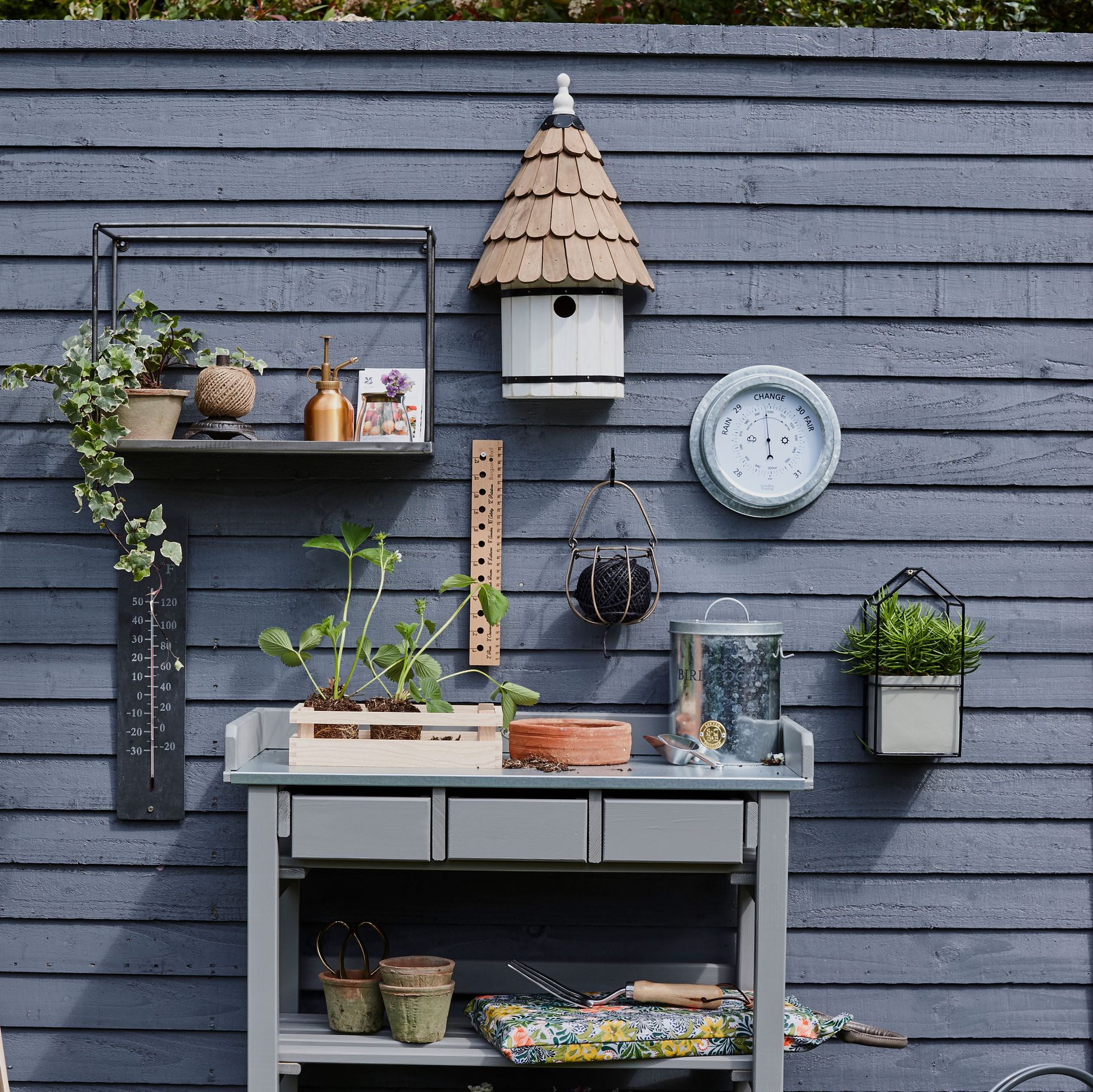 Create a feature wall above a plain potting table by hanging garden related bits and bobs on hooks and nails. Try an array of inexpensive bird boxes and a barometer, if you have one (if not, try an antiques shop). Finally, hang a few wire box shelves on the wall or fence, filled with potted plants or herbs.
For even more storage, you could attach an iron or powder-coated utensil rail above the table and hang your most-used garden tools using S-hooks.
3. Create some instant (and inexpensive) shade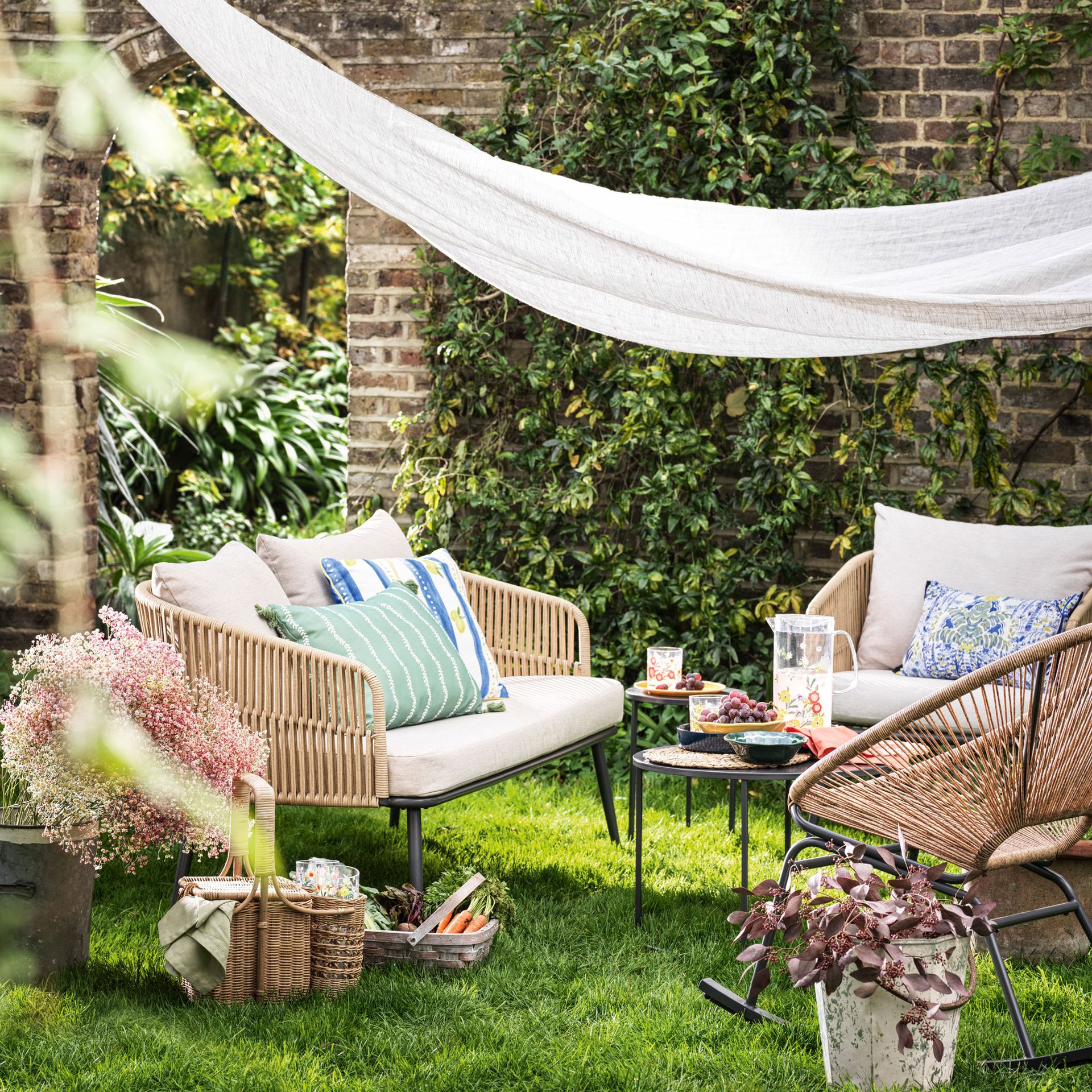 If you have a compact patio garden that's a bit of a sun trap, try hanging a simple sail-like canopy. It won't take up the valuable space that a parasol would, but still gives you a little bit of much-needed shade from the hot sun. You can buy affordable sail shades at B&Q.
'If you have a seating area but no room or budget for a parasol try draping some white fabric or sheets in your garden to provide some respite from the sun as well as a stylish area to sit and relax,' says stylist Charlie.
Get creative and make your own garden shade ideas out of an old sail or sheet and attach it to a wall, tree or fence using thin rope.
4. Add light and warmth after dark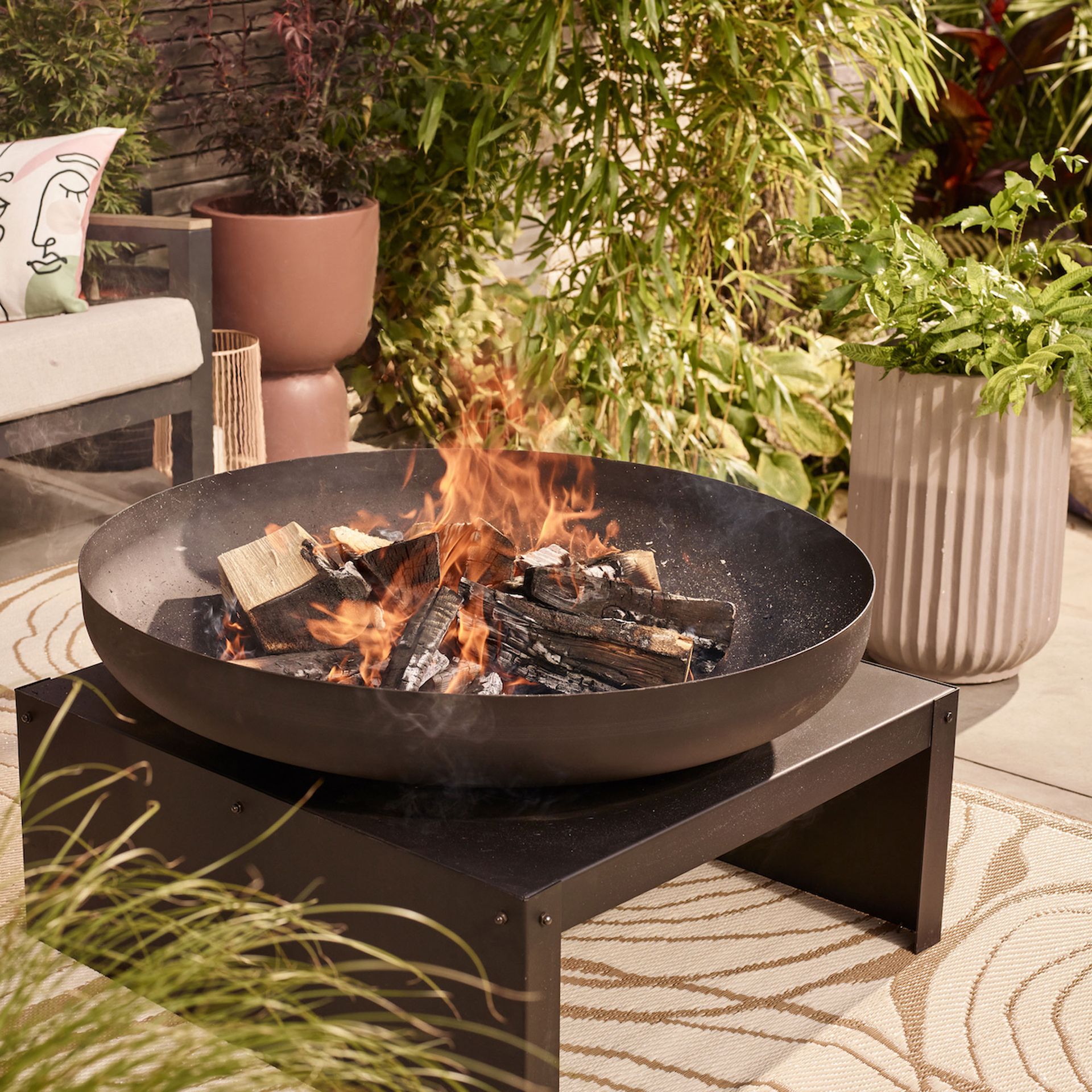 Firepits are a brilliant focal point in a garden and prove an essential when the sun goes down and a chill sets in. Stylist and creative director Charlie agrees: 'Looking for a change that you'll enjoy past summer? Firepits are always a winner,' she says.
They tend to be pricey though so look out for summer sales (you'll easily snap one up at the end of the summer to use for next year) or try looking on Freecycle, Gumtree, Freegle, and Facebook Marketplace to see if you can find a pre-used one the cheap or even free of charge.
5. Snap up an affordable lounger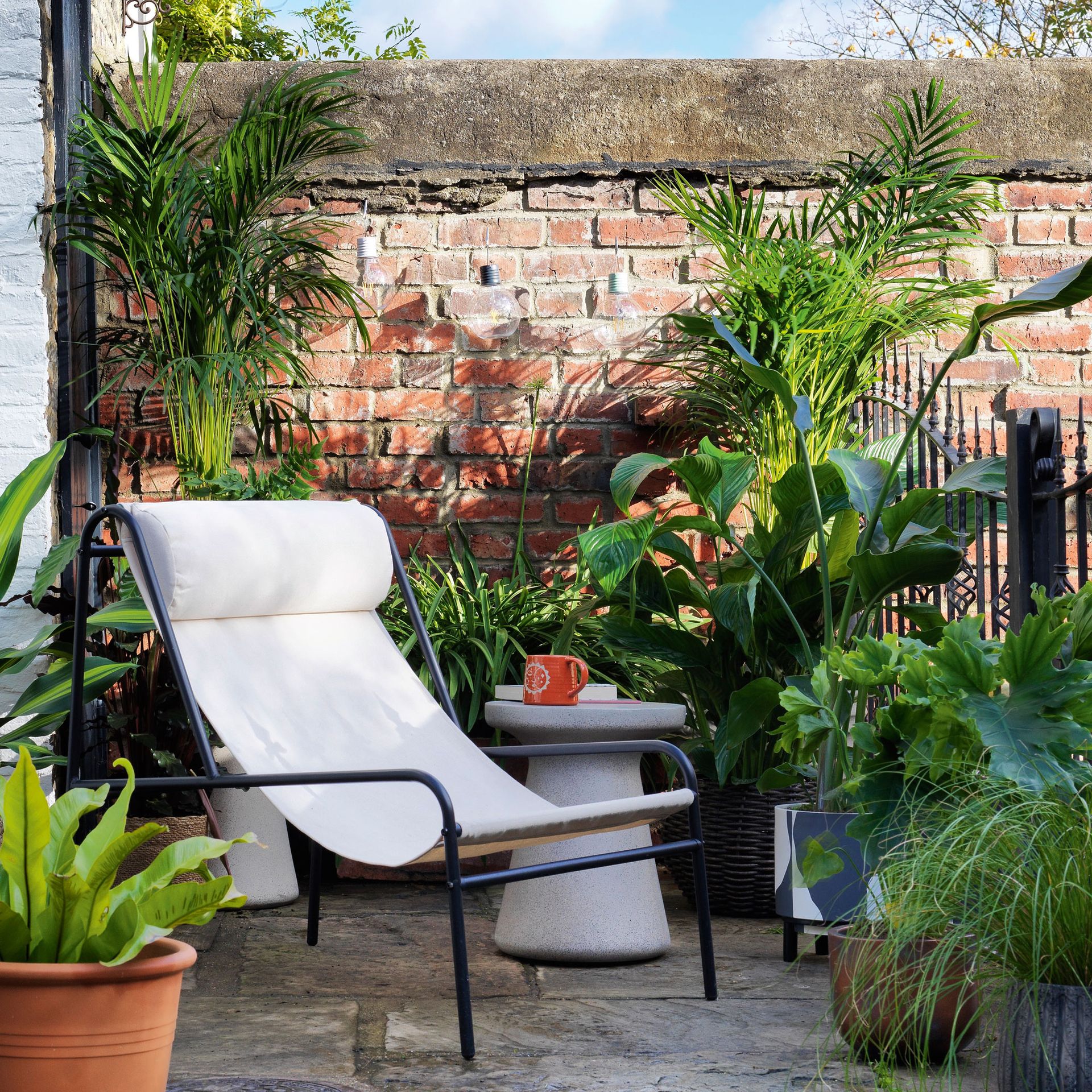 Every now and then, a high street brand will bring out a piece of furniture that we'll do a total double take on - as in, "surely it costs more than that??".
This summer style steal is the Habitat Teka garden chair. This super smart seat oozes contemporary cool and looks not too dissimilar to a Ferm Living garden chair that costs a cool £310.
Imagine yourself lounging back in the soft cotton sling (a brilliant neutral shade so it goes with literally everything) sipping a cool drink in the sunshine and feeling all smug that you've saved yourself a couple of hundred quid.
Yes, the Teka chair will set you back a mere £45, which is a pretty good bargain in our books. Keep a look out for special offers too, as - at the time of writing, the chair had 20% off...

6. Carve out a space for an outdoor kitchen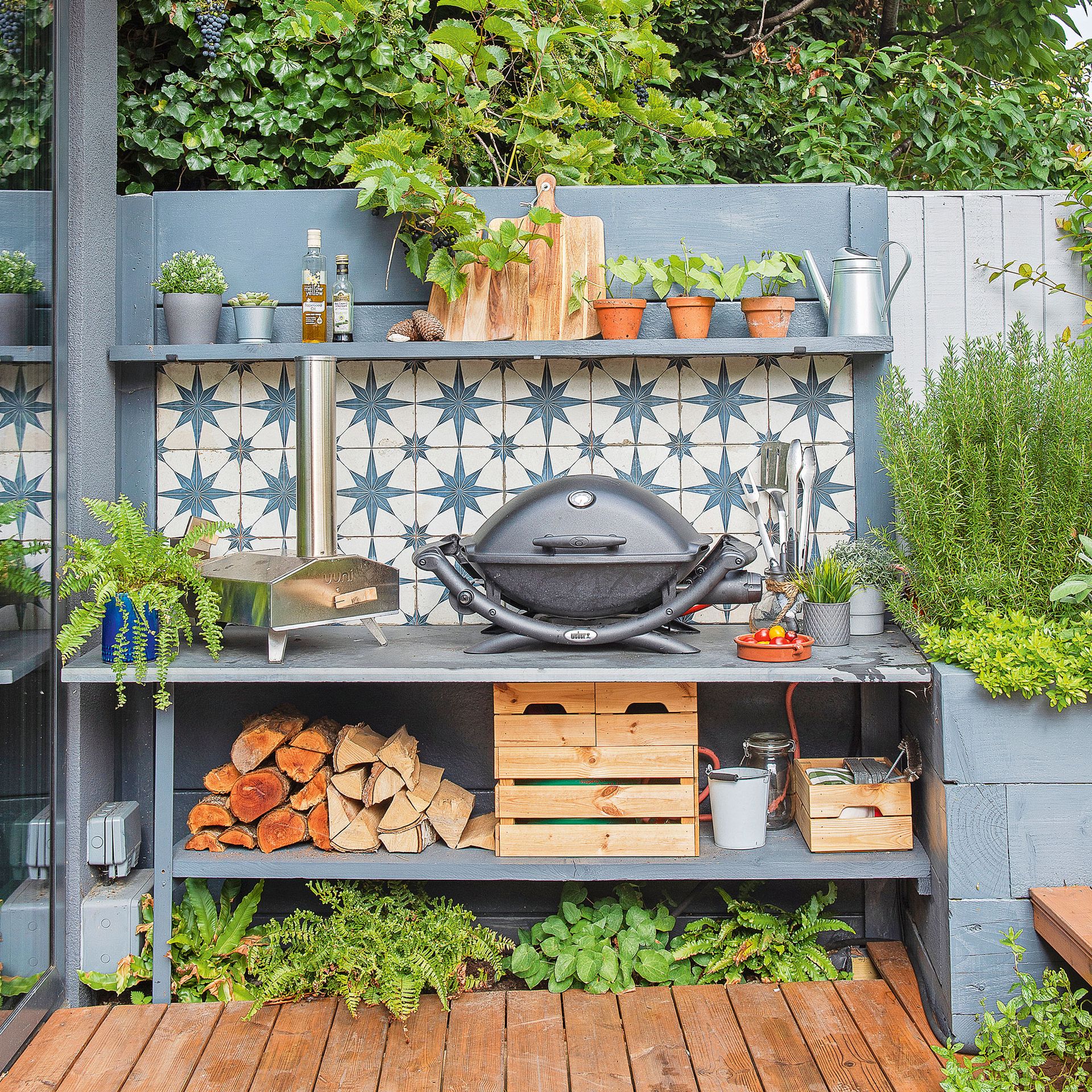 Extend your cooking area into the garden by adding a slim worksurface along one side of a patio. It shouldn't cost a fortune, just some planks of wood, coated in an exterior paint will do the job.
Give it extra focus (and a stylish edge) by tiling directly onto the wall behind to create a striking kitchen splashback ideas.
7. Create a gallery wall with planters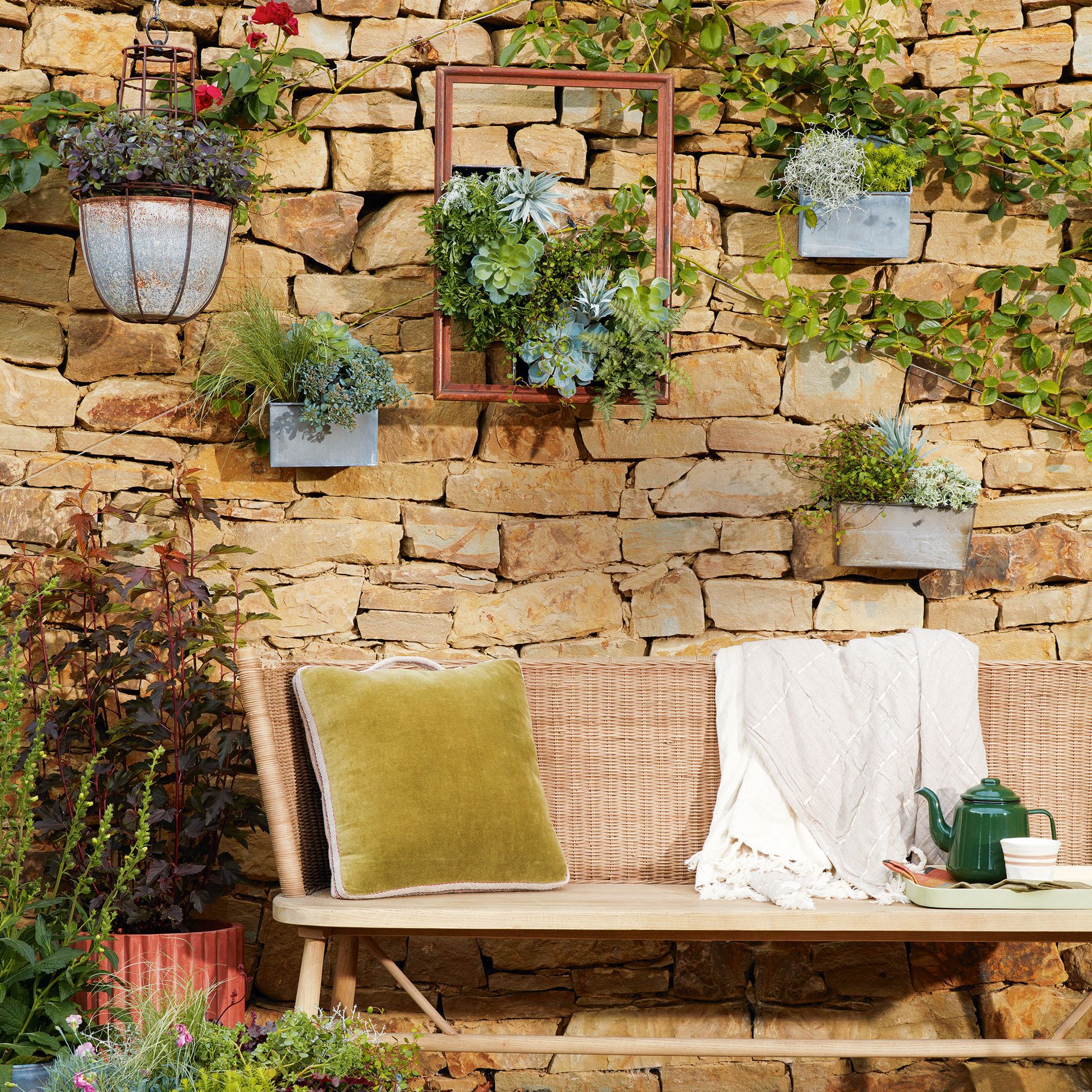 Create a display of frames and wall-hung planters on an exterior wall in the same way that you would hang pictures inside. Old loaf tins make great planters – just remember to drill holes for drainage.
Stylist and Creative Director Charlie loves creating living walls in gardens: 'They can be literally can be made from anything – old metal buckets, picture frames, tins, wooden pallets and so much more. Plant up with succulents or trailing plants, or better still go for herbs, which will create a lovely aroma.'
Garden designer Joel agrees: 'I love finding pots and planters on auction sites, like eBay and local pages on Facebook,' he says, 'often all you need is a little imagination. Yes, plants will grow in almost anything, but you need to choose the right plants and water and look after them.'
You can even fix a picture ledge or shelf along a wall above a garden sofa and arrange potted plants and outdoor sculptures on it, to give the space an outdoor living room feel.
8. Paint a two-tone exterior wall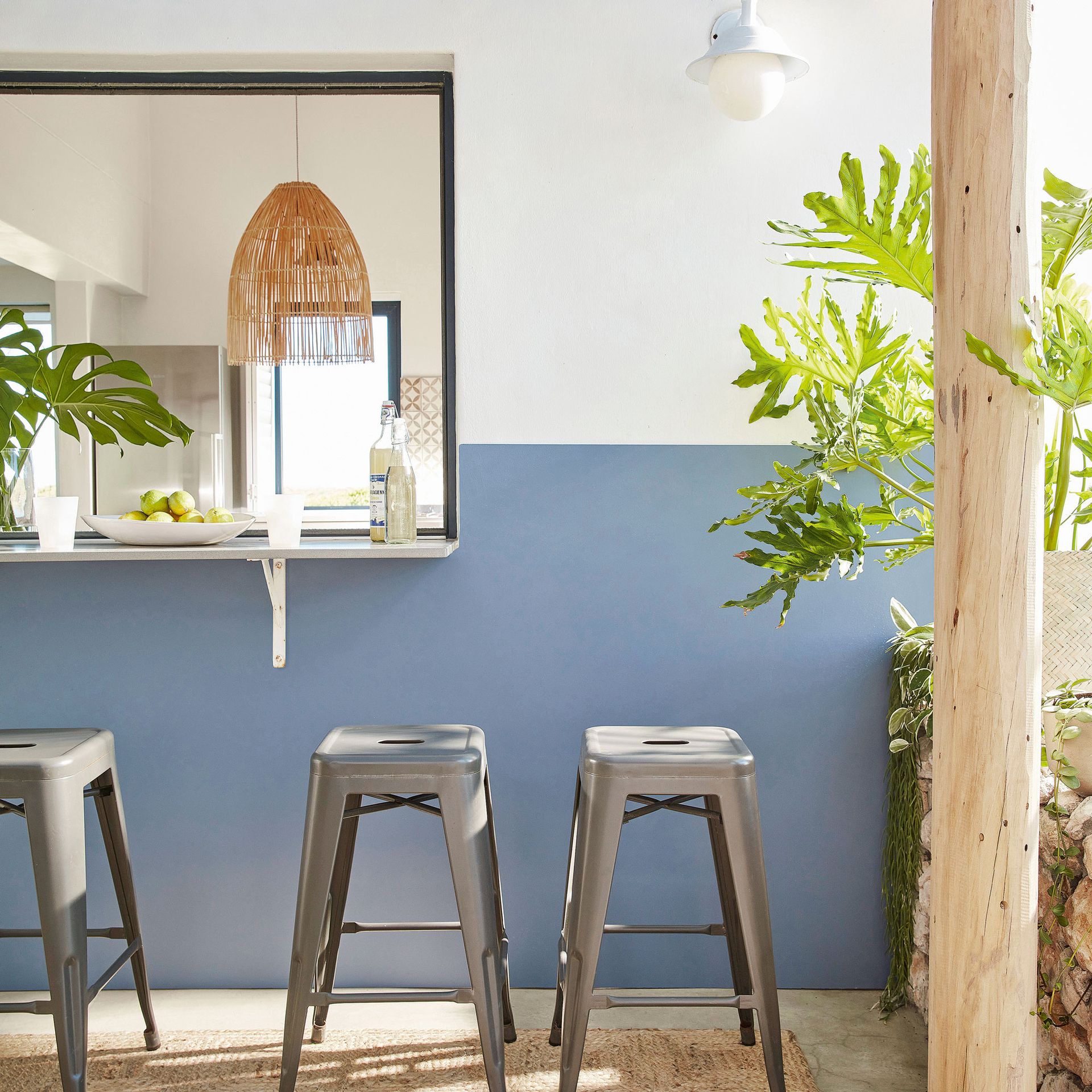 When it comes to paint ideas for your home, the interior of a house seems to always get all the love. But who's the say that you can't do the same on your exterior garden wall?
This dado-high painted wall adds a touch of warmth and sophistication to the garden wall, providing the perfect backdrop for a makeshift alfresco breakfast bar.

To achieve this look, attach brackets and a shelf to an outside wall beneath an open window. Pull up some bar stools to make a fabulous spot for eating breakfast in the sun.
9. Smarten up a plain set of furniture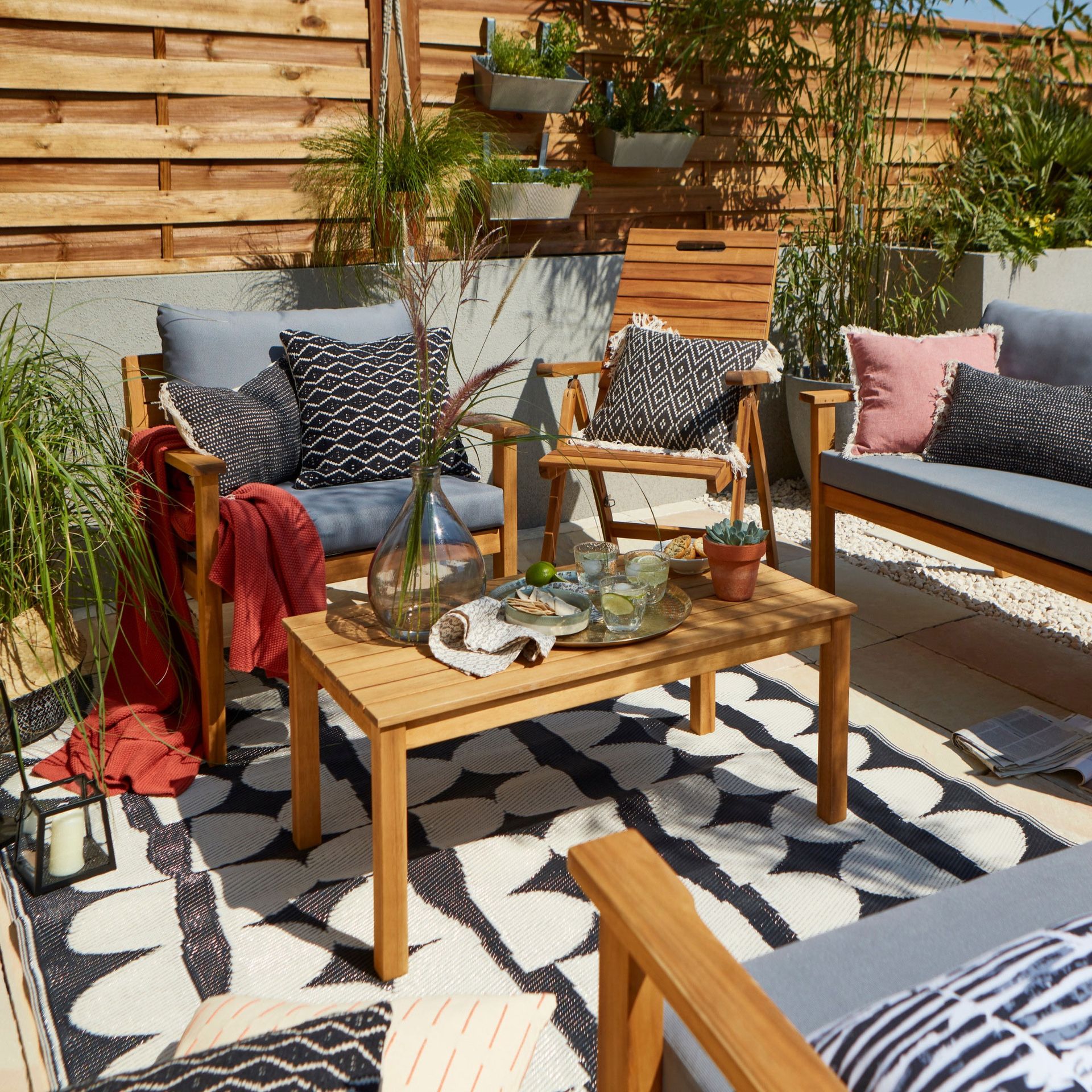 If you don't have the budget to spend lots on garden furniture, you needn't worry. An inexpensive set, either bought in a sale or via eBay, can be zhushed up with accessories.
'If you don't have the budget for outdoor furniture, use outdoor cushions and rugs to create a relaxed sitting area – it's a cheap and easy way of making your space useable and also no need for a large shed to store it all come winter,' says stylist Charlie.
Gabrielle Anderson, Outdoor Living Buyer, John Lewis & Partners agrees: 'Textiles, such as cushions and throws, are another great way of adding colour on a budget,' says Gabrielle, 'along with lanterns and outdoor rugs. Don't be afraid to go bold with colourful accessories to create a vibrant space, using indoor-outdoor rugs to create zones.'
10. Use climbing plants to offer privacy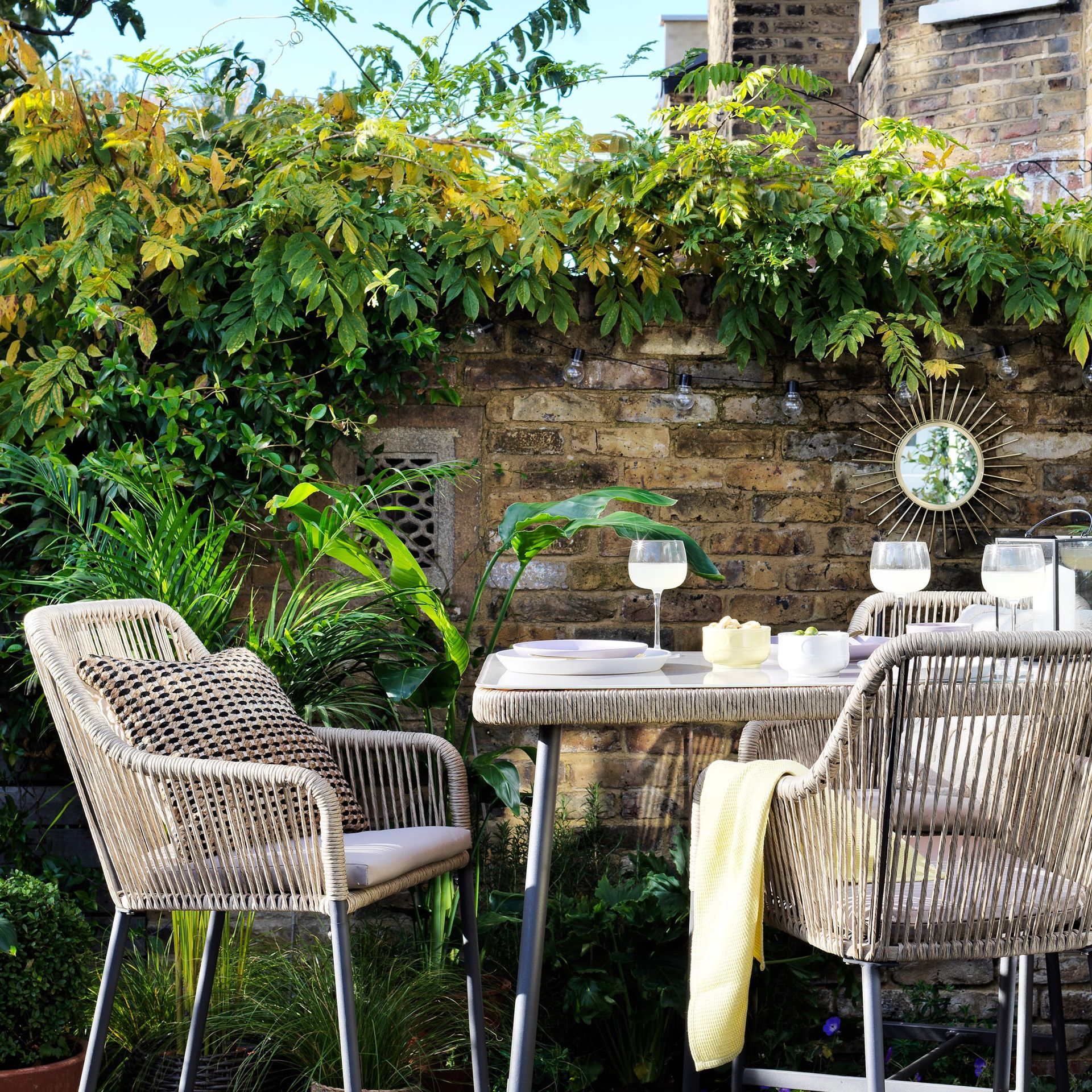 Climbers, once planted, will stretch and grow to cover unsightly fencing or walls and provide a lush, verdant borders to your outdoor space. Cleamatis is an excellect choice as it effortlessly weaves its way across surfaces and flowers beautifully in summertime.
'If you're short on time but still want to enjoy beautiful blooms year after year, perennials are the perfect solution,' says Amy Stubbs, development and project manager, British Garden Centres.
'These low-maintenance plants are easy to grow and can be used as fillers in borders or planted in containers.' Once established, they offer a range of colourful blooms and attract wildlife and pollinators to your outdoor space,' she adds.
11. Plant a tree to add some height to your space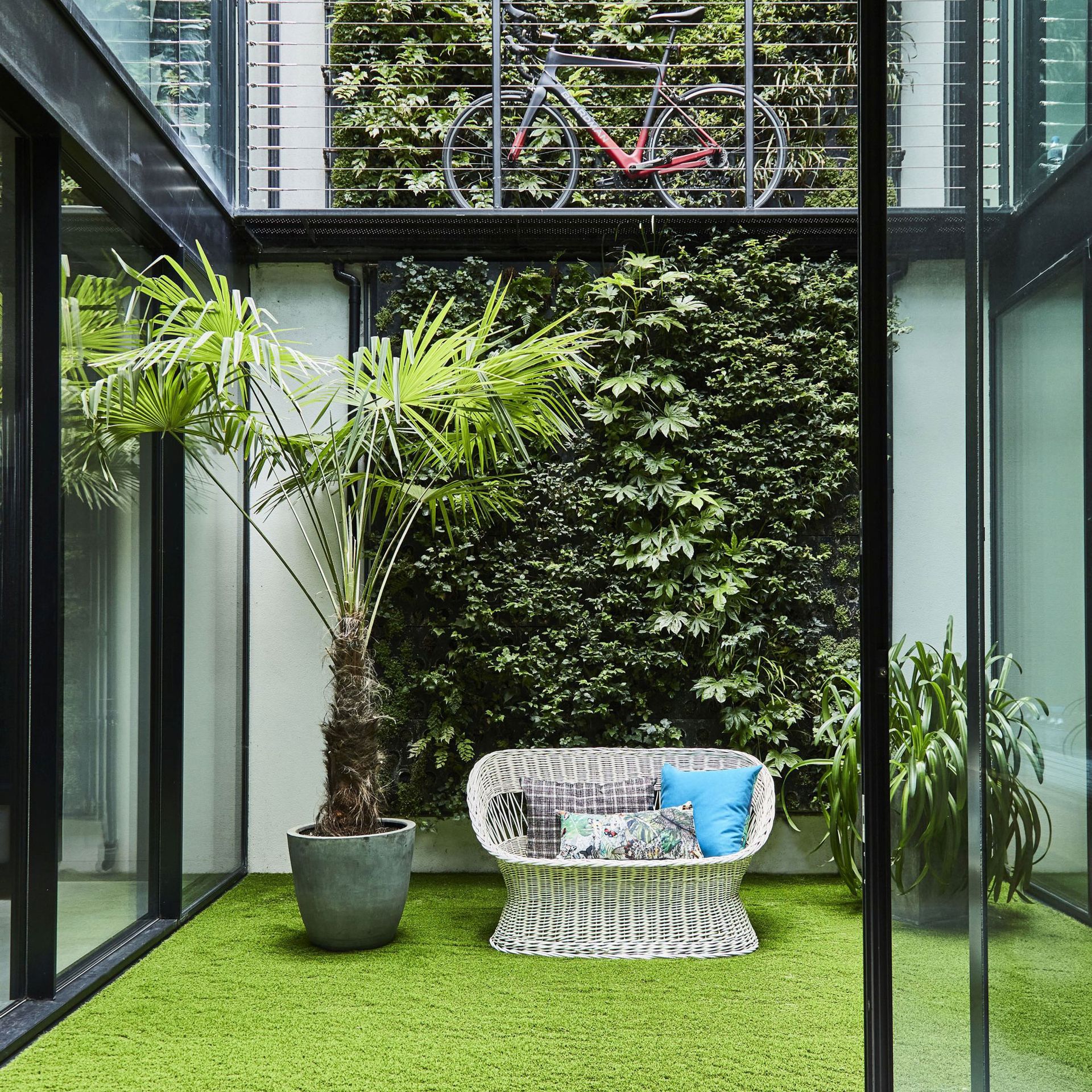 Before you point out that pre-grown trees can be super expensive, it's important to note that this idea is a slow burner.
Buy a small decorative tree, like an acer, palm, olive or apple - try Aldi and Lidl for affordable versions - and either plant it in the ground or pop it in a planter. The latter is a better option if you're renting so you can bring it with you when you eventually move.
This small tree over the years - with a little love - will grow to become a wonderful addition to your garden, adding colour and interest to a dull corner.
12. Go for a versatile bistro set
'Great-value bistro sets are perfect for balconies or smaller gardens. They are easy to fold away, too,' says Gabrielle from John Lewis.
Francesca Morris, senior buyer, Garden Trading agrees: 'Having a small patio can be just as rewarding as a rambling garden when thoughtfully styled. The key to making the most of a small outdoor space is utilising flexible furniture with a slimmer silhouette – offering space to host a feast of drinks and nibbles but without looking bulky.'
'Easy to tidy away at the end of an alfresco dinner party,' continues Francesca, 'folding bistro sets are a great option for those who want to utilise patios and verandas for multiple purposes throughout the warmer months and be able to switch between dining and lounging effortlessly.'
15. Sow your own wildflowers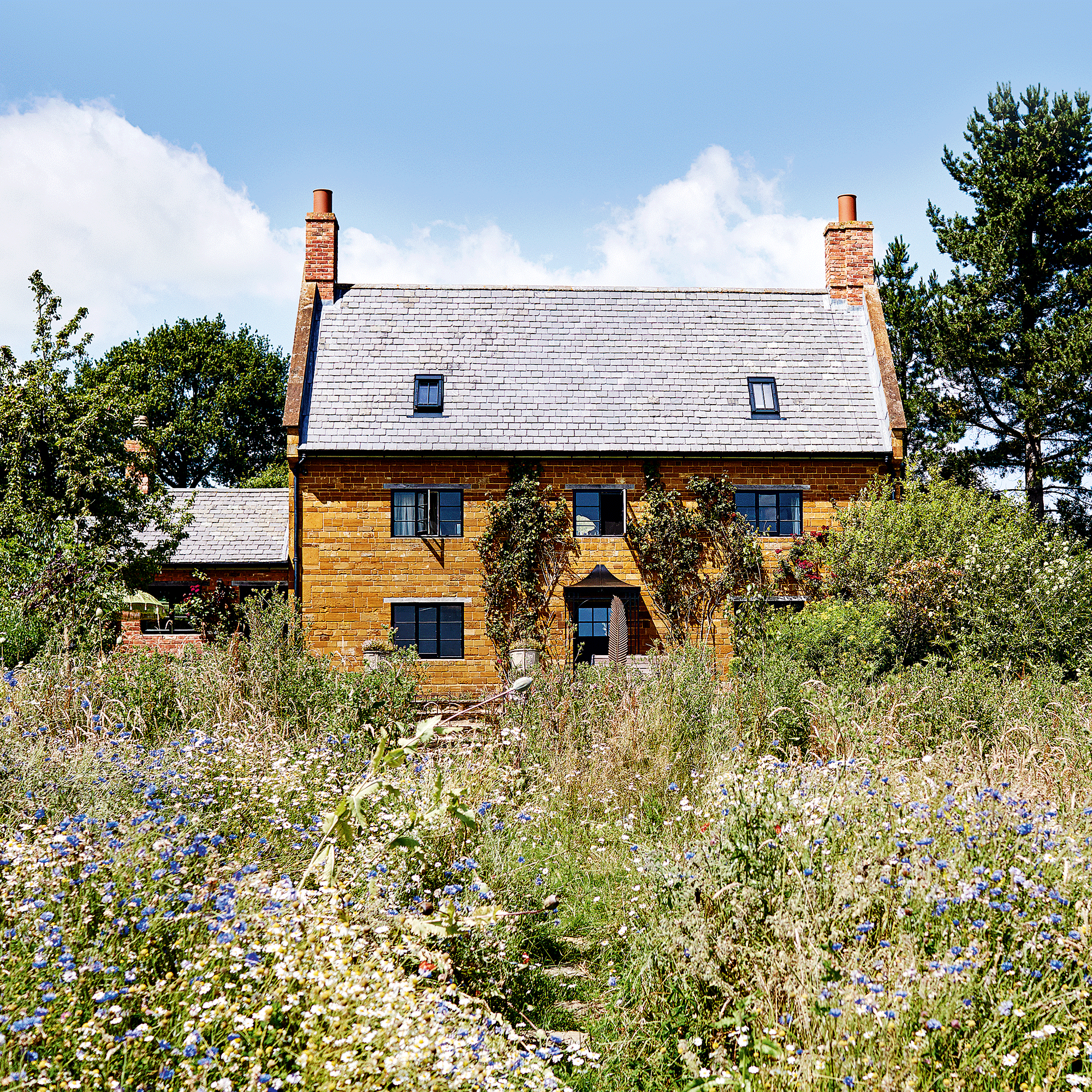 If money's tight and investing in potted plants and bulbs seems too pricey, then consider sowing some wildflower seeds instead.
'If you're looking to create a vibrant wildflower garden, using seeds is your best bet. These can be conveniently found and purchased at most garden centres and are available in a wide range of colours and styles, from traditional cottage gardens to nectar-rich blends that attract bees and butterflies.
For an easy-to-maintain garden, select mixes that include low-maintenance varieties like Ox-eye Daisy, Corn Poppy, Cornflower, and Corn Marigold. Once you've chosen your seeds, simply scatter them in the desired location and lightly rake them in,' suggests says Amy Stubbs, development and project manager, British Garden Centres.
14. Whitewash your walls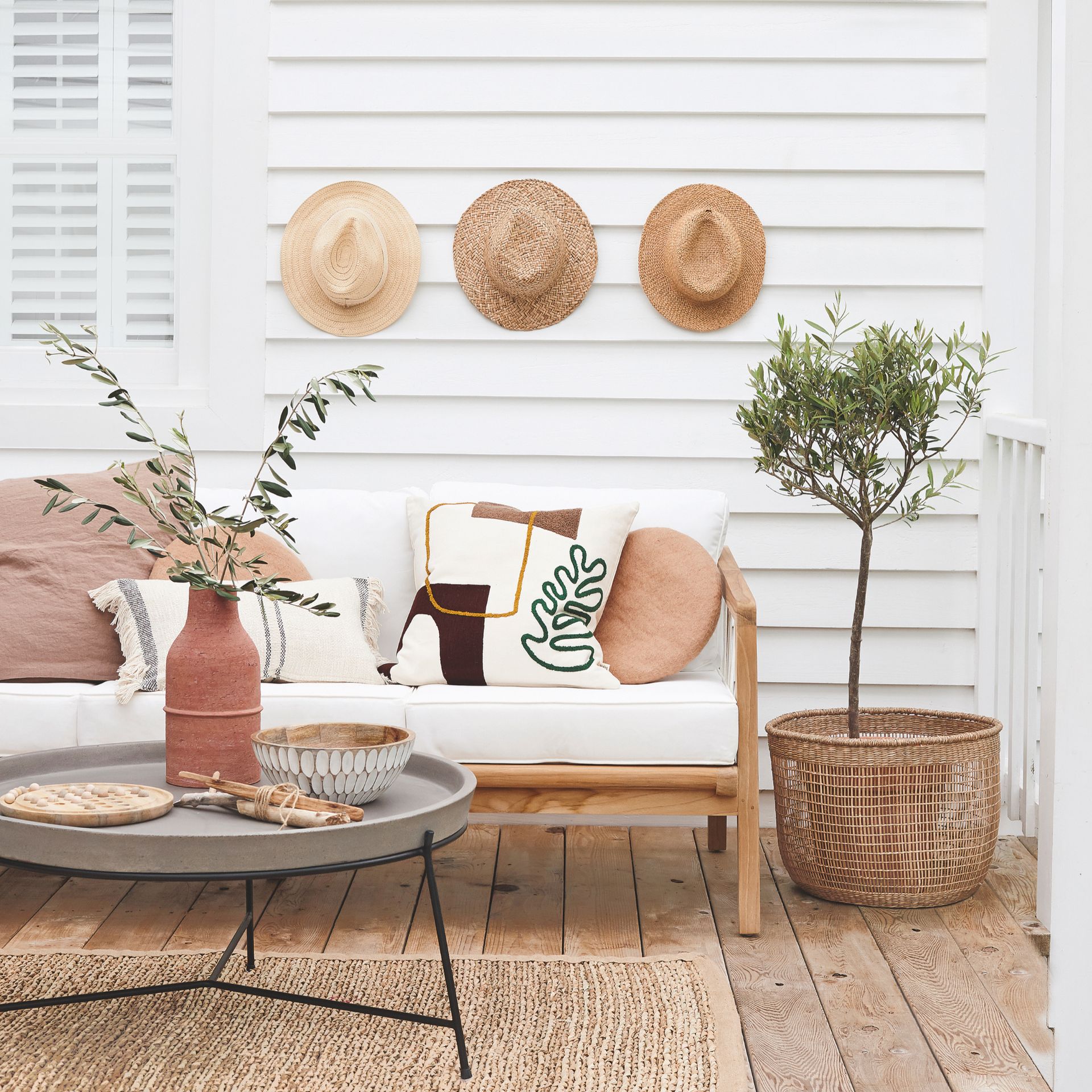 Giving your exterior walls a fresh coat of paint is one of the best and easiest budget garden ideas. It will instantly refresh them and give them protection against the weather when it changes next season.
White, as with interiors will reflect and brighten and provides a neutral background for your outdoor dining scheme.
15. Green up your patio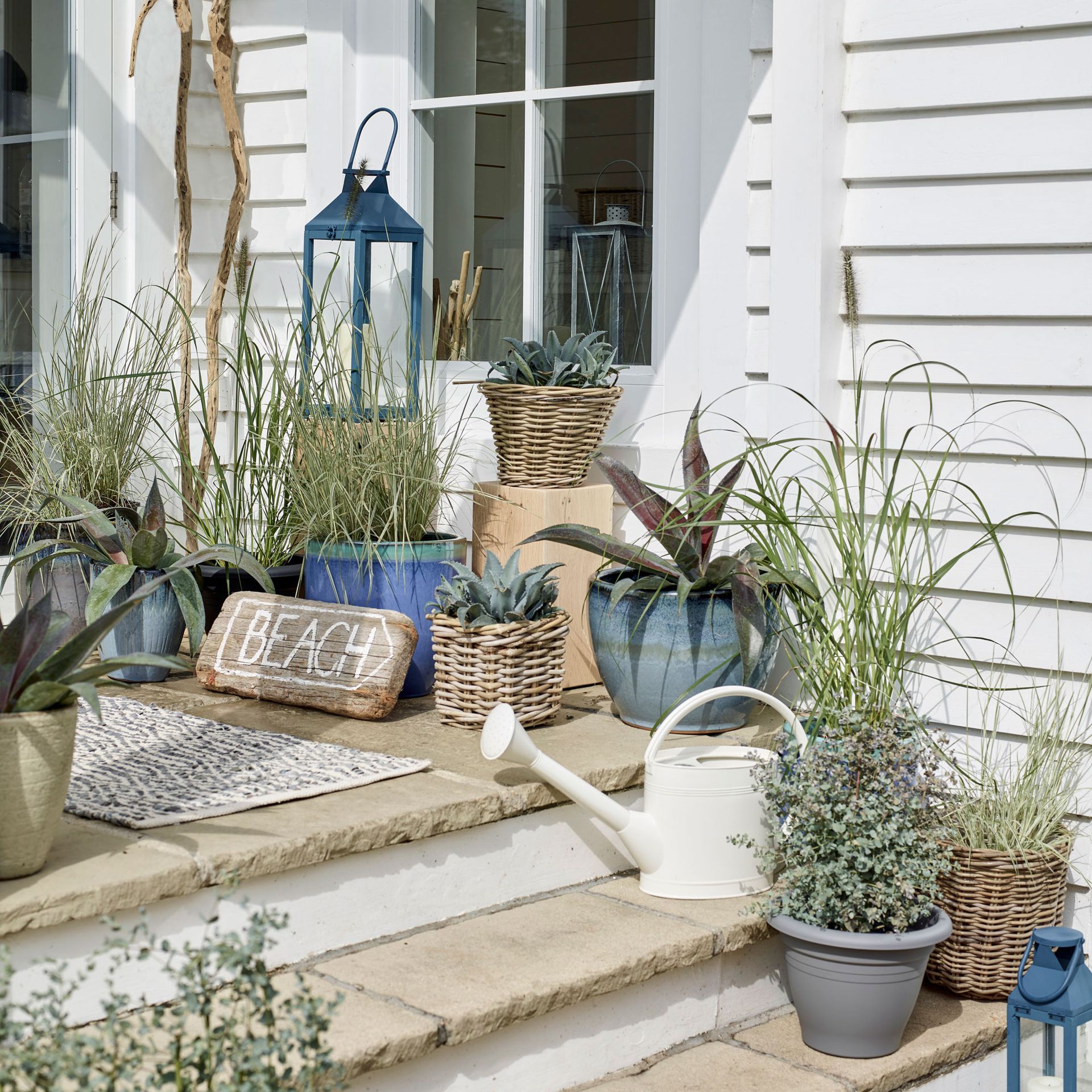 For a modern scheme that may feel a little stark, add greenery in containers to add a more natural feel. They won't distract from a monochromatic scheme, rather add an organic element.
Amy Stubbs, development and project manager, British Garden Centres says: 'Creating beautiful arrangements of plants and pots can instantly enhance your outdoor area. Container gardening is effortless and efficient, as it eliminates the need for extensive digging and weed removal. You can simply plant your desired flora and relish in its beauty.'
'Wasting water by showering the entire garden with a hose is a thing of the past,' continues Amy. 'With containers, you can water your plants with precision, getting water directly where it is needed most. Investing in containers that have auto-irrigation capabilities can ensure that your plants will thrive, even when you are not around to tend to them.'
16. Paint your exterior tiles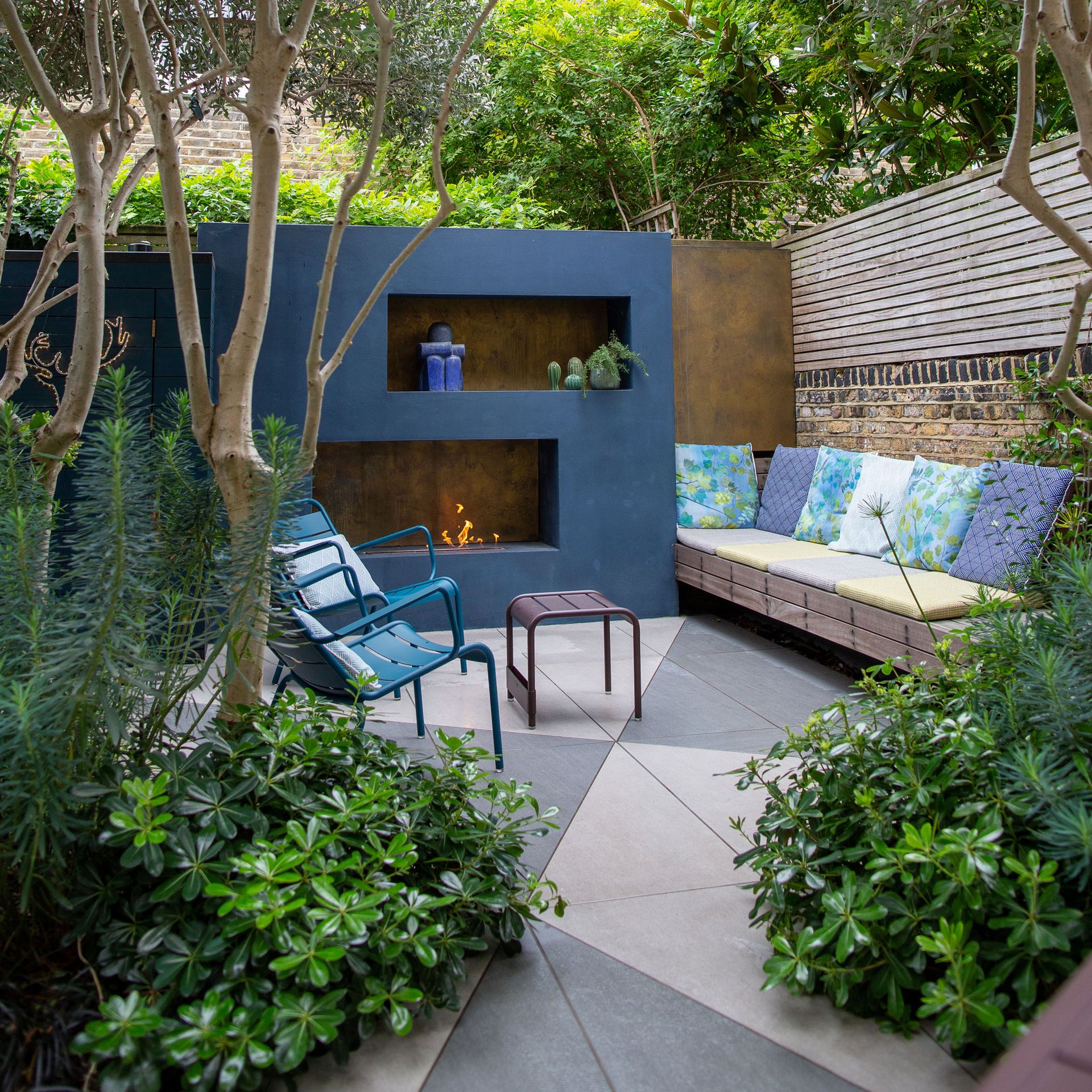 Tired of your existing patio tiles but no budget to revamp? Consider painting some of your tiles them to create a graphic pattern.
All you need is a good quality primer that you can apply once you've cleaned the area you want to paint and marked off the design. Once dry, paint your tiles in the chosen colour – make sure it's for outdoor use – and finish with a good quality sealant.
17. Try faux grass for value and ease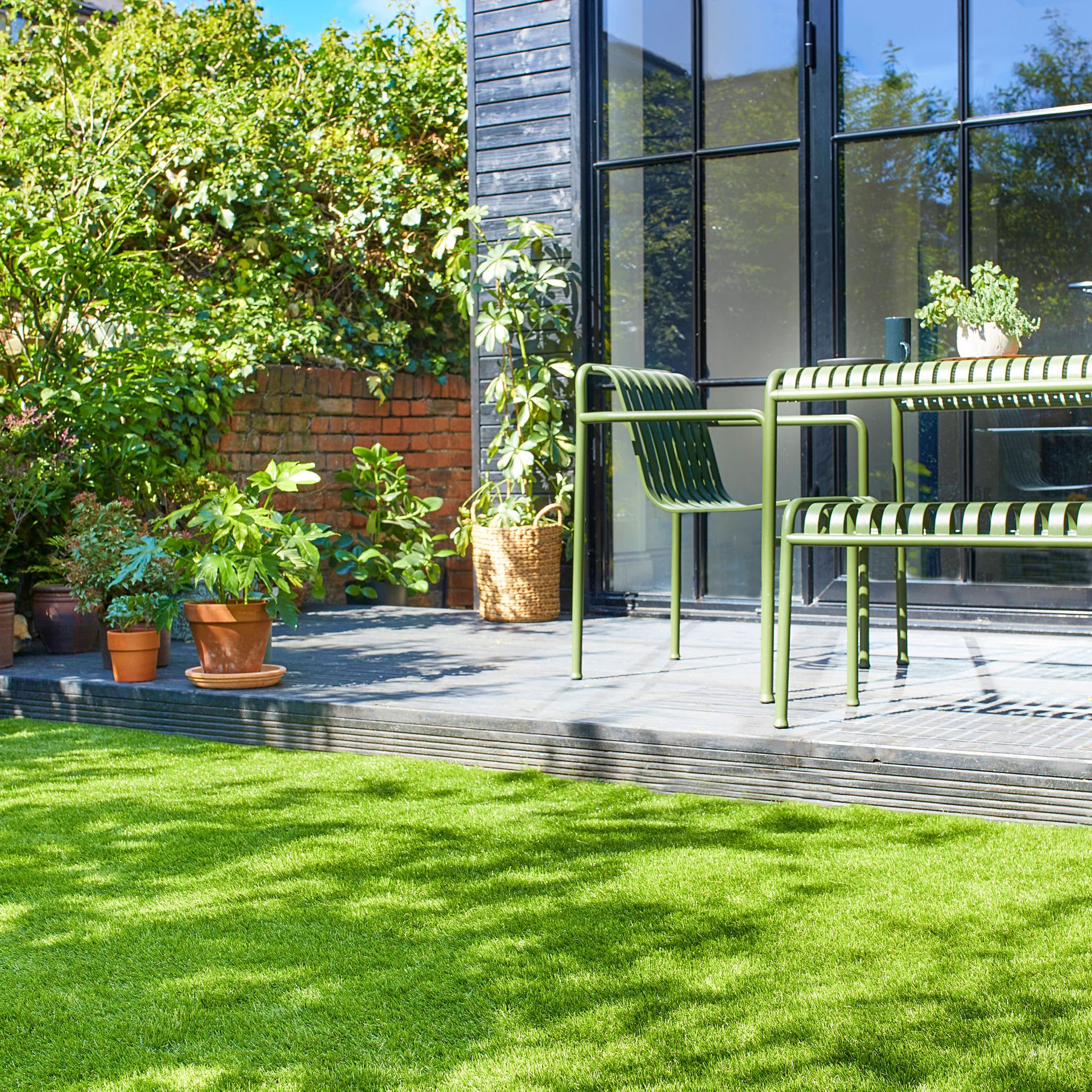 'While it's easy to assume that designing a stylish, low-maintenance garden requires a significant investment, this doesn't have to be the case. With a little thoughtful planning, it's possible to create an inspiring space without breaking the bank.
Artificial grass provides the perfect solution for creating attractive, functional outdoor areas without the hassle and expenses associated with traditional lawn maintenance. Whilst it gives a similar underfoot sensation to the real thing, artificial grass is hard-wearing, long-lasting and fade-resistant.
Once installed, artificial grass requires little upkeep. With minimal effort, such as occasional brushing and removal of dirt and leaves, it remains vibrant and natural looking all year round,' says Sarah Hooper, grass buyer, Carpetright.
18. Paint a bold feature wall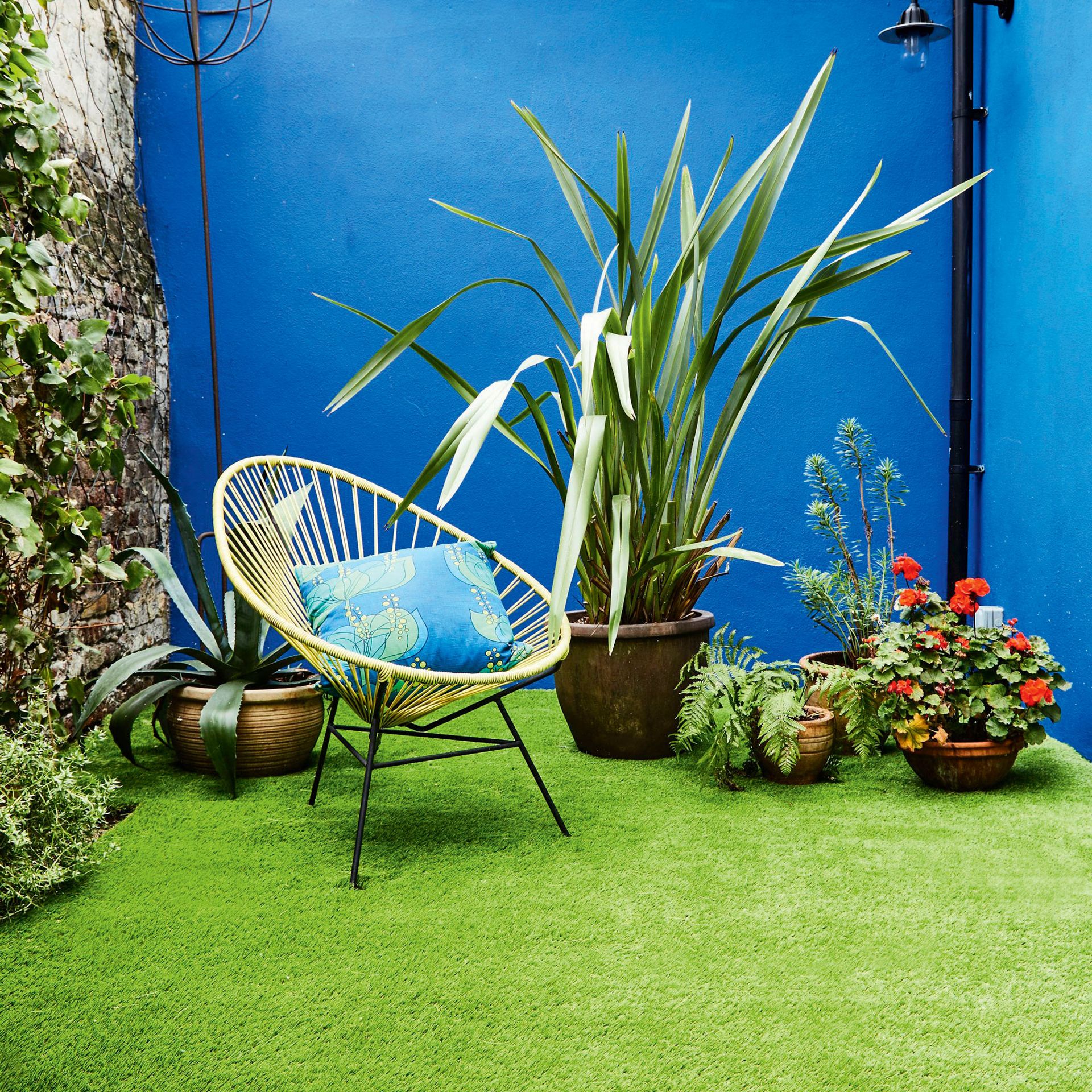 Stark white masonry walls can be a bit of an eyesore in a garden, a dull blank canvas that is calling out for something to perk it up. Painted surfaces works wonders in a garden, with darker colours working particularly well in contract to the verdant greenery.
This saturated blue paint shade pops against the green grass (which, because its artificial, you can guarantee it will always keep that colour) providing a bold and beautiful backdrop to other planting.
19. Make neat plant markers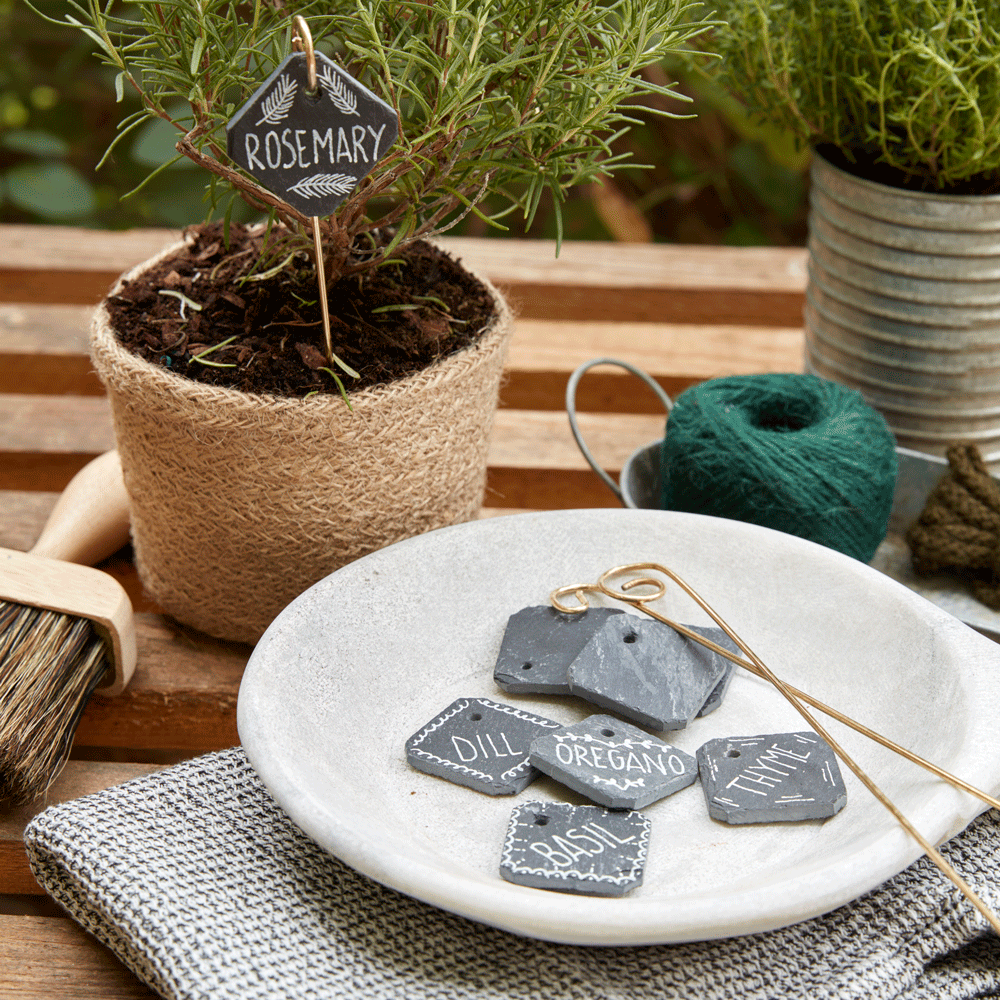 Prettify your pots with slate labels. Never confuse your chives with your chervil again by creating handy labels to pop in your herb pots. Use a white marker pen or piece of chalk (if you want to rub them out) to write the plant names on mini slate tiles.
Bend wire using pliers to make rods with curled hooks to hang them on. Write how often plants need watering on the back of the marker.
20. Make use of an old kitchen trolley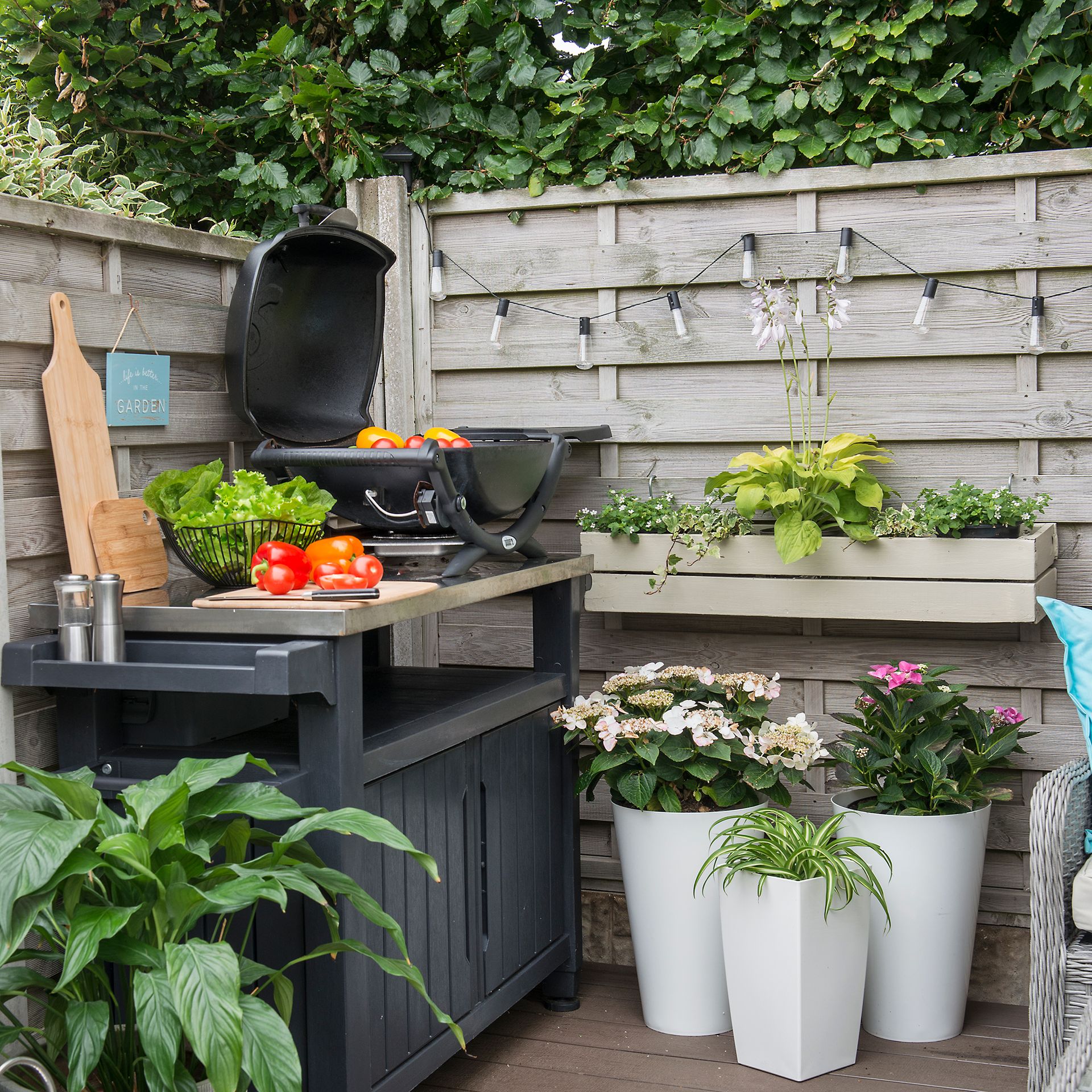 This may seem like an expensive idea, rather than a budget garden one – but you really can create your own outdoor kitchen without spending a great deal. All you need is a BBQ or pizza oven – which you probably already have - a corner to keep it in and some extra worktop space for food prep.
An inexpensive kitchen trolley (try Ikea or Robert Dyas) makes a good base for your grill and is even better if it is has wheels. If it's made from wood, don't forget to seal it with a weatherproof paint or stain to ensure it withstands the rain and wind later in the year.
21. Reshape your borders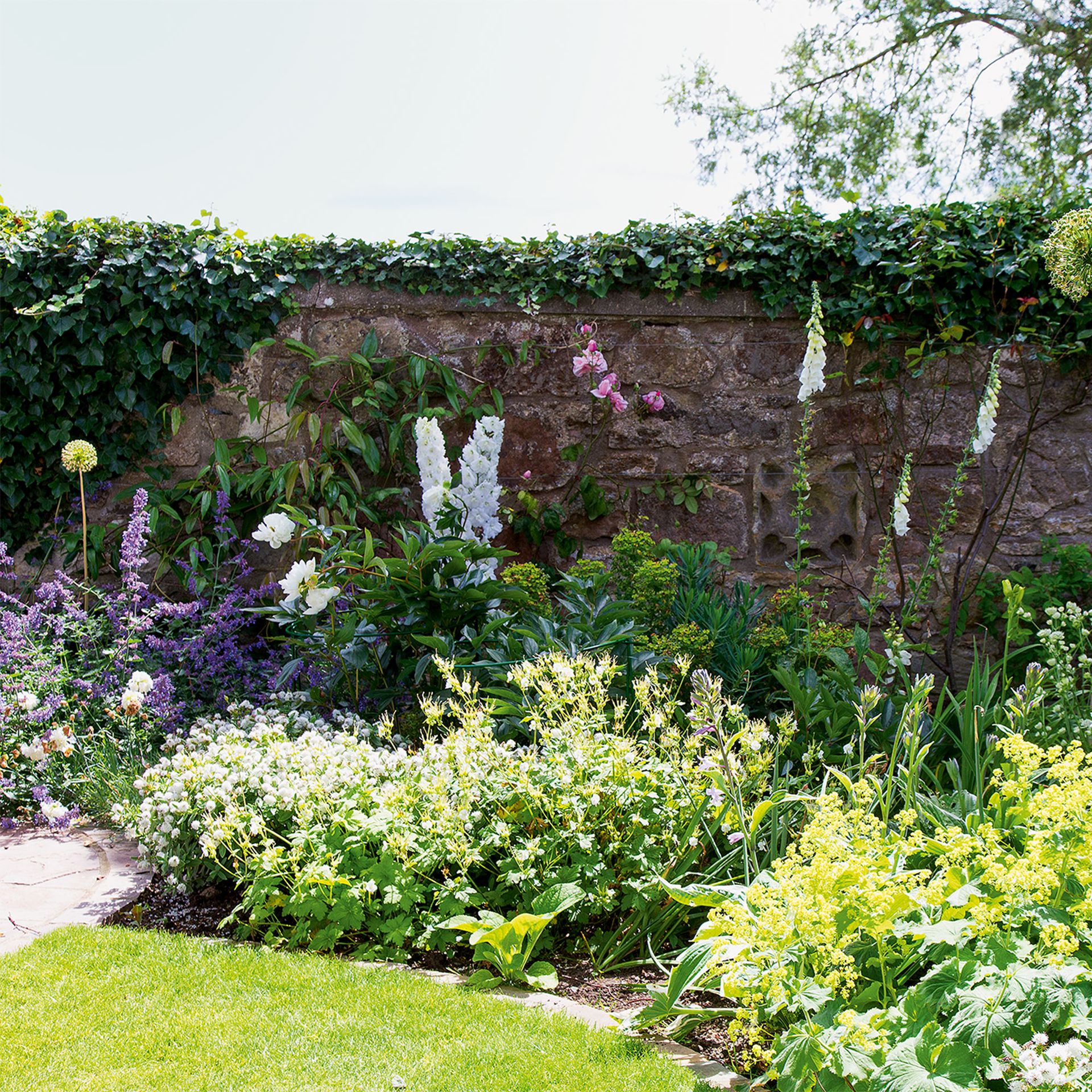 Simply altering the shape and size of your flower beds can revitalise your garden, costing no more than an hour or two of your time, and a bag of compost. Why not introduce relaxed curves or sharp-lined geometric beds for a more contemporary vibe that will transform your garden border ideas.
Whatever your design ambitions, a good quality, sharp edging tool is a must for this job. Tool specialists Burgon & Ball advise to 'use borders to create optical illusions. Different shapes of flower bed can dramatically alter the atmosphere of a garden.
'Straight beds down either side will make a garden look smaller, whereas a sweeping curve can make it feel bigger than it actually is. And creating flower beds a metre deep allows them to comfortably accommodate several different heights of plant for a full, rich look.'
22. Cover up a shabby patio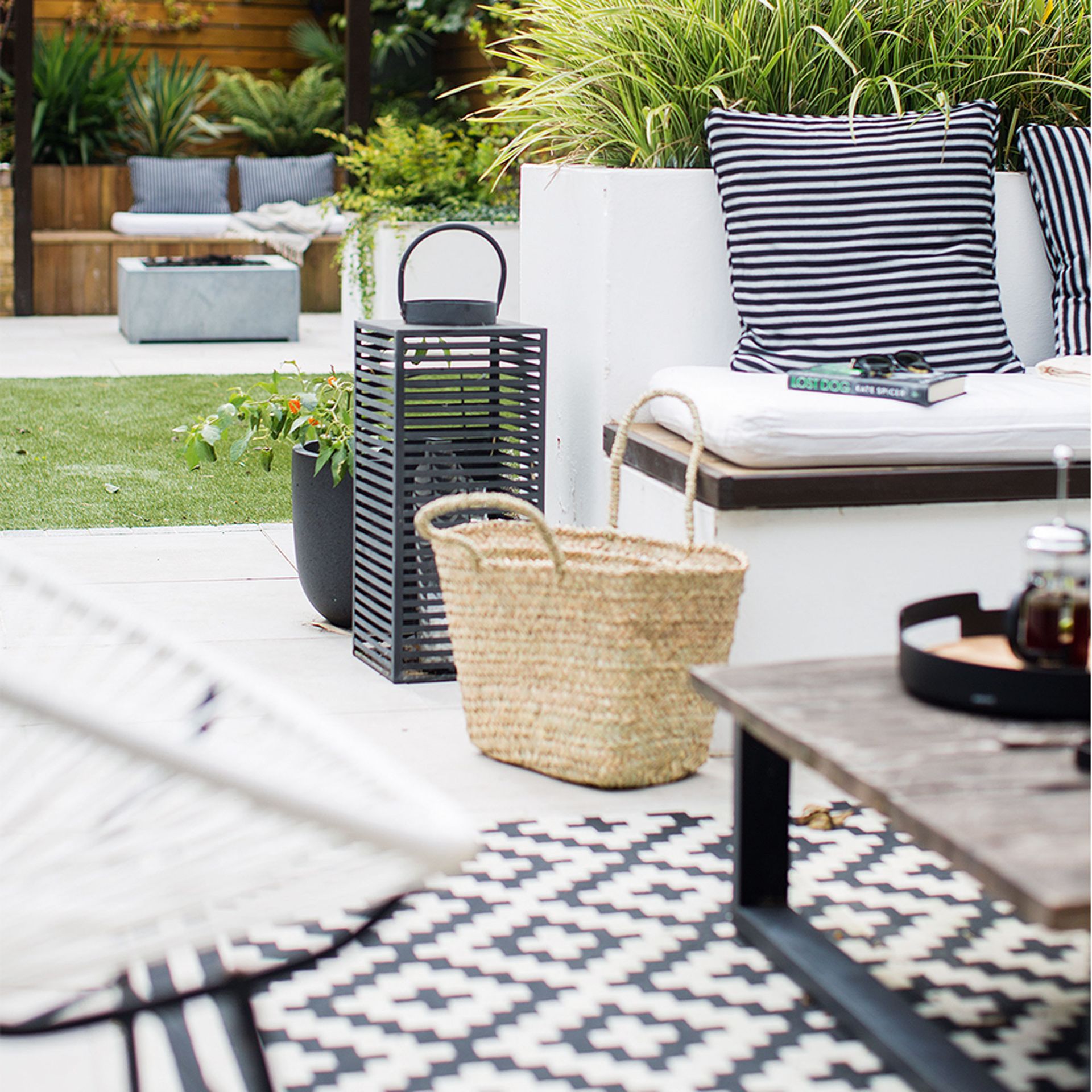 Rather than forking out for a new patio to be installed, simply disguise tired paving or a weathered deck with a colourful, all-weather rug or rugs.
The majority of outdoor rugs are made from woven polypropylene and come in a whole host of different patterns, bright colours or earthy neutrals and can be picked up for under £100.
Warmer and more comfortable underfoot than cold slabs, a rug is an easy way of bringing instant colour and pattern to an outside seating space and can make an eye catching focal point to arrange garden furniture around. Durable and hardwearing, they can be left outside during rain showers and are quick to dry.
23. Refresh your fence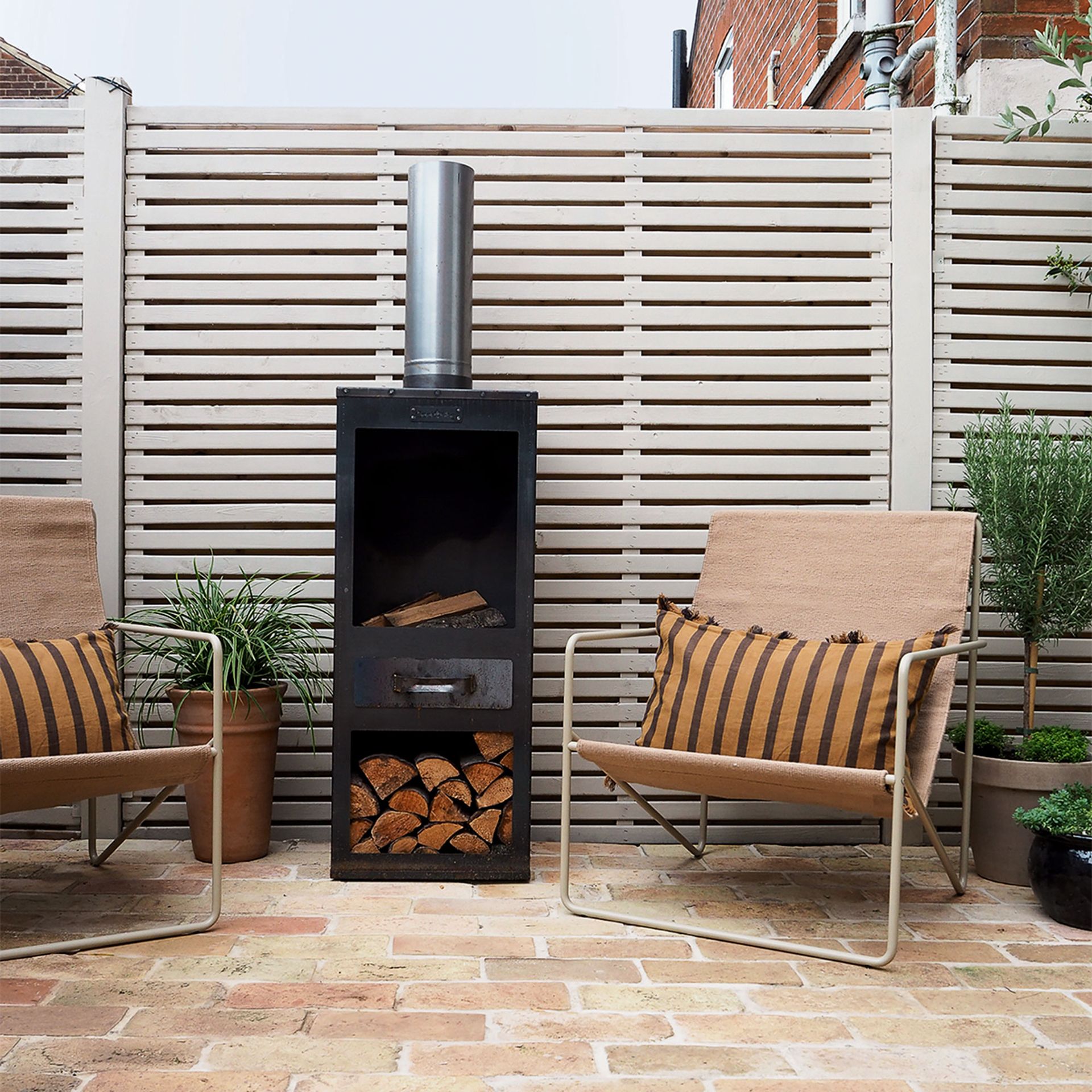 For an instant pick-me-up when the weather turns warmer, why not try painting the fence a fresh pastel shade or a dramatic dark? An easy fix for weathered outdoor timber that's looking a little jaded, such as fence panels and trellis, garden fence ideas and spruce-ups can be completed in less than a day.
'You should choose a paint colour that enhances your existing garden or terrace,' says Aaron Markwell, COAT's paint colour guru. 'Pairing smoky dark greens with a black paint or a green-grey will make your plants pop and serve as a beautiful background for your outdoor furniture.'
'Greys and green paint tones work perfectly outdoors and can create an illusion of space that can make a small garden feel bigger.'
24. Re-seed the lawn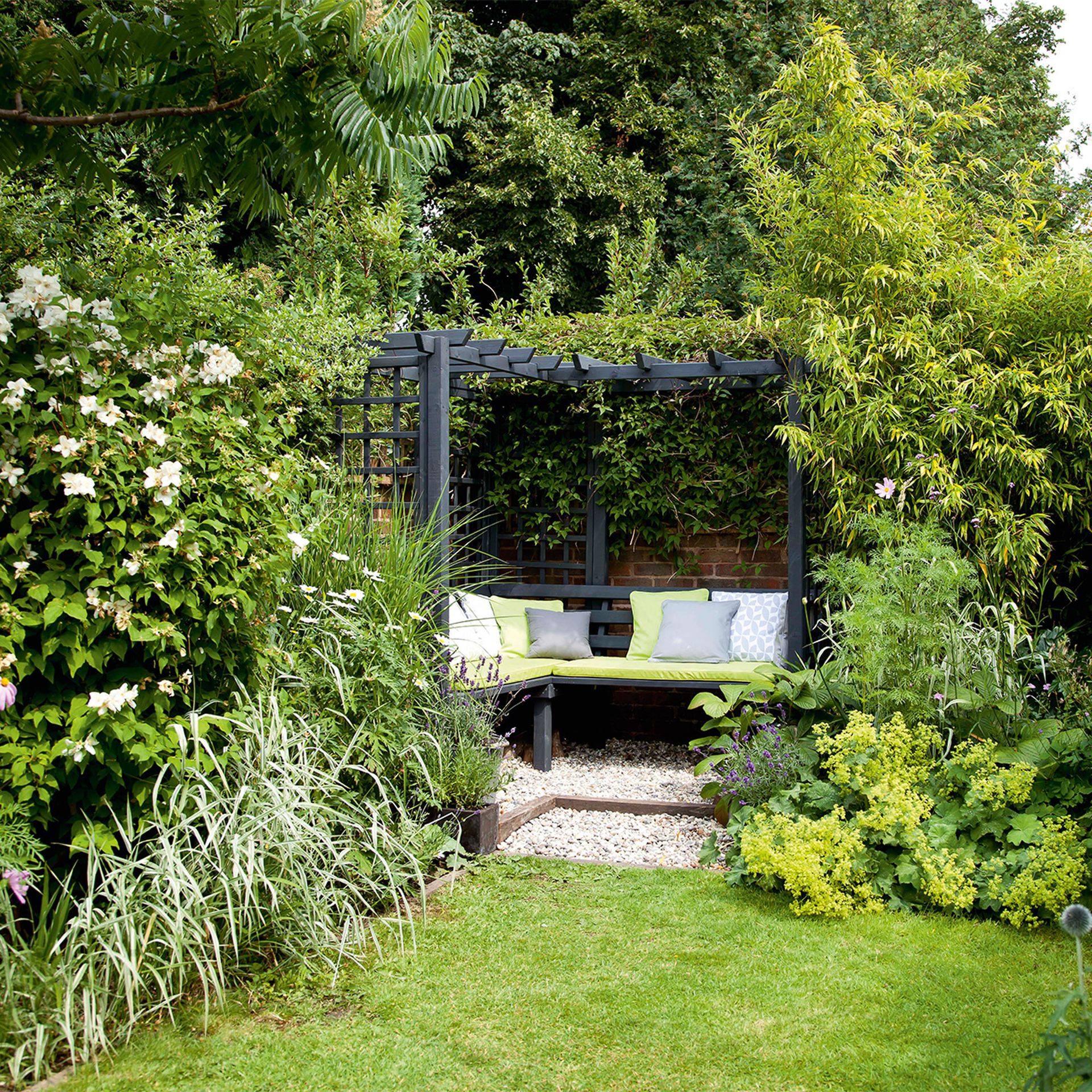 If you love the idea of lush lawn ideas for summer picnics or for the kids to have a run-around, then you're in luck, as it's cheap and relatively easy to create. However, while using rolls of turf may be quicker, it's definitely more expensive, so if you're prepared to be patient, grass seed is the way forward.
You'll need to prepare the ground first, removing any weeds or stones and levelling it out before re-compacting it and raking over the top. Lawnmower manufacturer Stihl recommends 'seed coverage of 15g to 20g per sq metre' and warns that 'if the grass plants are sown too close together, they will impede each other's growth.' Water the seeds and keep them moist until it's properly germinated.
25. Lay a DIY path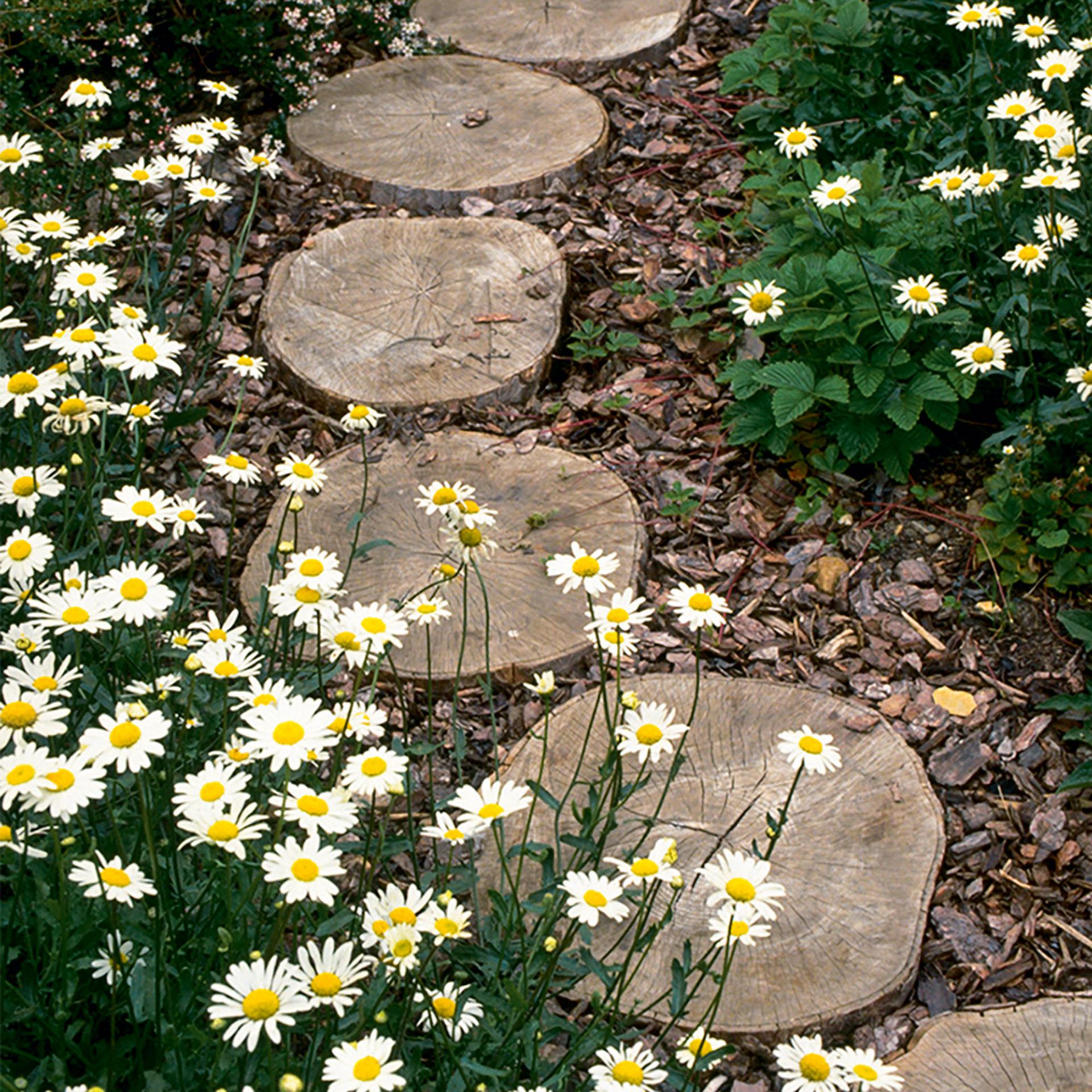 Creating a quick and easy garden path idea doesn't have to be an expensive or arduous project. From bark nuggets, slate chippings, gravel or pea shingle, there are a number of easy lay options that are also practical underfoot and good looking, too.
You could simply lay straight on the ground or a hard surface (think concrete hardstanding or ugly paved area) and rake over a loose material like gravel or shingle level, but in most cases, it makes good sense to put down landscape membrane first and then the aggregate on top.
This will both stop the aggregate from being pushed down into the soil and prevent weeds from growing up, within the path.
Another thrifty and attractive idea is to lay a woodland-style log path using cross sections of sawn logs. Place them onto a firmed and levelled pathway and arrange as stepping-stones, filling in any gaps in-between with bark chippings.
26. Create a candle centrepiece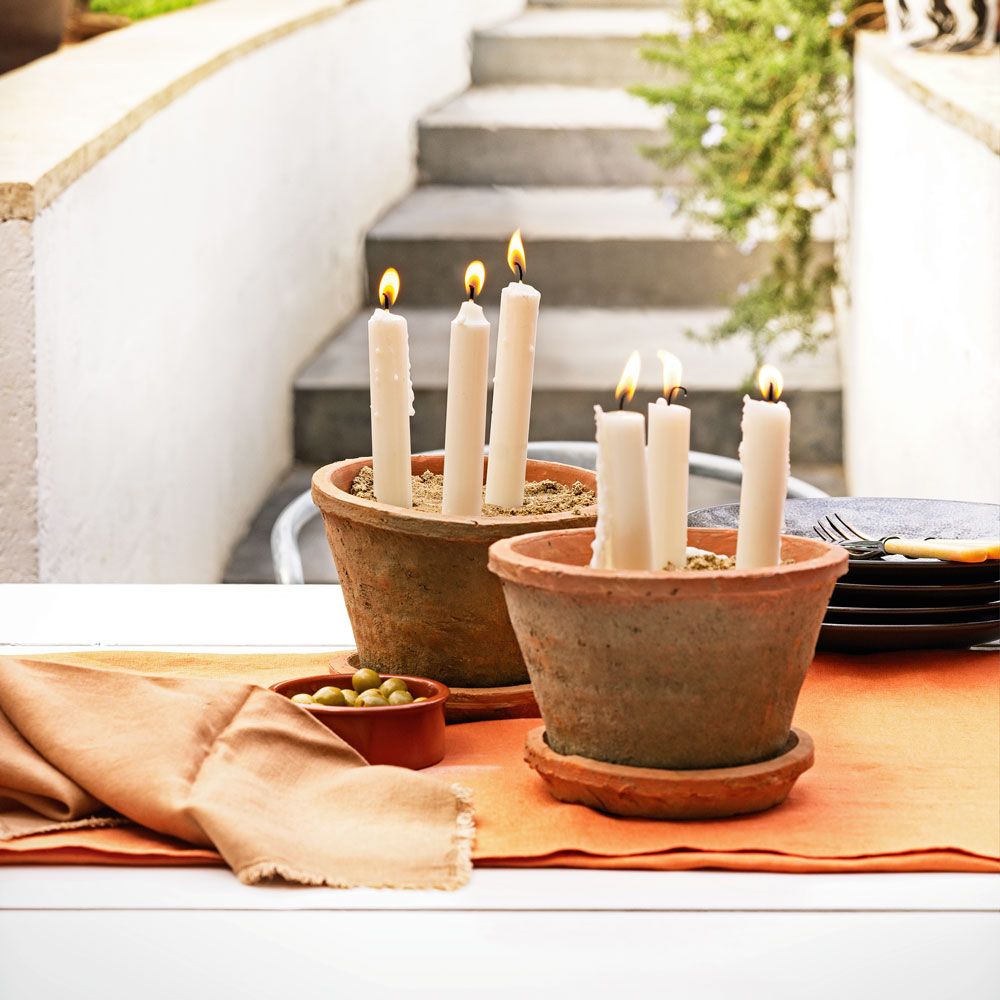 Use vintage terracotta pots to make a simple patio display. Fill the pots with sand and push in a selection of dinner candles.
Odd numbers feel visually balanced, so use three standard sized candles or seven to nine skinny tapered ones.
Place on the table as a rustic centrepiece or along walkways to cast light and create a relaxed ambience. To repel insects, use candles that contain citronella which is an essential for deterring pesky mosquitoes.
27. Make beanbag floor cushions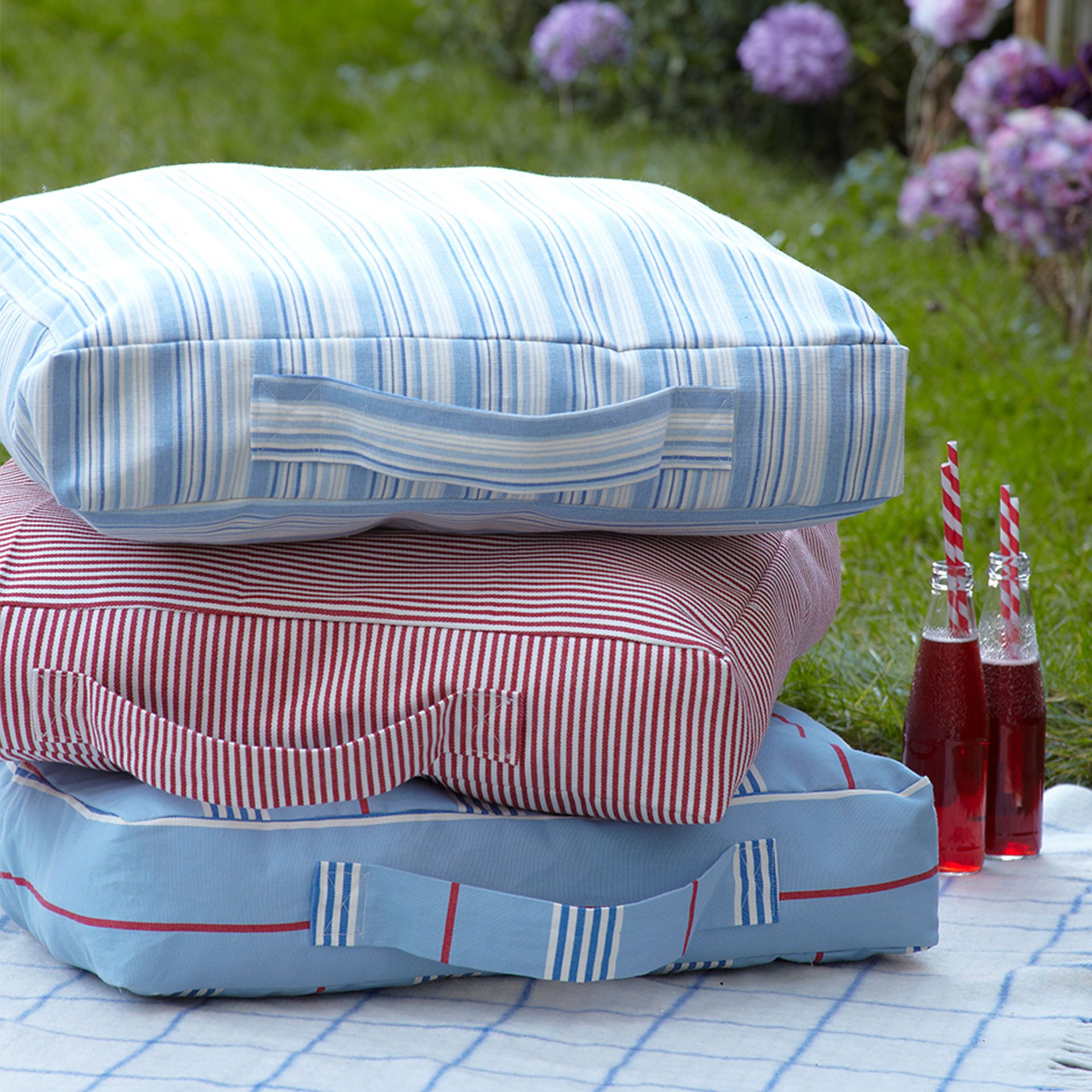 Rather than lug heavy floor cushions around the garden, opt for an easy-carry DIY version filled with lightweight polystyrene beads. Use brightly-coloured striped or floral fabrics and a PVC-coated fabric for the base so that the floor cushions will be waterproof.
Start by making a large square cushion shape, created using two large square pieces (for the top and bottom), joined together using four long pieces (to create the side gussets).
Use a sewing machine to join together, adding a long zipper on one end gusset and then a small carry handle on the opposite end. Once complete, fill with bean bag beads through the back zipper opening.
28. Make an easy water feature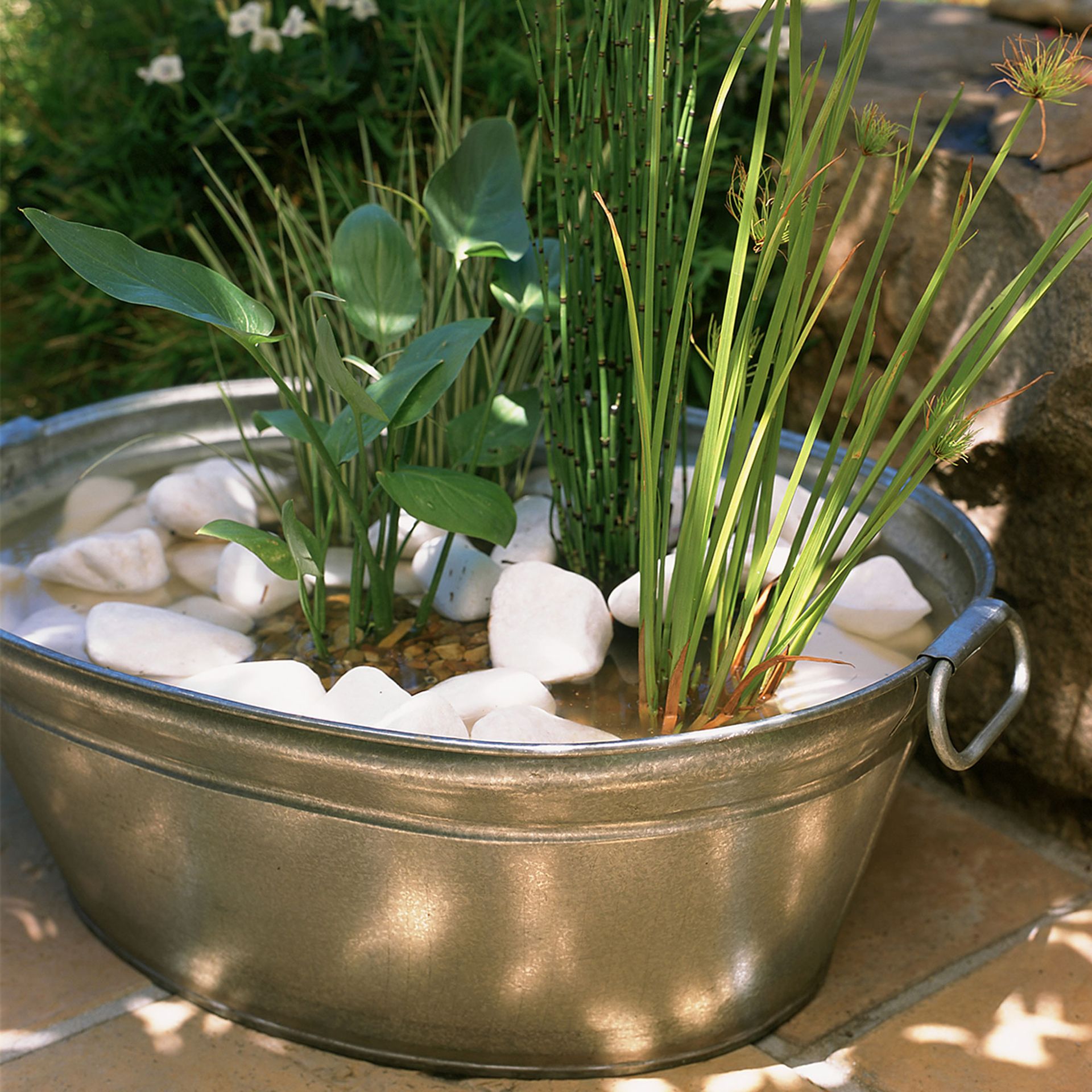 The soothing sound of trickling water or the sun reflecting off the surface adds a new dimension to any outdoor space and creating a DIY water feature idea is easy to do without too much effort. While there's a huge range of designs available to buy, a DIY water feature is super-easy to put together and can look just as effective.
Choose a shallow yet wide open container - a vintage enamel basin, galvanised metal tub or even an upturned dustbin lid will do the job perfectly. Place your container on level ground or raise up on a simple brick or timber plinth, away from trees or shrubs.
Decide what you want your feature to include, whether still water, a mini solar-powered bubbling fountain or a selection of aquatic plants. Then simply fill with water and enjoy the reflection of scudding clouds overhead and visits from thirsty birds and other wildlife.
29. Bring in easy-fit solar lighting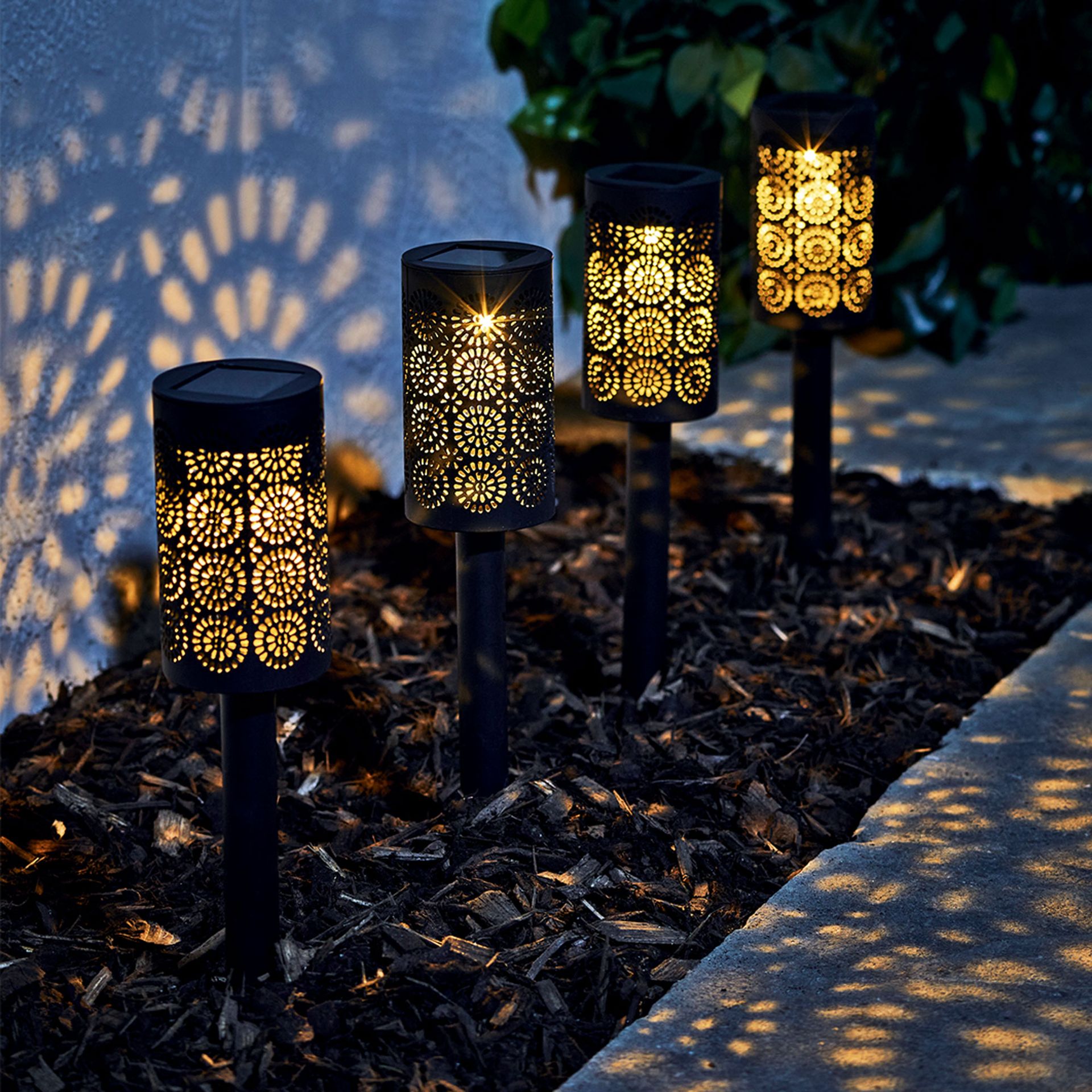 Perfect for showcasing your garden's best features, a few staked spotlights shining up through a tree or a sculpted shrub will transform it into a stunning focal point and add instant depth and drama, too. Alternatively use them along the edge of a flower bed or path to define the area.
'Subtle lighting is perfect for creating that romantic/magical feel,' says stylist Charlie, 'and solar lights are a great budget-friendly option.'
Garden designer Joel agrees,' Solar lights are the way forward – you don't even need to think about the wiring. Try using uplighters to highlight planting, too.'
Solar spotlights can be placed in any sunny spot. Needing just 6-8 hours of daylight to charge fully, the rechargeable battery will store energy to illuminate the garden at night. Minus any irritating or ugly wires, they can simply be pushed into the ground or container where needed, and even moved around if desired.
30. Create a sunnier outlook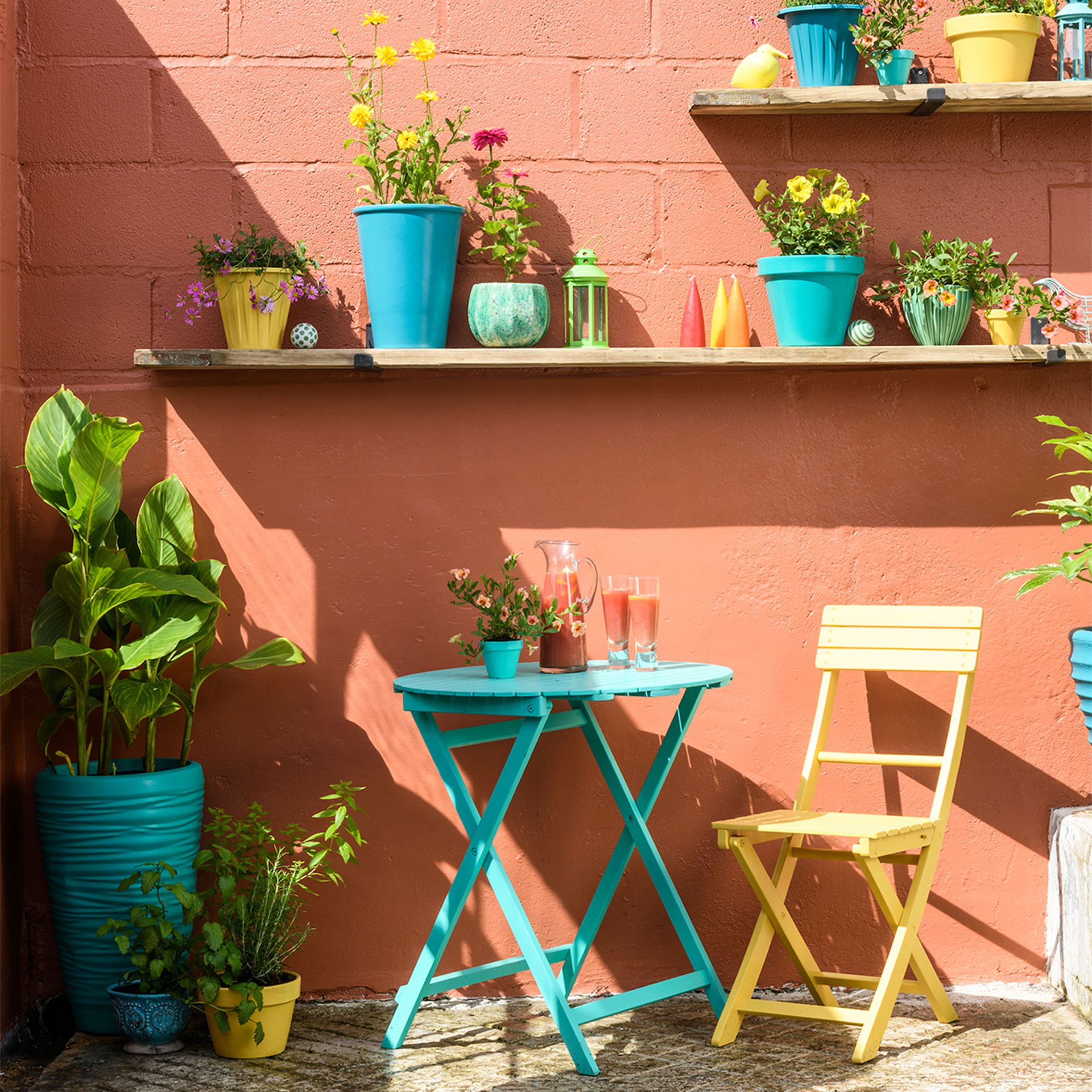 If you're fed up of staring at scruffy brickwork or tatty plaster, then grab a pot of paint and give a dreary outdoor wall a glow-up. Whether it's a wall at the end of the garden or on the side of a garage, a bold colour will look much more uplifting than standard white or neutral and will give a drab space a bit of a boost.
Bold shades make a great foil for flowers, foliage and planters and will make bright colours pop. Ensure that any render or brickwork is clean, dry and free of loose flakes before painting and always use exterior masonry paint for a longer-lasting finish.
31. Go for a one-colour planting scheme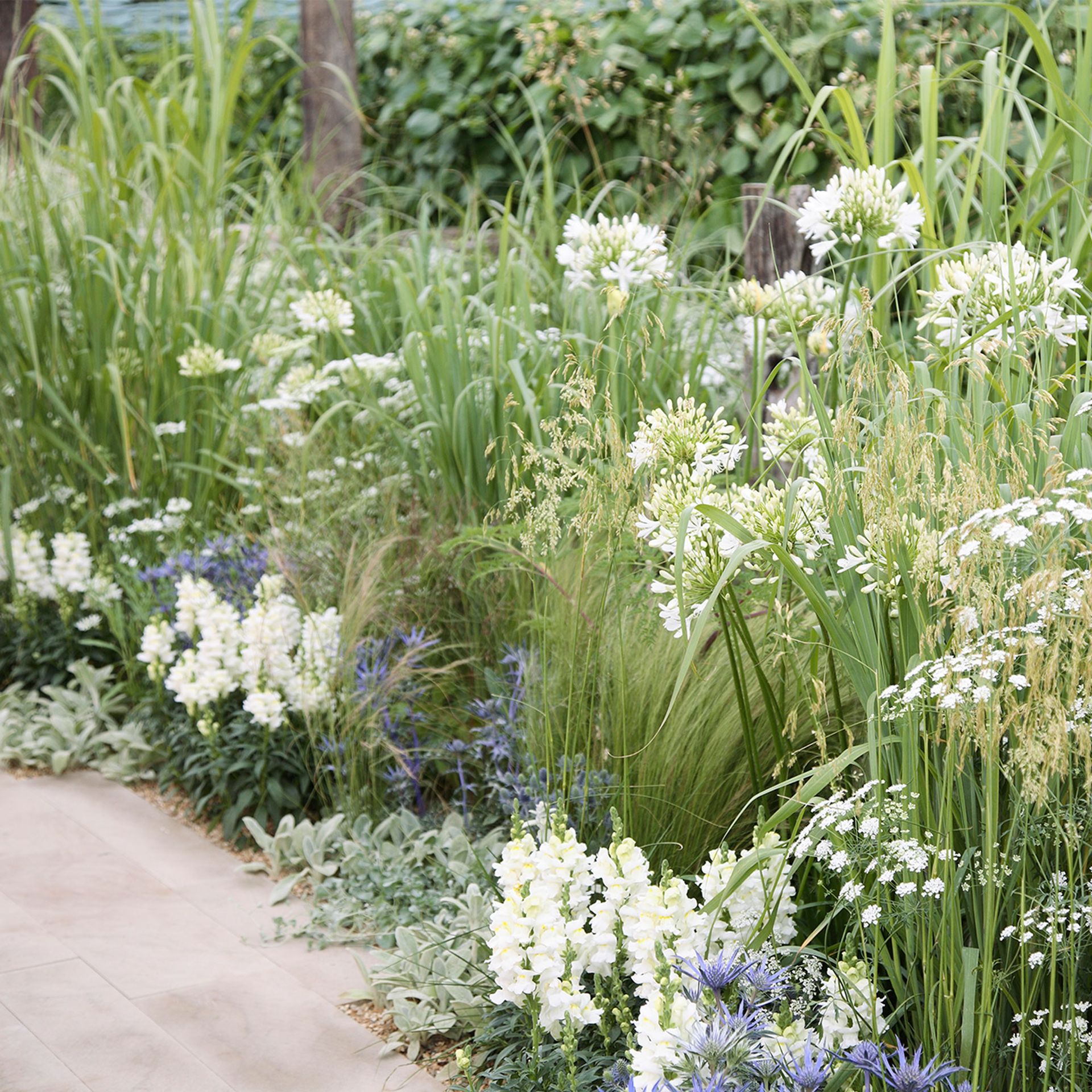 A super-simple way of making a style statement outdoors is by co-ordinating your planting scheme and keeping to a complementary palette of colours rather than a random mix.
Sticking to a single colour throughout beds and borders, such as all-white flowers and blooms, looks striking and can often be as beautiful as using many different colours.
Another way of creating a co-ordinated planting scheme is by repeating the same plants in various places throughout beds and borders. Try to arrange plants in small groups or clusters, where you can.
Odd numbers appear more natural and pleasing to the eye than even numbers, so aim for small plant groupings of three, five and so on. Repetition creates unity and will help to draw the eye more smoothly through the garden.
32. Make oversized planters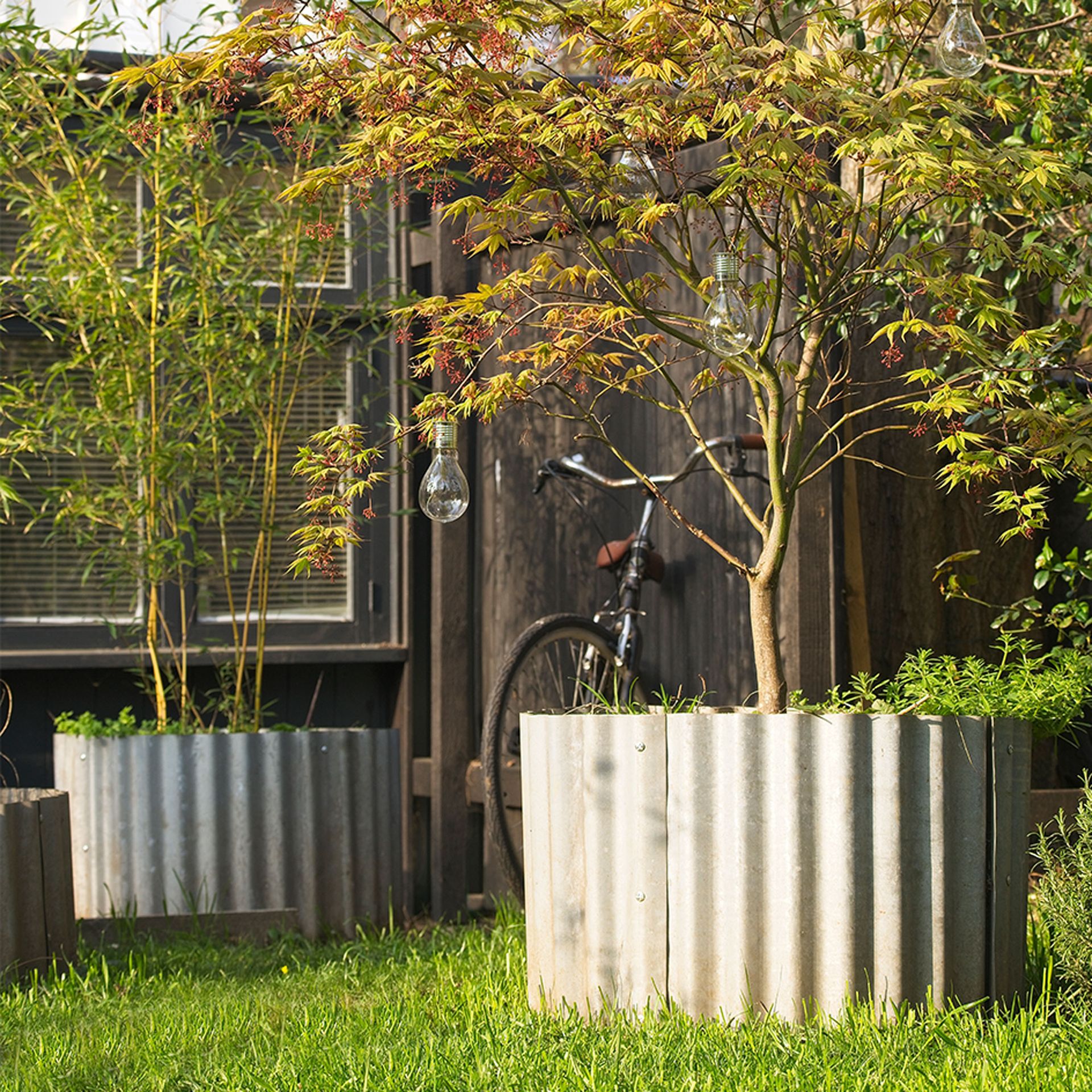 Buying tubs and planters for the garden can cost a small fortune, especially when it comes to larger sizes. Try this purse-friendly idea for industrial-style planters that can be tailor-made in any size and are perfect for small trees or large shrubs.
Use sheets of corrugated steel bought from a DIY store or builders merchants and simply wrap a length into a large circle, then secure with roofing bolts into pre-drilled holes. Make sure that any ends are tucked inwards so that there are no sharp edges. Then simply fill with a layer of hard core, top with soil and get planting.
33. Create a focal point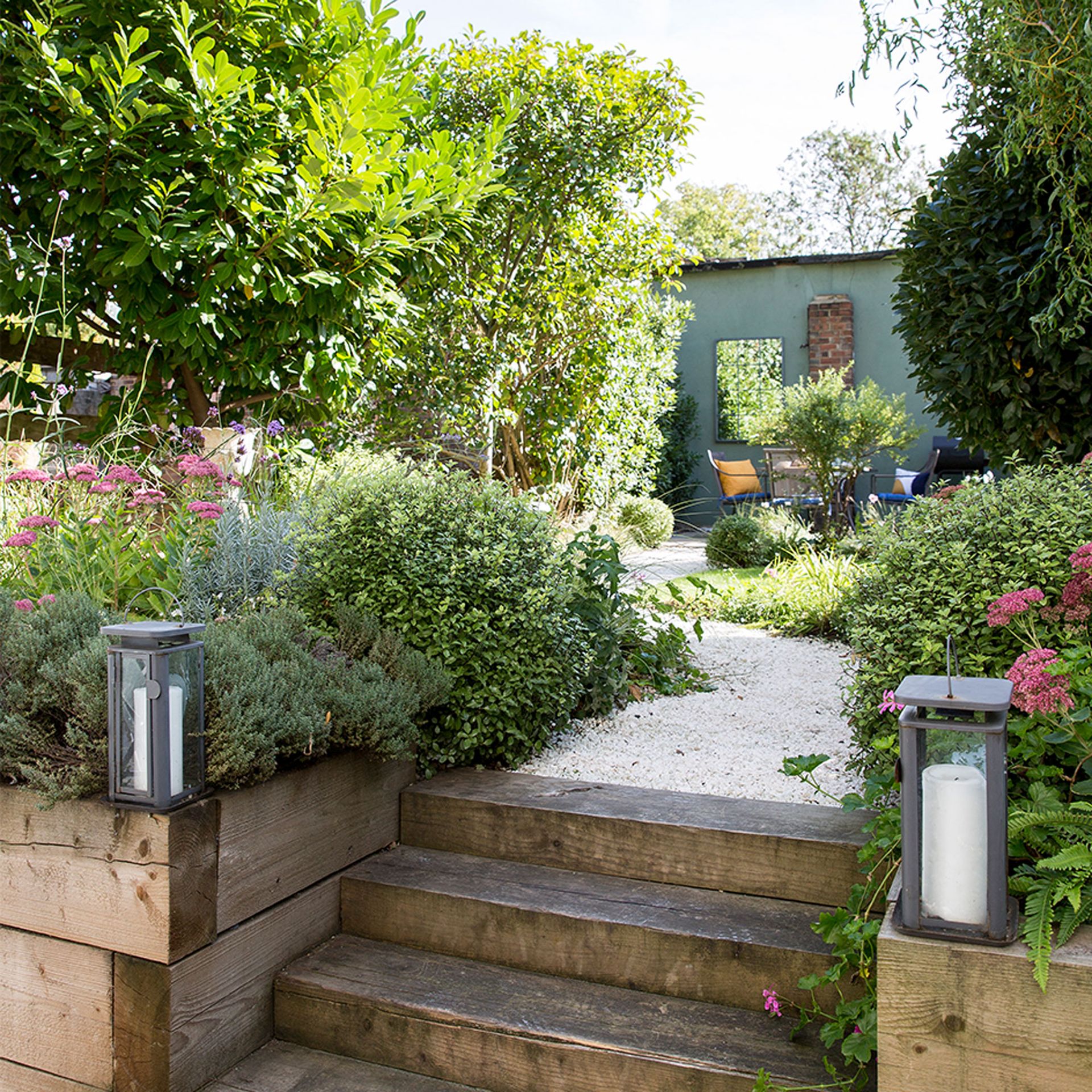 Whether you've a small outdoor space or a rambling plot, giving the garden a focal point is a great way of creating a visual resting spot. Whether you add a bench or small tree halfway down the garden, adding a focal point helps to draw the eye in and encourages further investigation.
Invite interest with a pathway, semi-secluded seating area or strategic planting that highlights a particular spot or lovely view. Consider adding a painted wall to create an end point at the bottom of the garden. Adding a backdrop helps to create a natural destination point that will encourage visitors to wander further in.
Don't be tempted to overuse focal points though, too many will create confusion, so limit the amount to just one or two.
34. Reuse old corks for planting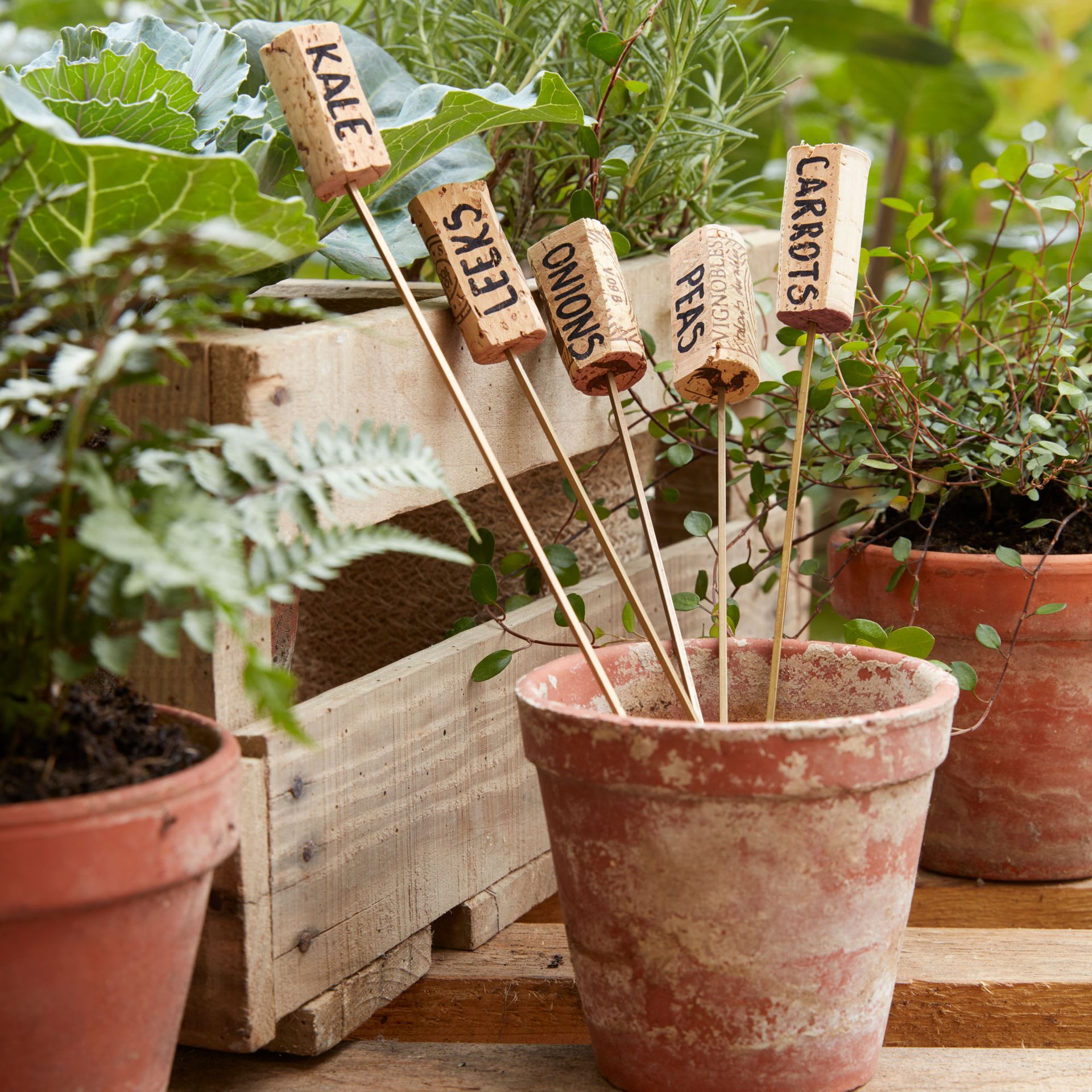 Save the corks from bottles of wine enjoyed with friends and upcycle them into vegetable tags. Carefully slice one fifth of the cork off to reveal a flat surface, then use a permanant marker to write each vegetable name on.
Use a wooden skewer pushed into the bottom of the cork to give your tag height, then pop into the ground when you're growing your veg to remind you what's what.
35. Use old guttering to plant up strawberries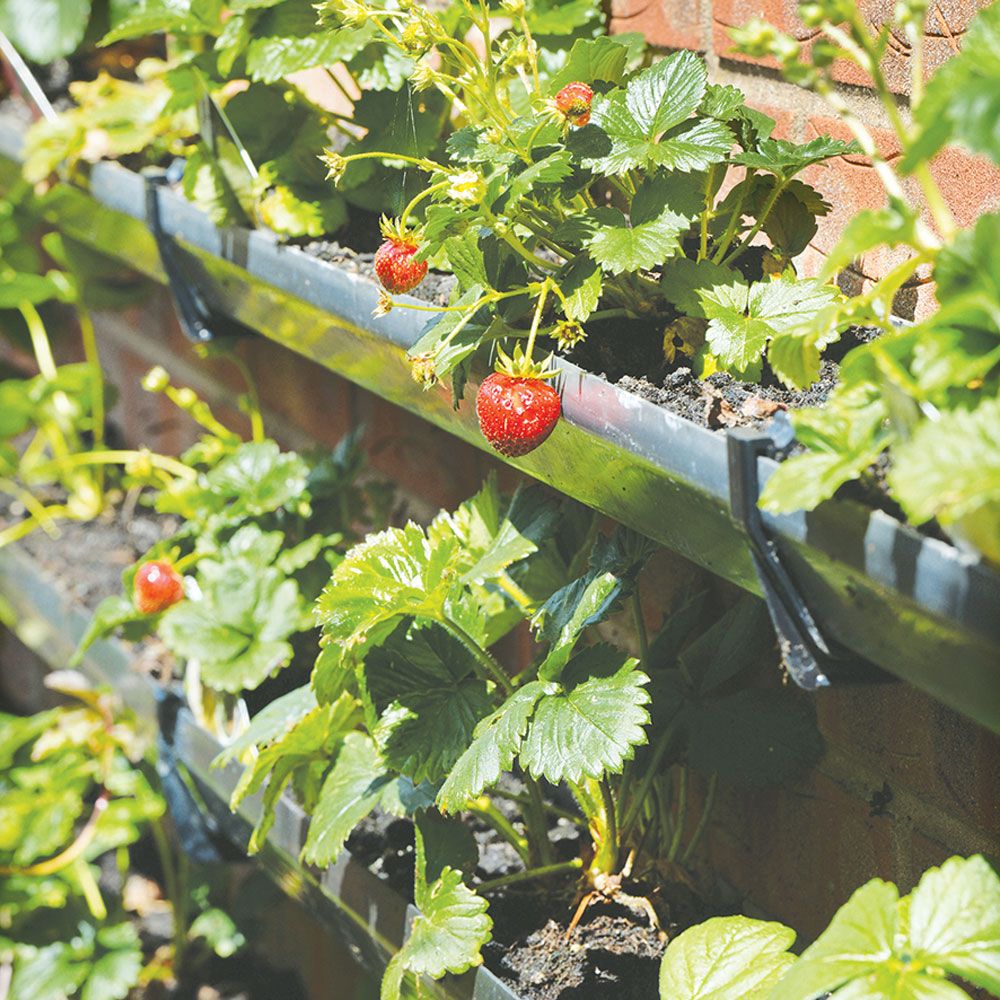 Don't just chuck out old plastic guttering once it needs replacing, but use it as a cheap container for growing strawberry plants instead. Attach the guttering to the wall of your house or garage and arrange in lengths sat on top of each other.
Not only will this make an attractive display, but it will also save you from having to bend over low flower beds, and makes the plants more accessible to pick once ripe.
36. Make a planter with built-in drainage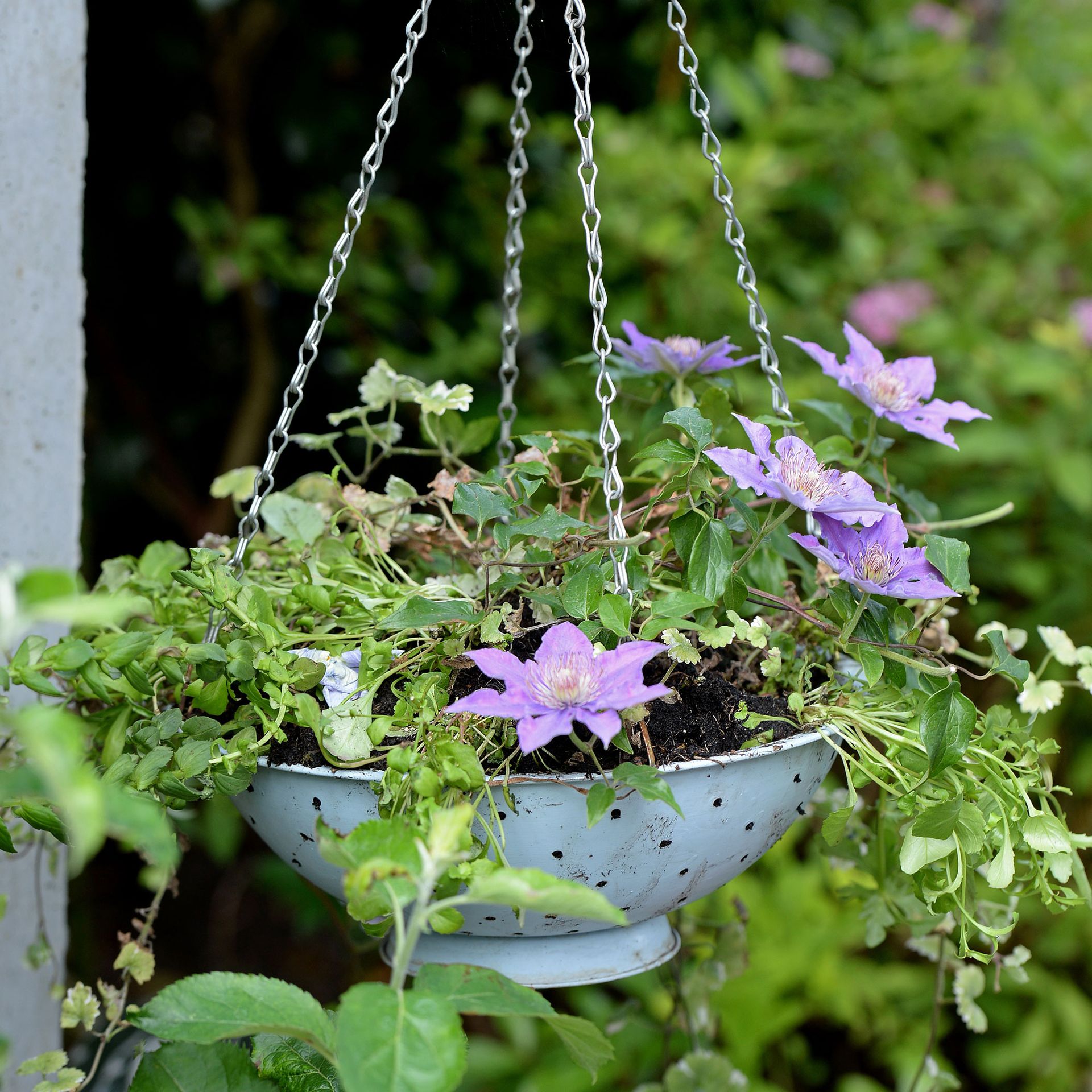 Another great way save cash on a planter is to use an old metal colander, and attach four lengths of chain to it to make a hanging basket.
The beauty of a colander is that it has ready-made drainage holes already built in, so you don't need to worry about your roots becoming water logged. Plant it up with a mixture of flowering plants and trailing plants to make a beautiful display.
'It's important to remember what a garden is – it's the plants that will bring you the joy,' says garden designer Joel.
'Get as much planting in as you can, find the best sunny spot and make it yours… the result is that you'll create your dream space, whatever your budget.'
37. Create a free veg garden with kitchen scraps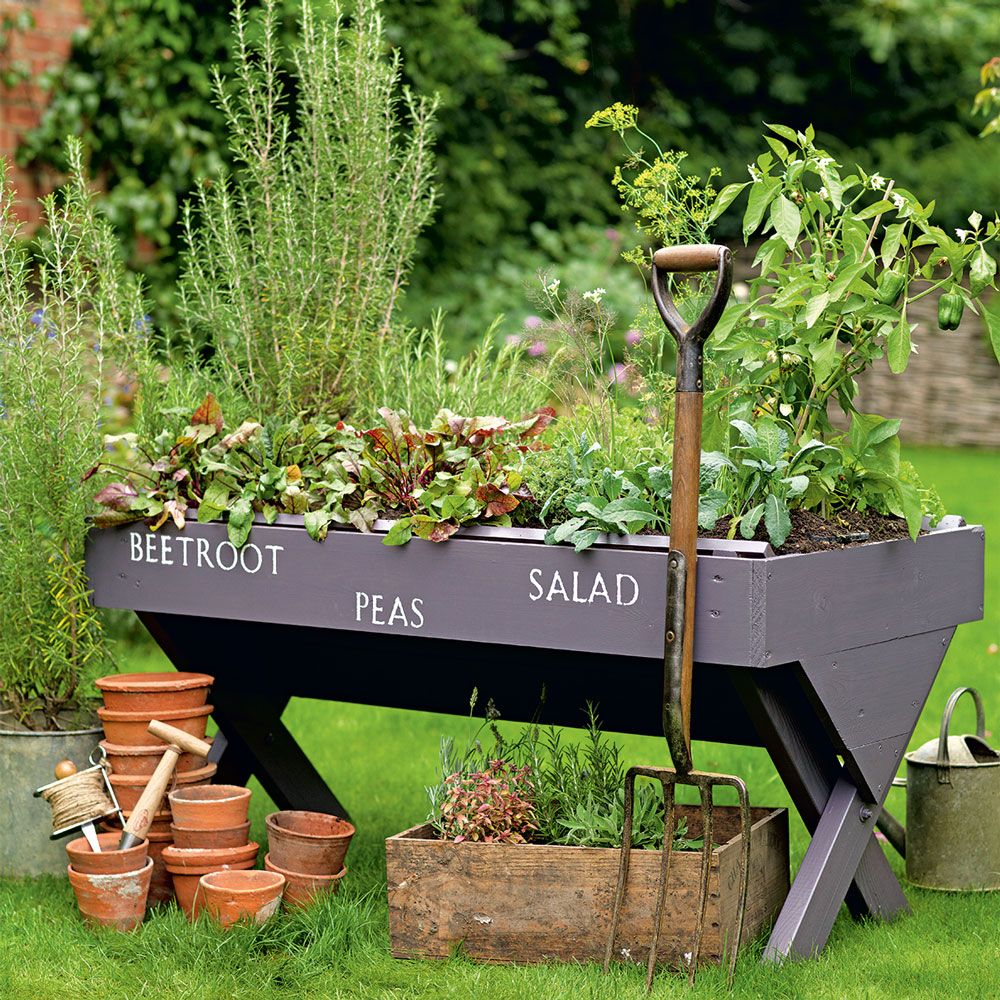 If you want to grow your own on a budget, but don't really have space or the energy to plant and tend to a full-scale veggie patch, why not try a compact vegetable trug instead?
Marcus Eyles, Horticultural Director, Dobbies Garden Centres suggests ways to grow vegetables from kitchen scraps! 'Spring onions and celery are two kitchen staples that are easy to reg