'My design changed three times to reflect how we wanted to live in and use the garden'
This experienced gardener switched the shed around to create a space perfect for entertaining, relaxing and attracting wildlife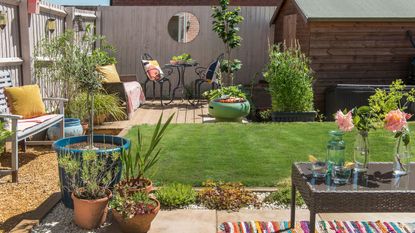 (Image credit: Future PLC / Colin Poole)
After years of living in a city flat, this couple were excited to move into a house with a garden. One of the homeowners has a background in horticulture, and the new-build in Bristol had a bare plot that was ripe for transformation.
She had spent 13 years teaching gardening skills to adults with learning difficulties. As a teenager, she was a volunteer at a permaculture centre, and has worked on a herb farm for 18 months. 'Gardening has been a big part of my life for the past 20 years, but this is the first proper outdoor space of my own,' she says.
Before
Starting from scratch, and working to a tight budget, her plan was to use her skills learned through years of studying permaculture. She chose plants grown from seed, and sourced reclaimed building materials and second-hand furniture to create their dream garden. She focused on flowers that attract insects for pollination, as well as vegetables and herbs.

'Everything starts life on my kitchen window sill and then gets moved into the garden in either pots or into the raised bed. Last year, I harvested beetroots, tomatoes, courgettes and potatoes. And I used natural fertilisers, such as locally sourced mushroom compost and horse manure.'
After
When deciding on the layout, she divided the garden into sections, such as the patio, a dining spot, the area for growing herbs and the lawned space. Unfortunately, when they moved in, there was a large shed positioned in the sunniest part of the garden.

She moved it into the north corner and added a planter of sweet peas, creating a natural screen and providing privacy when the couple are sitting on their decking area. She then laid edging for the lawn using second-hand fence posts that she sourced for £30.
It took 12 months to find all the reclaimed materials that she needed for their garden. 'This, however, was a blessing, because it gave me time to plan the space properly. Over the course of a year, my design changed three times as I made adjustments to reflect how we wanted to live in and use the garden.'
When it came to paving, originally, there were just six small concrete slabs plonked outside the back door. She found sandstone paving on Facebook Marketplace for £50. 'I watched YouTube how-to videos, then I borrowed a cement mixer from a friend and set to work.'
She dug up the clay soil, sieved out rocks and stones, levelled the ground and put down gravel to create a solid base for the new stones.
'It was backbreaking work but extremely satisfying, and it saved us thousands of pounds, too. Our patio now extends across the back of our house and is the perfect spot to catch the morning sun.'
For the decking area, she built a frame from salvaged wooden off-cuts and topped with decking boards. 'It's the most secluded place – perfect for reading or relaxing in.'
With a small budget to work with, she became an expert at tracking down second-hand materials online. Lots of the items, including plants, came from Facebook Marketplace. 'I would set up alerts online and would check every day to find the bargains.'

Some of the outdoor furniture was also gifted from family and friends, and was revived with a lick of paint. She also painted the fencing, shed and raised planters in shades that complement the planting.

Ensuring the garden was wildlife-friendly was also important, so ceramic plant pots with plants and vegetables, and a feeder was added to attract birds. She also created her own water feature.
'It makes me feel incredibly proud that I've managed to implement so many permaculture principles into my own garden. It's not perfect by any means, but the sense of achievement and purpose I feel now it's done is amazing.'
Within a year, and after a lot of hard work, the square of bare soil has been transformed into a blooming, insect-friendly oasis, and the ideal hideaway from the hustle and bustle of life.
Get the Ideal Home Newsletter
Sign up to our newsletter for style and decor inspiration, house makeovers, project advice and more.