40 garden decking ideas for a show-stopping outdoor living space
Big or small, use these garden decking ideas to inspire better outdoor living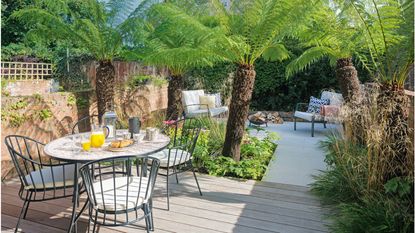 (Image credit: Future PLC)
Your garden should be an outside haven that extends your living space no matter the size or style. Effective garden decking ideas will transform your garden into somewhere for socialising, relaxing and enjoying nature. Decking is a versatile landscaping idea that can zone your garden and give you more stylish usable space.
Take your decking as an excuse to make an alfresco dining spot, a lounge area, or an interesting pathway. It is also a brilliant solution for sloping garden ideas.
'Decking is great for sloping gardens,' says Leigh Barnes, sales manager at Jacksons Fencing. 'Decking is a great way to level out a sloping garden and create functional areas out of previously usable spaces. It is also the most cost-effective option to make the most out of your sloping garden.'
Garden decking ideas
Decking does not need to cost the earth, there are plenty of options from traditional timber to modern composite in a range of styles to suit you.
The two most popular decking materials are timber and composite. Check that your timber is FSC (Forest Stewardship Council) certified, so you know it's come from a sustainably-managed forest. Composite decking is a combination of resin and reclaimed wood fibres and being UV stable won't fade like natural wood.
If your decking is made from timber, Barnes adds, 'Decking posts and joists should be more heavily treated with a quality timber treatment, as these are going to be touching the ground and therefore more susceptible to rot and insect attack. Look out for a long lifetime guarantee as this will ensure the manufacturer has treated the timber correctly.'
1. Surround your decking with plants
If you want to soften your decking and break it up with something more natural, plants and flowers are eye-catching options that are great decking decorating ideas. Adding planting will make your decking feel more connected to the rest of your garden. If your decking gets a lot of direct sun and you want to create some shade, small trees are a clever alternative to a garden parasol.
Those with a small garden idea who may not have space for planting around any decking can use potted succulents and herbs for greenery and the Mexican sunflower is a great flower to give a pop of bright orange. The Philadelphus shrub provides a beautiful surround for your decking with pure white flowers and a heavy scent perfect for breathing in while lazing about on your decking.
If you already have established plants in the area you want to place your garden decking ideas, make a feature of it and build the deck around it.
2. Adjust the layering pattern
You can make a bold statement with your garden decking ideas purely by experimenting with the laying pattern to create a unique design. A chevron pattern creates a sense of movement and length, ideal for making a small garden look bigger.
'You can lay your decking boards in several different configurations to create an interesting type of effect. For example, you may choose to lay your boards in a horizontal design, a diagonal design, a zig-zig style, or a picture frame design. If you want to create an interesting and eye-catching appearance, consider going to something a little bit different,' says Fiona Jenkins, gardening expert at MyJobQuote.
'Alternatively, you may want to consider opting for deck tiles rather than decking boards for a completely different and unique design. Line up your decking tiles if you want to achieve a horizontal design, or go for an eye-catching checkerboard-style effect by aligning vertical and horizontal deck tiles.'
3. Mix things up with a curved edge
'Decks with straight edges are easier to construct than decking areas with curved edges. However, decks with curved edges can help to create a much softer finish to the overall garden design. Curved decks look great when combined with grass, gravel, or bark against the curved edge,' says Fiona Jenkins from MyJobQuote.
When considering how to plan a garden, curved decking allows you to work around awkward angles and will fit snugly in corners or the center of the garden. A semi-circle decking looks especially good in a garden with a L shape, creating a special area to entertain and for alfresco dining.
However, there is still room for a grassy area, ideal if you have children who want to run up and down. A curved deck is also handy if you want to make it a sociable seating area, allowing everyone to face each other so no one feels left out.
4. Keep it minimalist with light tones
If you want your decking to reflect your modern garden ideas, using light-coloured tones is perfect for creating a sophisticated scheme. Using a light colour for your garden decking ideas will keep light bouncing around the garden and create the illusion of a larger space. Going for a neutral colour scheme will provide the perfect backdrop to brightly coloured plants and flowers, making the other colours in your garden pop.
Light-toned decking reflects light beautifully so works well with candles and soft lighting to create an elegant area in your garden. Be aware if you go for light-toned decking it will show dirt and grime more so will need to be cleaned more regularly. However, considering how chic it looks, we think it is worth the extra cleaning.
5. Use low-maintenance decking for a low-maintenance garden
For an effortless outdoor space that doesn't require endless hours of mowing the grass, decking is perfect for those who aren't the most green-fingered. To make sure your decking is actually low maintenance for your easy garden ideas consider the material you use. Composite decking is a great long-lasting option that is especially suited to high-traffic areas because it remains free of cracks and splinters.
You can take it one step further with an all plastic deck which will protect you from the rot and decay that can plague timber decking if not maintained properly. Composite and plastic decking has the advantage of not needing to keep up with painting, staining or re-sealing which contributes to its low-maintenance features. Covering an area of your garden with decking will ensure that your garden is always summer ready and requires little work to make it fit for family and guests.
6. Use it within a sloped garden
Fiona Jenkins from MyJobQuote says, 'A raised decking area is a great option for gardens with slopes or uneven areas as the decking can create a flat surface where you can place a seating or dining area. If you build a tall enough frame, you may even be able to use the space underneath the decking for garden storage.'
If your garden has a particularly steep slope don't see it as a problem, instead using decking to turn it into a focal point. The decking can be cantilevered extending the amount of usable space you have past the support posts, plus the decking will have the beautiful illusion that it's floating.
Other garden decking ideas for sloped garden ideas are elevated decking which incorporates stairs to create a level space or tiered decking for a more gentle slope.
7. Opt for decking around a pool
If you are lucky enough to have a pool or hot tub decking idea in your garden with the UK weather, you need a sturdy and practical surround that also looks nice. If you want to channel a naturalistic feel to your pool ideas, timber is a beautiful material for a rich colour with depth.
Good quality wood needs to be used such as teak or exotic hardwood which would raise the price of your decking. However, if you want a decking option that won't need to be treated for extra water protection, composite decking is the way forward.
'Composite decking's high slip-resistant and water-resistant nature makes it the perfect flooring to have by hot tubs and around outdoor pools.' says Aidan Bell, co-founder of EnviroBuild. The plastic polymers coat the wood fibres to make the decking resistant to rotting and warping. If you like the look of real wood grain, worry not because many composite decking now can look just as real as traditional wood.
8. Keep things cosy with a fire pit
Decking is often used as a space to gather and socialise and so why not make it even more enticing with one of the best fire pits to keep everyone warm and cosy. A fire pit on your garden decking ideas can turn it into an extension of your living space that is used all year round. A fire pit is perfect for roasting marshmallows and snuggling under blankets, and providing a captivating feature during summer parties.
Decking is often the spot in the garden for alfresco dining, so make use of the fire pit to create an outdoor grill. This will turn your garden decking ideas into the new go-to dining spot, perhaps even rivalling the summer barbeque. Keep everyone safe by keeping the fire pit away from overhanging structures or trees.
9. Team natural timber with a painted seating area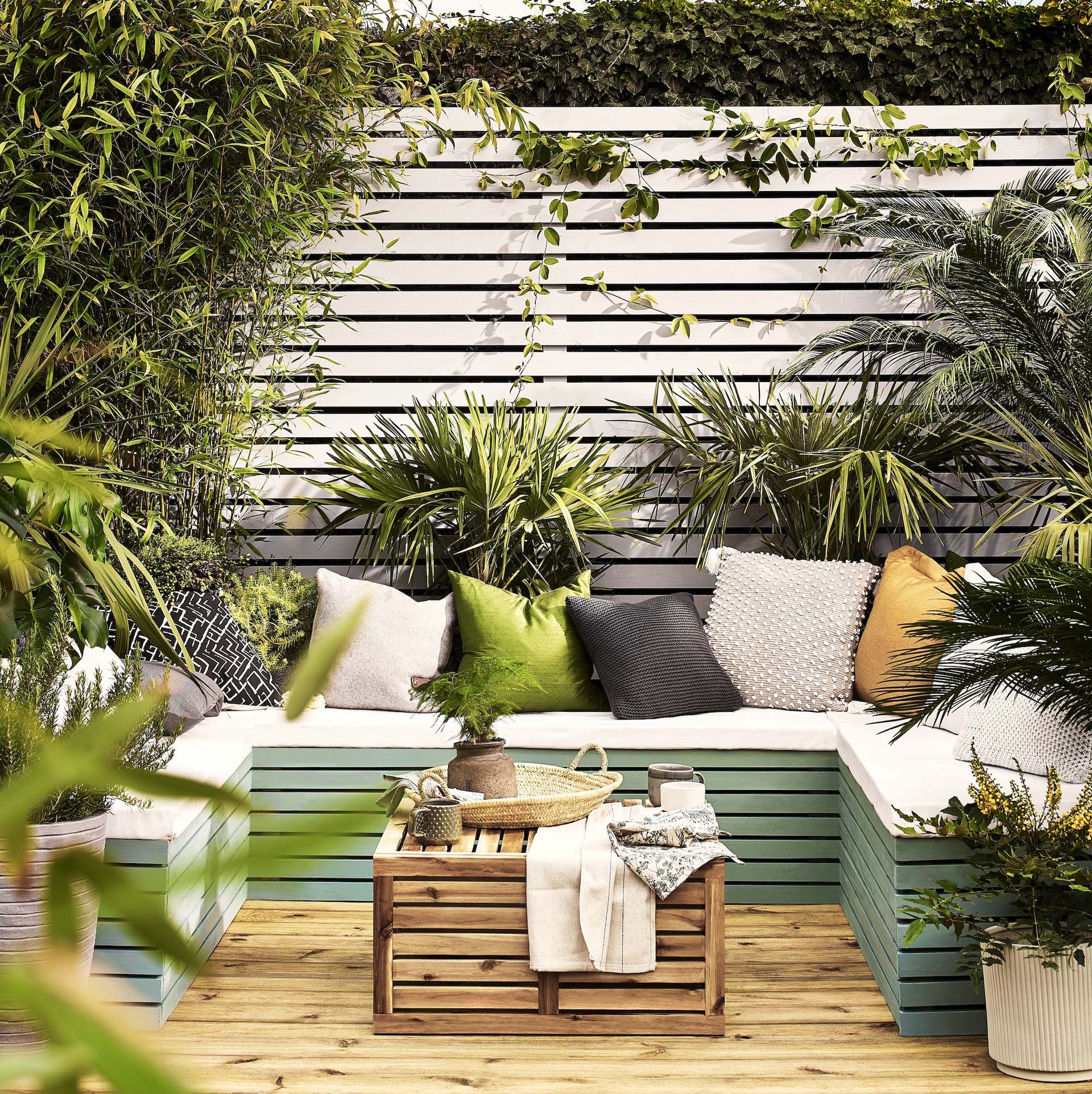 Natural timber always looks lovely in a garden and pressure-treated softwood is available as smooth or grooved board options. Smooth decking resembles floorboards so it's a good choice if that's what you have in your home and you'd like a seamless indoor-outdoor connection. Be sure of the correct way to lay decking boards before you get started.
If you have a wooden fence and timber furniture as well as decking it can tend to look a bit 'woody'. To prevent this from happening paint your fence and outdoor furniture in a fresh palette such as white and green to complement the decking and blend easily with your planting.
To ensure your paint finish looks as good as it possibly can, make sure to do your homework when it comes to how to paint decking.
10. Go for a white wash finish
Back from Ibiza and want to evoke that laid-back white isle feel in your back garden? Choose a white-wash finish for your garden decking ideas. Do consider your lifestyle first though. If you have pets that are prone to muddy paws, this may not be the look for you. It won't feel relaxing if you have to have the mop out every day.
However, if all you have to contend with are a few dry leaves and the usual outdoor detritus, go for this cool and calm style. Maximise that beach party vibe, by adding some mood-setting deck lighting ideas to your space.
'Whitewash stains and paints give decking, walls and fences a welcomed cooling effect whilst providing plenty of protection from the weather,' says Owen Wright, trend researcher at Trend Bible for Ronseal.
11. Get creative with a stencil
Another advantage with pale or white boards is that it gives you a blank canvas to get creative on. If you like to add your own spin to things, buy a stencil and choose an appropriate decking paint to create a fun pattern. Match the paint you use to colours already in the garden to keep a cohesive scheme.
Make sure you place your artwork away from heavy traffic areas like the pathway to the door, so that it lasts the season or longer.
12. Coat with a rich dark wood stain
Not mad about the colour of the decking you've had laid now it's down or want to enhance existing boards? Give it a luxurious look with a rich dark oil to offset colourful furniture choices. Even better if the dark finish contrasts with your home's exterior, as both will stand out more.
Dark, muted decking also allows the vibrant surroundings to steal the show – so if you want people to focus on the lushness of your garden, it's the way to go.
13. Create cabin style
An enclosed and covered deck idea is a great spot to relax and unwind. There's some protection from the sun's harsh rays yet you still get to enjoy the outdoors. So give it a private hideaway cabin feel by mixing warm-toned timber decking on the floor with cooler toned grey painted shiplap cladding on the exterior walls.
Furnish with monochrome pieces and rustic accessories to complement the natural tones and add lighting, so you can stay out after dusk.
14. Take it onto the walls
For those with a raised garden, a good way to connect the lawn area with the patio is to continue decking boards onto the low wall that separates the space, as well as for a garden path. This will give a more coherent look and is especially good in small spaces. Consider whether you might want a deck railing idea for safety, depending on the height.
'To aid drainage for rainwater, both timber and composite deck boards should be fitted with a (slight) positive fall and if grooved, the grooves should be fitted in the direction of the fall to avoid the potential for standing water,' says Janet Sycamore director of operations at Timber Decking Cladding Association. 'Always check the fitting instructions from the manufacturer and install accordingly.'
15. Have fun with folk style
White walls and floors give you the freedom to decorate a space in whatever way you like. Have fun with folk style to bring a summer festival feel to your deck with colourful clashing cushions, patterned rugs and an abundance of floral decorations.
Of course, to keep it looking fresh, white painted decking will need regular cleaning and touch ups.
'Spills on any decking should be cleaned up quickly and if there is potential for staining to occur, use the recommended cleaning product,' says Janet Sycamore from TDCA. 'If a protective finish has been applied to the deck, then this should be reapplied in line with the supplier's or manufacturer's guidance.'
16. Balance cool and warm tones
Opting for a smooth rich timber decking paired with white exterior walls is a gorgeous way to balance warm and cool tones on a terrace or patio idea. This can be enriched with your choice of furnishings and accessories too.
Choose the natural tones of rattan and timber combined with plenty of comfy white and dusky pink cushions, plus pops of grey to ground the scheme.
17. Go for a country garden theme
For a natural look, UK-grown hardwoods such as Oak or Sweet Chestnut will offer traditional quality, durability and authentic country style. Then all you need to add is plenty of planters filled with meadow flowers and a couple of sun chairs.
'Oak and Sweet Chestnut will weather naturally into silver and greys,' says Russell Bowlby, founder of UK Hardwood Decking. 'These UK-grown hardwoods are durable timbers that will withstand the elements in excess of 30 years without negatively impacting the environment, assuming they're appropriately installed and maintained with periodic cleaning.
'They're locally grown which reduces the harmful effects of transport, and treatment-free, so won't leach harmful chemicals. Unlike treated softwood, they do not become slippery and green, as the timber cellular structure does not absorb excess water, thereby limiting algae growth.'
18. Add floor lights
When the sun goes down, the party starts, so make sure you can see where you're going, especially if any part of your decking is raised.
If that's the case have garden solar lighting ideas fitted into the vertical part of the step. There's no wiring involved, so they're easy to fit. They will simply be charged by the energy of the sun during the day. Then after sunset, a sensor in the the lamp will register the lack of sunlight and the LED light will switch on.
19. Continue the decking onto steps
Not every home is built level with the outdoor space, so consider integrating the steps with your scheme. Simply build you outdoor steps in the same timber or composite as the decking you're using on the terrace area.
Steps are notoriously slippy in inclement weather, so make sure to choose an anti-slip material and clean the area regularly to keep natural woods free from algae or moss.
20. Colour match to your house exterior
Make a statement by painting your decking to match the colour of your home.
'When repainting a decking area, preparing your surface is really important to enable you to get the best finish,' advises Will Thompson, head of product marketing at Valspar Paint. 'First, clear away all items such as plant pots. Then remove any loose or flaking with paint stripper or by sanding. Then clean your decking with a stiff bristled brush or broom.'
'Holes or cracks in the wood can be easily repaired with a wood filler. Once the filler is dry, use sandpaper to sand down the whole surface. To remove the leftover dust and give the whole deck a final clean, wipe it with a decking cleaner and let it dry. If you notice spots of bare wood after removing flaking paint, or if you're drastically changing the colour (for example, going from a dark shade to a lighter one), you will need to apply a primer and undercoat first.'
'Once this is dry, it's time to give your decking a new colourful life. For painting choose the application method that better suits your need among a paint roller or a decking pad. They will both deliver a uniform yet vivid coat of paint. On the other hand, keep brushes for painting in restricted spots.'
21. Add a brick border
Make your decking area into even more of a visibly zoned space by adding a border. Just like patio edging ideas, it's wise to think practically and use paving or bricks, as they can typically be cleaned using similar substances to the decking.
Flowerbeds make pretty borders, too, but make sure you leave enough gaps for people to move easily between zones without trampling any of your blooms.
22. Contrast with your fencing style
Cool, composite garden decking ideas make a perfect contrast with weathered wood boards. Choose one to make up your outdoor decking, and the other for your fencing. This way, you get a stylish look and get the best of both materials. Our natural inclination would be composite on the decking and real woods for the fence area.
23. Zone dedicated garden areas
Zoning our outdoor spaces is a popular way to make a garden reflect how we live indoors, an outdoor living room idea of sorts. Using two different flooring choices helps the give the garden a sense of purpose, a clear indication of a different zones.
A dedicated dining area benefits from an easy clean decking, a play area lends itself to be on a lawn to cushion play and a relaxation zone complete with fire pit is most suitably finished with paving slabs.
24. Add a decking area to a garden room
Create a dedicated outdoor area for a garden room by laying a decking area beyond the retracting doors. The frontage provides a space to sit outside, making it an extensive of the extra living space.
Frame the compact decking area with simple yet thoughtful planted borders, that separate the decking and the structure from the remaining garden. Don't forget to complete the effect with dramatic garden lighting ideas for the perfect decked garden that will work well into the evening.
25. Carve out a cooking area with raised decking
Give an outdoor cooking area it's own raised decking, to add a signify a dedicated outdoor kitchen zone. The use of wooden flooring helps add an indoor style element to an outdoor kitchen idea.
Also from a practical point of view a wooden decking can be easily washed down and is less likely to be damaged as a result of kitchen accidents with dropped plates and more.
26. Echo the aesthetics of a modern extension
More than purely practical, decking can decoratively echo designs that feature throughout the decor. If your home features large glazed panels or windows at the back, link the decking with interior choices. Think matching wood colour or style to kitchen cabinetry, your flooring or even your furniture.
27. Co-ordinate in a small space
When planning grassless garden ideas, like a small courtyard or balcony garden idea, it's best to keep the look uniform to avoid overwhelming the space with different colours and textures.
Choose a matching decking stain and fencing. While the planks don't have to be the same in terms of finish, the uniformed colour alone will be enough to create a seamless flow in the design.
28. Stage an area dedicated to entertaining
Chose a hearty composite decking to provide a protective area on top of a patio, perfect for entertaining and garden party ideas. The Ecodek Heritage composite deck kit provides an instant, stylish area that is quick and easy to build.
'Made of a wood & plastic composite,' say the experts at Forest Garden. 'It's designed to have the look and feel of natural timber with the additional benefits of a material that will not stain, warp, split or flake, has minimal fade and is easy to maintain.'
Practical and pretty, the grey finish is idea for styling your outdoor area to perfection – matching the colour with bistro dining tables, soft furnishings and accessories.
29. Build-in an easy care succulent garden
Keep your decking looking fresh and modern by swapping a cluster of plant pots on the decking for a built-in succulent patch. Not only will it make a striking centre-piece to your garden decking ideas, but they are also incredibly easy to look after. As long as they are planted into a light weight succulent soil mix, all they will need is a little watering during the hotter months.
30. Cover your decking with a glazed pergola
A glazed pergola idea on the deck provides an alfresco entertaining area that can be used whatever the weather – we find spaces like this especially inviting in the rain, when you can hear the soothing sound of raindrops hitting the glass. Train pot-friendly easy climbing plant ideas like honeysuckle and magnolia to cover the uprights for a heady fragrance.
A well-designed decking space or roof terrace can offer an all-year-round option. Taking your living space into the outdoors is a hot trend right now, so statement garden furniture coupled with cushions and throws will make the outside as comfortable and personalised as indoors.
31. Make your decking weatherproof with an anti-slip treatment
Decking plus rain can equal danger, so it's wise to treat your decking with an anti-slip stain. A sail canopy will also keep the rain off, to further limit the slipping potential of the surface.
'Using grooved timber decking boards, offers slip resistance which is essential if using decking in colder wetter months,' says Leigh Barnes from Jacksons Fencing.
32. Lay a boardwalk
Use decking to create a pathway through your garden – perhaps to a more solid decked area. This boardwalk-style garden path idea is given even more of a seaside feel with white pebbles, which help to keep weeds at bay.
The wooden decks create a striking contrast to the white pebbles and makes stepping across them much easier; a must if you like walking around barefoot.
33. Build a decked bar area
Enhance your garden bar idea with a stylish decking solution. Make your bar take pride of place by situating on a raised decked platform. Adding lighting as part of the decking set up feels to add ambience to an outdoor bar area. It's also a good idea to lay a rug under bar stools so there's a grippy surface to step onto after a couple of cocktails!
34. Be bold with colour
Give a small decking area some special treatment. Block-coloured brights in various complementary hues are sure to make an impact. If you have wooden furniture you're thinking of getting rid of, a coat of paint will give it a new look and repurpose it for the garden. Do make sure to choose a weather-resistant finish, though.
A hit of bold colour is great way to enhance small garden ideas, to make more of a statement with a tiny space.
35. Mix decking among flagstones
Get an ultra-modern look for your garden by mixing wooden decking with stone paving. The combination of materials provides interest and a contrast between the light and dark colours.
Without the lightening effect of the stone, the wood decking would look quite heavy in such a large garden. Architectural beds in the middle inject some greenery.
36. Section off your decking with railings
If you're using decking to section off a corner of the garden, adding railings will help. For a truly indoor-meets-outdoor approach, include a water-resistant rattan sofa and plenty of comfy cushions in a patchwork of bright patterns.
There is a lot of vivid colour to be found in nature, so they won't look out of place against the vibrant greens of surrounding trees.
37. Make flooring flow from indoor to out
Make your garden decking an extension of your home. Decking can be easily levelled with your internal floor so that the boundaries between inside and outside are almost blurred.
A trellis idea overhead adds some cover and shade, and plants can be trained up and over it to add interest. Outdoor kitchen cupboards make preparing outdoor meals a cinch.
38. Paint raised beds white in contrast