How to clean an induction hob - the best way to keep it looking like new
Get your induction hob gleaming with these easy ways to tackle marks and burnt-on grime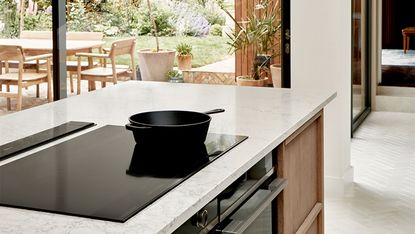 (Image credit: Fisher Paykel)
Sleek, highly efficient, easy to use and super speedy to heat up, it's easy to see why induction hobs have become so popular over recent years. But when it comes to how to clean an induction hob, working out the best method can be tricky, as they require a little extra care to keep them in tip-top condition.
Induction hobs consist of a smooth ceramic plate with induction coils underneath. When a cooking vessel or saucepan made from a magnetic material is placed on top, it transfers (or induces) energy into that metal, which causes the pan to rapidly heat up. Once your best induction pan is lifted away, the heating zone switches off.
Because heat comes from within the pan, and not the hob, it makes for more efficient cooking and will bring pans to the boil in half the time of a standard gas or electric hob. An induction hob also cools off a lot faster than a conventional hob (because it was only hot from contact with the pan) so there should be less messy burnt-on food to deal with afterwards.
How to clean an induction hob
In much the same way that you need to know how to clean a washing machine, a clean induction hob will be far more efficient than a dirty one, transferring heat more effectively from the ceramic top to the saucepan and the food inside. Induction hobs can be prone to scratches and scuffs, so any cleaning technique used should be as gentle and non-abrasive as possible. If the glass top gets scratched, food can become embedded in the scratches and when covered with a hot pan, can further damage the glass and potentially create cracks.
Aim for daily cleaning
The key to keeping an induction hob clean and working efficiently is to tackle any spills as and when they happen and wipe away water or food straight away. Although induction hobs don't heat up, they can become hot from the residual heat of pans used on them, so it's best not to touch the cooking zone immediately after using it. Tackle stubborn stains
Induction hobs do cool down pretty quickly though, so once cool to the touch, wipe clean any spills using a damp soft cloth or sponge, making sure there's no grit or salt that could be worked in and scratch the surface. For a natural degreaser, try a splash of white vinegar on a cloth, which once buffed will give the surface an extra sparkle and shine.
Tackle stubborn stains
While warm water on a soft cloth is fine for daily cleaning, something stronger will be required for stubborn stains or burned-on food. For a home-made remedy, enlisting the help of some vinegar and baking soda from your kitchen store cupboard is one option that's pretty effective and cheap.
You will need:
• Kitchen paper
• Two microfibre cloths
• White vinegar
• Baking soda
• Small bowl
Make sure that the hob is switched off and completely cool first. Then combine one part baking soda with one part white vinegar in a small bowl to create a paste. Cover the hob with the solution and leave it for around 30 to 45 minutes. Use a warm, damp soapy microfibre cloth to wipe away the cleaning paste and then dry the hob using some paper towels. Once clean use a second microfibre cloth dampened with a little white vinegar and then buff the hob dry to give it a shine.
Take advice from the experts
Lynsey Crombie, AKA the Queen of Clean - homecare expert, best selling author and influencer - agrees that regular cleaning and home-made methods are often best when it comes to keeping an induction hob looking top-notch.
'With an induction hob, it's best to get into the habit of cleaning it after every use,' says Lynsey. 'A simple warm, soapy water solution with a good microfibre cloth is sufficient.'
'If, however, it's full of grease and stubborn sticky patches from cooking you'll need a ceramic hob scraper, which can be picked up online for a couple of pounds, then very gently scrape away what you can,' says Lynsey. 'To remove the rest of the residue liberally spray the hob with white vinegar and then sprinkle with bicarbonate of soda, the fizz will start straight away and lift and breakdown the grime. Leave it on for at least 15 minutes and then rinse off with plain warm water using a microfibre cloth and then using a separate cloth, simply buff the surface dry.'
Try a specialist cleaning product
Bubbled-over water, greasy spots and splatters can dull the surface of an induction hob, but as an alternative to using home-made solutions, a specialist cleaning product in a spray bottle offers an easy-to-apply option that can be just as effective and handy when you're in a hurry.
The best cleaning product for an induction hob is one that isn't aggressive. Avoid abrasive cleaning products which can cause fine scratches, discolouration and damage to the surface. Instead, opt for a product that has been specially formulated for induction hobs, with a non-scratch creamy formula that will work on stains and stubborn burnt-on residue without damaging the hob's surface.
Once the hob has cooled down, simply spritz the solution onto the surface then wipe clean with a soft cloth. For heavier spills, leave to work for a few minutes before wiping away and then buff with a microfibre cloth afterwards to add extra sparkle.
Avoid abrasive formulas
Always using a cleaning product with a non-abrasive formula is key when it comes to induction hob cleaning, but what you apply and take the product off with can be just as important too. Never use any type of scouring pad or steel wool to clean the surface of an induction hob, which can cause fine scratches which food stains can become permanently embedded in and damage the glass further. Instead, use a microfibre cloth with a soft, non-abrasive finish that won't scratch.
When it comes to sticky marks and burnt-on food, never try to remove remnants with a knife or razor blade, which could seriously damage the hob's surface. Instead buy a hob scraper direct from the hob's manufacturer or online, and use with extreme caution, taking care not to scratch the ceramic finish.
How do I keep my induction hob looking good?
Looking after your induction hob properly will ensure that it stays looking good for longer. Avoid dragging pans over the surface to a different burner while you're cooking, which is liable to scratch and mark the surface. Try to get into the habit of lifting pans and setting them down gently instead.
Use smooth-bottomed pots and pans, rather than cookware that is rough or uneven on the bottom and can damage the surface. Protective induction hob liners can also be used on top, which are made of heat-resistant mesh and placed between hob and cookware to eliminate the risk of scuffs and scratches.
Can I use glass cleaner on an induction hob?
Get into the habit of giving the hob a quick wipe each time you use it, which will remove tiny particles of food debris or dirt that can eventually lead to scratching or pitting. Avoid using standard glass cleaning sprays on an induction hob as these can contain ammonia or chlorine, which can mark and permanently stain the surface. White vinegar is weaker, but a great natural cleaner and by buffing with a dry cloth it will bring the surface up to a sparkling shine.
Get the Ideal Home Newsletter
Sign up to our newsletter for style and decor inspiration, house makeovers, project advice and more.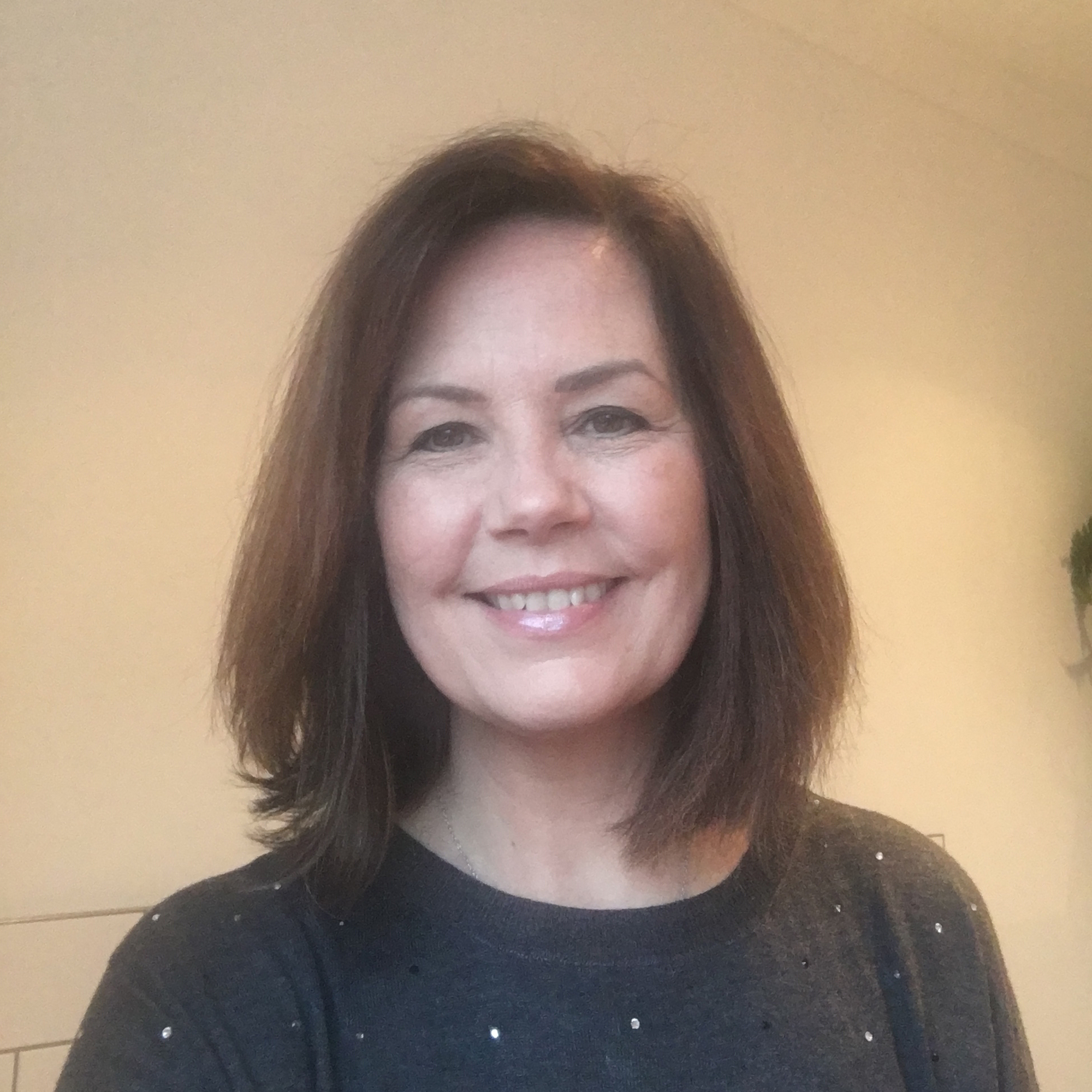 Lisa is Deputy Editor of Style at Home magazine and regularly contributes to sister title Ideal Home. She has written about interiors for more than 25 years and about pretty much every area of the home, from shopping and decorating, crafts and DIY to real home transformations and kitchen and bathroom makeovers. Homes and interiors have always been a passion and she never tires of nosying around gorgeous homes, whether on TV, online, in print or in person.