Dimplex DXAPV3N Air Purifier review
We tested the Dimplex DXAPV3N Air Purifier to test whether the budget option can match up to more premium choices.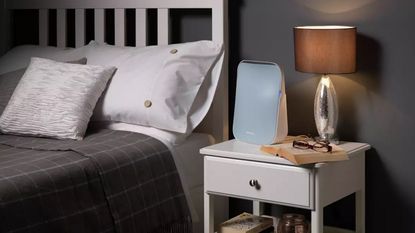 (Image credit: Dimplex)
The Dimplex DXAPV3N Air Purifier is a budget choice that's very simple to use, and provides a fair air purifying experience for your home – but don't expect any extra bells and whistles from this more basic machine.
Reasons to buy
+

Great price point

+

Small and discreet design

+

Very easy to set up and use
Reasons to avoid
-

It's one of the more basic models – more techy types will prefer something more advanced

-

No indicators of how well it's working without specialist tests

-

Only for small rooms
Why you can trust Ideal Home Our expert reviewers spend hours testing and comparing products and services so you can choose the best for you. Find out more about how we test.
We put the Dimplex DXAPV3N air purifier to the test to see how well the brand's most affordable machine fared in a real home.
Our homes are full of pollutants (think: pet dander or cooking and candle fumes), and some experts even consider them more polluted than the air we breathe outside. As such, picking the best air purifier is a good move for your home and the health of your loved ones.
Nowadays, many air purifiers come with a host of techy features, which will cost you a pretty penny, too. And that's fine – but sometimes, you want a product that simply does the job and doesn't cost the earth. That's where the Dimplex DXAPV3N air purifier might come in handy. The budget item from the electric heating and air treatment company has an RRP of £62 (and we've often seen it on sale for lower), and for that price, it offers a decent air purifying experience that would work well for small rooms.
Dimplex DXAPV3N: Key specs
Filter: Carbon and HEPA
Noise: 40dB
Power: 25W
Room size: Suitable for room size up to 28m²
Dimensions: 13.3 x 24.8 x 33.3cm
Weight: 1.4kg
Dimplex DXAPV3N: Set-up
Setting up the Dimplex DXAPV3N air purifier couldn't have been any easier. The purifier comes assembled straight out of the box - all you need to do is take it out and plug it in - meaning it immediately feels like a great starter air purifier choice for those who have never owned this specific type of home kit. There's even a filter already in there for you.
Working out how to kick-start the air purifier was easy, making it a good option for the tech-averse. After a quick scan around the machine, I found the on/off lever on the side, which allows you to pick from three options: off, speed 1, and speed 2. Once the air purifier is plugged in, you're ready to go. Compared to other air purifiers, the DXAPV3N isn't huge, so Dimplex advises that it's ideal for use in rooms around 28m². This is typically a small bedroom or office. We placed ours in the corner of our small office room – around 10m² – to ensure it had a clear vantage point from which to purify the air.
Dimplex DXAPV3N: Performance
We tested this air purifier in the height of summer when regular window opening meant our home was full of dust, garden debris, and plenty of BBQ smoke. And overall, it performed well – though it's not a miracle worker.
The DXAPV3N has a carbon filter for those bigger polluting particles such as dust and odours and a HEPA filter, which should catch 99.97% of particles as small as 0.3 microns, such as pollen and mould spores. It also has a unique Viro3 ionisation technology filter to capture airborne allergens. Three levels of filtration are great for such an affordable air purifier and something you'd typically only get on more advanced models.
The CADR (Clean Air Delivery Rate, the most popular way to measure an air purifier's effectiveness) for this model is good but not the best out there. For smoke, the rate is 80. For pollen, it's 89; for dust, it's 78. This is to be expected for a smaller air purifier intended for a small room—those numbers prove this machine wouldn't work well in a larger space.
We tested this one day when there was a fair amount of smoke in the air in our local area, and we'd had the windows opened. Closing the windows (advised when using an air purifier), I set the air purifier to the first mode, closed the door, and left the room for around half an hour. The air felt noticeably fresher and much less smoky, while many of our other rooms had a lingering smoky smell for the next hour or two. In addition, when used during the night, my partner and I woke up with less sniffly noses, which we often experience during summer.
It also provided a bit of a cooling effect, with a breeze coming from the gap at the top of the machine, which was a pleasant surprise – though not enough to cool you down during a hot summer.
On the first setting, the noise of the DXAPV3N fades into the background – it's a little like a white noise machine. On the higher setting, however, the noise steps up quite significantly, and it can be a little rattly, which can be distracting if you have it on at night.
Dimplex DXAPV3N: Design
The Dimplex DXAPV3N Air Purifier is sleek and simple and would fit nicely with most home decors. It's very subtle (unlike lots of air purifiers!) and will easily blend into the background, which is what you want from the more functional appliances in your home. A huge plus is that this purifier is small and thin, which means it will fit in just about any space, whether you want to place it on the floor, desk, or a side table. So while this Dimplex air purifier won't win any awards for striking design, it's ideal if you want a smaller air purifier that can be easily stashed away when not in use.
Dimplex DXAPV3N: Sustainability and longevity
I tested this product for around four weeks and experienced no problems during that time. If you're concerned, though, Dimplex has a three-year guarantee on this air purifier – but you'll need to register it within 28 days of purchase.
When it comes to the general upkeep, it appears to be pretty low maintenance. The brand claims the filter's life is 2,000 hours, but we'd argue that that's hard to quantify. Also, there's no indicator on the machine to tell you when to change the filter, so it's a bit of a guessing game. However, given that 2,000 hours adds up to around 11 weeks, we'd say you're probably safe to keep the same filter for at least 3-4 months. You'll need to repurchase filters from Dimplex separately (for £9.95), as the model doesn't come with any extras included.
During testing time, our energy usage (something we're keeping a strict eye on at the moment!) didn't go up noticeably. Our monthly electricity bill was about what we expected for the time of year – at least, there was no big leap, which is reassuring to see when introducing a new home appliance.
Dimplex DXAPV3N Air Purifier vs competitors
Having tested a few other air purifiers, we wouldn't say this Dimplex model is the best on the market - but it offers a decent air purifier experience for a very reasonable price. In addition, it exists very much on the baseline for air purifiers - it doesn't have any extra bells and whistles compared to many other models. Still, not everyone wants or needs a model that is complex in that way.
When it comes to purifying, it's just not as effective as more advanced models, though. For example, the DXAPV3N's CADR rates are below 100 – whereas the BlueAir Blue 3210 (a popular, pricier air purifier model) offers 210 for smoke, 163 for pollen and 181 for dust.
Up against the rest of Dimplex's range of air purifiers, it's their least sophisticated model. The brand also offers their Bravia 4-stage air purifier and their Bravia 5-stage purifier, which are much more advanced and powerful. But, of course, they come with the size and price tag to match.
Dimplex DXAPV3N: Our verdict
This is a decent air purifier for a small room at a reasonable price, and we'd recommend it if you don't want to spend too much on an air purifier or if it's your first air purifier.
There's no denying that it's a simple model, but there are many pros, especially if you're less tech-savvy. It is easy to set up and so simple to operate, which means it would be an excellent choice for those who just don't have the time or are willing to spend ages faffing with a complex device. It's also much less bulky than other air purifiers and doesn't take up much space so that it would sit neatly on a desk or bedside table with no problem.
It feels effective enough for a smaller space, and I'd absolutely continue using it in my small office, as it did make the air feel and smell fresher, cleaner and even cooler. However, the lack of extra features was slightly disappointing. For example, we would have appreciated a visual way to measure its effectiveness as it worked (it's reassuring to see pollutant levels drop on more advanced models). But at this price, it's to be expected.
Overall, the Dimplex DXAPV3N air purifier is a solid option if you're after a budget choice that requires little fuss and maintenance.
About this review, and the reviewer
Amy Hunt conducted this review in her two-bedroom home. The air purifier was tested over a few weeks and was primarily used in her smaller office room (and, on occasion, the bedroom) where she works day in, day out, to ensure she could study the appliance first-hand.
Amy has plenty of experience testing homeware products throughout her journalism career. During her time as Lifestyle Editor at womanandhome.com, she regularly reviewed items such as air purifiers, eReaders, induction pans, pillows, and candles. As a result, she understands what consumers really want to know about their homeware purchases.
Get the Ideal Home Newsletter
Sign up to our newsletter for style and decor inspiration, house makeovers, project advice and more.
Amy Hunt is an experienced digital journalist and editor, now working in a freelance capacity specialising in homes and interiors, wellness, travel and careers. She was previously Lifestyle Editor at woman&home, overseeing the homes, books and features sections of the website. Having worked in the industry for over eight years, she has contributed to a range of publications including Ideal Home, Livingetc, T3,Goodto, Woman, Woman's Own, and Red magazine.