Fall in love with this former coastguard's cottage on the Cornish coast
The lure of the Cornish coast led the owner to buy this welcome retreat for high days and holidays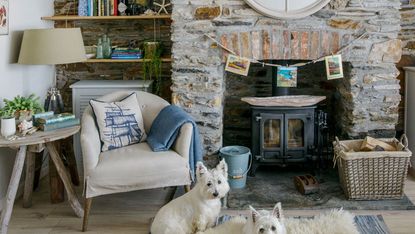 (Image credit: Future PLC/Polly Eltes)
Ideal Home Newsletter
The Home Of Great Ideas For More Than 100 Years
Thank you for signing up to . You will receive a verification email shortly.
There was a problem. Please refresh the page and try again.
Childhood holidays in Cornwall were an inspiration for the owner when she and her husband, were thinking about a holiday home.
If you want to see more house tours, visit our real homes (opens in new tab) page for inspiration
Exterior
'After we bought our West Highland Terriers, we wanted to go on holiday with them, but couldn't easily take them abroad,' says the owner.
'I hadn't been back to Cornwall since I was a child and my husband had never been, so we decided to rent a cottage in Port Isaac.
Living room
We fell in love with the village and ended up going back two or three times a year for the next 10 years. We had a dream of buying a cottage there, and one day I decided we should do it.'
Hallway
The owner spotted a cottage online and the couple went to view it. 'My husband and I drove down for the day – we thought we'd be able to view the house and then go on the beach and enjoy a nice lunch. But even though it was August, it poured down.'
Kitchen
Despite the inclement weather, the day wasn't wasted as the cottage ticked all their boxes. 'It had been a holiday home and, although the property was old, it had been well maintained. We knew that most of the old fisherman's cottages in the village didn't have a garden or any parking, but this one had both so it was a real luxury,' she says.
Dining area
'We loved the location on top of the cliffs – it was wonderful to have the views. It wasn't very big but we didn't need a large cottage and it had character. We put in an offer there and then as we knew it had the potential
to be a lovely, cosy seaside holiday home.'
Once the cottage was theirs, the couple focused on making cosmetic changes. 'The walls were painted a taupe grey, which made it feel very dark. Because the bathroom was so small, the bedrooms had basins in them, which took up quite a bit of space. We also wanted to change the look of the kitchen.'
Guest bedroom
With two dogs who love the beach, practical flooring was a necessity. There was already a slate floor in the kitchen, which was a bonus, but the couple ripped out the old carpets and replaced them with laminate flooring, repainting the wooden floorboards in the main bedroom.
Master bedroom
The couple tackled most of the work themselves. 'I've learnt how to do tiling and grouting,' she says. 'We painted the walls, but as they had been painted with vinyl silk, they needed four coats.' The work took up several holidays including Christmas and Easter. 'We wanted it done for the summer so we could really enjoy it.'
Bathroom
As creative director of Alexander James Interiors, she had plenty of experience in creating stylish rooms. 'We wanted a relaxed cottage feel that wasn't too precious,' she says. 'I was also keen to create a retro look, so accessories were very important. I collected pieces from vintage and antiques shops that brought back memories of staying in holiday cottages. I love beachcombing so the house is full of shells and other beach finds.'
Garden
The cottage has proved a welcome retreat. 'I wish we'd bought it years ago. We come for weekends and they feel longer because we've been away. It's such a pretty village with a good community feel, and to see it through different seasons has been wonderful.'
This hour tour originally feature in Country Homes & Interiors, June 2018.