Have a look around this country-style Thirties rented cottage in Norfolk
Undaunted by the limitations of renting when it came to personalising their home, this family got creative to give it style…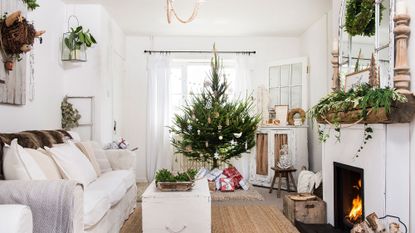 (Image credit: Future PLC/Colin Poole)
Ideal Home Newsletter
The Home Of Great Ideas For More Than 100 Years
Thank you for signing up to . You will receive a verification email shortly.
There was a problem. Please refresh the page and try again.
A characterful old farmhouse would have been this renter's ideal home, but when she and her partner began house-hunting, she had to prioritise head over heart. 'I'm fascinated by older properties with a history, but with two small boys, my focus was on finding the right space and location first,' she says. 'This rental house was dark, tired, and certainly not my style, but it ticked those "practical" boxes.'
Get in the Christmas mood with more of our festive real homes
Three bedrooms, a roomy garden and the handy position close to family and school sealed the deal, 
but she wanted it to be more than a convenient, functional house, so she set to work brightening the place up.
'I've developed a very distinctive, "American farmhouse" style,' she says. 'It started when I began following some American Instagrammers, and has evolved since then. It's a simple look, with a restricted, neutral palette and lots of white. The homes I'm inspired by are old, with porches and shiplap walls, which I can't have, but I can emulate other elements, like the natural wood, rustic furniture and worn, weathered surfaces.
'I've been through vintage country and pared-back Scandi looks in the past, but I'm sticking to this one now. A lot of the statement pieces of furniture I have would work in a different scheme if I do ever want to ring the changes, though. I love really quick, simple makes and find loads of ideas to copy in magazines and online. If I see something I like, I'll just try to put it together myself,' she says. 'I don't follow any pattern – I just do what looks right to me.'
Exterior
This three-bed cottage was the perfect rental property for the family from a practical point of view, but the interior style didn't suit so they came up with creative solutions to make the space their own.
Living room
'There's a lot of white in my home, which might not seem too practical with a young family, but I think that if you really want that look, you'll find a way. I've got washable loose covers on the sofas, and everything's easy to clean or touch up. All-white could feel a bit clinical and cold, too, which I would hate, but wood adds plenty of warmth. I think the two together, plus some greenery, makes a winning combo that just always works. Texture is the other essential. I've got knobbly rugs, woolly throws, faux furs and rough, scrunchy hessian that all add depth and interest.'
'I fall for pieces that have seen better days, and I love flaky paint! Almost everything in my home is old and has lived somewhere else before. I go for things that aren't too perfect. If it looks right, it's not junk.'
Get the look
Buy now: Ektorp three-seater sofa, £300, Ikea (opens in new tab)
Buy now: Lohals rug, £55, Ikea (opens in new tab)
Kitchen
'In the past, I've been through vintage country, and pared-down Scandi, but I can see myself sticking to my 'American farmhouse' style long-term. It's really evolved in the last couple of years, since I started following some US accounts on Instagram. It's a simple look, with a narrow, neutral palette and lots of white. The online homes are mostly old, with porches and shiplap walls, which I can't copy, but I can take other key elements.'
'There's the natural wood, rustic furniture, worn, weathered surfaces, and reclaimed gems like old doors and ladders, repurposed as bold, decorative pieces. I've completely fallen in love with the look and I feel more committed to it than to any previous styles I've had. It's easy to keep adding, and a lot of the statement pieces would blend into a new scheme if I ever did want to ring the changes.'
'I transformed the kitchen with new doors and drawer fronts made by a local joiner to introduce a stylish, farmhouse feel. I finished them with traditional strap hinges, cup handles and a coat of whitewash. I painted the big, second-hand dresser, and made the oversized blackboard by nailing wood offcuts around a painted MDF sheet.'
Get the look
Buy now: 
Metro White Wall Tiles, £11.50 per square metre, Homebase (opens in new tab)
Buy now: Similar is Bundaburg Grey Oak Effect flooring, £8 per square metre, B&Q (opens in new tab)
Bedroom
'Natural wood softens the white walls and furniture, and I've made a headboard from a door and backed the 'glorious' sign with pallet wood.'
Get the look
Buy now Try the Smuggler headboard, £545, Loaf (opens in new tab)
Buy now: Ivory Montana shaggy rug, £49, Dunelm (opens in new tab)
Buy now: The Milan Lime throw, £75, Bronte by Moon, is similar (opens in new tab)
Bathroom
'We revitalised the existing bathroom with easy, low-cost buys like new taps, flooring and a tongue-and-groove bath panel and added an under-sink cabinet too, for extra storage.'
Get the look
Buy now: Freestanding vanity base, £58.99, Wayfair is similar (opens in new tab)
'You don't need a lot of money to make a lovely, interesting home. A visit to a salvage yard is a treat for me. I'll snap up aged, worn items – people might think some stuff is only fit for the dump, but it's all about how you see it. When something catches my eye, I'll bring it home and set it up with other bits and pieces. If it looks right to me, it's definitely not junk. Almost everything in my home is old and has lived somewhere else before, and I shop on Facebook, eBay and in charity shops too. I go for things that have a past and a story, and aren't too perfect.'
'I love really quick, simple makes, and I get loads of inspiration from magazines or online. My dining room candle holders, which are old bottles filled with water and a sprig of fresh rosemary, cost next to nothing and were put together in minutes. A scrap of ribbon and some greenery popped amongst the things on a shelf is enough to create a festive vibe in an instant.'
See more of her home on Instagram, @theenglishfarmhouse