Step inside this Victorian townhouse in London where artistic touches and attention to detail shine through
For this couple, restoring a Victorian townhouse back into a family house after it was chopped into a series of bedsits, was a loving act that speaks to their passion for design and details.
For this couple, restoring a Victorian townhouse back into a family house after it was chopped into a series of bedsits, was a loving act that speaks to their passion for design and details. One of the couple is a trained fine art specialist, and this artistic background - combined with a love of mid-century design - formed the inspiration behind her glamorous (yet immensely comfortable) house.
'I wanted us to be surrounded by art and beautifully designed furniture,' she says. The aim was for everyone - the family and guests alike - to feel warm, welcome and inspired in the space. 'My vision was that the spaces had a sense of flow but also offered privacy, so the whole of the ground floor is open-plan. One group of people can chat around the kitchen island while others relax in the living room.' In essence, there's a feeling of 'togetherness' even if everyone is focused on a different activity.
Artworks themselves, while important in this home, were not the only aesthetic concern for the couple when they were redeveloping the house; surfaces and materials were key too. 'I grew up in Canada where natural textures are everywhere and I was keen to recreate that look in our home,' says one of the owners. 'Parquet, marble and granite surfaces all bring in the beauty of nature, in a polished and refined fashion. Brass also has similar qualities, as it changes over time and develops a unique patina.' From the moment you step inside, these beautiful tactile qualities really make themselves felt...
This house tour originally appeared in Homes & Gardens, March 2017
1/14 Sitting room
A beautiful bay window, fitted with classic shutters for privacy and a heritage touch, offers the perfect backdrop for a pair of mid-century modern armchairs. Matched with the reflective glass surfaces, these bring a sense of balance to this grown-up living space.
'I admire the power of symmetry,' says the owner, who has used rich textures and a mixture of surfaces to add depth to this scheme.
Armchairs
Sarah Potter
Upholstery
Villa Nova
Curtains
Black Edition
2/14 Sitting room fireplace
'My knowledge of art has given me an insight into ways of grouping objects and maintaining visual lines,' says the owner, something that is apparent from the living room.
Opposite the bay window (with its symmetrical armchairs) a matching mid-century sofa sits beside the fireplace. Metallic-finished tables and lamps are placed throughout the room, drawing the seemingly disparate elements together.
Sofa
Sarah Potter
Similar tables
Circa Battersea
3/14 Dining room
'I love how certain pieces from the Fifties, Sixties and Seventies can add a subtle radiance to a home,' says the owner. In the dining room 'our Kalmar lights and Willy Rizzo sideboard, for example, come to life in the evenings when the brass reflects the light from the chandeliers with a soft, inviting gleam.'
The owners loved the texture and refracted light effect from the chandeliers so much, that they made do with a similar style until they found a genuine 70s pair.
Sideboard and chandeliers
Circa Battersea
Wall paint
Farrow & Ball
Similar dining set
The Old Cinema
4/14 Kitchen
The kitchen's light and airy feel can be partially attributed to the smart use of glass. As well as the expansive floor-to-ceiling sliding doors, which open out onto the garden, and two windows above the kitchen cabinetry, a highly reflective splashback creates the effect of an additional (inspired) window behind the stovetop.
The owner designed the kitchen cabinetry, and has used accents of brass to create a contemporary take on mid-century style. There's a real mixture of materials and finishes - from glossy granite to matt metal pendant shades - that creates depth and interest. 'It's a very functional kitchen,' she says, 'but sophisticated in its simplicity of form.'
Cabinetry
Element Joinery
Worktop and island
MG Granite
Parquet flooring
Marmorea
5/14 Study area
Elsewhere in the kitchen, a neat study space is nestled in a corner - this is in addition to the actual study, which sits separately elsewhere in the house.
Here a compact built-in desk and shelving, clad in Italian wood veneer, makes an ideal space to discover new recipes and keep the cookery books close at hand! A vibrant potted plant brings a burst of natural colour and texture to the space. 'I've brought the outdoors in wherever possible, with natural materials and hints of foliage,' says the owner.
Similar chair
The Old Cinema
6/14 Garden
A garden is a huge boon in a London property, and this one iis no exception. 'We have a park nearby but this spot is wonderfully private,' says the owner of their carefully planted garden. 'We can even grow our own vegetables!' ... and they can eat them out here, too, in the relaxed outdoor dining area.
Garden design
Urban Eden
Similar dining set
Oceans
7/14 Cloakroom
One of the owners works closely with a number of luxury hotels, so sees 'first hand how hotels constantly raise their design standards.' Every space, however small, is carefully considered.
For instance, this cloakroom with its eye-catching geometric tiling and luxurious counter top and marble sink really elevate this compact space in design terms.
Similar tiles
Domus
Similar countertop
The Stone Collection
8/14 Home Office
More marble flanks the doorway to the home office, with slabs of beautiful stone placed in narrow alcoves either side of the door, creating a sense of a serious business area beyond!
The owner bought a series of gilt frames, which look particularly striking hung one inside the other on the jade green wall. This heritage style is softened with a curved mid-century desk - with built-in shelving - and a relaxed desk chair.
Chair upholstered in
Black Edition
Similar frames
Ayers & Graces
Similar desk
1st Dibs
9/14 Playroom from hallway
When it's not actually possible to bring the outside in, a little greenery can always be provided in original ways. In the playroom a trompe l'oeil moss-covered wall makes a fun focal point for this relaxed scheme, which caters for film nights and children's playtime.
This, along with the parquet in the hallway really grabs the attention. 'I wanted the chevrons to peak at the centrepoint of the space,' says the owner, 'so the blocks are slightly longer than usual, drawing the eye into the house.'
Wallcovering
Koziel
Parquet flooring
Marmorea
10/14 Master bedroom
Everything is cool and calm in this dove grey bedroom, with its deep blue accents. the pieces are all understated... except for the original fireplace tiling and the chandelier.
Obtaining original examples of mid-century modern lighting took time. 'It was worth waiting until the right pieces came along; now they all work beautifully together,' says the owner of pendant light, which echoes the design in the bathroom.
Bed frame
Warren Evans
Photograph
Halcyon Gallery
Similar lighting
Circa Battersea
11/14 Bathroom
Large-format marble tiles and a mid-century chandelier (in a similar style to the one found in the master bedroom) introduce some Italian Classicism to this en-suite bathroom.
Dark wall tiles and paint merge beautifully to create a real sense of contrast with the gleaming white marble, metal and glass fittings. The payoff is an additional feeling of depth and spaciousness.
Tiles
Mandarin Stone
Wall pendant
Original BTC
12/14 Guest bedroom
The guest bedroom is situated in the renovated basement of the house, but according to the couple it's ideal for the Canadian look they wanted to achieve.
With its horizontal wood panelling and mossy green soft furnishings (in tactile woollen finishes), 'it is reminiscent of my family's cabin in the Rocky Mountains,' says the owner. Frosted windows soften the light while also creating privacy in the space.
Wooden panelling
Marmorea
Pendant light
Original BTC
Similar chair
Made
13/14 Children's room
Grown-up design and children's treasures merge in this little boy's room. 'The windows of this room overlook a park, so I wanted to beckon more foliage into it,' says the owner. 'This wallpaper suggests a jungle feel that will spark our son's imagination without it being at all scary.'
A pair of armchairs with soft green upholstery pull the jungle-palm colours through the space to make the scheme more coherent.
Wallpaper
Cole & Son
Similar chairs
Swoon Editions
14/14 Attic bedroom
Right at the top of the house another bedroom has a more urban designer feel. A bare brick wall forms a cool backdrop for the bed, which is covered with crisp white bed linen, plump cushions and flanked by two smart angled lamps. The city-loft style reflects the owners knowledge of edgy hotel design.
'I may have been influenced by some of these ideas,' she says, 'but a home is very different from a hotel suite. The latter is about making you as comfortable as possible while you're away, while a home symbolises the love of your family. It's the place where, as soon as you walk in, you immediately feel comfortable and that you belong.' With this home being so carefully thought out and designed to suit the family's own aesthetic, it most certainly does that.
Get the Ideal Home Newsletter
Sign up to our newsletter for style and decor inspiration, house makeovers, project advice and more.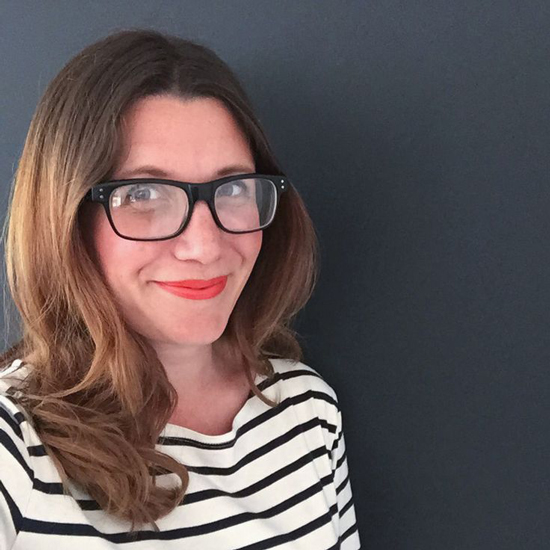 Heather Young has been Ideal Home's Editor since late 2020, and Editor-In-Chief since 2023. She is an interiors journalist and editor who's been working for some of the UK's leading interiors magazines for over 20 years, both in-house and as a freelancer.