Take a tour of this bright and airy four-bed 1950s home in East Sussex
The owner of this house knocked down walls and rejigged the space to create a home that works for the whole family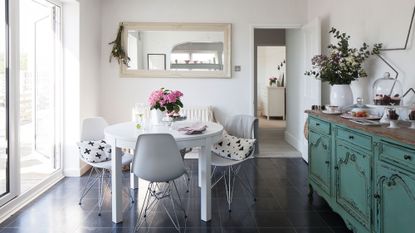 (Image credit: Future PLC/James French)
Ideal Home Newsletter
The Home Of Great Ideas For More Than 100 Years
Thank you for signing up to . You will receive a verification email shortly.
There was a problem. Please refresh the page and try again.
Pre-kids my husband and I lived in the centre of Brighton, enjoying all the things a city has to offer. When our daughter India came along though, our priorities changed,' says the owner.
'We wanted space and peace, to get away from the chaos of city living, but to have the option to dip into it when we chose. Both sets of grandparents were already living close by in Saltdean, which is near the sea and known as a place that's popular to retire to – so there are lots of houses that are perfect to stamp your own mark on!
Love interiors? We've got hundreds of real homes for you to enjoy
This detached house with four bedrooms built in the Fifties in Saltdean, East Sussex was in need of a cosmetic overhaul, as well as a few walls knocking down to improve the layout downstairs. Every room has been painted white to give it a fresh, bright and airy feel, in keeping with the house's seaside location.
Exterior
Although it didn't need major work, we wanted to alter the layout to suit our lifestyle. The biggest changes were on the ground floor, where we do most of our living and sleeping – our bedroom is here. Originally there was also a big bathroom, but we split it in two to create a downstairs loo and an en suite for our bedroom. Next we replaced the floor coverings on the ground floor. Apart from the kitchen-diner, which is tiled, all the rooms now have pale wooden flooring. We also added wooden shutters to all the windows and new radiators in every room. Apart from the structural renovations, these have been the biggest expenses, but we felt that they were important improvements.
Living room
It made sense to head there, so we started spending hours driving around the area looking for roads we could see ourselves living on. The only stipulation was that at least one room had to have a sea view. We soon found a house that fitted the bill. It was run down and unloved, with many of the walls painted in dark, dreary colours – some rooms were tiled, some carpeted, but there was no continuity and the house looked sad and old-fashioned. Just right for us!
Get the look
Buy now: All is Pretty print, £20, King & McGaw (opens in new tab)
Buy now: Carson wing armchair, £499, Oak Furniture Land (opens in new tab)
Buy now: Cartwright large sofa in Regency purple velvet, £1,515, Arlo & Jacob (opens in new tab)
Kitchen-diner
We updated all the rooms by painting them white, to create a light, serene feel throughout. Creating this simple backdrop has allowed me to inject personality and style with accessories, like the wall tiles in our en suite, which lift the room like a piece of artwork, and key bits of furniture, such as the green cabinet in the kitchen-diner that I found online. I like to hunt around for statement pieces and root out the bargains. The kitchen chairs, for example, are replica vintage Eames.
We couldn't afford a new kitchen so to give the old one a new lease of life we removed the plastic surfaces, sanded them down and painted them. We used tile paint to cover all the wall tiles, which were originally bright red, white and blue! By making these simple, cheap changes, we now have a smart, modern-looking kitchen that is in keeping with the rest of the decor in our home.
The kitchen is the centre of our house and by turning a downstairs bedroom into a playroom we can now keep an eye on the kids while we're cooking. It's where we spend most of our time as a family. We use the sitting room to relax in the evening, and we deliberately don't have a TV in here. Instead, we listen to music or entertain friends and family.
Get the look
Buy now: Etienne dresser, £515, Choice Furniture (opens in new tab)
Master bedroom
My taste is eclectic with lots of influences ranging from pared-back Scandi to romantic French design. I enjoy mixing old and new pieces. We inherited our vintage French bedroom furniture from my husband's mother, which stands alongside a chest of drawers from Ikea with custom handles and a French-style mirror that I was lucky enough to find in a skip!
Child's room
The children's bedrooms are upstairs. My daughter got the sea view and her bedroom has an enchanting, whimsical feel to it. I bought a canopy to create a reading nook in the corner for her, as she absolutely loves books. Her bed is very simple, with a metal frame, and the old-fashioned baby cot that houses her dollies came from a local charity shop. Pretty prints on the beanbags, blankets and bedlinen give it a real girly feel.
In son's room I have introduced black and white geometric patterns through the blinds, light shade, teddy bears and wooden toy accessories. I enjoy being creative around the house.
Bathroom
We really wanted this house to say something about us, so I made a family collage from an old mirror. I took out the glass, then printed off postcard-sized photographs and stuck them inside the newly painted frame – the brilliant thing is we get to change and update the pictures as the family grows. We also have some local history inside our house – we made a shelf in the sitting room out of a piece of wood from Brighton's crumbled West Pier, which injects a touch of authentic and historical character to the room.
Our biggest achievement, though, is the timescale we did the renovation and decoration in – just 12 months! And the only disappointment so far is that we've not been able to afford the final few improvements. But as they say, good things come to those who wait!'
This house tour originally features in Style at Home, August 2018
Heather Young has been Ideal Home's Editor since late 2020, and also edits its sister title Style At Home. She is an interiors journalist and editor who's been working for some of the UK's leading interiors magazines for over 20 years, both in-house and as a freelancer.