Have a wander around this tranquil, mellow-stoned Cotswold cottage
The owner found peace and tranquility away from city life in her stylish, mellow home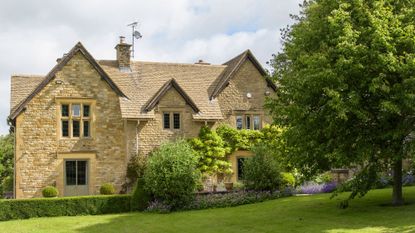 (Image credit: Future PLC/Polly Eltes)
Ideal Home Newsletter
The Home Of Great Ideas For More Than 100 Years
Thank you for signing up to . You will receive a verification email shortly.
There was a problem. Please refresh the page and try again.
The owner and her husband, were particularly keen to move out of London to the Cotswolds. 'I love the peace, quiet and tranquillity away from the city. It's a different way of life,' says the owner.
If you want to see more house tours, visit our real homes page for inspiration
Exterior
The couple were looking for a property on the edge of a village, in a quiet location with views. 'We wanted to find somewhere for the family to come and stay, that was dog friendly, and that was just a walk away from a local pub.'
Hallway
An estate agent told them about a house that wasn't yet on the market. 'We saw photos of the front of the house and the views from the back and that was enough to entice us to go and see it,' she says. 'It was beautiful inside, but tired. However, we were keen to put our stamp on a place so it was perfect for us.'
Living room/conservatory
Because the couple were both working in busy jobs in London, they brought interior designer Rebecca Hughes on board to design and manage the project, with the owner adding to the creative process. 'Rebecca
had worked on a previous house of ours, so we knew that she would be able to create beautiful interior schemes for us.'
Kitchen
The house was gutted, rewired, replumbed and parts of it replastered. 'We were keen to keep the character, so we added beams to emphasise the rustic feel.' The flooring was replaced in every room, apart from the hallway, and underfloor heating added in the kitchen and en suites.
Dining room
They also installed new bathrooms and a kitchen. 'We recycled where we could,' she says. 'I wanted to keep the Aga, so Rebecca worked around that when sketching the design and layout for the kitchen. And although we replaced the units and island, we kept the original island worktop.'
Bedrooms
The aim was to create a modern country look. 'We used the same paint colour throughout to make the house flow, except for the guest bedroom, where Rebecca selected a Lewis & Wood wallpaper. We wanted the house to feel homely and relaxing, and be a great place for our family and friends to visit.
Bathrooms
'Both my husband and I like traditional style with a modern twist so we mixed old and new, incorporating some quite modern art, to give the house a lovely calm, peaceful feel. 'We had a time frame of three months and everyone rose to the challenge, but without Rebecca's help we wouldn't have managed it in time for Christmas.'
Garden
Since completing the renovation, she has re-trained as an interior designer with KLC School of Design. 'I've moved from a busy, stressful life to a more creative one,' she says. 'We are completely bowled over by the finished house. We love it when people come to stay, but when there's just the two of us and the dog, we enjoy the peace and quiet, too.'
This house originally featured in Country Homes & Interiors, June 2018.